Top 9 Perfect Gift Giving Apps Online In 2022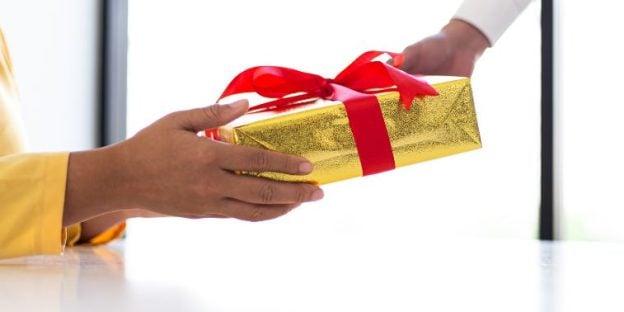 Generally, it is considered that when it comes to creative and thoughtful ideas for perfect gifts women are one step ahead. No offense guys!! Exceptions are always there. But even for women, finding an ideal gift for any occasion or person is one of the most challenging tasks. Let's just admit we all love presents and we also put a lot of thought behind planning one for our loved ones. Whether you have to select the perfect Christmas present or a perfect gift for a boyfriend/girlfriend for their birthdays, an ideal gift for moms for mother's day, or a perfect gift for a wife on an anniversary, all of them take a lot of energy, creativity, money and time. But what if we say we can at least save your time, energy, and money during the course?
Yes, it is possible. Let us take you through some amazing gift-giving apps that can make a perfect gift selection easier for you. Any occasion you name it they have a mindblowing idea to please your close ones. The best part is they help you get ideas, customize them according to your wish and also deliver them to your doorsteps. Now, let us dig into these apps and find out what else they have to offer. Here you go.
Best Gift Giving Apps in 2022
Amazon: Find Perfect Presents here
Almost everyone is aware of the Amazon shopping site and we cannot deny the range and quality they provide. If you are in doubt then you can always fall back on this app. The search option of the amazon gift-giving app has person wise search category so that you can select a perfect gift for anyone. The highlight is they have customized options for gifts like wrapping, message cards, and much more. Also, the fast delivery and services are unbeatable.
Download the app for free for IOS and Android.
1-800-Flowers: A perfect present-giving app
Flowers are so vibrant, just like the personalities of different individuals. Each one of them has a different fragrance, look, color, and essence, this is what makes them the best gift to offer a person close to you. But it is difficult to choose what bouquet or flower will be more apt to leave this hard work to 1-800-Flowers. This app suggests you pick the most suitable bouquets for any occasion and sent them in a flash.
Download the app for free for IOS and Android.
Drizly: One of the best gift-giving app
If you are a person that understands the value of gifting booze to someone then this gift-giving app is for you. Drizly help to keep the holiday spirit alive or should say spirits. Well in both cases Drizly has the most amazing variety of booze to offer you at your doorsteps. You can also make them deliver to some whom you want to gift it. This gift-giving app has an amazing feature called local that suggests you best quality and some famous ingredient liquor of your selected area. So you can gift your friend an authentic and very thoughtful present.
Download the app for free for IOS and Android.
Artifact Uprising: Perfect present ideas
If you believe to gift someone more relatable and close to your heart then this may be the best present idea for you. Uprising is an application that collects photos and videos of your favorite memories from your Instagram account or camera roll. Then it creates beautiful collages, prints, cards, books, covers, and much more. This gift-giving app is only available for IOS users.
Download the app for free for IOS.
Giftster: Best Gift-giving app
Do you guys also have that one friend who is very choosy and does not seem to like anything? We do too. For such friends, we have the suggestion of Giftster. This gift-giving app is the ultimate organizer for secret Santa on Christmas. Although you can use it the whole year, it can solve the problem of picky choices. This app allows you to invite your friends, cousins, family, and other close ones to join a group where they all can share the things they love to have. So next time you can give a perfect present to that picky friend that he/she actually likes.
Download the app for free for IOS and Android.
Giftagram: Perfect gifts for Loved ones
Come on we all have forgotten some special days of our close ones at least once in a while. Reasons might be different but we have. If we tell you that just like Facebook has saved our days to remind us we also have a gift-giving app that sends reminders so that you do not miss any special dates of your loved ones. Giftagram is an amazing application that syncs with your contacts and sends them perfect gifts at their doorsteps. It has some fantastic gift packages like desserts, bouquets, technology, plants, books, etc. This app ensures that you never forget a special day for someone special.
Download the app for free for IOS and Android.
Zeel: Best Gift-giving app
Some days are stressful and tiring and we understand that you care about your loved ones. A good massage can save the day and make you feel relaxed so gift this perfect present of peace and relaxation to your friends with Zeel. This gift-giving app has options where you can select a masseuse or masseur which kind of massage is needed for how long.
Download the app for free for IOS and Android.
Givingli: One of the best gift-giving apps
One more application for IOS users that solve your problem of finding a perfect present is Givingli. This gift-giving app not only is a partner in saving the environment but also provides gift cards with each order. Exactly gift cards people. So, if you are looking for a perfect gift for her, a perfect gift for him, or a perfect valentines gift then this is the platform for you.
Download the app for free for IOS.
Slice: Perfect present finding app
Sometimes we do get anxious by thinking what if the gift we ordered is not reached the right destination? So, for this anxiety, Slice is here to help in perfect gift selection because they not only provide an opportunity to shop online and connect with neighborhood retailers but also provide opportunities to keep an eye on all your orders. The feature is "Shipment" in the app on the left corner downwards. So, that you can track your orders and check progress.
Download the app for free for IOS and Android.
Summary
The moral of the story is in 2022 everything is available online so if you want to make smile your loved ones a perfect present then these gift-giving apps are amazing to do so. The best part is that these platforms are free of cost. Though developing an app is not an easy task but some tips can be helpful. Know Here. VerveLogic is a platform where you can find a team of experts to develop your mobile application as you want so that your user can have the best user experience from it. So visit VerveLogic today and shape your idea into reality.
(Visited 142 times, 1 visits today)