How to Make a Music Streaming App? Explain Business Model & Features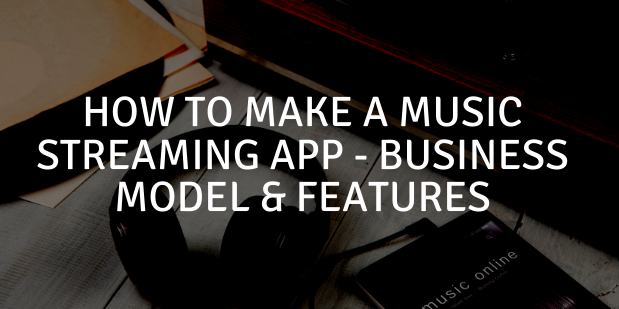 The music industry has changed a lot since it was merged with the latest technologies. We now have music streaming apps, not like we need to buy the album somewhere. With the help of such applications, we can listen to any song from anywhere. The app store is flooded with such applications that anyone can download and listen to music, podcast, interview, etc.
It's been observed that from 2013 to 2022 the number of streaming app users and revenue earned from the same has increased a lot since it was launched. There are so many online music streaming applications with variable and diverse music options as per the country and the region which is one of the reasons why music streaming apps become popular.
Spotify has around 456 million active users and 195 million subscribers, in which its paid user base is increasing at a 13% rate per year. Apple Music has around 88 million subscribers worldwide. The revenue earned from these music streaming applications is high and that justifies why anyone wants to make a music streaming app.
These apps not only publish music content but are post podcasts, healing sessions, interviews, etc. These features make them unique and all the user's needs in one place. If you also have an ambition of creating similar music applications then let us see what types of them exist & what you need for the same.
Types of Music Streaming Apps
There are two major types of music streaming apps: radio and on-demand. You need to understand which type of music streaming application you want to create. It will change the whole scenario and the main feature of the music application. Let us discuss both types of music streaming services so it can be easy for you to choose between them.
1. Radio music streaming apps –
Radio streaming services are associated with music streaming services. The online radio app works as a DJ where songs are played as per the preference of the person what person likes. Pandora and iHeartRadio have the best and most popular radio music streaming apps. They call themselves radios because they play the song as per the preference of the person that they have chosen and like to listen to the songs. You can create your stations based on genres, songs, albums, artists, or bands.
Radio music streaming apps have licensing agreements that don't allow them to play songs on demand. The cost of the radio stations is lower than the on-demand streaming services because of licensing agreements.
2. On-Demand Streaming Apps –
Spotify, Apple Music, and Tidal are a few examples of on-demand streaming apps where users can play songs on their demand. You can play songs on recommendations given by the users. Pandora launched its streaming services at $9.99 so it can compete with Spotify and Apple Music. On-demand streaming services are a little bit costlier than radio music streaming apps because of the reason for choosing the songs and changing them as per the user's priority.
Now you can choose any of the apps from the above list. Surely, on-demand music applications can earn you good profit in less time rather than a radio streaming app. However, the competition is very less in terms of similar service apps in radio and streaming apps.
Music App Market Leaders and What features Make Them Best?
It's the most familiar and most used music streaming application to be used worldwide. Headquartered in Sweden, has more than 80 million soundtracks that include 4.7 million podcasts which makes it one of the best platforms to get all the music. The monthly subscriptions cost  $1.44 which can open a vault of thousands of music files. Spotify allows users to share their music preferences on social media which automatically is a great way of advertisement. You can also add this feature if you are looking to create an app like  Spotify.
1. Recovery of deleted playlists
2. Soundhound integration of playlist
3. Voice control over
4. Catchy and easy user interface
5. Few tap access to complete music libraries, music, and albums.
SoundCloud is a mix of music platforms and social media. You can define Soundcloud as social media for music. Soundcloud has more than 150 million soundtracks and is the platform with the most soundtracks. It's all because of one single feature, where everyone can upload their music tracks. It made SoundCloud the best platform for young people who are looking to gain popularity in their music.
People can even comment on the uploaded file, as we can see that competition is very high & creators of such applications have come up with distinct features to rule the market.
1. Customized playlist
2. Free Music Streaming
3. Free Music Uploading
4. An application for both iOS and Android
Since Pandora launched its on-demand services, it is giving tough competition to other on-demand music streaming apps. Pandora has almost 50 million soundtracks available. It works on the recommendation system. For instance, if a user has chosen an artist then the and algorithm recommends similar songs from the same & other artists. The users can also set up their own radio station which is also used by Spotify & it's a great idea to add it to your music streaming app too.
1. Create your Customized Radio Station
2. Discover new artists & tracks
3. Supports Adobe Flash
Other Music Streaming Applications
Google allows you to play music, online and offline both. Its paid version allows you to listen to music with all the features. Here are a few other features.
1. Offline playback
2. Upload, stream, or purchase model
3. Youtube red
4. High-quality audio
Tidal is mainly supported and invested in by musicians all around the world. The 90+ million tracks and 16-bit, CD-quality audio, android TV support, organized playlist, music blog features, and variety of music videos made this app one of a kind music application. This is the most suited app for sophisticated listeners.
1. Backed by Musicians
2. High-quality Music Streaming
3. Includes all types of music
The main feature of this app is that it recognizes and detects music everywhere. It works alongside Amazon Music, Google Play Music, & other music streaming apps as well.
1. View the lyrics and video of the song
2. Follow the artist on the platform
3. Offers ticket booking for music concerts
Above are a few music streaming apps that include both types of applications. Now you need to choose which type of app you need to make with all features.
How to Build a Music Streaming App
There are literally so many things you need to consider before creating an app. Let us talk about the features that are a must to include in any music streaming app.
Large Music Library 
You can make a server-based music library & provide your customers with access to it under conditions, for instance, you can give complete access when the user enrolls for the premium version. You need to get authentic music files to avoid legal issues, and license music.
You can even use various cloud services with a Content delivery network (CDN). Themed radio stations are also helpful in such conditions as the user can stream to a PC, home audio, or any mobile device. The process and strategy of how to create a streaming service directly depend on which type of streaming app you want to have. Another significant factor is the set of features your application is going to have. As usual, there is a required feature set and some additional features to make your app stand out.
Registration
The first step towards providing a highly personalized experience is collecting & analyzing data about the user's mutual preference. Just like Spotify & Pandora, you can get this information at the time of registration. Spotify asks for the zip code and birth years for personalization and provides the popular tracks in the user's region and the codes as per the user's age group. You can also ask users direct questions about their favorite genres and artists.
Discovery
Users are going to use your app not only to listen to their favorite tracks but also to discover new ones. So, you need to add & remove the best & every track for increasing the number of users. This will allow users to search the music by artist, title, album, recording studio, or genre. When you create a streaming app, think of providing your streaming app users with recommendations based on their previous choice or creating something similar to the user's preferences playlists. And playlists are what our next feature is about.
Social Sharing
The best way to make the streaming app popular is to advertise on social media. If the users are allowed to share the songs and playlist on the social media platforms like Facebook, Instagram, Snapchat, etc. it will automatically advertise your music streaming services application & will help you with your business.
Online & Offline 
Google play music allows users to listen to music offline too. This feature allows you to play music at low bandwidth. So, it's worth implementing to create a music streaming service with this feature.
Optional Features of a Music Streaming App
Music Arrangement
This refers to categorizing music in the browse section and letting users make their own playlists. Organizing a playlist for specific categories from which the user can select as per his/her mood is a great idea. Spotify offers music for activities like work, parties, gym, relaxation, study, etc. This feature helped them with more downloads.  Even Mubert follows the same method. In the on-demand music streaming app, users may want to create their own playlists for their favorite songs. Also, don't forget about shuffling to let users quickly rearrange playlists.
Allow Users to Upload their songs
Soundcloud used it and yes they are able to succeed in it. Many new singers were famous on Soundcloud before making it to the big league. If these singers back up your app then it can be the best boost for your music streaming business.
Licensing And its Importance
One more point in favor of choosing subscription services is music discovery without the need to buy songs. Music streaming services are a so-called 'legitimate environment'. Licensed music services build a trusting relationship between your app and users. Even though the price for it would be the refusal of providing free accounts.
So, if you want to start your own music streaming service, you need Public Performance Rights. In the United States, it can be handled by one of three agencies: The American Society of Composers, Authors, and Publishers (ASCAP) or Broadcast Music Incorporated (BMI). To stream music in Europe, apply to the Society of European Stage Authors and Composers (SESAC).
We strongly DON'T recommend avoiding licensing and streaming music without permission. In the case of a lack of proper licenses, you will need to pay damages from a minimum of $750 up to a maximum of $150,000 per song played. So keep it in mind.
How to Monetize Music Streaming Apps?
The revenue earned by the music streaming applications has surpassed all other categories which are digital downloads & physical products. As per this data, people tend towards music streaming services rather than separate music tracks. This allows music streaming apps to gain profit without any special efforts. There are two ways in which you can monetize your music streaming apps.
1. The first one is to provide free access to your streaming service as long as your music consumers don't mind listening to advertisements. For instance, you can put an advertisement after every 3 or 5 songs. This way you can earn through advertisements.
2. The second one is a subscription-based monetization method. Premium features or unlimited access to any songs or albums.
One of these two effective monetization models will help you set the grounds that you have been looking for. Streaming music services' share of total music revenues is bigger than ever. According to ARPU, revenues from streaming services expected in the year 2023 are almost $250 billion, and user penetration will be 46.7% and is expected to be increased to 52.4% by 2027. So, above's the way to create a music streaming app. Find the idea to make the best music streaming application.
Last Words
VerveLogic can be your one-stop solution for mobile app development and web development because we have a team of experts and market experience. You can get your app or website developed at the best price possible.
Also, if you are looking for branding solutions or online marketing for your brand then you should check out VerveBranding and Verve Online Marketing today and make your brand stand out.
(Visited 487 times, 1 visits today)