Mobile App Trends To Take Over In 2021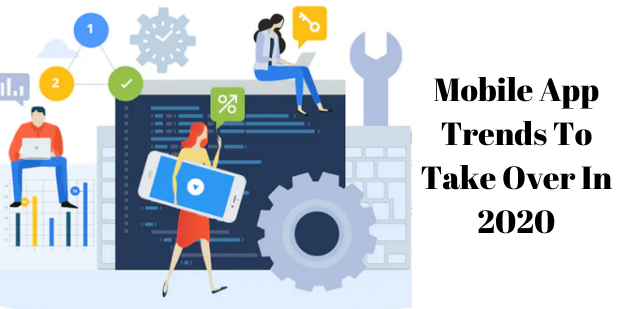 It has been more than a decade since smartphones have become our quintessential part of our everyday lives. With the rise in the usage of mobile phones, the developers have introduced several mobile apps which are continuously offering new value and experience to mobile users. Smartphone technology has enhanced things beyond our imagination including revenue which comes through mobile app development. As per mobile app statistics, by 2020, mobile apps can expect $581.9 billion in terms of revenue. There are several mobile app trends which have grown with time making our lives easier. Alongside smartphones, let us find out the numerous mobile app trends which will dictate the year 2021. Speaking of the progress of Information Technology, 2019 was a great year and 2021 will be even better. Want to know how then read the article below!
Mobile App Trends That Will Rule 2020
1. Beacon Technology
Beacon is a small Bluetooth radio transmitter which has already proved to be an excellent mobile app trend and a marketing tool. The mobile app development market will again rule in the year 2020 by connecting the offline and online world and industries like entertainment, hospitality, hotel and healthcare are using this hand feature.
Thousands of mobile users can not be notified of the updates with the help of beacon technology. This fabulous feature is making businesses better and is also integrated in the Internet Of Things (IoT). Beacon is something which every business must consider in the coming years as it will transform in the following ways:
a. AI-enabled chips
b. Mobile payments beacons
c. Beacons treasure hunting
d. Automated machine learning
2. Wearable Technology
This mobile app technology needs no introduction as it has already transformed the IT industry. Wearable technology is especially integrated into consumer electronics like Apple Watch, Android Wear OS, fitness bands, trackers and more. With the help of cross-platform mobile app development, wearables are becoming a crucial part of a number of industries. In this modern world, you cannot miss out on apps with wearable technology. With the help of wearable technology, your business can surely increase profits. Not only commercial purposes, but wearable technology is now even assimilated into navigation systems, advanced textiles, and possible wearable trends in the year 2020 are:
a. Less dependence on smartphones
b. The rise in the fitness trackers
Although apps incorporated with wearable devices can only be used when kept near your smartphones. But with the advancement of technology, it won't be required as such apps can be used without any kind of restrictions.
3. Blockchain Technology
How can we miss talking about Blockchain technology amongst all the mobile app trends in 2020? A blockchain is basically a growing list of records known as blocks. These blocks are linked using cryptography and using this technology businesses can easily record the company's information and view various transactions with ease. Blockchain has made the transactions transparent and safe for the users. A powerful app can be built using blockchain and artificial intelligence.
Some of the benefits of Blockchain technology in the mobile industry are as follows:
a. BAAS (Blockchain-as-a-Service)
b. Crypto space and gaming
c. Asset tokenization
d. Trading on a cryptocurrency exchange
4. Progressive Web Apps
One of the major mobile app trends in 2020 will be Progressive Web Apps which is also known as PWAs. Ever since its origin in 2015, "Progressive web app" has tasted success as many companies have adopted this application software. This is basically a web application but seems like native mobile applications but it is a combination of both. For instance, PWAs have the quality of both web apps and native apps and can be easily accessed and discovered. The number of businesses using PWAs is already high and it will even get higher in the year 2020 and the coming years. As a newcomer, any entrepreneur can incorporate this technology in their business to become future-focused.
5. Voice Search
Voice search is one of the mobile trends which have hit the brains of users so hard that they are not able to get over this feature. This trend started with 'Siri' on Apple and is now a part of every mobile device. Through this technology, the user can use a voice command to search the Internet, a website, or an application as well.
6. Personalization
Personalising a mobile app has played an important role in bettering their overall omni-channel consumer experience. It is the key to make an app look appealing, effective, beneficial and most importantly successful. Several e-commerce companies, as well as other companies, have applied this trend in their business app offering a personalised experience to their end-users.
7. Cloud Technology
Cloud technology is a must to develop an app which functions flawlessly across multiple platforms. This technology offers various benefits such as Streamlined operations, Reduction in hosting, Less equipment cost, Enhancement in storage capacity of apps and Increased collaboration and productivity. Today developers are creating cloud-based mobile apps to save on the size of the application and for saving the data. Apps created using cloud technology keep the speed of such apps high.
In the year 2020, these will be the cloud computing mobile app trends:
a. Quantum computing
b. Hybrid cloud solutions
c. Evolution of cloud services and solutions
8. Chatbots
According to the reports, 80% of e-commerce will use chatbots in 2021. Already many companies have applied this technology to make businesses 24*7 and non-time bound. Here are the top industries which are using Chatbots are:
a. Real Estate
b. Education
c. Finance
d. Travel
e. HR and recruiting
f. Healthcare
Also, look at some of the benefits of using chatbots in your business. 
a. Reduce Customer Support Costs By 30%
b. Increase income by 40%
c. Increase Lead Generation
d. Increase user retention rate
Furthermore, chatbots are expected to become even more popular in the banking and insurance sector.
9. 5G
After 4G, it's time for the world to experience high internet speed with 5G. This mobile app trend will help users to expect zero lags and loading time. Businesses like Verizon and Samsung are already prepping up for the launch of dedicated 5G-capable chips. It is being said that 5G technology is also ready to change grounds for technologies and industries like AR/VR and Gaming.
10. AR/VR 
Augmented Reality and Virtual Reality technology are embracing the digital world since the past few years. Google and Apple are using AR/VR technology to enhance user experience. It will bring a revolutionary change in the mobile app development industry in the coming year by this:
a. AR in healthcare
b. Mobile AR disruption
c. AR in manufacturing
d. AR in Advertising and Marketing
Popular gaming apps like Pokemon Go and social media apps like Instagram and Snapchat are already using the technology. These apps keep on updating interesting stickers and animations from time to time to keep the users engaged. According to a published report, the estimated number of apps integrated with AR/VR technology will increase in 2021.
11. IoT 
Popularly known as the Internet of Things or IoT has been a part of the mobile app development framework for quite some time. By the year 2021, the number of IoT-enabled devices will reach 30.73 billion. It is not only used in sectors like healthcare, education etc. but also in economies as well. It is obvious that mobile apps will witness transformation in this field.
12. Artificial Intelligence
AI, famously known as Artificial Intelligence has gained a lot of popularity in the past few years and has helped the mobile app industry to create smart apps. This technology will impact the mobile application development processes by shaping the internal factors of a business and customer experience. As per the reports, it is estimated that the global market of Artificial Intelligence will reach more than $190 billion by 2025.
The future of AI in the coming years will witness an increase in revenue and:
a. Automated machine learning
b. AI automated DevOps through AIOps
c. AI-enabled chips
13. Instant Apps
Instant apps can be accessed without downloading them and are making a niche in the market. They have been developed to combat downloading and low storage problems. In the users life, instant apps have been playing a major role in operating entry model devices.
14. Low Code Development 
It is one of the upcoming trends in the mobile app development industry in 2021. Low-code is a visual development is a new approach to building unique and fast business applications. Some of the benefits of low code development are improved agility, decreased costs, higher productivity, better customer experience, faster transformation etc.
(Visited 75 times, 1 visits today)