Why is a Retail App Useful for Business?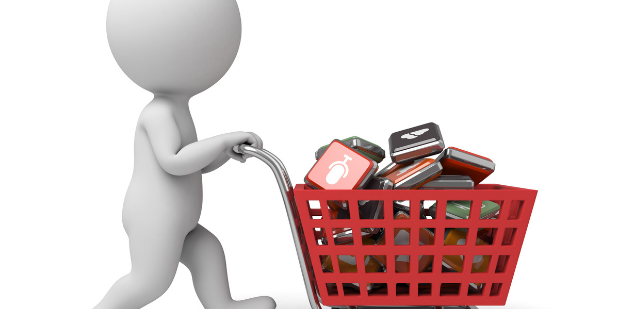 It's been many years since people know that every business needs a mobile application to  turn it to success. And this point of view applies to retailers as well, because the mobile industry has a lot to offer with current situations like everything going online. So, as for retailers we need to find out what opportunities are open for them for better business chances and benefit in the market. 
As per the researchers a consumer spends 4-5 hours on their mobile devices in a day. With moving further, consumers spend 90% of their time on mobile. And the mobile app industry has already reached new heights and is most impressive in the current year and decade.
What does the App Industry Means for Retail Business?
Yes, it's true that mobile app development has changed the ways of doing business even for retailers. Now it's become easy to interact with consumers in the most effective way. With mobile apps for the business you won't need to spend on advertisements anymore as you can share the special offers with everyone efficiently through your retail business app. The growth of the mobile app industry has changed the way in which customers buy things for their use. Now people have options from which they can choose from just by sitting at their home. They compare the prices, quality, goods & even the reviews given by other buyers. As per the research the mobile apps for retail business had an exponential growth by 80% in 2015, which is an enormous growth. According to the IBM report, mobile devices accounted for about 60% of all online traffic.
So, as per the above information it is common for mobile app users in retail business to use it as a major source. And any one wants a good growth in their business in less time then mobile app development is one thing you should focus on. 
How can Retail Business Use Mobile Apps?
There are many beneficial technologies and tools that retail businesses can incorporate during mobile app development as they can help to boost your business. There are a few ways by implementing different features. Either you can take help from 3rd party solutions or invest in custom development. We suggest going for custom app development as it allows flexibility to your application, but at the same time it is expensive and time consuming.
With 3rd party solutions, you will try the solutions work in practice and decide whether you need some features, or it isn't relevant for your business. You don't even have to spend loads of money and time. So here we have different approaches to develop mobile apps for your retail business. Let us have a look at the advantages and disadvantages of both of each approach.
Geolocation Technologies
Geolocation is a very effective technology that every business app must have this technology as it helps to navigate your potential & existing clients. The retail leaders like Walmart, Tesco, and Target use Geolocation to help people find the nearest store in their area and if any new stores are opening & other facilities.
There are a few ways to integrate this technology into an app. The mobile platforms like  iOS and Android have a variety of APIs for implementing different functions. To integrate geolocation during mobile app development, the two critical points that separate APIs are.
1. Determining a position of the object
2. Displaying the identified object on a map
Usually maps service shows specific data on maps provided by Google. Once the implementation of geolocation, the app sends a request which data should be displayed. As the result, your application is not involved in the maps creation process, figuring out a route, or geolocations identifications. And it uses 3rd party service to do that. And the integration of geolocation on the iOS platform is provided by the iOS location service.
The mobile app developers take advantage of iOS Maps service by adding many features like: 
a.Street. 3D views
b.Programmatically Pan
c.Pitch the map option
d.Zoom in/out feature
This allow app interacts with the geolocation maps service using their features.  
Beacon Technology
The Beacon system is used to determine the location of clients to propose them new products and offers. You can use this technology to determine the location of clients to propose them new products and offers. When geolocation and Beacon technology combine then it allows apps to receive signals from a system based on Bluetooth in the physical world. It is used to send push notifications to the customers' mobile devices whenever they are within range and have the appropriate application.
It is widely used by Tesco, Macy's, McDonalds & other retail giants. This allows retailers to send meaningful ads on their smartphones. To integrate Beacon in your app, we need to use Core Location APIs to get a notification when the device has moved into or out of a beacon region.
Customer Loyalty Programs
Loyalty rewards programs are a very good idea while developing mobile app development. Sometimes people forget to use the discount coupons so with customer loyalty programs customers can use it to get discounts while paying for ordering. Best retail mobile apps use different surveys to find out which rewards their customers prefer to provide them with an effective loyalty program.   
Push Notifications
Addition of push app based mobile app development can complete the user's and retailer's needs. If a user is interested in a certain product, the app can automatically send updates about price, discount or availability without the user's request about it.
Now with the advancements in technology we can track the customer's action in the app and push notifications help us concrete the business about your events and news such as new arrivals, sales beginning, presentations and special offers. 
Mobile Payments
Seamless mobile payments are what people do while shopping through an app. With mobile payment gateway, customers can pay for goods without any cash is a very amazing thing to have. With payment method users get a new ability to make purchases immediately in the app using inbuilt technology for mobile payments.
There are two possible ways to integrate mobile payment. 
A. Using 3rd party solutions like Stripe or Paypal – Stripe has native iOS & Android libraries for easy integration of payment service on both platforms and easily helps developers while retail mobile app development. The only disadvantage you can be faced with is the transaction fees which is 2.9%, it's not a big price and surely can save you a lot of time. 
B. Investment in the development of customized payment systems to avoid additional fees, and as it is a more flexible solution. But it also requires too many back end modules that need to be built.
Sales Support
We all know that social media has made mobile texting a strong habit for many people . Get a broad range of capabilities right at your fingertips providing the sales support directly in your app. You need a way to reach you users anywhere & anytime.  With sales support you can quickly get customer's request enables you to keep your business
The Pros & Cons of Mobile Apps for Retail Business
With all the benefits for apps in retail business, so with a successful mobile app you can have a lot of profit with ensuring the needs of the users by solving their issues along with a purpose. Let us have a look at the pros of developing an app for retail business.
1. The number of mobile app users are constantly increasing
2. Apps help you with proper branding and broading your business
3. You will get your customer's retention & loyalty
3. Easy demonstration of products, services and connection with clients
4. Better user experience for your users
5. Apps are much faster in service than mobile sites
6. Keep in touch with your clients, with loyalty points and other rewarding programs
Things to consider before retail app development
1. It takes time & costs to make an app for each platform so you have to wait for substantial market presence.
2. You have to provide constant mobile updates to your mobile application
3. Your app will be best if you have more and best functionalities, so more funcationalities, the more it costs.
4. You need to continously track and monitor user's feedback.
So, with all the above points it is clear that it will be beneficial for a retail store to have an application so people can easily purchase the goods. The more you get personalized, more users you will interact with your business. But as we have seen throught this article that it is not a simple task to develop an retail app development and you will need a top app development companies by your side. Wtith all the above information it will be easy for you to create a retail mobile app for your business. And trust us, don't miss this opportunity to earn more profit and more expansion as an app can easily do it for you. Just get the right retail mobile app development company by your side so you have the best retail app in the market.
More Info:
# Important Features of a Retail Mobile App
# Why Custom App Development Proves to Be a Perfect Choice?
# Natural Language Processing Tools & Libraries 2020
# How to Get Crowd Funding for Your Mobile App Development
(Visited 90 times, 1 visits today)