20 Must-have Features to Step Up Your Retail Business Through Mobile App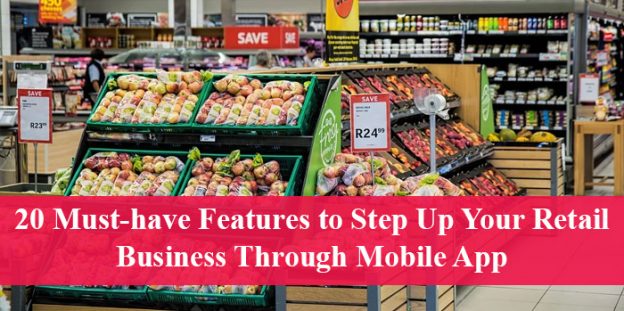 Mobile technologies have opened a myriad of opportunities for businesses and past few years have been a clear evidence. The notion applies greatly on retail sector where you have to carry out actual sales and earn a good return. There was a time when we used to roam around the city in order to buy stuff whereas the people we have become now, "the modern customers", we spot a big time waste in doing such an activity when we have millions of options on our finger tips. Mobile applications did not jump in to our lives directly, instead we were first blessed by a reach to web platforms which demanded opening up a whole lot of system or laptop then opening multiple tabs and gaze things. Comfort was an issue! 
Then arrived, mobile application development technologies which made our lives simpler with their ultimate potential. Not just retail, they slowly stepped into every aspect of our routine activities. For example, travel, banking, social networking, games, news and many more things. 
At present, most of the people carry smartphones with them all the time. According to a study conducted, "There were 19 billion software developers across the world in the year 2014, and the number would grow to a whopping 25 billion by 2020" 
Getting straight to the point, mobile applications grew in two forms in the retail industry. There are platform where the products are directly sold by the store owner whereas another form is a marketplace where store owners can have their own products, but they also allow other sellers to come on their platform and sell products. The first form was result of a need due to growing phone users whereas the other one came up as a new business idea. Then, we saw both forms adopting mobile approach. Why? 
There used to be a time when most of the people could not afford to carry a smartphone where as with the arrival of low-cost phones and data services, billions could make a reach. In the past few years, the percentage of the retail mobile apps users literally jumped up beyond the reasonable number. Businesses are increasing adopting the same to stay in line with the industry as well as to serve the demands of modern customers. 
Now, if we have seen the numbers growing, we have also seen businesses that had to suffer setbacks giving priority to mobile apps. Result? Companies wasted their time, efforts and money. What made their apps fail in the market? 
Mobile apps are not a magic. You have to apply right techniques, use right technologies and most importantly, right features in order to make it a success. Due to rising competition, businesses try to bestow an improved version of what's already exiting in the market. Due to this reason, people are increasingly getting the best things in their hands every time. So, be sure to have improved as well as new unique features on your app so as to target most of the users. 
We are here going to present a list of some important features for a retail mobile app. 
Important features of a retail mobile app
1. User account creation: This is the must-have in the list where you take details from you would-be customers in order to later inform them about offers, discounts, latest collection and things like that. Moreover, you can add up all the information related to their orders like transactions, history, shipping, delivery to their profiles. Through such profiles, you will also be able to collect some intelligent data which can be later used for refined targeting. 
2. Easy-to-use catalogue: Mobile phones are generally small in size due to which your catalogue often goes cluttered and unnoticed. To avoid such events, you need to provide an easy to use catalogue in which products are clearly visible. Allow users to sort on the basis of popularity, price and more factors so as to help users find the required thing quickly. Give advanced filters for them to narrow down the list of only specific products to bring quick conversion over the platform. Make sure to use good quality product images. 
3. Product Description: Your customers should be able to visit the necessary information about your products so as to understand details correctly. It eliminates the future events of returning or exchanging. Guide users with the product colour, collection, size, item number and all the other important information. Do not forget to keep the catalogue and product detail pages in download mode so that users can also check the same in offline mode later. Product descriptions improves the customer experience as it makes your site look informational and professional, thus helping you sell your product quickly. You will also need product descriptions to support your SEO technique later.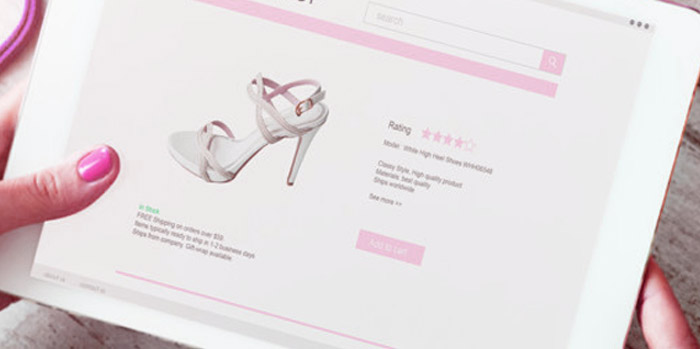 4. Geolocation feature: Geolocation is a highly appreciated technology of the time through which you can guide your prospects to the nearest store or can show them personalized offers based on their location. For example, if there is any discount or deals running in a store near by the user's location, you can quickly send them a quick notification. There are different ways to integrate geolocation features in Android and iOS app. In Android app, it happens through Android location services offered by Google whereas over iOS apps, it is done through iOS location services. Such a feature is helpful in giving you an advanced and reliable solution for future. 
5. Artificial Intelligence: Artificial intelligence helps you increase the overall efficiency of your mobile commerce. It is a technology made to make your system enough intelligent to understand user behaviour and shopping history and based on that, personalize the overall experience. For example, we have chatbots running on most of the ecommerce platforms nowadays guiding users through the exploration process or even the complete buying. AI also helps you displaying trends that are specific to the demographics based on search and sentiment analysis.
6. Loyalty program: Loyalty program is a concept to reward the loyal customers which is common but a must have feature for mobile commerce. The rewards may comprise of monetary awards or some kind of exclusive services. According to Oracle Hospitality, 71% of customers join loyalty programs because of discounts, and 63% join because of free rewards. These are generally kept to keep users connected with your brand only for their specific requirements. You can refer to an analytics tool in order see whether your loyalty programs are working or not. Introduction of loyalty rewards to the mobile retail app allows you to effortlessly track customer's behaviour. 
7. QR code scanning: QR codes are defined as the two-dimension codes. Having this feature in your mobile app allows users to scan a specific code taking them to the product information. It can also take users to the purchasing page from where users can buy that particular product.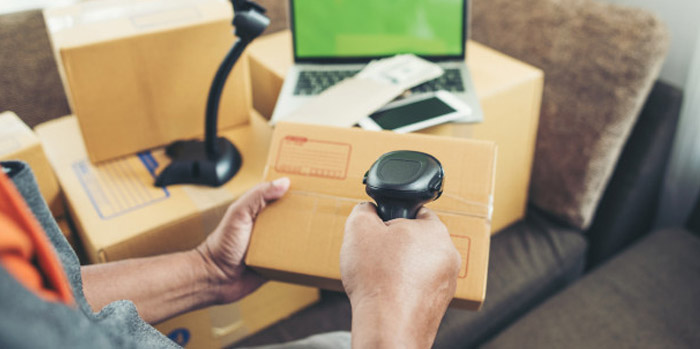 8. mPOS and mobile payment integration: It is a maximum and important convenience required by modern customers. Mobile payment integration allows users to go cashless. They can easily shop and carry out transactions through various payment options available. Stripe, PayPal and Razor Pay are some of the eminent payment gateways in the industry which are mostly used by businesses and preferred by mobile app development companies due to ease in integration. Make sure to use a familiar service for this purpose as transaction is a sensitive matter and people are often cautious while payment goes out of their account. If you take them to a strange website asking for card details, they might drop the whole idea of shopping in a terror of being attacked. Besides, we have mPOS systems in place where by a single touch to the plastic card, your smartphone can easily read its owner name, card number, expiry date and also the information about the latest transactions conducted with the card. 
9. Beacon technology: Beacon technology is based on an amazing concept through which you can send special offers to the nearby users. For example, the very famous Starbucks use this technology for rewards, payments and even tell nearby customers about which music is right now playing in the store. Retail brands have been the early adopters of this technology looking at its potential to swiftly attract audience. According to a research carried out by a leading firm in the industry, the retailers that have tried introducing beacon in their systems are satisfied. 
10. Analytics: It is important to have advanced analytics modules integrated in your app so as to watch every move of your prospects. It lets you know how many users have downloaded your app, how many of them are engaged on the platform, what issues customers are facing and a lot more things like that. This data would help you improvise your app by time and make you adopt the right strategies to get your downloading and engagement figures up.
11. Push notification: It is a blessing of mobile technologies that we are able to inform users about anything exciting in a matter of seconds. Push notification are just amazing through which you can quickly connect with prospects and let them know about the running offers, deals, discounts and other events that can be helpful for the user. These ae seen to completely replacing the old school methods of SMS and email marketing; and have higher open rates in comparison.  According to a report by Leanplum, personalized push notifications can increase the rate of responses by up to 800%.  But yes, you need to keep in mind that Push notifications are there to inform and not overwhelm or annoy users. 
12. Product evaluation: It is a slight uncommon feature that most of the ecommerce mobile apps do not have but is certainly very helpful. Product evaluation means showcasing a particular product to the user from every possible angle when users cannot see the product physically before purchasing. You must have encountered with a situation when you so wanted to see a particular product before purchasing to gain insights to the inner details, but the shop keeper did not allow that. Some of the store have product evaluation feature on their mobile apps through which user can see static visual preview or a video to a 3D or even an AR model of the product to be purchased. 
13. E-promotions: Coming up with offers is an important aspect for any retail business. You have to keep users excited regarding one or another thing so that they keep coming on the platform. There can be two types of offers- Either you send personalized coupons depending upon the purchasing or browsing history of the user or general coupons that are provided to all the users. 
14. Credits: A great example of marketplace adopting this feature is Myntra. You must have encountered with a message from Myntra saying "We have credited Rs. 300 in your account". These are basically credit points which can only be used if you carry out a purchase from that marketplace only. Also, such offers have limitations. For instance, these 300 rupees can be used only if you make a purchase of above Rs. 1500. If you go below that, then you can only use a certain percentage of your credits. Now, if the user has been looking a particular product from a long time but found the price high every time, he/she can take advantage of credits. 
15. Personalization: Personalization is a standalone feature in itself. It is defined as creating a tailor-made experience for the users as per their age, gender, choice, purchase history, browsing behavior etc. It is not necessary that the user has to be old to enjoy personalization. Even if the user registers on your app for the first time, you get to know a lot of things like gender, age, location etc. through which you can make the whole homepage slightly personalized for them. 
16. Customer services: No matter how well you have framed your app, customers will always have questions. You can integrate a Live chat plugin with the app so as to answer queries instantly and quickly let users move down the conversion funnel. Some of the app also allow users to place an instant call to the customer care executive to get quicker assistance. There are many modules available in the market to have such a service on your platform like Zendesk, Tawk.to etc. A live chat module can easily help you move to the next level with your mobile app.
17. Fast and secured checkout: It is the last step on which you cannot afford to lose customers at any cost. Though, many end up experiencing so! Why? Some websites have a very complicated checkout page, may be with long forms or complex design and by the time user understands things, they get tired out of following such a boring process. It takes them away from completing the process. You can introduce some features like showing a progress bar or keeping the checkout single page so that customer can effortlessly complete the purchasing. Moreover, the checkout process has be secured. While going through the checkout process on some apps you must have seen a green bar assurance. You must provide the users with some security features so that they are assured to their data security.
18. Easy navigation: Your app should have smooth navigation as the users are interested in knowing about your products rather than how your app works. Navigation takes in account keeping the design minimalistic to maintaining the consistency throughout the customer's journey on your app. Categorization has be done carefully so that users can easily find what they are looking for. Also, consider using breadcrumbs as thos are navigation aids. Make sure that important things have more visual weight on your app. There are a lot more things you can improve. You just need to think from user perspective. 
19. Rating and Reviews: Allow users to post as well as see customer rating and reviews. It bring a sense of authenticity to your platform. With a complete digital shift, online reviews have become more important than ever. Customer feedback encourages you in improving your products and services and at the same time, it increases the level of trust you would-be customers have for you. 
20. Quality images: Last but not the least, Images play a great role in online retailing. At physical shops, users can see the quality of the product but with online stores, it is practically not viable. The images you upload should be enough to appeal users to carry out purchase. Images are responsible for convincing a customer, and successful images get the person to click and finalize the purchase.  
Ecommerce stores are clearly winning the race at this point of time, but you need to be really competitive because the number of online retailers is going beyond the limits. To get more assistance, feel free to get in touch with us through the comment box.
(Visited 41 times, 1 visits today)