Top 20 Manga Apps for Android Devices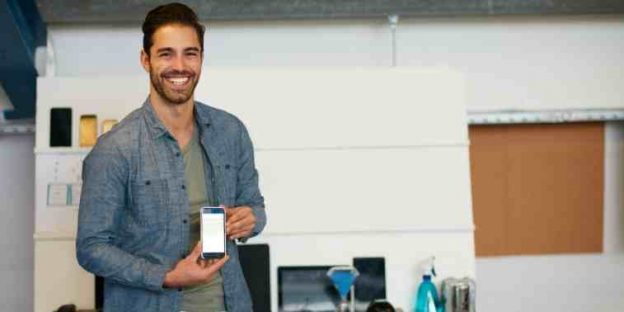 Manga comics are the latest addition in the minds of teenagers from all around the world. Not only teenagers, but adults also love to read manga in their free time. Moreover, it is also beneficial to learn a new language, improve their language skills and also imaginative power. But the thing about Manga comics is they are not available at ease and oftentimes you can't afford to collect them on a regular basis. We understand your concern as we have an amazing solution for our amazing readers who want to read Manga daily. As a leading mobile app development company, we have found the best manga reader app for android devices where you can enjoy reading millions of manga and other comics for free.

Facts About Manga (Bonus Section)
-> The manga was originated in the 12th Century in Japan
-> Manga means CARTOONS or COMICS
-> Mangas is read backward for a North American, from right to left
-> Mangas are very famous in Japan as Japanese people spend around $30 on mangas every year
-> Naruto is considered one of the most powerful properties in the world of mangas
-> An artist which works on Mangas is called "Mangaka"
-> There are several Manga Cafe's available in Japan
Since we are going to talk about mobile apps, do you know how mobile app development works? If not then we have a detailed blog on the Mobile app development process: Step by Step Guide for easy understanding from the top mobile app development company and how they handle the work.
Best Manga Apps to Android
As we all know that Google Play Store has thousands of manga apps but none of them offers free comics to read so you must know about the app before installing one. Moreover, we have made things simpler for you by finding out the 20 best manga apps which can help you a lot and you know which one you should try and which ones not. Our sole purpose is to enhance your manga reading experience with these apps.
1. Manga Week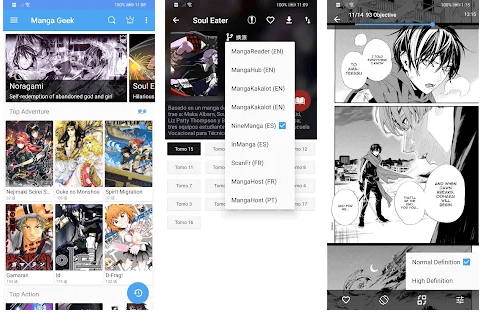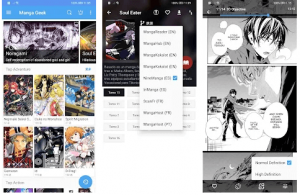 Manga Geek is a very intuitive app that automatically updates the new manga as soon as they are available. Manga Geek is considered one of the best free manga apps for android which also offers multilingual access. This means all Mangas are available in multiple languages for users from different diversities. However, you need an internet connection to get accessibility to this app. Let us have a look at the top features of Manga Geek.
-> Has a database of 40,000 manga and other comics are stored in this app
-> Updates the new chapter automatically
-> Can find Manga in a lot of languages like English, Japanese, Spanish, French, and so on
-> Even the Manga and comics from the top and big companies like Mangapanda, Mangahub are separately available in this amazing app
-> Offers an intuitive and user-friendly interface
Download Manga Geek – A top manga app for android
2. Manga Searcher: Manga Reader V2
Let us have a look at another stunning manga app that offers an amazing user interface to its users. As its name suggests it allows users to search for their favourite manga here and read them. It is free to use and it also automatically updates the new chapters once they are released. Let us see what other features it has to offer.
-> Free manga reader app which contains a huge collection of Manga and comics from different genres
-> Allow you to save files so that you can also read them when you are offline
-> Day, night and reader modes are available
-> Consist of features like bookmarks, favourites and recommendations which enhances your user interface
Download manga apps free – Manga Searcher: Manga Reader V2
3. MangaToon
MangaToon is another top manga app android free which also has an amazing interface. It makes it easy for users to find their favorite manga. It offers a very easygoing approach and an automatic updating process which makes it an impressive reading app for manga readers. The other important features of MagaToon are:
-> Contains lots of Manga and Comic series with different genres
-> It also allows you to read manga and comics from different sources like Batoto, Manga Reader, MangaHere, etc.
-> Offers Manga series in lots of languages like English, Portuguese, German, Japanese, Korean etc. are available
-> You can also filter Manga by source, time and genre
-> Allows you to download the manga series so you can enjoy them later offline
Download MangaToon – A great android app for good comics and great stories
4. Manga Reader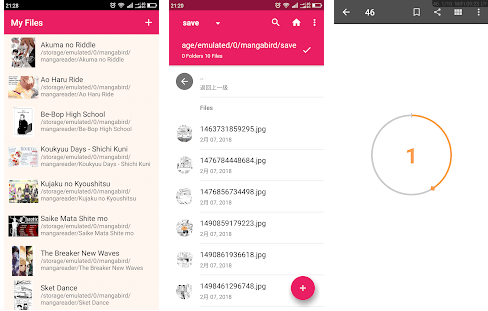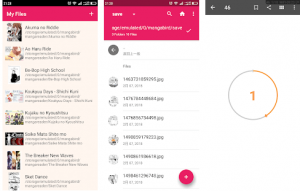 Every Manga lover knows about Manga Reader as it is one of the most popular manga apps for android users. It also stores a huge amount of manga series where you can read and download manga and comics without spending a single amount. Let us have a look at some important features of the Manga Reader app:
-> Store Manga and Comics from many 20 famous sources
-> Filter manga by name, genre, time, and also through rankings to always find the best
-> Features like continuity while reading, page scroll, and page curl makes it easy for the users to read mangas
-> Also allows you to bookmark your favorite pages and mangas
-> The best part of the Manga Reader app is there is no downloading limit. Which can save a lot of time in finding the mangas and enjoy them later anywhere anytime.
Download Manga Reader – A Free Manga app for android
5. Super Manga
Let us have a look at the next amazing Manga app which is known as Super Manga. It is another stunning manga reader app that offers special designs which attract teen manga readers. It is very straightforward to use, which has millions of manga and other comics. Let us see some other important features of Super Manga:
-> Allow users to read even when there is no internet connection
-> Stores Manga series from many top Japanese writers and sources
-> Updates new chapters and mangas whenever they are available
-> Clear images which show every page beautifully
Download Super Manga for your android phone
The Raspberry pi was introduced to mankind in 2012. Since then it has emerged as one of the best technologies to work on and many mobile app development company are also using it to create some amazing apps. It helps in various ways as the best raspberry pi projects will give you an understanding of projects from basic to advanced. So, here are the top 20 raspberry pi projects that you can start right away.

6. Manga Plus
If you are looking for an android mobile app that features animation series like Naruto, One Piece, Dragon Ball then you must try this next app known as Manga Plus. It is among the best manga apps which are available in the market that has a huge database of millions of manga series and other comics from all around the world. Using this app, you can find every manga very easily. If you do not find one then comment about it and the creators of the app will find it for you. Here are the most significant features of this amazing app.
-> Contains original manga series of almost all the famous series
-> Offers easy filtering process, adds all-new chapters automatically and notifies about it
-> Free to use app for reading the famous Manga
-> Has a beautiful and intuitive theme, day-night modes and also a reading mode
Download Manga Plus by Shueisha for your android devices
7. Anime & Manga Animo
The next app on the list is for the extreme lovers of Manga who not only love to read the manga but also engage with the manga community. Anime & Manga Animo is the perfect app for such avid readers. The android manga app is one of the fastest-growing communities as there are millions of people who read manga and Anime and Manga Animo android app helps discover other people who love manga too.
-> Unbelievable storage and database of manga and comic series
-> Allows you to give you feedback to make it more intuitive
-> Discover new people, community and make new friends
-> Share your manga facts, drawing, cosplay costume pictures and much more
Download manga apps for android – Anime & Manga Animo
8. Comic Time Reader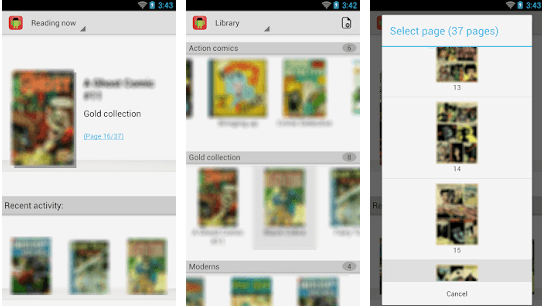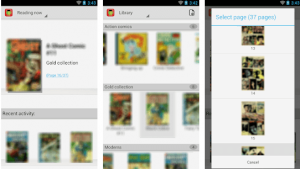 Comic Time Reader is another free manga reader app and is among the best android manga apps for manga readers. If you also love simplicity then this simple and elegant app is for you. It offers several genres to choose from which makes it easy to find your favourite comics and mangas. Let us have a look at some important features of Comic Time Reader:
-> Contains millions of comics and manga where each one is separated as per its genre
-> Bookmarking through the single tap, unlimited numbers of Manga works offline, adds new chapters automatically.
-> Offers an amazing theme with lots of beautiful manga images
Download Comic Time Reader – One of the best manga and comic book reader
9. Comics 
Our next app is Comics, offered by ComiXology which gives you access to thousands of digital comics and mangas. However, it is a subscription-based model which provides a free trial version and after that, you need to pay for this top manga comics android reader app which has an amazing user interface and themes to make things easy for you. Some of the most important features of Comics for ComiXology are:
-> Lets you read thousands of comics, mangas and also novels
-> Save and download books, comics, mangas so you can read them later when you are offline
-> Allows you to read all the comics and mangas without any ads
-> Also lets you integrate other sources like social media accounts
Download Comics by comiXology manga apps android free
10. Crunchyroll Manga
Crunchyroll is surely one of the best apps for your phone if you want to read a lot of manga and comics. It is free to download but you need a subscription after a certain period to continue the reading. The subscription model removes the ads and waits for the newest updates. It is not just like any other manga app, it is a place where you can read the latest manga published today in Japan. You will be able to enjoy the latest episodes at the same time as they are published in Japan without any delay. More important features of Crunchyroll Manga are:
-> Read all the latest mangas
-> Works flawlessly on every device which gives a reading experience
-> Allows you to browse through all the pages in one time
-> You can start a free trial anytime with unlimited reading access
Download Crunchyroll Manga for your android phone

11. Webtoon 
Want to find Manga and comics in a new way then Webtoon is the best way to move ahead. If you are already into Manga then you must already know about this manga app for android devices. The best thing about this app is it offers Manga from different countries like Japan, Korea, Hong Kong etc. Also, there are different categories to choose from like animation, action, family, Romance etc. Let us have a look at the other top features of Webtoon:
-> Mangas of different languages
-> Allows you to bookmark pages and make a favourite list out
-> Customizable theme and background
-> Download option to read mangas later offline
-> Automatically updates the newly released chapters
Manga Apps Download – Webtoon
12. Lezhin Comics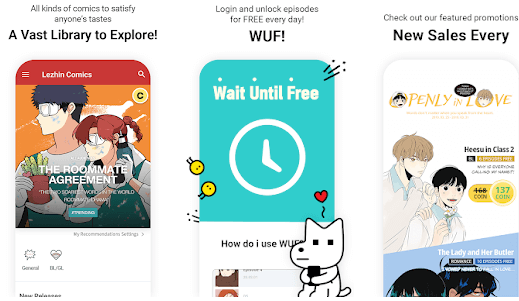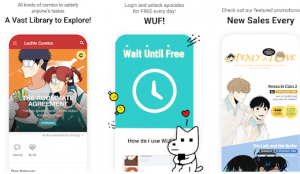 If you do not want to miss any newly released manga chapters and pages then the next app is known as Lezhin Comics. It is a very popular android manga app that focuses on daily releases to keep you updated with what's happening in the manga world. It automatically notifies you about the latest releases as you can save pages for later to read them while offline. The other important features of Lezhin comics are:
-> Advanced search engines which let you search any manga by its name and genre
-> Allows you to keep a record in my library file
-> Has different modes like dark, light, and reading modes
-> Suggests mangas based as your search just like Netflix
-> Save, bookmark pages to read in the future
Download Lezhin Comics – An exclusive manga android app for you
13. WebComics 
WebComics is another famous name in the world of comics that you can try to read your next manga. It enhances your manga experience as it has a huge storage of Manga and comic series from Asin, Europe and America. After seeing their database you will be astonished to see so many manga and comics in different languages and genres. You will find everything on Webcomics.
-> Offers reading mode along with dark and light modes
-> Designed with HD and beautiful colors
-> Has over 1000 chapters with different genres and images
-> Optimized search engine for quick search
-> Allows you to share your opinion and give ratings to the manga series that you have read
Download WebComics top manga apps for android
14. Manga Dogs 
Manga Dogs is another exciting app on the list which has brought a new way to experience manga and comic series. This app consists of complete manga and comic series from various top authors, from different countries and languages. Let us have a look at the other important features of Manga Dogs:
-> All the mangas are posted by their original authors
-> You can find any manga by searching them through names, authors and release time
-> Save your favourite series and bookmark pages that you want to read later
-> Offers unique horizontal and vertical reading modes
-> Notifies you when your favourite series is updated
Download Manga Dogs on your android devices.

15. Toomics 
If you are also a big die-hard fan of Manga and Comics then you must have an idea about Toomics. It offers some amazing different modes which you can read comfortably with some impressive colours and images and will take you to the world of the stories. Let us have a look at some of the most important features of Toomics
-> Just like other top manga apps it also offers vertical, horizontal mode along with light and dark mode
-> All the genres are categorized so they can be found easily
-> Easy sorting along with daily updates of all new mangas
-> Allows you to create a list of your favourite and bookmark pages that you like to read later
Download one of the best manga android app Toomics
"We are humans not computers to remember every single task of our day-to-day lives' ' (anonymous). I've heard people saying this a lot. BUT being a human is not the excuse for forgetting things that are important. We know that you like this quote and that is why we brought you the best apps by which you can make life easier with these 20 best to-do list apps for android devices.
16. Manga Shelf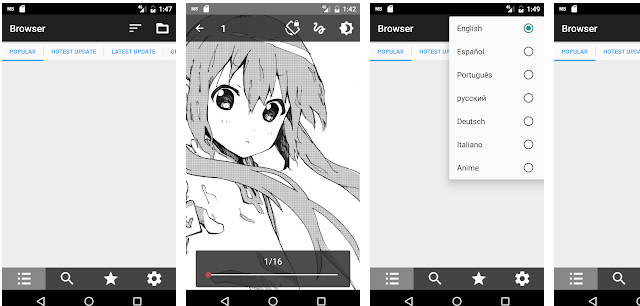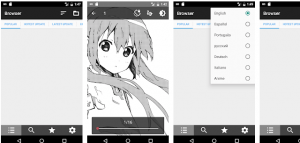 Manga Shelf is another famous manga app for android users which is available on the Play Store and can be used straight away to read mangas. It consists of a large number of mangas from different genres, authors and times. The other important features of Manga Shelf are:
-> Mangas from different genres and categorized separately
-> The intuitive and impressive theme, wallpapers and images 
-> Notifies and updates you about the new chapters
-> Lets you download the mangas and comics for later
Download manga apps free – Manga Shelf for Android
17. Manga Zero 
This is one for all Japanese Manga lovers. Manga Zero is a Japanese manga app that can easily let people from other countries read the Japanese Manga series. It contains some of the best manga and comics of all time. The other important features of Manga Zero are:
-> Auto uploads the new chapters
-> Makes all the Japanese Manga available which are difficult to find
-> Good for people who want to learn the Japanese language
-> Offer different modes which make the reading easier
-> Along with new, old and classic mangas are also available
Download Manga Zero Original comics on your android devices
18. WeComics 
Perusing mangas took another level with WeComics on Android gadgets. It is allowed to utilize and work with a broadly available application interface. WeComics is prepared for your exhausting time with bunches of mangas and successive updates of the most recent titles. It includes an intuitive funnies web index and proposes the mainstream ones to keep the perusers on to the pattern.
-> It is an extremely lightweight and straightforward application and supports the vast majority of proficient Android gadgets. 
-> This application gives day-by-day updates and offers progressed classification-based ideas. 
-> Clients can peruse mangas and funnies in disconnected mode. 
-> It upholds downloading for every one of the assortments and a simple saving framework. 
-> This peruser is outfitted with a perusing history recording framework that permits clients to peruse from where they left in the last understanding meeting.
Download manga apps for android like WeComics for free reading
19. Tapas 
Tapas can be yours across the board centre for finding comics, books, mangas, and stories. It is outfitted with first-class includes and furthermore has alternatives to move up to the top-notch release. Tapas is allowed to download and offers an enormous local area of dynamic perusers. The application is lightweight and takes little assets to run on current Android gadgets. The other significant feature of Tapas are:
-> It offers a huge number of funnies, books, and Manga in one spot. 
-> Clients get successive updates of the most recent deliveries and famous series. 
-> Tapas holds the assortment of the multitude of famous classes and content for individuals, all things considered. 
-> This application upholds the English language and moves along as planned on most Android gadgets. 
-> It upholds content downloading and is furnished with disconnected understanding capacities.
20. Tappytoon Comics and Webtoons 
Tappytoon, a manga application for Android is another perfect example of top manga apps. If you need premium quality comics and mangas, then, at that point Tappytoon will be the appropriate destination to reach. It offers top materials and the most recent deliveries in a single spot—famous series in bright portrayal and alternatives to go premium and purchase tokens to open restricted substances. Tappytoon gives practically all classes, like Romance, activity, dream, satire, k-pop, fantasy, etc.
-> It works perfectly on both Android telephones and tablets. 
-> New deliveries are recommended by close-to-home decisions and coordinated with a high-level warning framework. 
-> The application can be gotten from every one of the gadgets with a similar record. 
-> The top-notch substance and sections can be opened with tokens and an adaptable installment framework. 
-> The interface of the application is extremely easy to use and gives a progressed arrangement.
Download Tappytoon Comics and Webtoons for your android smartphones
Mobile app development is now being considered by many businesses and startups and especially after the coronavirus pandemic hit nations. As a business owner, you must be concerned if you do not have a mobile app to represent your business in these advanced times. Well, there are three major types of mobile apps but the apps developed by android mobile app development company using native gives an aesthetic feel. Here is the blog on the 6 major benefits of native mobile app development and how it can benefit your business in several ways.
These are the top mobile apps that will help you read the best comics. Let us know about your experience with these apps in the comment section and let us know which apps are the best to read the manga.

Moreover, if you are planning to create one such app to represent your business at a medium, low or high level then top IT consulting companies like VerveLogic can help you with the right direction and awesome development.
(Visited 1,314 times, 2 visits today)