How To Start A Dropshipping Business in 2022? A Comprehensive Guide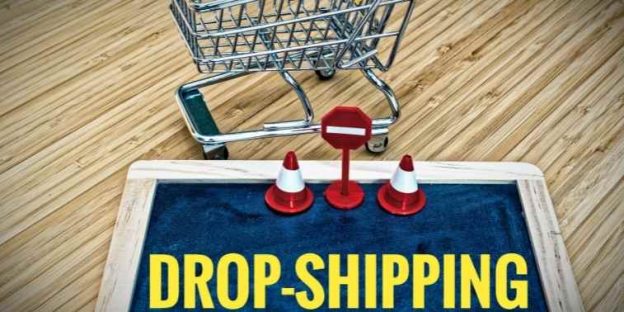 Nowadays people are more and more dependent on online shopping, thanks to COVID-19 for teaching us the lesson of social distancing, remote working, and self-sufficiency. This is also a lucrative opportunity for aspiring entrepreneurs to start their own business venture and earn, without investing in a physical store or inventory. How? The answer to this is Dropshipping Business. Start an online store to display the catalog, take orders from the customers, and redirect the orders to the wholesalers who will then facilitate the doorstep delivery of the said product.
Dropshipping is undoubtedly the best business model to start within 2021 as this is a low-risk and low-investment opportunity to grow, but like any other business, you cannot step into dropshipping with partial knowledge. Know What is dropshipping? the complete order fulfillment process, and how to start a dropshipping business in 2022?
Working of a Dropshipping Business Model
To start with a dropshipping business you should know what happens behind the scenes. Here is how the dropshipping business model works in the favor of an entrepreneur.
Dropshipping is an order fulfillment method that lets the owner of the dropshipping store sell directly to the consumer without stocking any merchandise by himself.
In the dropshipping business model, a consumer places an order on the seller's online e-commerce website which is then directed to the supplier for further processing, shipment, and delivery. Seller keeps a retail price for consumers to purchase and buys the same product at wholesale rates from the supplier. The difference between retail and wholesale rates is the seller's profit. There is no need for the seller to manage an inventory.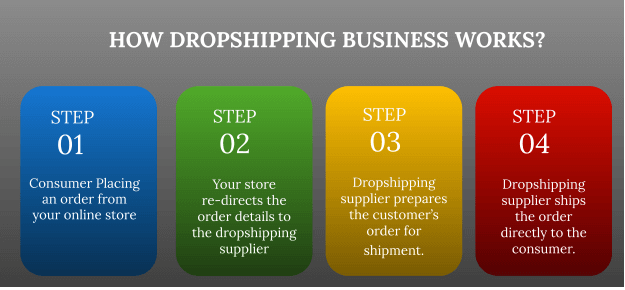 In order to start a store and sell the best dropshipping products online, the seller needs to register an account with the supplier.
How to find an authentic supplier? 
-> Get your hands on the dropshipping supplier directory (several options are available online).
-> Fetch the authentic suppliers belonging to your dropshipping niche from the directory.
-> Contact the manufacturers producing the items for your dropshipping niche
-> Search for suppliers on Google
-> Reach out to competitor's suppliers.
How to start a dropshipping business in 2022? 
This is where most aspiring dropshipping entrepreneurs fail. The entire dropshipping business journey depends on constant correct decisions and most importantly how you start your dropshipping business? Here is the roadmap to start with the dropshipping business in 2022.

9 steps to a profitable dropshipping business in 2022
1. Be dedicated to the idea of dropshipping business
Thinking of a brilliant idea and being committed to one are two entirely different things. Just like any other business, for ultimate success, you have to stick to the idea of dropshipping and do your best in that direction. Also being practical with your investments and goals is a must.
Though dropshipping is a comparatively low-capital business, what you have to invest abundantly is time and initial resources.
Investing in Time 
You have to give an insane amount of dedication and time to establishing the dropshipping business. This is the time you will come to know inside out of the entire dropshipping process and be able to envision your success through your business.
Take your good time to…
-> Learn how does the business operates? – This will help you manage the workforce under you when your business scales.
-> Know your potential customers and their purchase habits – this will help you with personalized advertisements and SEO.
-> Exactly know how much and on which niche to spend? This keeps you from exhausting your savings on unworthy deals.
-> Learn several entrepreneurial skills that will help you with the long-term success of the business you step in.
The mere idea of a dropshipping business is nerve-striking. Apparently, it takes a lot to walk off from a full-time job and start with a new online business. Being a newbie in the market you will face certain challenges with which the established firms have already gone through.
Though it is not impossible to start with your dropshipping business while you are still in a full-time job, provided that you are able to meet expectations regarding customer service and order fulfillment.
Every entrepreneur has their own time management, depending on the nature of the business and their expectations. But with an online store and 10-15 hours per week, it is certainly possible to make $2000 to $3000/month from your dropshipping business. When your business scales you can dedicate your entire time to it, certainly it takes at least 12 months and a full-time dedication to fetch a substantial profit that is worthy enough to replace your full-time job of $50,000. From the seller's point of view marketing and user experience is the key to dropshipping business success.
Dropshipping business certainly calls for time and effort but look at the bigger picture to get the worth of your choice:
-> Once you have established your dropshipping business, the working hours reduce to 40 hours/week.
-> Much of your initial efforts will be rewarded by the efficiency and scalability of this business model.
-> When you step into a business, you are building yourself an asset you can sell in the future (in shares/equity). Make sure you know the equity value and the cash flow generated while seeking true returns.
Investing in Resources
It is possible to grow your dropshipping business by spending shedloads instead of giving time and effort but this will sabotage your goals and lead to saturation from your business (by getting no financial worth). It is not a very good idea.
It is important for you to invest all your time and efforts initially and slowly ground up to incorporate other executives into your business. Knowing your market and business will help you come up with cost-effective options to start your dropshipping business. For instance, outsourcing your e-commerce web development, digital marketing, and SEO tasks to one single IT firm will be more cost-effective than hiring different resources for different accomplishments. Moreover, this will save you time that you can dedicate to other fields of progress. If you are a layman with technology, make sure you outsource your tasks to a professional e-commerce website development company that will give worth to every penny invested and save you from undirectional expenses.
Also, the sure-shot way to get the best dropshipping suppliers is market analysis and knowing your niche well.
2. Pick a dropshipping Niche
Finding a profitable dropshipping niche is a job half done. But is it that easy? Know how can you find the profitable dropshipping niche for your business in 2021? (in-depth analysis). To start on a firm foot, market research is necessary – the demand, the competition, the products, shipment conditions (if any), etc. Also, you can bring up your passion to be your dropshipping niche only if it is practical and has a market scope.
Sometimes niche products will help you reach out to a passionate consumer base, that is the market you can easily capture by just spreading awareness for your brand. There is no scarcity of niches you can choose to start with your business – fitness to health, electronic, grocery, phone accessories, stationery, yoga apparel & accessories, etc.
Market research is a must for finding a perfect dropshipping niche. Here are the tools you can use in your favor.
-> Google Trends – For better insights into the current trends in your dropshipping niche. You can trust Google Trends with your market study and what is the interest status of people in different geographical locations. You can filter the results based on geographic location and interest over time.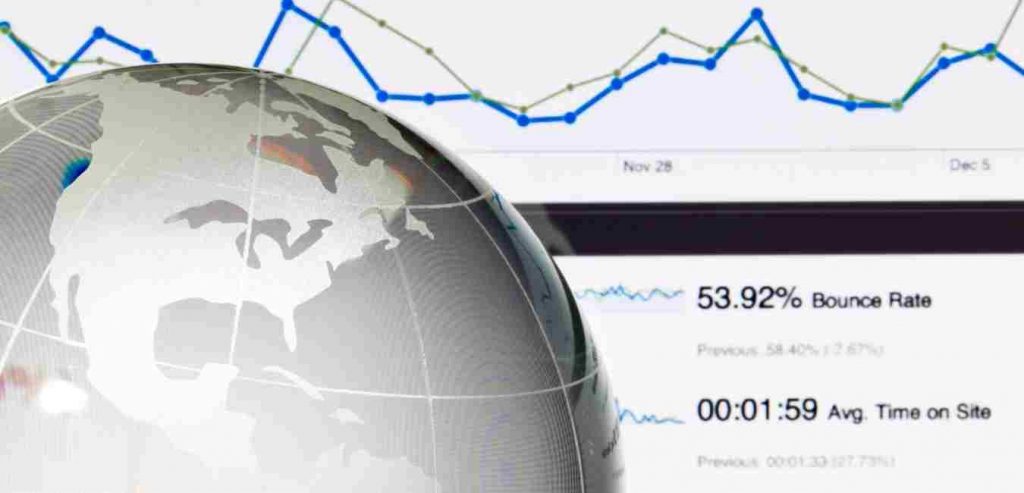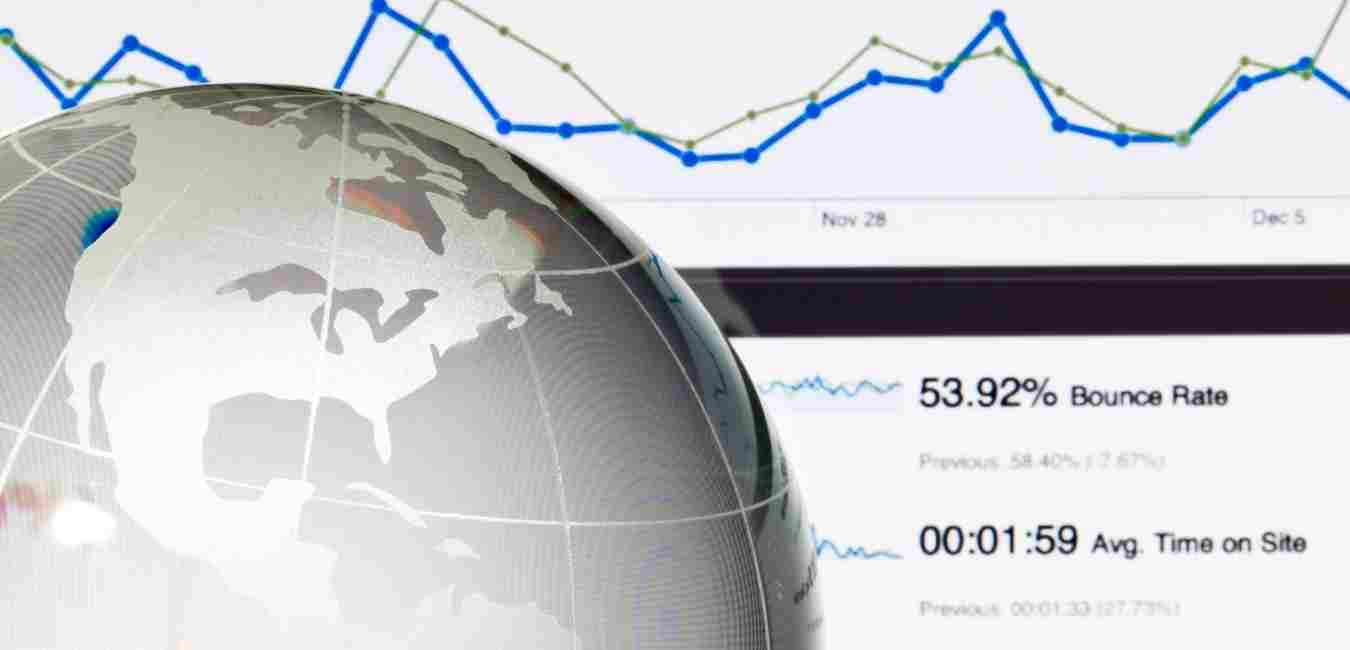 -> Google Keywords Planner – Google is the most sought-after search engine when it comes to searching any product in the market. You can occupy the keyword data to find the demand of your niche product – Google Keyword Planner helps you fetch the keyword-specific data telling you how many people are searching for your product on Google with relevant keywords.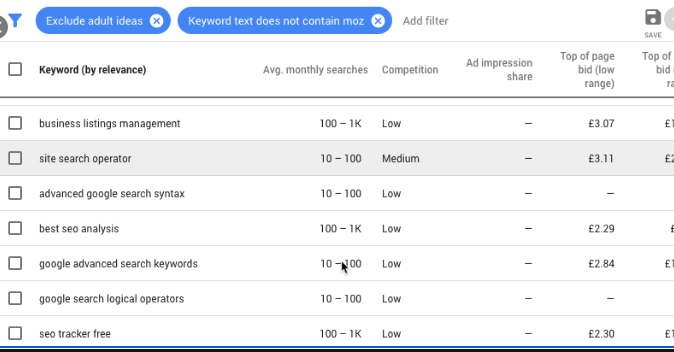 -> Facebook Audience Insights – Leverage the powers of the customary and worldwide popular social media channel to determine the demand for your product in the market. More than 80% of the world's population is on Facebook and FAI lets you know people's shopping preferences based on their shares, comments, page likes, demographics, and geographical locations.
-> Keywords Everywhere – This keyword research tool shows you the monthly search volume of your dropshipping business and how competitive it is. So you can pre-determine the popularity of your dropshipping business idea and know the competition in the market.
At any step, you can hire the help of SEO or SMO experts who will give you absolute insights into the market demand for your dropshipping niche.

3. Know Your Competitors
If you have long-term aspirations for your dropshipping business you cannot afford to ignore the competition in your niche. You might want to understand the way they work and how they perceive their brands over the internet. You will learn a lot from your competition that will eventually contribute to the success of your own dropshipping brand.
How can you determine the competition in the market?
Here are some tools that will help you do competitor research and derive concrete results for your online marketing strategies:
-> Google search
Google search is the very first instinct that comes when you have to find your competitors in the market. With relevant keywords you can see which commercial websites are ranking on the top or on the first page of Google SERP – that is your competition. For country-specific results on keyword search, you can use third-party tools like Ahrefs and SEMRush.
-> Competitors spy tools
Believe it or not, there are spy tools (SimilarWeb and Alexa) that let you know your competitor's online activity. These tools give you insider information about your competitor's website such as top traffic sources, number of website visitors, social media profiles, and who their competitors are.
-> Social Media Research
Social media channels are widespread with a massive user population, you can certainly get a lot of beneficial data about who your competitors are? Look for the Facebook ads in your niche and see the top brands advertising the products (those are your competition). Moreover, you can study their pages and ads to know how these businesses communicate with their target audience.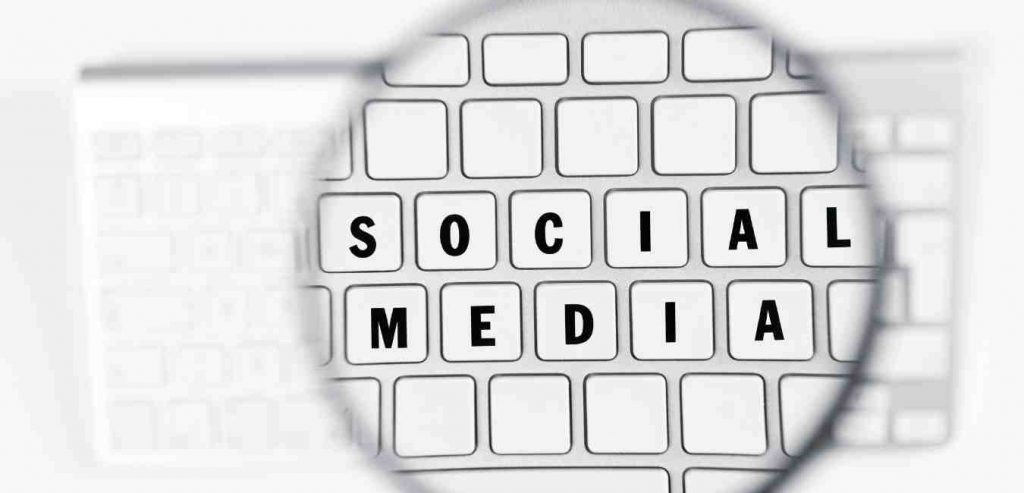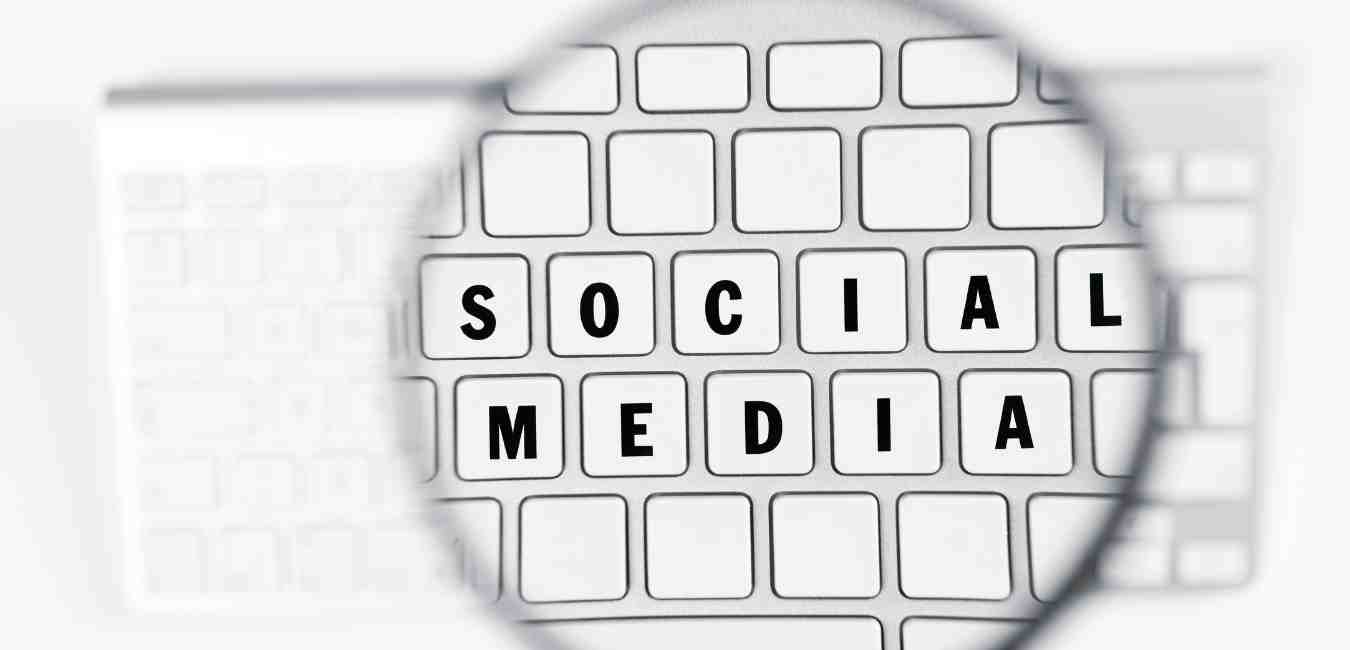 -> Subscribing to competitor's email list
Most of the brands send premium content through emails to their audience – this is called email marketing. Subscribe to your competitor's email list to know the updates in their marketing and sales policies. Also, you can get your hands on promotional deals that lure customer to buy from them.
4. Reach out to the dropshipping supplier 
As far as it is important to select a dropshipping supplier, it is quite a task to accomplish. A dropshipping business cannot start without a supplier. As you yourself are not managing the inventory you need a dropshipping supplier to manage the merchandise and ship the product to your consumer.
Now that you know which niche to pick and what products to sell under that niche, you can simply search for the dropshipping suppliers belonging to your niche. But is it that simple? Well, the market is full of hoaxes and this is where your actual problem arises. You need to find an authentic supplier that gives you high-quality deals and facilitates the white labeling for your brand. Here is how you can find a reliable dropshipping supplier to work with through your entire journey of dropshipping.
As far as white labeling and branding are concerned – these are your brand's offline recognition that will help you build a place as an authentic brand. Make sure you have a legal business and an attractive logo design to capture the first glimpses towards your online brand.
Refer to the supplier directory, do a google search, contact manufacturers asking for their distributors, order from your competitor's store, and see the source shipping address. Do everything in your power to search for the best dropshipping supplier for products on your e-commerce website. Once you know your route to the genuine suppliers you can develop a robust e-commerce website to display the list and facilitate online shopping & payment.
5. Develop Your E-Commerce Store
It is because of the best e-commerce development firm and IT Consultancy most of the dropshipping businesses have come so far without investing shedloads on their business. As for a retail business you need a physical store to display the products, for the dropshipping business you need to have a full-fledged and dynamic e-commerce store to display the catalogs, facilitate orders, and payments. The cost of developing an e-commerce website is comparatively less than acquiring a physical store to keep the inventory.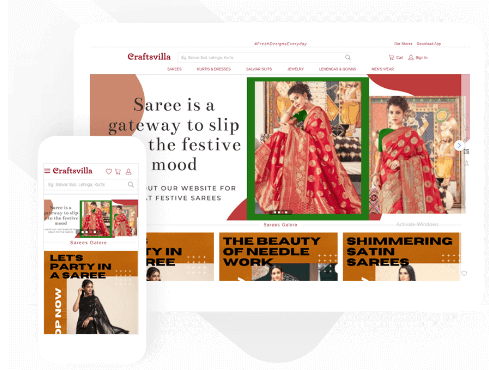 IT Outsourcing is the most cost-effective way to start your dropshipping business in 2021. Vervelogic, (a professional IT Outsourcing Company and IT Consultancy) helps you build an online e-commerce store. It is a standalone entity that helps you with logo designing, website development, web hosting, mobile app development, digital marketing, SEO, and SMO under one roof employing expert and dedicated minds for your dream project.
With smartphones being prevalent these days, you can approach us for m-commerce development (mobile e-commerce). There are proven studies for e-commerce sales elevating because of mobile app development. Holding years of experience in the IT sector, Vervlogic helps you with secure e-commerce website development and a robust payment checkout system offering multiple payment modes (as per your client's convenience).
Thinking of your online store? We are here to discuss every aspect of your e-commerce website development. Get started with your online e-commerce website development with us.
5. Make Your Business Legal 
If someone asks how to start your dropshipping business? The legitimate answer to this is to legalize your firm. In order to establish yourself as an authentic business and get to work with genuine suppliers, you need to register yourself as a legal business entity in the market. You can go with either of these business structures while legalizing your online dropshipping business.
-> Sole Proprietorship
You can register your business as your personal earning medium which will give you the right to all the assets of your business. Also, Sole Proprietorship does not offer any personal liability protection so, in case of bankruptcy, all your company assets will be sealed by the concerned authorities. Registration requires minimal paperwork   
-> Limited liability company (LLC)
LLC gives legal protection to your business assets by establishing them as a separate legal identity. Not the best but it is certainly more secure than the Sole Proprietorship. There is an extra load of paperwork, which and requires you to pay the incorporation and ongoing fees together.
-> C corporation
This is the most secure legal business structure but is equivalent to expensive. In this business structure, there is usually more than one business owner or shareholder. The shareholders are taxed separately from the entity on their income.
Employer Identification Number
As per IRS protocols, all legal businesses should have an EIN that acts as identification and a social security number. You need an EIN to file taxes, apply for dropshipping accounts with the suppliers, open a business account and other commence activities related to your business.

7. Plan Your Finances
There is no way you will be able to identify your business profits if you mix your personal and business finances together. Apply for a separate business account and manage all your business finances through that account. In dropshipping, it is inevitable to segregate your business account as you have your credit details with the supplier to charge you for your purchase.
You can separate your business account simply by opening one under your business name:
-> Business checking account
Authorize a primary checking bank account only for your business finances. All your earnings and payouts for business should be carried by that primary account. With this, your financial management will be easier.
-> Credit Card
Same as a business bank account, hold a separate credit card for all your dropshipping payouts and inventory purchases. With some heavy purchases from your credit card, you can rack up amazing credit points and rewards that are certain to give you substantial benefits and gift vouchers.
-> Collect sales Tax
When does it call for a sales tax?
a. If you are dealing in the same state
b. The state you are operating in collects sales tax.
For now, on all inter-state purchases, you do not have to collect any sales tax. If you are doing in-state trade make sure you know everything about the state sales tax. You might require to register yourself as a retailer with your respective state's Department of Commerce and find out how and when to submit the tax.
-> Business license
There are cities and towns that need retailers to own a business license that should be renewed at regular intervals. However, dropshipping I different from regular business and are operated online you need to see what (if any) are the legal requirements to run your dropshipping business.
-> It Business Outside the US
It can be a task to accomplish but you can certainly own a dropshipping business in the USA getting quick access to US-based dropshipping suppliers and customers. As a merchant (if you are not a resident of the US), you have to come to the country and complete the necessary paperwork, you can have a trusted business partner in the US or hire an agency to guide you with the process.
8. Dropshipping Business Marketing 
Now that you have a full-fledged online e-commerce store to showcase your dropshipping business and facilitate authentic trade, you need to do something to enhance its visibility over Google and other SERPs. If you want to establish a never-ending authority of your brand, you cannot ignore digital marketing, SEO, email marketing, content marketing, SMM, and other marketing strategies to achieve the level.
Now that your business is an online establishment, there are certain processes through which you can market and promote your business online:
-> Paid Ads 
More than half the world's population is on Facebook and more than 80% of internet users ask Google for their solutions. You can leverage both utilities to scale your business and get the best out of your digital marketing strategies. The average cost of Facebook Ads is 0.97 cents/click which is quite reasonable for a dropshipping startup. Also, you can run paid ads on Google using the long-tail keywords to direct Google searches with similar keywords to your website.
-> Content Marketing 
Content marketing is more of a strategy than writing. Hire the best content marketing agency to place quality content, carefully curated to build your authority in your dropshipping segment. A blog, web content, newsletter, EBooks, case studies, etc. you can also hold. Start a blog around your dropshipping niche, educating and at the same time entertaining your target audience. Content marketing is the crucial and most reliable part of your business marketing.
Here are 25 Lead Generation Strategies that you can use to make people aware of your brand and in turn fetch some quality leads:
In a dropshipping business, quality content marketing holds the power to:
a. Establish an authority
b. Educate and influence readers
c. Solve problems
d. Entertain and engage the audience
e. Gated content will fetch you a genuine consumer database.
f. Make your brand known to your target audience.
-> SEO
Search Engine Optimization is the process of enhancing a website's visibility on Google or any other SERP. Even if you have a dynamic website and the best user experience, you are likely to get unheard in the crowd without proper SEO for your website. Know why SEO is important.
-> Influencer Marketing 
Being a startup, it is quite understood that you have a restricted budget for brand marketing. Influencer marketing is an affordable way of spreading your brand awareness and influencing your target audience. People are likely to trust the influencer they are following more than any other advertisement or hoarding.
-> Communities
Communities are made with the intention to find and interact with the group that is passionate about your niche. It is indeed a good idea to start a conversation with your potential clients on Reddit, Facebook Groups, or any other online forum. Communication helps you start your dropshipping business and scale it in the right direction.
-> Email Marketing
Email marketing is simply sending relevant and educational content to relevant people so they can relate to your brand easily. This is more of targeted digital marketing as you are reaching your potential client's inbox directly. Make the best out of this opportunity by sending customized and educating content to your target audience. Email marketing is the best digital marketing tool when it comes to B2B businesses. You can also unlock your premium deals of the season or just the newsletters through emails.
-> Mobile Marketing
It is a generic term. Mobile marketing is the communication done via mobile phones, whether it is messaging your clients for a seasonal promotion or letting your loyal clients know about their points on the card, or sending them VIP promotions. Also, you can provide live customer support to your customers through messenger. Thanks to mobile marketing platforms like ManyChat, now you can generate automated lead generation, customer retention, and cart abandonment campaigns to drive quality traffic and revenue for your business.
Outsourcing your marketing tasks to a professional digital marketing firm in India is the best way to channelize your money and save yourself from unnecessary expenses under the name of digital marketing. Vervelogic is a single-window solution to all your digital marketing and online advertisement needs, solutions that are meant to give you the best ROI in your dropshipping business. We are here to help you start your dropshipping business on the right foot.
9. Analyze and Improve Your Marketing 
You can always adjust your marketing and advertisement strategies to lower costs and maximize revenues, provided that, you know which online marketing channel is fetching response and where you need to change the strategies. Say you have managed the marketing and management for your dropshipping business for six months now, it is time for you to focus on the results.
It is risky to work blindfolded in a business, you need to track your progress.
-> Sales: From which marketing channel you are getting the most responses? When and where to put money on paid advertisement? What are your best-selling products? Who are your best customers and what is their location + demographic? You can get the best out of your digital marketing endeavors when you are constantly tracking and improving your digital marketing strategies.
-> Customer Behaviour: What kind of ads your customers find useful? Which gadget do they spend more time on (desktop/mobile)? What is the conversion rate from each device?
-> Profit Margins: What products or inventories are most profitable? What are your sales? What are your best-selling products? What is your gross profit over the months?
You are not supposed to fight the battle alone, you can always rely on Google Analytics and other such software to fetch prompt results and plan your digital marketing strategies accordingly. In case you are using a third-party app for Social Media or Messenger marketing like HootSuite, you can easily fetch the analytics based on the responses from your advertisement and marketing efforts.
Conclusion – Start Your Dropshipping Business Today
There is a complete talent pool in the market to help you set up an online dropshipping store. It is comparatively a low-risk and low-cost business model than a retail store and if done right it will fetch you more profit than any other retail shop you ever wicked to own. COVID-19 has already taught us the importance of going online with our businesses, which is why people have their eyes on the dropshipping business. Mentioned above are the 9 crucial steps to start your dropshipping business in 2022.
While you are invested in selecting your niche and searching for the best suppliers to facilitate product shipment, Vervelogic is here to take care of digital marketing, content marketing, SEO, web/app development, SMO, branding, and logo designing all under one roof. We are a click away from you, visit our website and talk to our executives about your requirement today.

(Visited 177 times, 1 visits today)