30 Best eCommerce Website Design Examples In 2022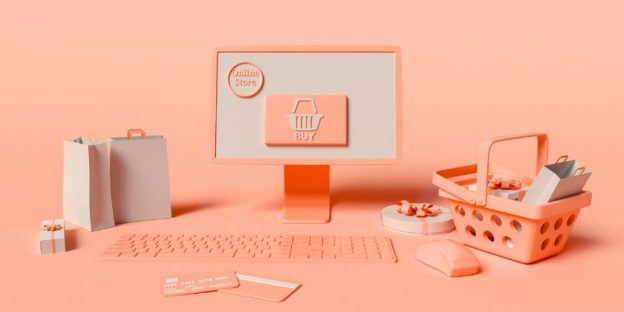 Website is your first impression on your customers so if you are a business online then website design matters the most. Even if you are doing it in the right way still you got to improve and enhance every day and make your impression last long.
When you create a website for an online store then you take care of many things. There are some tips and tricks you need to follow. But in this blog, we will focus on website design examples best for website development that will help you outshine your competition.
Although it is true there is no lack of website designs in the market still there are some designs that motivate and attract customers better than others. As we all will agree that as shoppers we do attract to the photographs of the products. So, in short, photography is the key because they play a very important role in representing your business. Do you know that you do not have to do a professional course to click quality photos and for editing? Know Here.
30 Amazing eCommerce Website Designs
Bliss– One of the best website design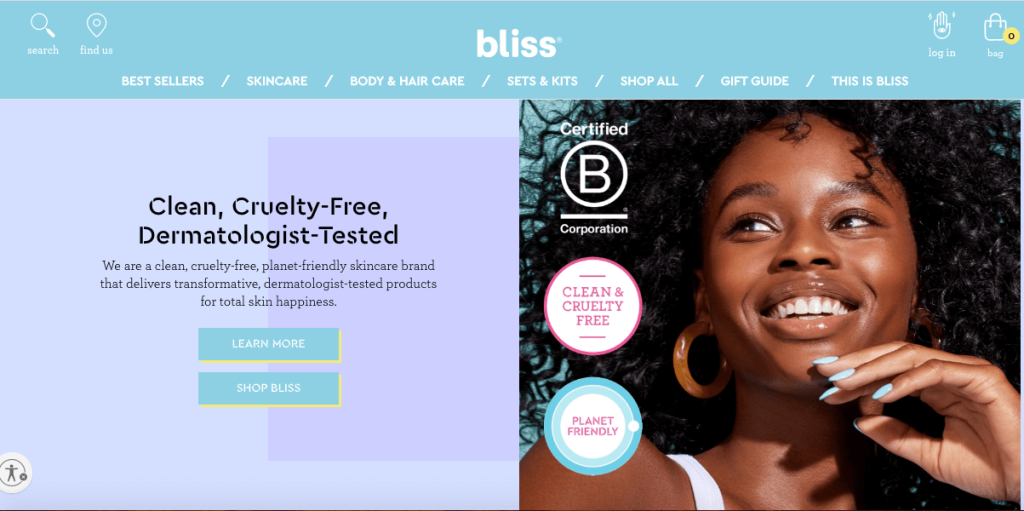 This eCommerce website design channel induces fun energy in website design. The big and clear picture set the mood for the rest of the design very easily. In short, this website design can do half of the work with its creativity. Additionally, this website has a very cool and chill vibe because of its bright colors. The motive of his website design is to provide excellent photography and a cheerful feeling.
Bohemian Traders– Best Website Development design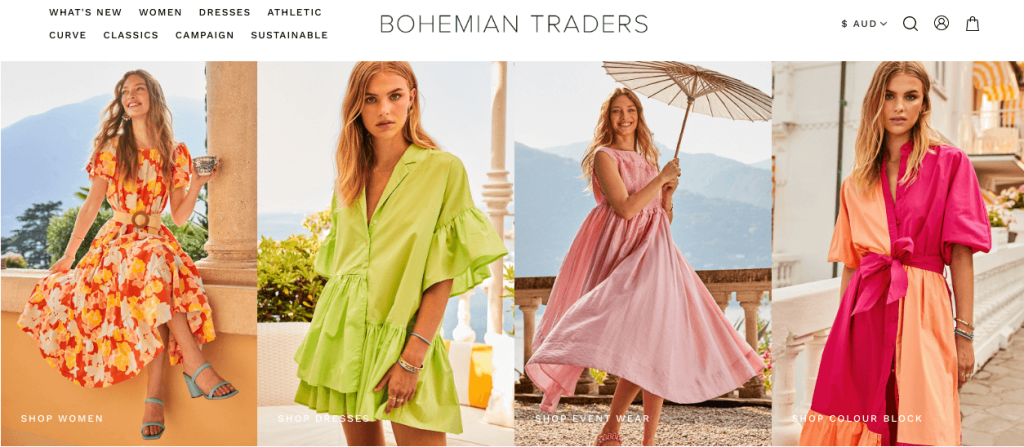 If you own a clothing business and will to staring off online then this is the best place to start. This is because it not only has bohemian touch but also has very strong navigation. A customer can easily navigate through the new arrival to the previous collection or sale items, accessories, and occasions. This is the best place to take inspiration from for designing a clothing website.
RYDER– Top eCommerce website design
If you are thinking about how RYDER makes it to the list then its out of box design ideas are the reason. They are strange but very interesting and attract customers. It has simple navigation where customers can easily find different products. Also, the contrasting colors in the design are very helpful in standing out.
Dick Moby– Best eCommerce website
If you are thinking of designing a website that sells eyewear like spectacles and sunglasses or contact lenses then you should check out Dick Moby. This website is one of the best examples of eCommerce websites because it has great design elements. The first element is the quality of its photos. The USP of the website is it lets the product stand out even without models. The solo pictures of glasses represent so. One more great element is the fun patterns and squiggles on the homepage of the website. In this design, products can get a unique feeling and value.
Read More- 15 Best Magento eCommerce Website Examples
Esqido– Cool website design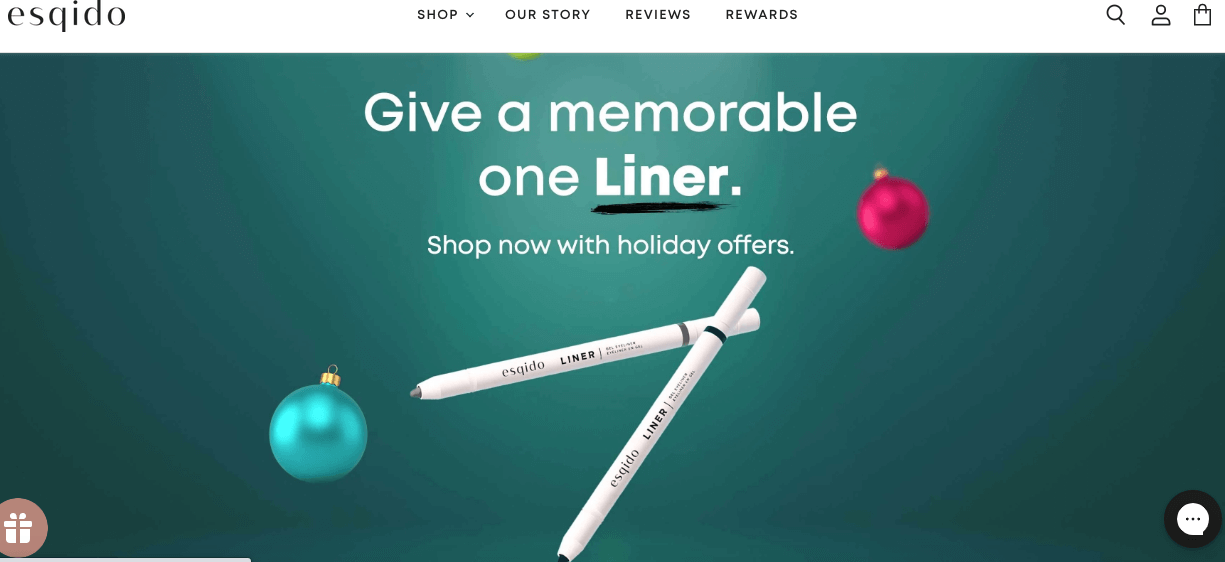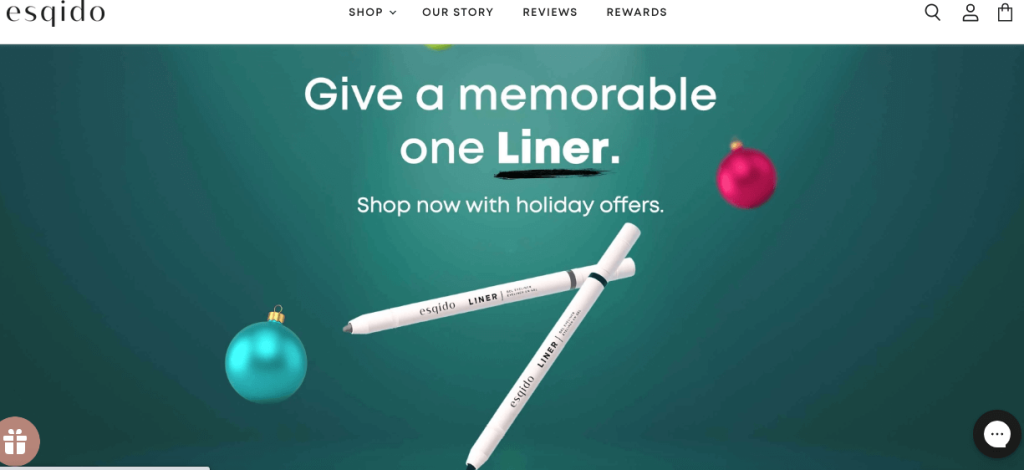 This eCommerce website is the best for you if want some ideas on photographing your makeup products and presenting them online. This is because this website is dedicatedly designed for its prime product which is lashes. This website design has a video of how to apply fake lashes on the homepage. On top of it, the website has very detailed packaging, and zoomed photographs. In short, this website can be a great start for your eCommerce website.
Hebe– Best eCommerce website
This website design of Hebe is gorgeous and it can be said that because of its photography. As mentioned above photography is the key when you are running an online business. This website design has amazing typography. Although font size is much thicker than general online fonts still this is what makes it stand out even more. The high-quality pictures and beautiful thoughts make it appealing and ideal.
Dress Up– One of the best website design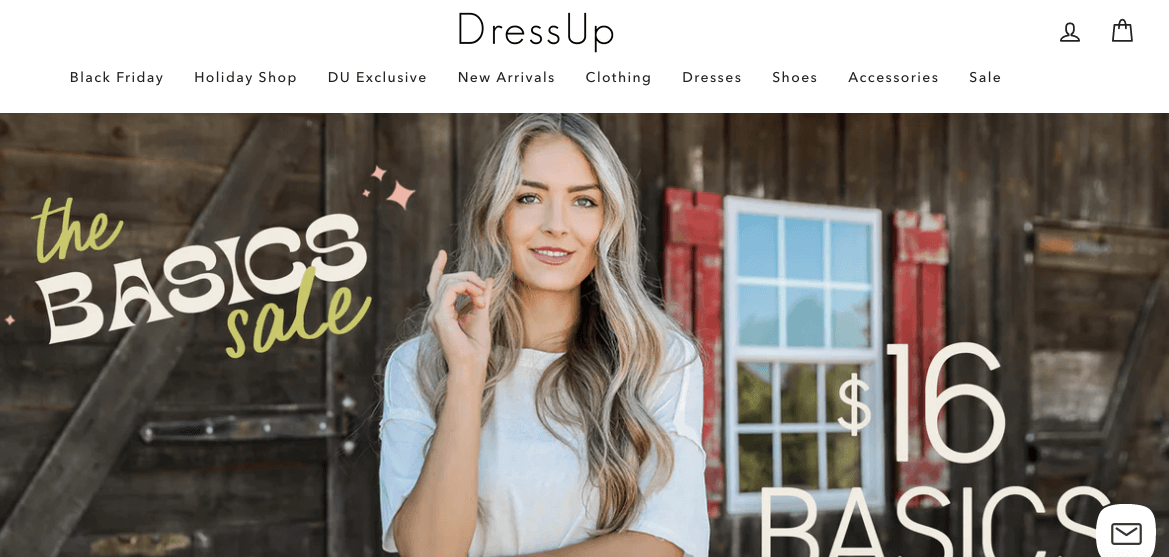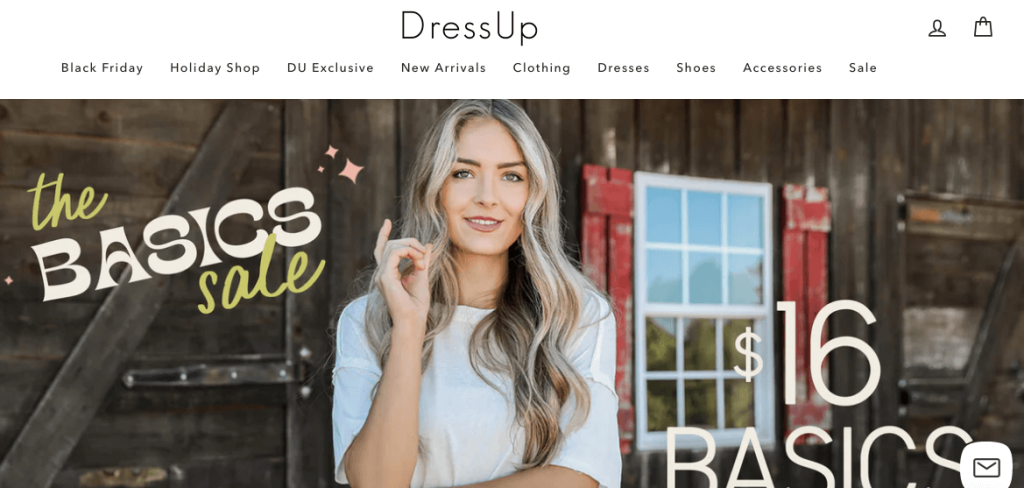 It is an online fashion store for women's clothing. The attraction of this website design is its contrasting colors and text usage for showcasing new arrivals, seasonal sales, and promotions. Also, it has a 'Chat With Us' option which is rare to find in online fashion stores. This is interesting because it is something new and always a plus.
ambsn– Fun eCommerce website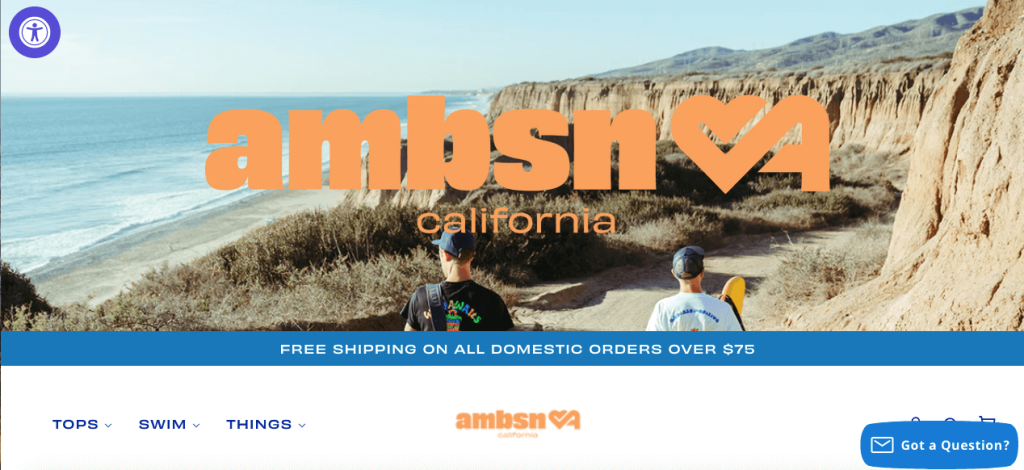 The best part about this website design is the use of orange color on the minimalist backdrop of the website. This is an attraction because it makes the color stand out even more. The website is full of bold colors because the theme of it is casual clothing. It has shorts, lowers, t-shirts, and jackets. The website is filled with colorful patterns which makes it more cheerful and vibrant.
Do you know How Much An E-Commerce Website Costs? 
Magic Spoon– Best website design example
It is a breakfast brand that can refresh your childhood memories and it also did a fantastic job portraying that on its website. The website development has included so many color patterns with a magazine-like structure. This makes a perfect texture for showcasing its products. The color pallets are a combination of purple and pink. They are complimenting the high-quality shots of products. On top of all this website has easy navigation and scrolling. Each click can give detailed information with a vibrant color pallet.
The Horse– Unique website design in 2022
If you want something out of blew then this website can be the best to take inspiration from. As the name is memorable of this website so is the design. The bold pictures and fewer words are the USP of the website which makes it more appealing to the customers. This website is the most unique design on the list.
Poketo
–
Good eCommerce website design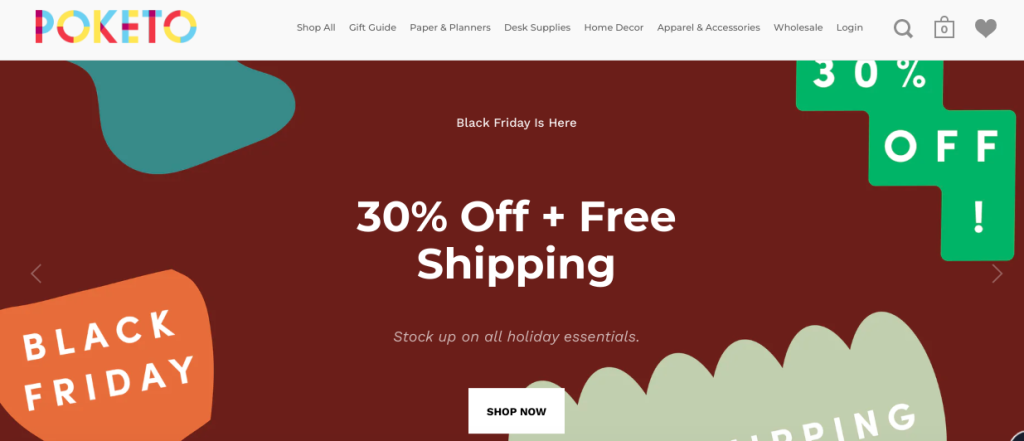 The advantage of this website design is its bright color patterns. Also, the website has easy navigation and scrolling. The best part is the font is so easy and eye-catching that makes call-to-action gets easier. The products are lined up on the top and when you scroll down then you can box pattern.
Also, Read- Know What Customer Expects From An E-Commerce Website
Grovemade– Top website design in 2022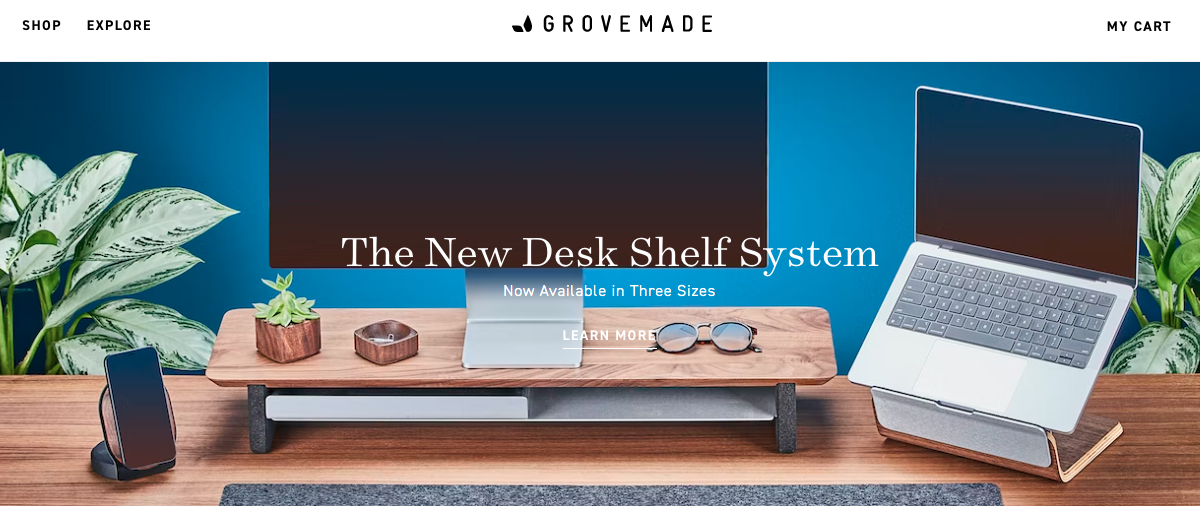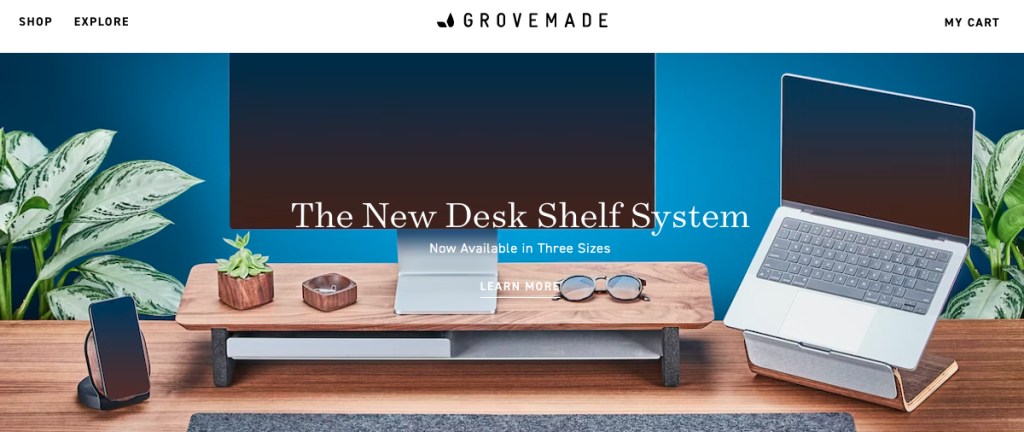 With amazing and fun which is rounded this website design is one of the best examples. The main focus of the website is on lifestyle shots. You can find high-quality pictures of wooden accessories on desks and tables. The composition of the images is also very good.
Sierra Designs– One of the best website design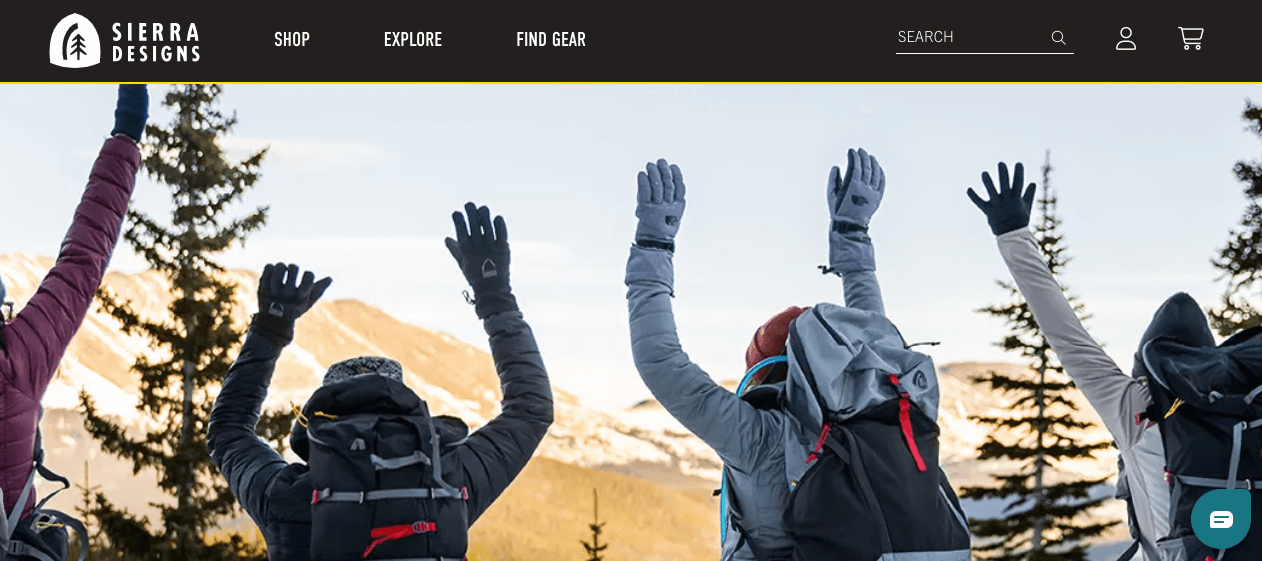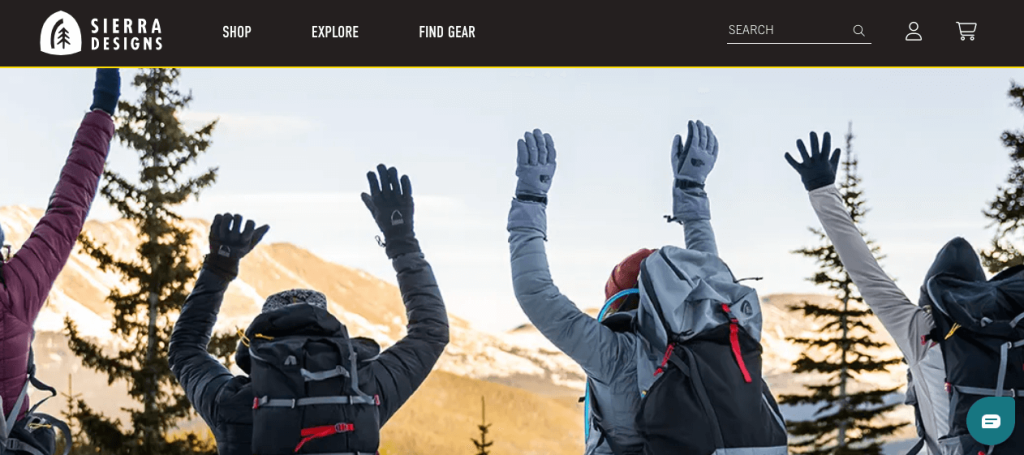 If you want to go for something more professional and eye-catching then this website design should be on your list. This website is selected for its professional and good photos and user-friendly environment. It is a perfect combination of an aesthetic and responsive website. This design is a fantastic example of liveliness and adventurous representation.
Mollyjogger– Best eCommerce website development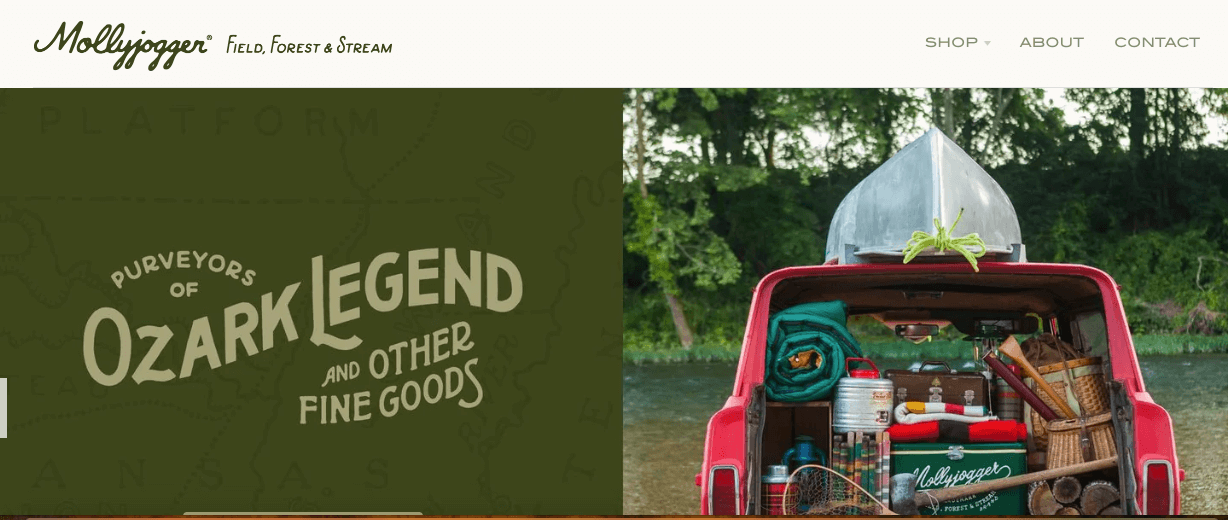 In the case of Mollyjogger simplicity is the key to the customer's heart. This is because it has nothing vibrant or fancy. But the catch is simple websites that make navigation easy and also make easier product browsing and digestion are always the best designs.
Also read: E-Commerce Business Ideas
RSVP– Great eCommerce website
This design is very interesting because of its layout. At every corner of each page, there is a lot that is going on. The catch is that it is literally a part of the company's experience. Overall the website design is considerable for the starter of business.
Mahabis– Unique website design in 2022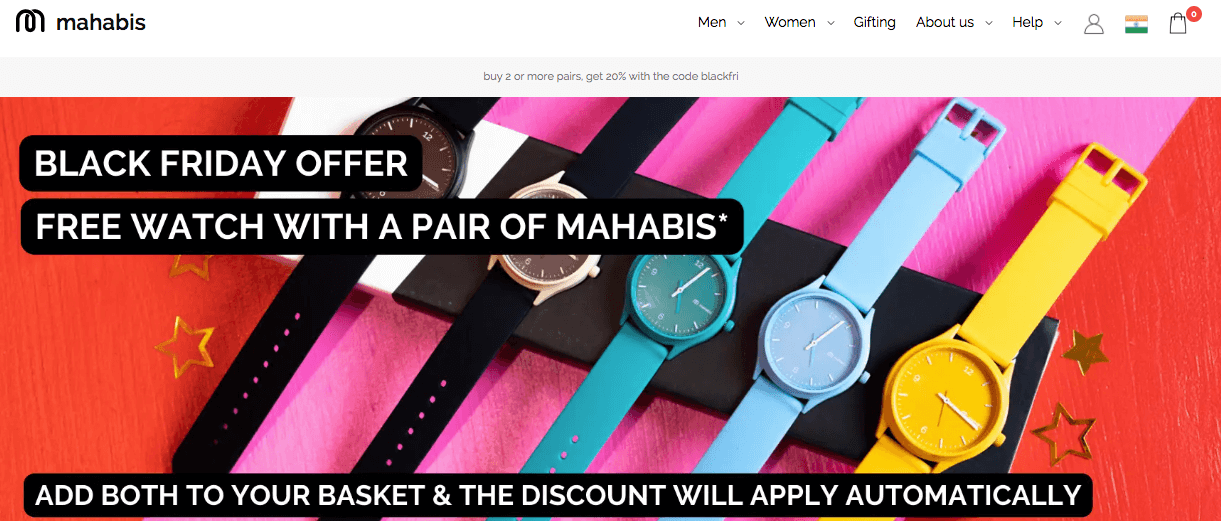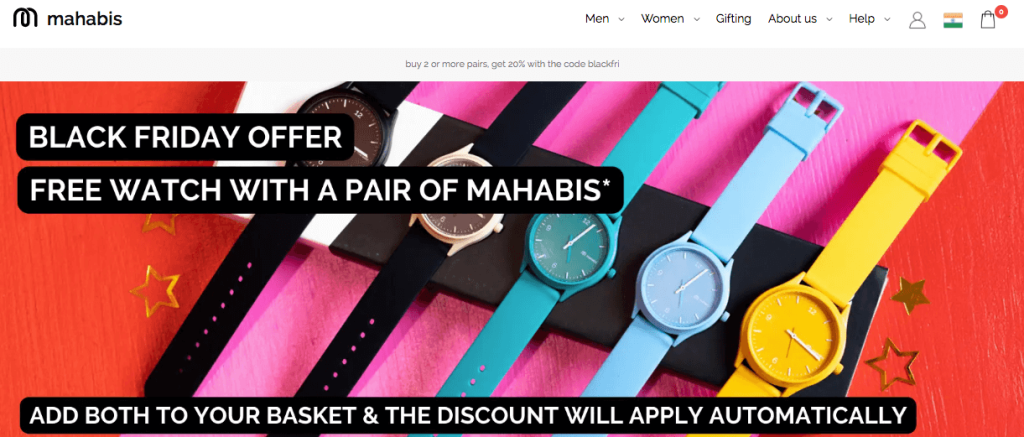 This website design is unique because of its style of showing enhancing the products it sells. The website design has one-line descriptions for each product as soon as you reach the homepage. This will also help you to provide even the smallest information about the product and how comfortable the product is for you. No better website design makes your product king and this design does this for you.
If you are a person who likes to experiment with colors then this much be your choice. This is because Jackie Smith is a website that does use bright colors as the USP. The colors are not only limited to the background but also they have used colorful fonts and colorful products for promotions. This makes the website very attractive.
Muroexe– Cool website design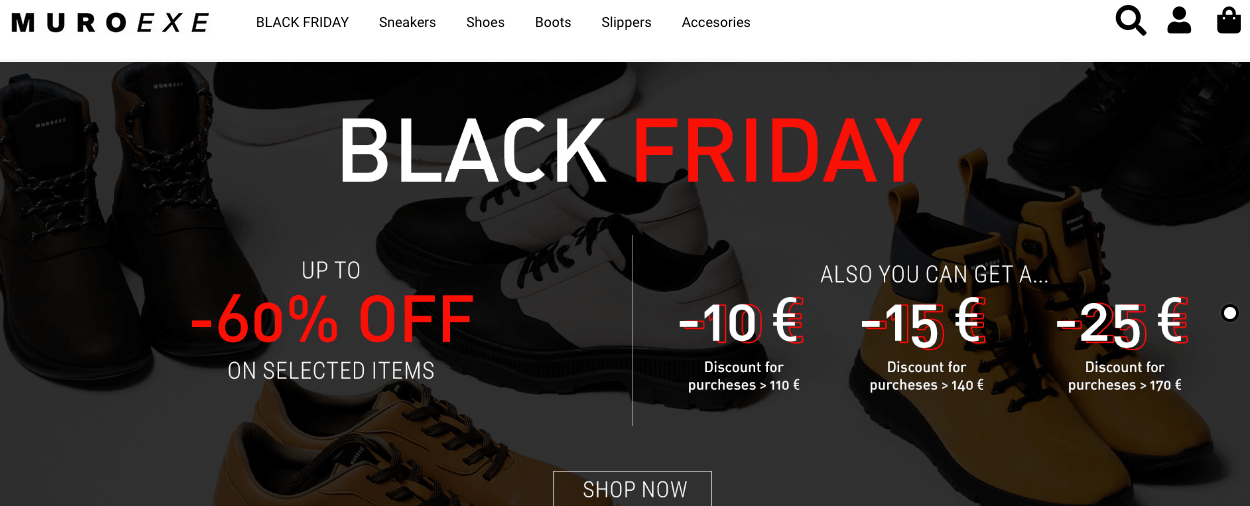 This website design made it to the list because of its composition. The layout of each product is very neat and tidy which makes it easier to browse for customers. If you are all shoes are listed in a frame with paddling or white space which makes the product outshine even more.
Helbak– One of the best eCommerce website
For a small business, this website design is very unique and you should definitely try it. This design is the perfect example of simplicity. The colors are proper and used with a white backdrop to showcase the artistic side of the product. This website development has done nothing over and it is just perfect. It is simple, it is clean and it is easy to look at. This is because products are clean and pretty.
Also, Read- Ultra Guide: E-commerce app development for small businesses
Skullcandy– Top website design in 2022
If we have to define the eCommerce website design in one word then it would be simple for Skullcandy. The reason behind this, it has the right amount of text and the right color pallet is used. The colors have provided liveliness to the website.
Frank Body– Best eCommerce website
Modern beauty products need something like this website design. This is because the pastel colors and monotype fonts have proven this website caters to young audiences well. This eCommerce website can easily fulfill the needs of modern beauty and website representation.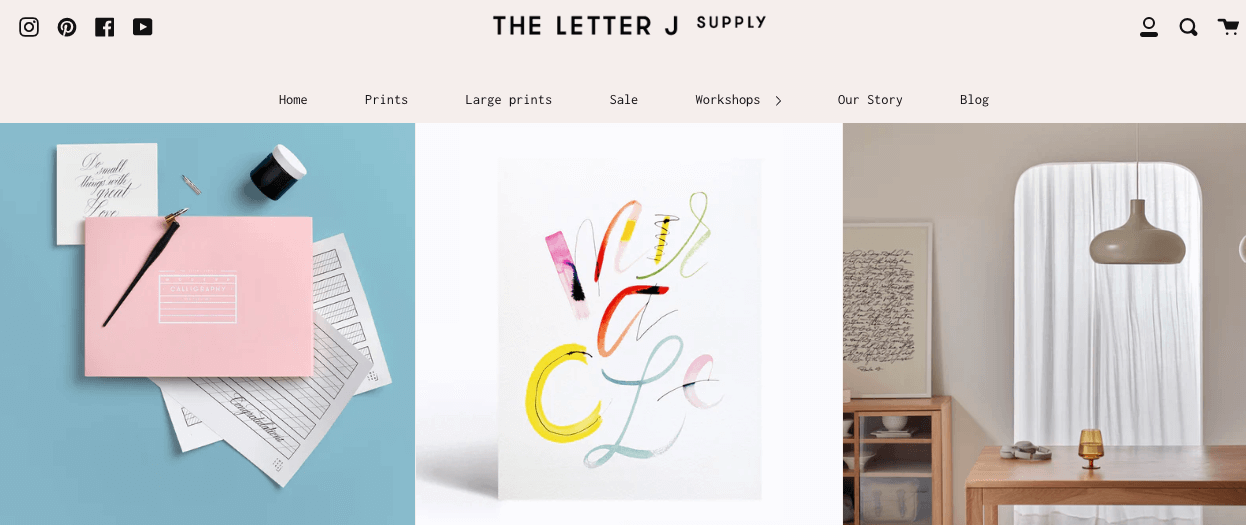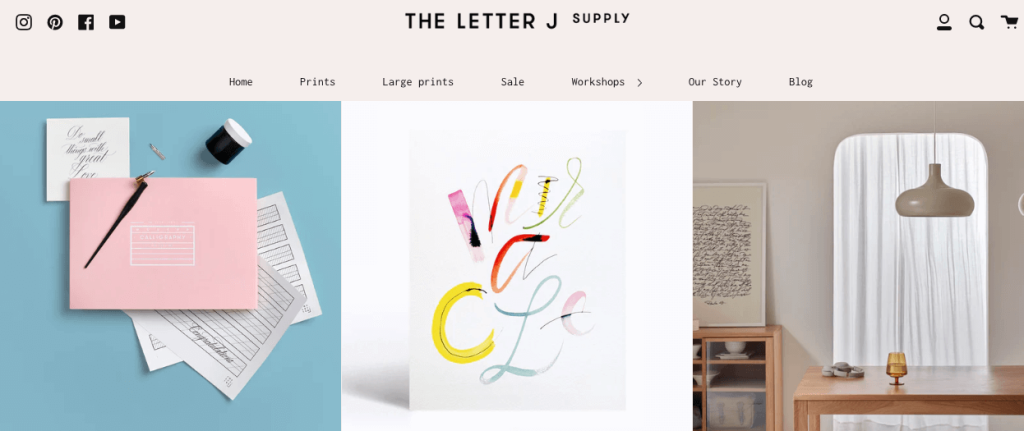 This eCommerce online store sells iPhone covers and prints. The USP of this website is that different colors of paper are used for printing according to the order received which makes it interesting. The website also has a unique way of taking pictures of products.
Allbirds– Good and fun eCommerce website
The thing which makes Allbirds different from other shoe online eCommerce websites is the action shots of the products. These photos are way different from the photos you see on other websites because they show the emotions of motion. This makes it more memorable and connecting.
P&Co– Best website design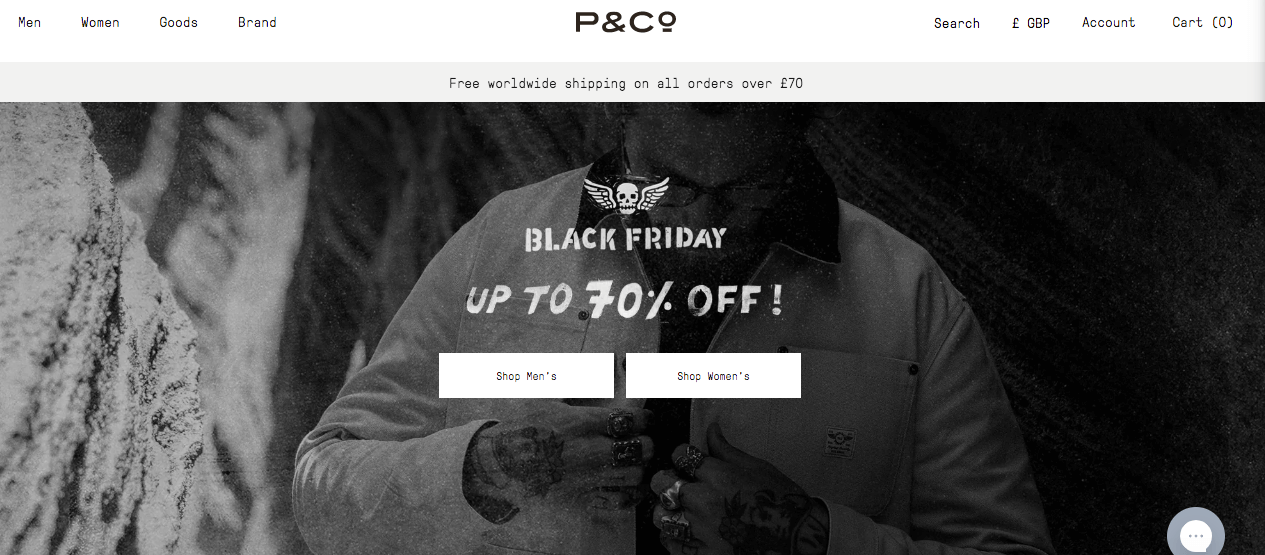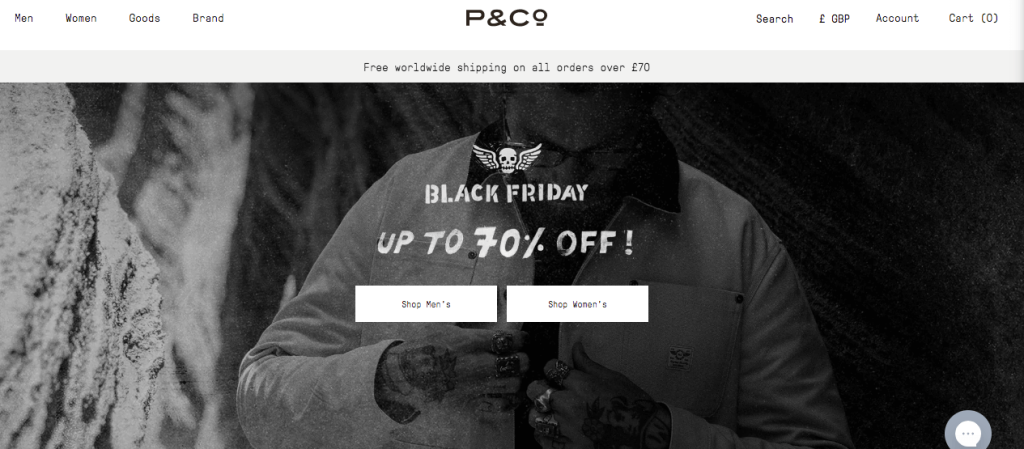 This is undeniably the perfect example of a clothing eCommerce website design. This is because it took care of product detailing fantastically. The product is showcased each t-shirt from different angles and styles. Each product also has different specs which makes it the perfect and particularly designed website.
Di Bruno Bros.
–
Unique website development idea
It is difficult not to include this site in the list because the design is undeniably very smart and elaborate. The highlight of this is the description of each food item and product. You can easily browse this short description from the product listing page and if you feel to know something more about any particular food item then you can go into detail and read some more. This is the best site you can surf if you are starting.
Ratio– Good website design inspiration

Just like its name Ratio has the right amount of typography, fonts, colors, and photography. This website sells high-end products and each coffee product on this website has a different description page. The detail and brilliance of each product can be known from there.
Rest.- One of the best website designs
This website design is based on lifestyle shots because it sells handcrafted wooden accessories for desks and tables. This website showcase amazing products and their brand details. The purpose of the homepage is to convince customers to buy things on display and how beautiful they will look in your study room. This eCommerce site has amazing videos which can help know the product well.
Read More- 15 Famous WordPress Websites That Are On Top Of Their Game
100% Pure– Great website design in 2022
This site is included here because it is simple and has zero fancy representation. This website design can be the best example of having simple navigation and an easy-to-browse design. You do not have to overdo creativity for standing out as far as you are simple to use for customers just like 100% Pure.
Oi Polloi
–
Top eCommerce website
This website design knows how to be minimal and chill at the same time. Through its representation, it does give a message that for being minimalistic you do not have to be rude. This website is focused on bigger pictures of products on a colored background on the homepage. The fond is also cool and fun to complement the design.
Black Butterfly– Best eCommerce website design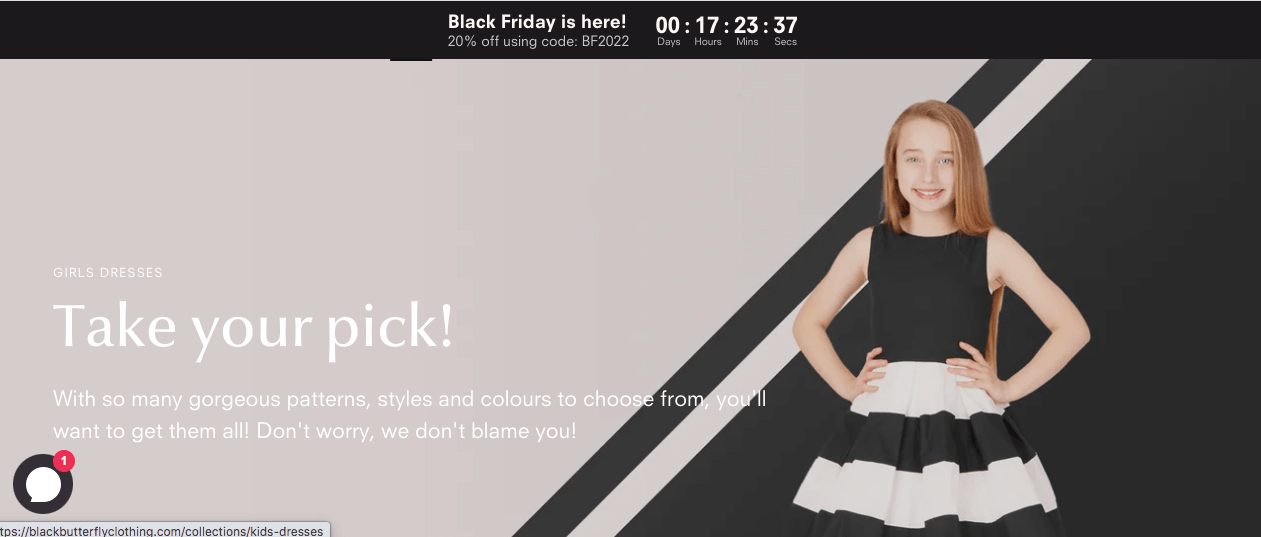 The theme is basic, simple, and modern for Black Butterfly. This website design follows an easy structure for scrolling. You can easily scroll through the dresses available you are interested in. The main concept of this design is simple with fun photos and cute graphics.
Also read: How to Start Your E-Commerce Business from Scratch
Last Words
At last, we can say that all these recommended eCommerce website designs are very easy and impactful to start with. If you are looking for an eCommerce website design company to develop a website with then you should consider VerveLogic. They have experienced team members and market expertise in website development. So, check out today.
(Visited 170 times, 1 visits today)