How To Effectively Plan For A Cooking Recipe App Development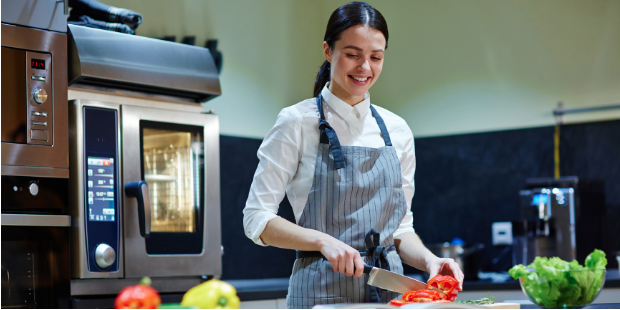 Delicious food is everyone's favorite.
However, which cooking process is used is what matters the most. It is that art that can transform someone's ordinary day into a relishing memory. There are numerous people in the world who take this art seriously and make it more than a hobby. One couldn't learn cooking by being on the run. It is, therefore, necessary to have a guide, such as a cooking mobile app or website, that can teach them cooking without much fuss.
How Can A Mobile App Help With Cooking?
Cooking mobile apps for Android & iOS can provide complete instructions for making a weekend special recipe and boost your cooking skills. These apps vary on the basis of explanation. Some provide recent recipes by leading chefs. On the contrary, others provide step-by-step cooking videos by learners or enthusiasts.
As per research, recipes on these platforms enjoy a market size of 22,755800 people. A large audience comes from locations like the UK, USA, Canada, Australia, India, Ireland, and the Philippines. Generally, users fall under the age group of 18 & older. The commonly used platforms where people can search for food apps include Youtube, Google Search, Facebook, and mobile apps.
These apps provide all-in-one functionality. They allow you to listen to all the ingredients of recipes and create meals. They also provide suggestions related to the viewer's queries. But in order to be successful, these apps must master recipes. More & more professions are planning to invest in food recipe mobile apps. If you are interested in it, give your next few minutes to the following cooking mobile app development guide.
Cooking Recipe App Development – Where To Begin With
Once you decide to create recipes and showcase them on a cooking app, first, conduct research on various platforms. This will help you to evaluate all the major platforms such as iOS & Android for your upcoming mobile app. For a perfect evaluation, ask yourself the following questions:
Is it worth spending money on this app?
What are the cons & pros of the app's functionality?
Is it just like other apps available in the market?
Will I have to add some extra features to exceed the user's expectations?
Based on the answers, you will be able to define the scope of your prospective app in the market. Accordingly, you can plan for creating a food & cooking recipes app.
Moreover, before you begin planning, take a look at the two prominent apps Deliciously Ella & Green kitchen stories. Both apps succeeded in garnering their user's attention, even if they are absolutely different from each other. Hence, it is essential to realize that sticking to one strategy is not required. Rather, you can give thoughts on various scenarios of your exact products.
You must have an idea of who you want to develop the cooking app for, such as those who have your target users. Some apps are offering advanced features & services, such as based on location-based services, those providing a list of nearby grocery shops with the array of products that are required for cooking specific meals. This type of app works best when things come to creating the app for meal planning. The location-based services have proved really helpful, you can help your app user easily for finding good grocery stores, and prices & filtering the locations of other basic parameters.
Do you know having a cooking recipe app can help you make huge money in 2023? Check out the other Best Money Making Startup Business Ideas In 2023.
Cooking Recipe App Development – Ideas To Create Something Extraordinary Through Your Mobile App
Well, the idea behind why you are creating something different is for surprising your users with some exclusives for the simplifying & developing menus of the planner's app. Such as the home screen of the app encouraging the users of your app to engage with these search bars to discover new recipes, and favorite lists & engaging with your apps as much as possible. If the users do not encourage you to engage with your app then in case they will get bored with your apps, it's bound to fail. You can take care of these things.
App Functionality
After starting with the mobile app process, then keep your mind on the device structure. Because you need to define your potential & users to buyers of persona. The next point is we have defined various kinds of users.
Multi-Purpose Apps
Apps are for supposing to solve the user's problems. That's why users are expecting from the apps & that's why they are downloading them. Your Food recipes & cooking recipes of mobile apps are offering users the must & ease of having various modes.
Cooking Mode
Generally, these modes are for users who love to cook. This variation might be composed of men & women who love cooking for their family & surprising them for an exciting & new meal. It might be also adding professional chefs for those who keeping into exploring new cuisine & wants to experiment with new ingredients. So the cooking mode is to be complex for one for developing as in requiring the supporting too many factors & high-quality content, for the new forms of tutorials, photo instructions, video guides & other requiring tips for making the processing of cooking easy entering & fast.
In case you'd like to open your own food business in the future, check out the Top Mobile App Ideas for Restaurant and Food Businesses.
Shopping Modes
Combining with the e-commerce factors for your food & cooking recipes of mobile apps will be great steps for enticing more users of the apps. After all, for similar, you might be focusing on the app's requirements & functionality for integrating the locations based services, with the other devices for use for finding nearby grocery shops with just a single click. The geo-fencing feature will come for usefulness.
You might be able to select & provide cooked meals to your users for integrating demanding the food ordering features for your apps. They would take your app to a new level & attract a wider user base. You can also add another feature just as the price of comparisons, shopping lists, tracking & useful functionalities. It will offer discounts, coupons, offers, etc. From time to time & for ensuring the data for associating with the venues of your perceptions for users.
Hey, you might want to collaborate with some Grocery apps to source ingredients for your recipes. Here is a list of the best useful grocery shopping apps for you.
Cooking Recipe App Development – Target Audience
When it comes to developing a cooking recipe mobile app, you will find 3 kinds of app users. These are as follows:
Users Who Usually Eat Out
Once those who are fans of restaurants & cafes hardly only appreciate the wide array of recipes. Such that even when they are offering them simple advice for preparing authentic & delicious cuisine, you might still fall for grabbing your attention. So location-based services will be used to win them over.
Using location services, you will get which restaurant & café the users for visiting the most. Accordingly, you will also advise recipes of ingredients & meals so that they will be most popular in these areas.
Travel–Based Users 
This depends upon the efficiency of users in categorizing the cooking apps. For people who prefer less time-consuming & easy recipes, for those who usually & rarely cook at home go for meals that will not need many ingredients. Location-based services are proving helpful & defining what amount of the times users are spending away from their homes.
Lifestyles User
To appeal to your efficiency of the potential of your app's users, first, you need to learn about their location of behaviors. Just for instance, if the user is planning to cook meals for three & six people, then your apps may be providing the exact proportions as per the recipes. Literally in simple factors & the apps will have the easy one-step prompting the asking users regarding how much many people are cooking for.
Each one has a different cooking experience, such as students rarely go with lavish cuisine, they tend to require less & easily complicated recipes lists. Quick ideas are taking some minutes for the best, along with their tending for the very cheap ingredients, so the grocery list will be customized to the price. The idea is for gathering some details regarding the preferences of the users, so you will find what's cuisine will prefer. What type of foods are they like etc? After you know about buying the persona, then it gets easier for including the extension to your apps.
Content Quality 
Take care of these approaches not just for e-books & cooking blogs, but also for mobile apps. Often they power content in a good way for enticing your users for revisiting the apps time & again & for keeping them engaged with the apps. All the contents are the king so that it will make the recipes interesting for reading, after adding delicious & healthy nutrients & products & budgets.
Feature–List 
First thing is, if you are building recipe & cooking apps, then ensure that you are integrating a grocery list as well. In the long run, this is not enough for you to require many various recipes for crucial features, cooking techniques, grocery store calculators, cooking check-list, price filters, recipe tracking, ticking off ingredients & lot many more.
Let's see about integral features of the food & cooking recipe of the mobile app:
Essential Factors of Food & Cooking Recipe Mobile App:
When you are up for developing a cooking recipe app, the following factors will help you decide on its features.
Features of the User Panel
Registrations:- Users will easily register on the mobile app using their details via Gmail ID, Then the app can be offered a social media login as the user is pretty easy & to use often.
Make Profile:- The user has to create their profile using their personal information, dislikes & like related to food & more liked cuisines. This way the app will offer personalized suggestions for them.
Search Recipes:– For the easy-to-use search to the recipes by using filtering of such recipes, titles, categories & integrating.
Advanced Search:- It is allowing the app for executing a search with the course, occasions, cooking method, health, diet, seasonals, special considerations, etc.
Personalized Recipes:- Allows your users to personalize recipes of food, so in case they do not like red pepper for their food, then they will customize the recipes they will be offering, after replacing red peppers.
Subscription:- Users will enable subscriptions for the app on, a weekly, annual & monthly basis. In this way, users will be able to pick subscriptions of packages in their move & liking will help you grab more users.
View Recipe List:- They are offering the details & a list of recipes that users can choose from.
Provide Nutrition Facts:– Each recipe, a video tutorial will be offered for the app users. Video tutorials are really helpful while cooking because they offer step-by-step advice.
Tutorial video:- Each of the recipes, you will select by offering to the app user tutorials of the video is really helpful while cooking off the step-by-step of guidance.
Gallery –Photo:- Every recipe is incorporated into integrating the gallery –photos for enticing with your use of their mouth-watering pictures.
Save Recipes: – Allow your user for saving their favorite recipes & they are accessing them at any time & anywhere.
Print Recipe:- Incorporating this feature will be very helpful. The offering of users who can easily acquire the recipes used & printed versions of while cooling rather than holding smartphones of all time cooking.
Integrating Quantity Calculator:- This purpose is accessing for the user to know about the exact quantity of the recipe for the particular recipe. In some of the recipes of milk, the cream is mentioned for the cooking time of the recipes as well.
Personal Notes:- Personal notes can be included, so the users can acquire special inputs for the particular recipe. if someone wants to replace something interesting from any recipe for example; in milk cream, you want to replace mil from the cream then it's allowed.
Social – Sharing:– Accepting your user for sharing their favorite recipes with their family, and friends on social media. This thing attracts you to the apps & also improves the user numbers.
Rating & Review:– Users will be able to give a review & rate for the tried cooking. This can give an idea for another app user as well, regarding the performance of the particular recipes.
Upload Picture:- You can post photos of your recipes
Add recipes:- Users will be enabled for including their own recipes on their profile, which they are keeping public or public as per their liking.
Community:- This is allowing users to interact with fellow customers so they will be able to ask questions & post answers, and comments also.
Plan Meals:- App users will plan the meals for every & select day of the recipes they are using.
Manage profile:– users' profiles will be managed with these sections for the users themselves.
Read Content:- App users will read the content & blogs posted in-app.
Notification & Alter:– This feature is very useful for engaging users, just like they will receive notifications of new recipes being posted, discounts, offers, coupons of their restaurants & favorite eateries, etc.
Features of the Admin Panel
Sign in:- Admin can log in to the cooking recipe app for user credentials.
Manage profile:- This is allowing for the admin for viewing & editing the users.
Manage users:– Admin can manage, delete & view users.
Manage cuisines:- Different type of cuisines is offered in the apps for management by the admin just as adding, editing, delete the cuisine.
Manage recipes category:- An admin will be able to manage categories & select for viewing the categories & newly add a list.
Admin can manage the special considerations of their users.
Manage Subscriptions:- Admins can select the subscription packages at their convenience.
Manage Recipes:- Recipes can be managed here, such as the admin can delete the recipes & view the recipes.
View Reviews:- Reviews provided to the users will be viewed by the admin for each user's information.
Manage Community:- Admin can manage the community here, so the users can connect. Such as hide, delete & view questions, and answers for anything incorporating.
Manage Payments:- Payments for users for the app I.e subscriptions, approximately grocery shops, and ebook buying for food delivery will be managed by the users from the sections.
Upload magazines:- Admin is responsible for, ranging the content posted in the apps. It requires constantly updated & reviewed
Notifications:- This is for sending notifications & alerts to the users of the offers of new additions & features, coupons also food recipes in the mobile apps.
How to Select the Right App Development Company for a Cooking Recipe Mobile App
Creating a mobile app is mammoth and involves & a task of lots of intricacies. You have to ensure that of selecting the right cooking recipes from mobile app development organizations for acquiring the app for development. The firm must have a great standing arena in the app development markets & a prominent app development team. Once they have selected the firm, it is time of conveying all your business requirements & goals with the apps. For the firms will plan the development process accordingly. Requiring the team sturs for create sophisticated & food recipes & feature-rich cooking mobile apps, the teams required for comprising to following experts :
Requirements analyst
Project manager
Mobile app developer
UI / UX designer
Quality analyst
Cost For Cooking Food Recipes Mobile App Development
The cost of a food recipes mobile app development for the Android & iOS platforms goes around $25,000-$35,000, for basic features. If you are including more features in the mobile apps, the cost will escalate. After spending large amounts on the app development process for ensuring to make the feature & robust rich foods recipes mobile app.
Also Read: Diet Planner Mobile App Development Company
Food Ordering Mobile App Development Company
How to Develop a Food-Ordering App like Uber Eats: Working, Features, Technology, & Cost
Conclusion – How To Effectively Plan For A Cooking Recipe App Development
Now that you know how to effectively plan for the development of your cooking recipe app, it is time to hire a mobile app developer who can convert your plans into reality. Get in touch with Verve Logic today and share your ideas on your cooking app.
Thinking about your cooking app's logo? Looking for a professional logo designer? Let Verve Branding design it for you. Once you have your logo and your app is all set up, market it using the expertise of digital marketing professionals at Verve Online Marketing. We are just a call away!
(Visited 176 times, 1 visits today)