10 Apps to Boost your Brain
We all have a lot of free time to spare than we think. We are living in an advanced world where critical thinking has become a necessity. But it's not everyone who is born with critical and creative thinking. Many times you need to polish your brain with regular practice in order to come up with better decision capabilities and creative thinking. There are many brain training apps that are designed to improve your memory, thinking skills, intelligence along with a better focus on everyday activities.
There are many studies which are available on the internet that show playing brain games can help increase any kind of mental agility and prevent brain aging. Every day a new brain exercise application shows up on the Google Play Store and Apple App Store which claims to improve mental agility and concentration with other cognitive skills. The important question is to understand in which application you must invest your time as you do not feel your time is wasted at any point.
As users spend just a few minutes a day with these brain-training apps in order to improve memory, concentration, and other organization skills through a lot of practice. So, to make it simpler for you, we have rounded up a list of the best apps that are good for your brain at one point to make things simpler for you. You can find these apps on Google Play Store or Apple App Store depending on your device. Without further ado, let us jump right back to the list of the best brain training apps that will challenge your working memory and improve your mental fitness.

Moreover, if you feel like you have a strong brain then we suggest you check out the best game hacker apps for android devices and test how big a hacker you are.
1. Lumosity Brain Trainer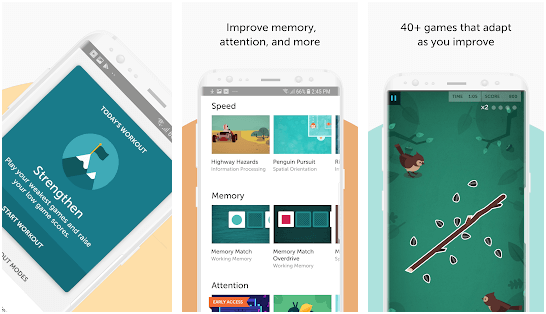 If you have witnessed the TV commercial for Lumosity then you will find out it enhances the smart side of the people by playing the games it offers. This brain training application offers several games which help in flexibility, increasing productivity, avoiding distractions, and other mental aspects for better work-life balance. Lumosity follows scientific research known as neuroplasticity which means your brain is a dynamic organ that can be trained at any stage in one's life.
The brain-boosting app keeps track of your progress and displays your improvement which makes the application very encouraging. One of the best features of the Lumosity Brain Trainer application is its capability to remind the users to do their brain training at the desired time. This becomes critical if you are submerged in work and forget about the app.
Download the best brain training application Lumosity for Android and iOS
2. Brilliant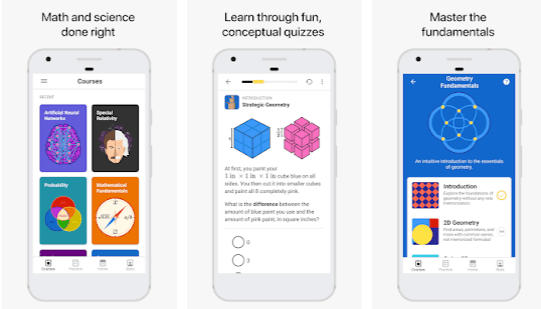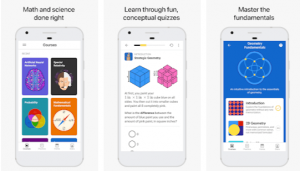 There are two subjects in school and college life which students fear: Maths and Science. As mentioned, we are living in an advanced world and today we are going to talk about one such app which makes life easy with Maths and Science for kids and people. Brilliant consists of maths and science education courses which deliver every class in a fun and effective way. This process makes the learning easy to understand and fun. You will find lessons on almost every topic along with quizzes on what you have learned. With Brilliant, you can become a better problem solver and learn about the world in a fun and interactive way. Even if you are a college kid, Brilliant has something for almost everyone.  
-> Student Enrichment
-> Recreational Learning for Adults
-> Professional Development
-> Problem Solving on Cutting Edge
Download the best app for exercise your brain: Brilliant for Android and iOS
3. TED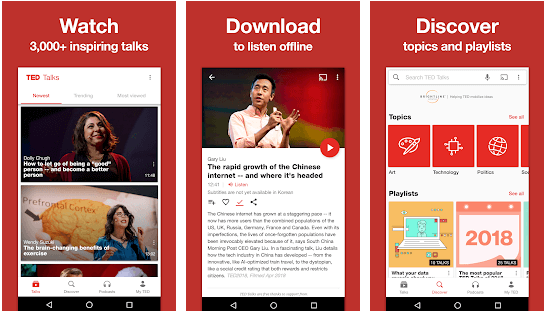 If you do not know then there is a TedTalks application that is free to use as it offers access to the talks by many remarkable people. If you are among the people who are not familiar with the TedTalks then it is a video series of lectures given by the leaders from all around who are moving the globe in their respective fields. We consider Ted Talks a brain training application as watching these videos is a great way to span your knowledge of certain topics and is a very engaging and congenial way.
TedTalks are amazing as the speaker presents the content in a very visually and structured way which makes the talk very interesting. The top features of the TedTalks mobile app are:
-> Allows downloading videos and audio for later
-> Connect to other devices for a better experience
-> Browse the entire TED Talks video library in various languages in over 100 languages
-> Listen to Ted's new podcast which is known as Sincerely X
Download brain boosting app Ted Talk  for Android and iOS
Also, check out the other educational apps for students and kids to learn from. These apps will offer unconditioned learning and make your kids' futures bright. 
4. Duolingo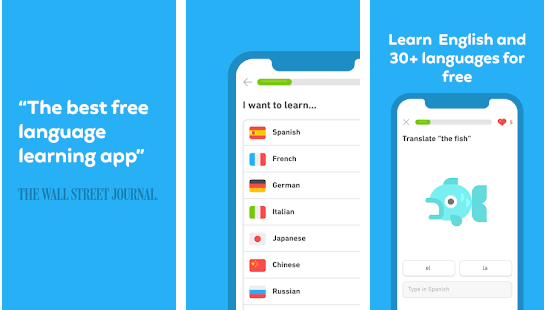 Learning a second language can be really productive for your brain. With an app like Duolingo, you can learn a second language of your choice for free and with no necessary classes from any kind of trainer. Their integration of fun activities makes this mobile app very creative to learn and makes your brain sharp. You basically level up by answering the questions on the language you are learning. Pictures and audio while learning the new language are what make it one of the best vocabulary apps for kids and adults. By constantly using this app, you will quickly start speaking like a native in no time.
Download the best brain-boosting apps for Android and iOS
5. Western Philosophers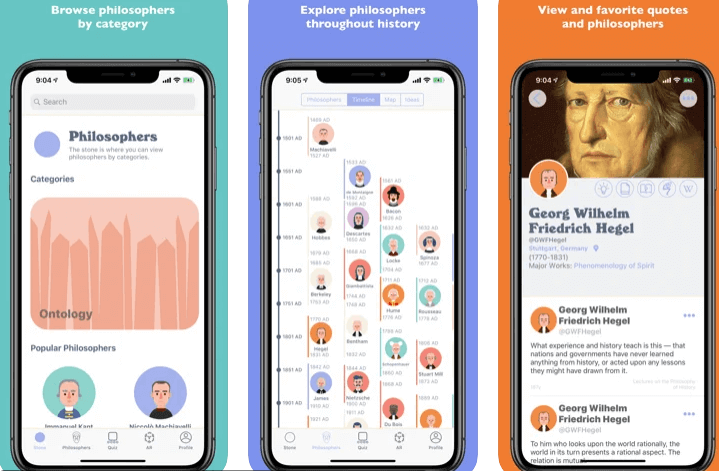 As mentioned, learning is a great way to train your brain. If you are also a history buff then Western Philosophers is the best app to exercise your brain as it consists of everything that you want to know about the famous philosophers from different times. Read about the great work of various philosophers and test your knowledge by answering quizzes and other tests. Become the philosopher of other philosophers and what all they have done.
Download apps that are good for your brain for iOS and android

6. SkyView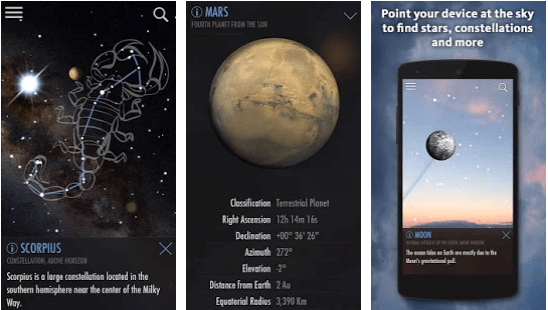 SkyView offers the lite version of our Skyview which allows you to explore your sky at night. Want to find stars, constellations, satellites, and much more from your phone? Simply install SkyView on your phone, point it towards the sky at night, and have a look at some of the best night views that you have ever seen. You will never look at the stars the same once you use Skyview. Finding galaxies and unnamed stars can boost some new brain cells which makes it the best brain exercise app and relaxing app.
Download SkyView for iOS and Android
7. Elevate Brain Training
Want to improve your vocabulary and brain both at the same time? Elevate is a brain training program designed to improve your concentration, speaking skills, processing speed, and much more than training your brain to be better at different scenarios. As a top brain-boosting app, it offers 35+ brain-boosting games, personalized daily workouts, a workout calendar, an adaptive difficult progression that makes sure that every task is challenging. If you want to boost your brain to a certain level where you can become a better communicator and more confident in any of your abilities then installing elevate in your smartphone is the brightest idea at the moment. 
Downloads apps that are good for your brain – Elevate for android and iOS
8. Curiosity
Curiosity is another top brain-boosting app in the market which makes you watch the most interesting documentaries and videos to grow your interest in the most unique things in the world. So, basically, you will be smarter every day without answering any questions. They have original content on almost every possible topic about which we know little. It also allows you to follow and save articles that spark an interest in your mind. Learning from curiosity means uncovering the answers you didn't know about and discovering questions that you didn't even think about asking.
Download the app to exercise your brain for android and iOS
9. Magic Cube Puzzle 3D

Every one of us knows about the cube puzzle game. Yes, the one which we all have played at least once in our life. Fun fact – Rubik's cube is the only game in the world that has one possible correct answer and 43,000,000,000,000,000,000 wrong ones. Rubik's cube is considered one of the best apps that are good for your brain. Thanks to technology we do not need Rubik's cube in our hands anymore as we can now install it on our phones. Magic Cube Puzzle 3D is one such app that adds a lot of variety to this game. You will see additional features in this brain-boosting feature like different sizes, a timed mode, free play, 24 different game styles, and much more. It will surely blow your mind whatever is left of your mind.
Download Magic Cube Puzzle 3D for Android and iOS
As a leading mobile app development company, we have also compiled a way on how to make an app for kids. As a business, it will help you reach the best position when you are developing an app for kids.
10. 10,500+ Cool Facts

Yes, you read it right. That's the real name of this app which adds knowledge to your brain in your free time. Just like tinder you need to swipe to find the cool facts about new things or topics that interest you. You can also turn the page just by shaking your phone. It also allows you to share cool facts on social media platforms. The best part of this brain exercise is that it verifies every fact it publishes and also allows you to verify it on the app.
Download the brain-boosting app – 10,500+ cool facts for android and iOS
Moreover, if you are planning to create one such application or finding how to build an android gaming app that is a huge success, then a top IT Mobile app development company like VerveLogic is there for you.

We're VerveLogic and we've been serving our clients with our IT, designing, and Marketing services since 2012. Every day, our team of dedicated professionals works to make this world a little better through our premier solutions. Our exclusive services include Mobile App Development, Web Application Development, UX/UI Designing, SEO, Digital Marketing, and IT Consulting like "how to reduce android app size during the development" and Digital Marketing Services to businesses from all around the globe irrespective of your business domain.
(Visited 205 times, 1 visits today)