Top 10 Best Apps Like Instagram For Android and iOS Users – Try Now..!
For people of the 21st century, this app needs no introduction… Instagram is one such social media platform that is diffused in world culture. With more than a billion active users currently, Instagram has become one of the most powerful social networking sites today.
From friends and family interactions to the catering business as an advertising tool, Instagram has completely revolutionized the way we leverage social media in our favor and it still continues to explore new possibilities with every update. From the current success of Instagram, one can easily apprehend the future scope of social media applications as a business idea.   
Instagram, initially kicked off as an image and video sharing platform, has a lot now on its table like Instagram stories, IGTV, Reels, Polls, etc – we can say that it has successfully brought Snapchat, Pinterest, and TikTok all under one roof. Inspired by the success story of Instagram, several others have already put their bets in making the platform like Instagram with their own tweaks and turns.
The article is here to cruise you through the 10 best apps like Instagram, in fact, some of them are viable alternatives to Instagram. If the idea of owning an application like Instagram makes your adrenaline rush, Vervelogic – a professional app development company is open to all sorts of discussions on social media app development and what all exclusives you can add on to make your platform a signature application. Have access to complete guidance on how to create and monetize social media platform like Instagram.
Also, get inspired by the top 20 social media applications that hold a fortune for 2021 and beyond.
Top 10 Social Media Apps Like Instagram 
1. Flickr 
Flickr was prominent even before photo uploading and sharing were cool. The app is older than Instagram and is still an example for many Android and iOS app development companies to consider while developing social media apps. Currently, Flickr is used by photographers to showcase and share their work online. Just like Instagram one can create an account for free and upload/share their work.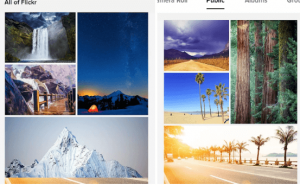 (source: PlayStore)
Download from: Play Store or AppStore
No.Of Installs: 1,000,000+
2. We Heart It 
Not an Instagram clone, but We Heart It holds aspects of Pinterest as well. With a more lively and funkier theme, the app succeeds in creating a fun experience for the user who is looking to pass time on social media after a long day of work. As the name has it, you can use the "heart" reaction on any image or media you like and let your interest be shown to your friends too. You can like the image uploaded by a friend, a wider community, or those from your social feed.
Search with the keywords you like and you will come across the results that match your search – an array of images and content that you will like. Just like Instagram, the app lets you follow friends, celebs, and other influencers/content creators you like.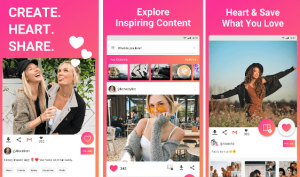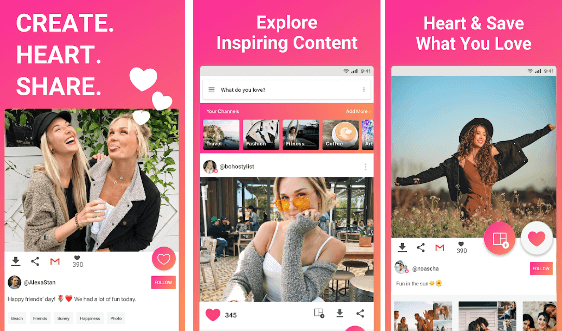 (source: PlayStore)
Download from: Play Store or AppStore
No.Of Installs: 10,000,000+
3. Tumblr 
Tumblr is yet another social media tool that gives access to fun to anyone beyond the age of 13. You can search and share from images to video and even Gifs to entertain yourself and others simultaneously. For most of the teens, this has been their very first hangout place even before Instagram. Just like Instagram you can create an account, post pictures and videos on your profile, follow other bloggers and make relevant searches through keywords. One can find content in the form of text, images, photos, gifs, music, videos, links, and more.
Download from: Play Store or AppStore
No.Of Installs: 100,000,000+
3. Snapchat 
Snapchat is a popular social media application that connects people via 'snaps'. One can share short stories, images, videos, gifs, etc to their streaks which are thereon visible to their friends. Owing to amazing filter and geolocation options, Snapchat is referred to by many as a "new age camera".
A controversial distinction between Snapchat and Instagram, the former was the only provider of transitional short videos until the latter allegedly copied the feature and introduced it to the world as Instagram Short Stories.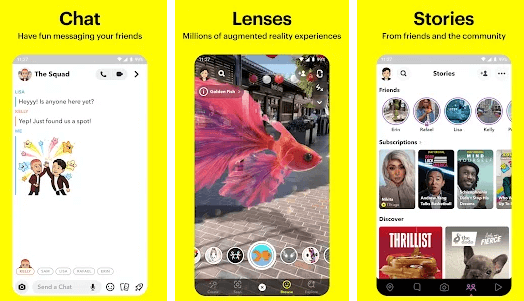 (source: PlayStore)
Download from: Play Store or AppStore
No.Of Installs: 1,000,000,000+  
4. Imgur 
Imgur is another noteworthy social media application that can be chased along with Instagram. This free-of-cost application has an ecosystem of users who are uploading various types of content from videos to pictures, tutorials, GIFs, memes, quotes, captions, and so on… Just like Instagram, time flies by when someone is using Imgur. You can easily find your type of content by inserting relevant keywords. Its interface is lively and attractive which makes it, even more, the type of app youngsters love.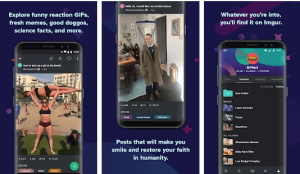 Download from: Play Store or AppStore
No.Of Installs:10,000,000+       
5. Yummi
The must-have application in the phones of foodies or food bloggers – Yummi is well defined as the Instagram used to share food items. Yummi is an app like Instagram in terms of interface, the app will certainly make your mouth water with amazing delicacies. The platform is easy and fun to use, where you can scroll for hours tracking the best restaurants and their specialties. You can upload home-cooked meals and caption their recipes as well. You can prepare your own food diaries with Yummi.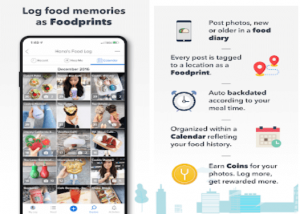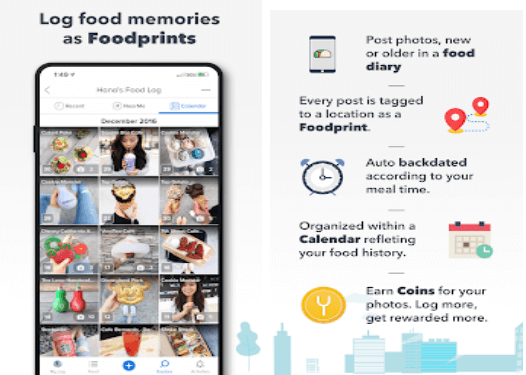 (source: Playstore)
Download from: Play Store or AppStore       
No.Of Installs: 5,000+
6. Facebook
Facebook made photo and video sharing a trend and it would be rude to call it an Instagram clone. The reason why we are including Facebook in this article is it is too influential to miss out when it comes to social media applications. Facebook being prominent in the society prior to 2012, many users still prefer the platform over Instagram. It itself is a comprehensive platform that allows sharing photos, videos, GIFs with your friends and uploading posts on your timeline. Facebook caters to several small and big scale businesses and is a vital platform for SMO marketers to influence their target audience.
Just like Instagram, Facebook has now come up with a feature called "Facebook Stories" for short videos and images. After the recent Instagram ownership by Facebook, the company has allowed both the apps to share cross features making it easier to access and share the stuff on both the platforms simultaneously – irrespective of the platform you are using.
Download from: Play Store or AppStore 
No.Of Installs: 5,000,000,000+            
7. Pinterest
Not completely, the app is somewhat like Instagram. More than a social networking site, Pinterest is a platform for uploading content in the form of videos, tutorials, and images organizing them neatly under various pins. It is more of a creative wall where people turn for ideas regarding recipes, homemade products, art and craft, and other hobbies. Pinterest owns a pool of billions of pins that will never let you run out of ideas. Leverage Pinterest to promote your small business online, a professional SMO company prioritizes Pinterest for Social Media Marketing and promotions. 
(source: Play Store)
Download from: Play Store or AppStore  
No.Of Installs: 500,000,000+
8. UnSplash 
With a humongous collection of stunning photographs (licenced under UnSplash), UnSplash is a site for sharing stock photography. Just like Instagram, the platform lets you give wings to your imagination and create visually insightful and appealing images. The platform allows photographers to upload their exclusive clicks on the site under different genres, from which users can pick any image they want and use it for their next big gig or simply as a desktop wallpaper inspiration. The app could be a go-to platform for people who want to share their portfolios online and monetize their talent.
Download from: Play Store or AppStore
No.Of Installs: 10,000+
9. TikTok
TikTok is a perfect example of how an app can touch tremendous heights in a very short span. The app spread like a bushfire in different developed as well as developing countries. Sharing the trait with Instagram, TikTok lets users upload and share short videos. It has made various people get noticed for their talents on a worldwide scale, making them famous overnight and also giving birth to several trends. With global reach, the app can be used to promote businesses as well. TikTok has millions of downloads around the world and was incredibly famous in India in 2019-20.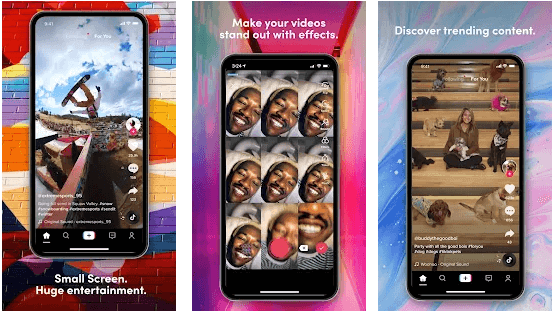 (source: PlayStore)
Download from: Play Store or AppStore
No.Of Installs: 1,000,000,000+
Is It Beneficial To Start A Social Media Application? 
The world is open for innovations and social media is one such category that is loved by all. So if you are shooting for an app like Instagram and have a new approach to add on – the sky is the limit for you. Just like a social networking app – Clubhouse (the app lets you collect, make groups, and have discussions) gave a whole new approach to group discussions and interactions, you can sway the world with your unique app idea.
From the aforesaid list of top 10 Instagram alternatives, you can get inspired and run your ideas to get your own signature application. If you need expertise, Vervelogic – an experienced app development company is just a click away from you…
Also Read: Instagram Business Model : Working and Revenue Analysis of Instagram
(Visited 284 times, 1 visits today)