7 Ways How AI-Powered Mobile Application Can Help Small Businesses Succeed?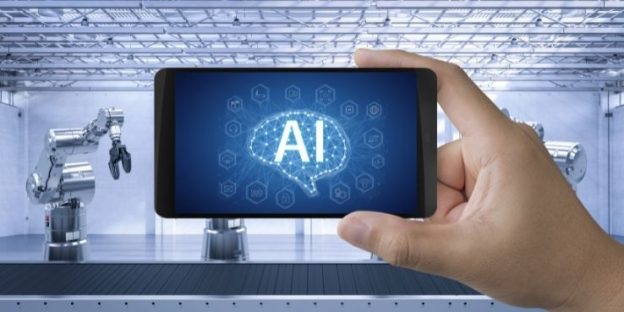 Artificial Intelligence has been taking over the limelight lately. Based on the innovative ways it is used, the technology is indeed an elixir for any small, medium and large business. But how? Still, several business owners are unaware of the miracles of AI in mobile applications. Are you one of those? If yes, then another couple of minutes on this article will help you a lot.
The entire globe today is using smartphones and studies say that 60% of the time spent on mobile belongs to app usage. So, can you see the scope? Mobile app development is profitable for a small business, but what else is profitable? Making that application futuristic, impactful and user-oriented. More than a choice, it is a necessity to match the pace with current technology.
Know how AI and ML transform how app developers create an application.  
AI In 2022
AI is the manifestation of futuristic technology that makes repetitive tasks easier, helps in data-based predictions, and responds to customer queries. With AI in the scenario, businesses can largely automate their services and other segments of progress, leading to reduced talent costs and more profitability. Although not yet implemented, the world is talking about Internet 3.0, and AI will be the biggest wheel in bringing Internet 3.0 or Semantic Web, as said by Tim Berner Lee.
AI remains the crucial pillar of app development, but there are other app development trends that will benefit your business in 2022. Checkout.
Transform Your Business With AI in 2022
If I say, you can significantly save your employee costs, automate repetitive tasks and increase your business sales all at once. Will you believe me? Well, all this is possible by integrating AI into mobile app development.
AI In 2022 can help businesses:
Improve Customer Services 
While employees need a day off and are available for certain hours of the day, AI-powered chatbots can give 24/7 assistance. Integrate a chatbot to your business application and you are good to invite queries at any time of the day (or your chatbot is). Even repetitive queries (that constitute 70% of the overall queries) can be taken care of by the integrated chatbots. It means by automating the customer service channel, you are mitigating the need to hire talent and give recurring salaries only to take care of repetitive tasks. Although, AI cannot completely replace human wit as 30% of the queries are subjective and need actual assistance.
From troubleshooting to customer engagement or marketing assistance, chatbots have you covered. Hire the best app developers to deploy chatbots to your business application.
Hire The Best Candidate 
By allotting the general or repetitive tasks to AI, you now have room in your business budget to hire the best talent looking for a good hike alongwith experience in their career. Promoting good perks will motivate the talent to join your business and become the strongest pillar, accelerating success.
Talking about hiring the best talent, AI in HR can save a significant time that would otherwise go into screening a tower of resumes. Not only resume screening, but AI is also perfectly capable of taking the interview's initial rounds and assigning tasks through automated communications. This even filters the list of candidates and saves time for the interviewer.
Analyse Data To Predict Patterns
Although the benefits of AI prevail in most segments and businesses. A multi-purpose utility that can help businesses reach a height with accurate management and data prediction. Artificial Intelligence helps businesses find data patterns based on which they conclude changes in customer consumption and market trends.
To be honest, market trends keep on evolving. What was a tremendous product a year ago has become mainstream now. The only trick to succeed in the business is to keep up with the current pace of trends. AI helps you keep a close tab on the current trends and innovate your business/products accordingly.
Warehousing With AI 
Will you believe it if I say AI helps significantly in the shelving and sorting of items in the warehouse? Not only this, AI has a lot of benefits when it comes to warehouse management.
AI eliminates the need to do monotonous tasks that are usually a lot in the warehouse management systems—for instance, slotting. There are thousands of products and their slots to consider. In the traditional warehousing model, the data has to be updated at every stage, from entering to slotting and dispatch of the product. Today, with AI, integrated software, it is easier to optimize space by processing the spatial characteristics and travel time predictions of the containers based on activity data captured in the distribution centre.
Promote Cybersecurity 
People are now communicating more and more online. The same is with the businesses. Especially the ecommerce businesses where the communication starts and ends on the online platform. AI in cyber security helps businesses review behavioural patterns on a company's software, apps or website to find abnormalities.
With the quality of identifying how customers and employees use the application, AI can recognize whether it is valid or not. Like emails, data inputs, time range, frequency and other tasks. Even a single move outside the pre-determined patterns (if an employee clicks a wrong link), AI immediately reacts and warns about the threat.
Offer Personalization 
Personalized services/communication has highly been appreciated by the people. Gone are the days when a few firms had their monopoly and customers were bound to buy from them even though the services are not at par. Now is the era of competition with the blend of technology. Now is the time for the best user experience. Customer is the king, so treat them like one by giving the best-personalized user experience.
Businesses: What? It is harder done than said. How is it possible to have 10,000+ customers and make each of them feel recognized? AI is the solution.
Hire the best AI app development company and they will let you know the possibilities. With AI integrated applications, you can promote the best user experience by giving recommendations on previous purchases, offering easy recurring purchases, sending relevant messages based on each customer's purchase behaviour on your application, and more. Artificial Intelligence, when integrated into the application, can help you promote a personalized experience to each and every customer/employee profile made on the application.
To Automate Their Marketing Funnel
The simplest marketing funnel involves – awareness, inform, convert and engage. Every business has a different marketing funnel based on its extensive sales models. From spreading awareness through different online channels to processing queries (inform) to diverting quality leads to the concerned departments with AI in action, you can easily have control of your vast and a bit tedious tasks.
It's Time To Transform Your Business – Conclusion
Every company looks for efficiency and speed in the business process (especially the small business). Keeping the simplest foundation, the idea of AI was introduced. In this cut-throat competition, do everything that keeps you ahead of your game. AI being the futuristic technology, will help you easily scale your business, increase customer retention rate and attract more clients to your business.
To win in the current scenario, Vervelogic helps you have a better insight into AI and how it can boost your mobile application to achieve success. Let us know your app development needs over call, WhatsApp comments or request a quote.
(Visited 82 times, 1 visits today)