How to Make a Video Chat App – Step by Step Guide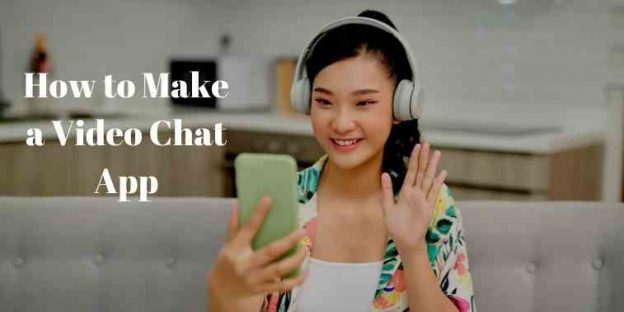 "The only few sources of entertainment during our quarantine days were online gaming, streaming and Video Calling".
In 2020, when the entire world was isolated due to the COVID-19 lockdown, video chat apps came to help us stay connected with our loved ones. Not only that, some apps facilitated online office meetings, conferences, school/coaching classes, and health consultancy with just a click on our smart devices.
With Zoom having the highest downloads of 26.9 million followed by Skype (6.2 million) and Houseparty (5.9 million) from Feb to March 2020, video calls became an integral part of our social lives in lockdown days. Downloads still continue to grow and we are expecting these apps to be part of our 'new normal' lives as well.
Undoubtedly, the market for video chat apps is promising. But, in order to stand firm against the giants like Zoom, Skype, and GMeet, you need to have a standalone, feature-rich, and robust application with a Unique Selling Point.
The article holds everything you need to know about owning a powerful video chat app that will help you stand in the league of the leaders in 2021 and ahead. So Stay Tuned..!!
Quick Links
-> Market Welcomes Video Chat Apps (Stats)
-> Working Model of A Video Chat App – Technical Upfront
-> Steps for Video Chat App Development
-> Cost For Developing A Video Chat App
-> Revenue Model for Video Chat Apps
-> How VerveLogic Can Help You?
Market Welcomes Video Chat Apps (Stats)
Video Chat App Downloads and usage surged amid the COVID-19 lockdown. These apps that came in to help people in disguise in 2020 are prevalent in 2021 as well. 
Let's check out some stats justifying the same:
1. In March 2020, it was found that 47.6% of adults in the US use Facetime for video conferencing (Statista).
2. 73% of people used Video Chat Apps to facetime with their friends and family (Mozilla).
3. In 2020, the highly used Video Calling Apps in the US were Zoom (66%), Facetime (48%), FB Messenger (31%), Skype (27%).
4. Though Zoom rose to fame in 2020 with a large number of downloads worldwide, Skype was still ahead in terms of daily active users. The app showed 59 million active app users daily on Android and iOS.
5. Zoom reported 38 million downloads in January 2021 alone.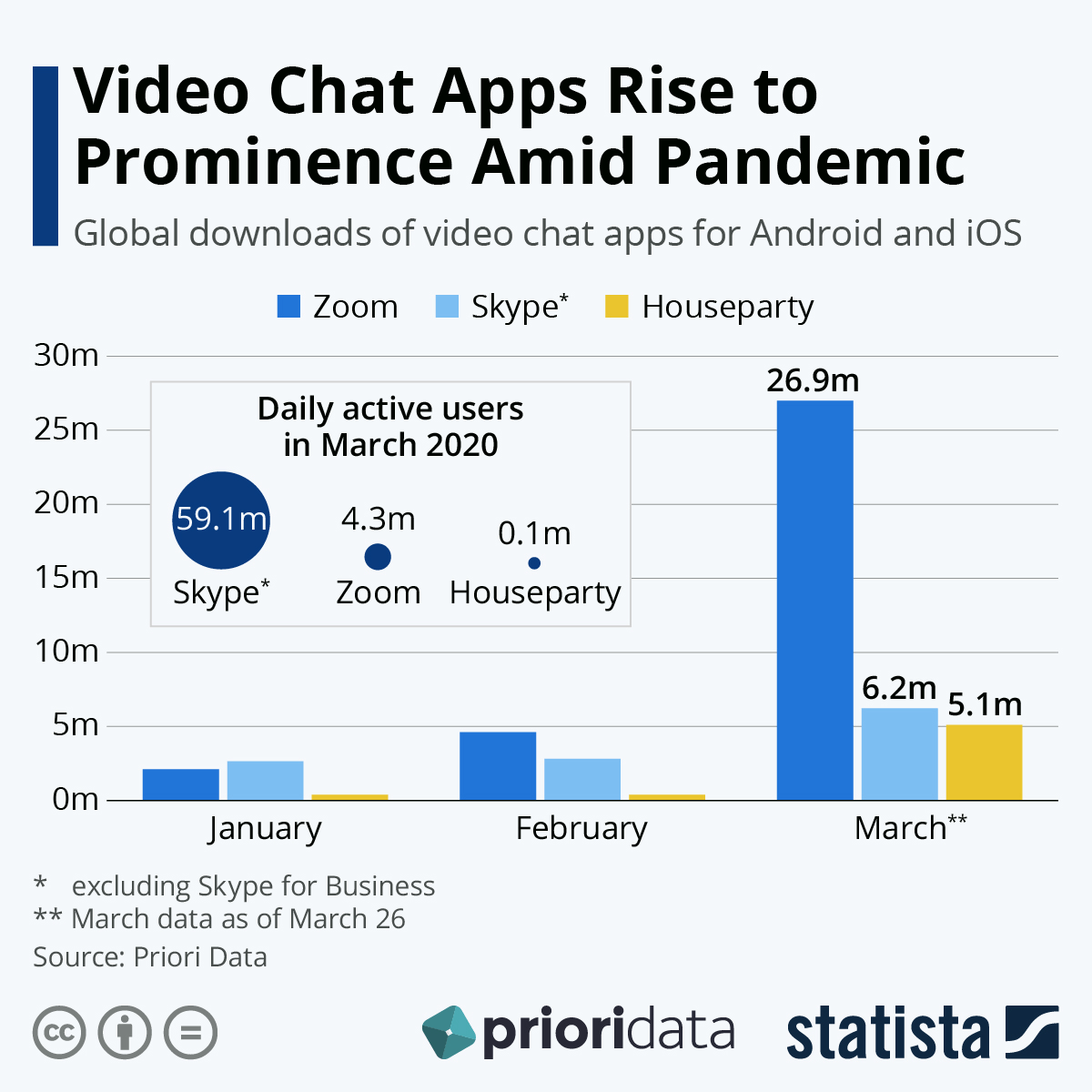 (Source: Statista)
Types of Video Chat Apps
| | | |
| --- | --- | --- |
| Video Conferencing Apps  | For Office Calls and Meetings  | Zoom and Skype |
| Video Calling Apps  | For Overseas calls | Whatsapp and Facebook |
| Video Chat for Entertainment | For Video Chat with Friends   | Instagram and Houseparty |
1. Video Conferencing Apps
Video Conferencing app is the best mode of connectivity when it comes to conducting online meets involving colleagues living in remote locations. With the worldwide lockdown in 2020, video conferencing apps kept the meetings and discussion going with high-quality video, uninterrupted sound, and internet-adjusted speed.
Examples: Zoom, Google Meet, Facetime, Skype, etc.
Businesses Find Video Conferencing Beneficial
-> Reduced Travel (46%)
-> Time Saved (33%)
-> Reduced Cost (27%)
-> Best Collaboration (19%)
-> Improved Work/Life Balance (8%)
-> Recording and Archiving (2%)
2. Video Calling Apps
If you are living oceans away from your family, then video calling apps are your lifesavers. These apps support uninterrupted calling with great video/audio quality (provided that you have consistent internet connectivity).
Though these apps are cherished when it comes to making overseas calls, you cannot use these apps for work calls and online conferences. There are certain restrictions on video calling apps like Whatsapp allows you to add only 4 members in a group call while facebook limits this number to 8 members.
Examples: Facebook Messenger, Whatsapp, Viber, and Telegram.
3. Video Chat Apps for Entertainment
When it comes to entertainment we first like to involve our friends with us. Video chat apps like Houseparty have no doubt enhanced our bond with our relatives and friends even during the lockdown. These apps tell us when our friends are online and available for video chats. Moreover, these apps offer amazing video filters that you can use while talking with your friends.
Remember the times when you with your friends synchronized the timing to come online together and chat?
Examples: Houseparty, Instagram, and Discord.
Working Model of A Video Chat App – Technical Upfront
Just like a simple phone call, the line gets connected to the other person, and apart from listening to the voice of that person you get to see them on your devices. Prior to the pandemic, video chat apps were basically used to call people living in faraway countries.
But COVID-19 changed the trend and people living in the other house lane or merely in two house distance started using video chat apps to call each other. Anyways, these apps have more to offer us than simple video calling, they give us the benefit of video sharing and creating personalized groups as well.
Speaking technically, most of the video chat/calling/conferencing apps use WebRTC technology. This technology is an open-source protocol that allows the users to make real-time video calls using APIs.
WebRTC establishes a peer-to-peer connection without renting any help from the third-party server simultaneously supporting the transfer of media content.
WebRTC can be integrated with 4 APIs:
| | |
| --- | --- |
| Media Stream | API for voice calls using a microphone or video camera. |
| RTC PeerConnection | API for secure video calls. Supports end-to-end encryption and access control.  |
| RTCDataChannel | API to establish a peer-to-peer connection for arbitrary data transfer. |
| OpenTOK | not an API but a PaaS service that has an in-built library for cross-platform video chats.         |
Steps for Video Chat App Development 
Strategic Approach

Step-1 – Market Research and Defining USP
In order to stand out of the normal league and get recognized for your services, you need to define a Unique Selling Point for your app. It can be anything that differentiates your app from your counterparts.
USP can be anything from the integration of advanced features to a large room for group calling, facilitating payments, QR code scanner to save the number, etc
Also do market research to know your target pool, your competitors, features in demand, benefits, and current challenges faced by your target audience. Based on your research you will easily be able to define your USP.
Step-2 – Set A Budget
One needs to be clear with the budget he is willing to spend on the project. This helps the acquirer and the app development company to adjust project goals. Often there are discrepancies at the end of the budget that is not predefined.
(Refer to the upcoming cost estimation segment)
Step-3 – Business and Revenue Model
Do not sit back, here you need to decide how your video chat app will serve the USP to your target audience. Make sure you have a concrete business plan and a revenue canvas as well.
Think on this skeletal draft: 
| | |
| --- | --- |
| Key activities in your app | Basic Feature Integration |
| Important Partners | Unique Selling Point |
| Customer Relationship | Customer Benefits |
| Advanced Features  | Channels |
| Cost Structure | Revenue Model  |
Revenue Model of Video Chat Apps is discussed below*
Step-4 – Outsource To An App Development Company
There are many players in the market, you need to ensure that your task goes to the best app development company that has years of experience and correct expertise to develop your dream project. App development is an initial investment with shedloads of returns in the future, one needs to do it right.
Go for peer recommendations, online search, trust client testimonials/reviews, refer from sites like ITFirms and Manifest – that is known to have the list of Best IT Outsourcing Companies and IT Consultancies.
Shortlist the companies and then compare based on experience background, portfolio, services, expertise, development standards, security policies, and technologies they work with. 
Step-5 – Pre-Launch Promotions
Plan for promoting your application as soon as you can. No matter if your app is in the development or testing phase, create a hype that will help you gain strength as soon as you publish your video chat app on PlayStore and AppStore.
| | |
| --- | --- |
| Online Promotions | A landing page and blogs, online teasers, constant work on SMM |
| Offline Promotions | Promote your app at local events, take help from industry influencers, personal recommendations.  |
Step-6 – Post-Launch App Marketing
Marketing is a constant process, you need to be more particular about marketing upon the release of your app.
Different Kinds of Marketing
| | |
| --- | --- |
| Online/Offline Ad Campaigns  | Create online ads, offline hoardings or banners, etc for paid advertisements of your brands. PS. Online Campaigns are much powerful and far-reaching.    |
| Influencer Marketing  | As portals like Youtube are powerful today, you can reach out to some online influencers who will promote your app among their audience (which is in thousands to lacs.)   |
| Social Media Marketing (SMM) | Social Media is the best way to communicate with your audience and run online ad campaigns.   |
| Partners Advocating The App  | Ask your partners and mutual connections to promote your app (this will help you gain authentic leads).   |
| Search Engine Optimization  | SEO-friendly written content will make your product rank on the various search engines.   |
A digital marketing company is your best bet when it comes to online ad campaigns, SMM, SMO, SEO, and content marketing, as these companies are well equipped and own the expertise that is needed for sound results. 
Technical Approach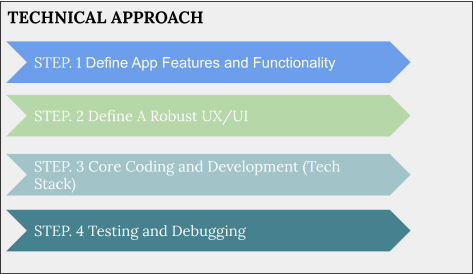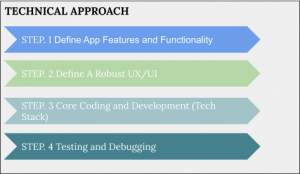 Step-1 – Define App Features and Functionality
There are some basic and some advanced features based on which you can create a structure of your video chat app.
Refer to the list below…
Basic Features of a Video Chat App
-> Signup* – Help your user register by filling in the form with basic info (name, contact, email password). 
-> Profile Settings* – Let the user handle his profile and introduce his preferred settings. For paid subscriptions, personal profiles need to have a payment section.  
-> Status* – Displaying the current status of the user (online/offline/busy). Also the contacts he wants to chat with. 
-> Phonebook Synchrony* – Provide the user a back-end search system by synchronizing the app to his phonebook. Apparently, the list owns contacts he needs to stay connected with.   
-> Geolocation – Let the user find someone who is nearby them by allowing geolocation settings.  
-> End to End Encryption* – Secure the personal chats and calls with end-to-end encryption. Internet protocols like AES-256 and HMAC-SHA-256 are used to make the app encrypted and secure for the user. 
-> Push Notification* – Notify your users about missed calls/upcoming and ongoing calls via push notifications on their device screens. 
-> Cloud Integration – Your user's convenience will lead your app to heights. Let the user access your app on any device (Desktop, tablet/smartphone, etc).
-> Auto- Backup* – To ensure that none of your user's data is lost in case of an accident.
Advanced Features of a Video Chat App
-> Large Groups – If you are aiming for a conferencing app make sure you allow great flexibility in incorporating the members in a group call.
-> Screen Sharing – This is yet another useful feature in conferencing apps that allows the user to share his device screen with the participants on the video call.
-> Personalized Backgrounds – Allow the user to keep their personal pictures as the background of their video chat apps, rather than imposing the custom backgrounds.
-> Virtual noise cancellation – To facilitate users with true noise cancellation give them a special feature to reduce background noises with the help of software.
-> Filters – Attractive filters to enhance the video is what any person with the latest device looks for.
-> Stickers and Masks – Let your users have a lively conversation and express their hearts with emojis, stickers, and masks. The wisest choice for entertainment apps.
Step-2 – Define A Robust UX/UI
User-Interface and User-Experience make an app powerful. No matter how many advanced features you integrate into your app, if your UI or UX is not good then the user will surely bounce back to other competing apps.
| | |
| --- | --- |
| UI/UX Design | Developers define the structure (wireframes) and design of your application to specify how users will interact with your app. |
| Stylitics | You need to have a dedicated design for your entire app structure. Even if the app runs on a desktop or tablet. Design is the identity of your app that needs to be consistent throughout.  |
| Performance | Acquiring an app is not enough, one needs to make sure of its performance and config settings on all the devices. App scalability and responsiveness on all the platforms is a true sign of its authenticity.  |
Step-3 – Core Coding and Development (Tech Stack)
Let's explore the core tech stack needed to make a robust video chat app. Remember the entire worth of your app depends on how precisely the core coding and development is done.
For Mobile App Development
| | | |
| --- | --- | --- |
| | iOS | Android |
| Programming Languages | Swift, Objective-C | Java, Kotlin |
| ToolKit | Apple Xcode | Android Studio, Eclipse, Android Developer Tools.   |
| SDK (Software Development Kit) | iOS SDK, Cocoa Touch | Android SDK |
With time and increasing demand for your app, you might want to increase its premises to other platforms as well with web front-end and back-end development.
For Web Development
Web Front-End Development 
-> Programming Languages – Javascript, Typescript
-> Markup languages – Text
-> SDK Frameworks (JS) – React Native, Angular JS, Flutter, etc.
Web Back-End Development 
-> Programming Languages – Python, JS, Ruby, etc.
-> Web Frameworks – Phoenix, Django, etc.
-> Database Servers – PostgreSQL, MySQL.
-> Web Servers – Ngnix, Apache
-> Could Servers – AWS, EC2, S3, etc.
For Streaming and Encryption
| | |
| --- | --- |
| Streaming Internet Protocols  | Encryption Protocols  |
| WebRTC (for secure uninterrupted video & secured calling) | AES-256 (symmetric cipher – key for both encryption and decryption).  |
| RTMP SDK (for low latency content transmission) | HMAC-SHA-256 (encrypts data in installments of 256 bits).  |
| RTP (for low latency content transfer but is less potent than WebRTC) | |
APIs and SDKs for video calling and real-time information exchange.
-> Twilio SDK – Cross-platform SDK to support text messages.
-> Wowza GoCoder SDK – Media server to support video streaming.
-> Vonage Video API – Used for HD video quality, screen sharing, and voice messaging functionality.
-> Socket – Supports firm connection between app and server for real-time transfer of information.
Other Important Integrations
-> Mailing Services – Gmail, MailGun, FastMail, Firebase Cloud Messaging, etc.
-> Push notifications – Twilio, Plivo, Sinch, Apple Push Notification (APN), Firebase Cloud Messaging.
-> Payments – Google Pay, ApplePay, PayPal, Braintree, Stripe.
-> Analytical Tools – Google Analytics, MixPanel, Firebase, etc.
-> Social media Synchronization – Facebook, Twitter, Instagram, Viber, etc.
The core development of a video chat app holds a lot of vertices to be looked upon. Most important of which are seamless audio/video calls, UI/UX, and security. Let your best software development associate take charge of all the core technical allocates of your app.
Step-4 – Testing and Debugging
The last step in your journey for the best video chat app is testing for responsiveness and debugging. Despite being the last, this step is as crucial as any other on the list. Make sure you are not playing in the dark without actually trying your final product.
Testing 
Based on the severity and feature integration of your video chat app you need to check its accountability through the number of software testing services. Test your app for performance, configuration, loading speed, stress, automation, acceptance, etc.
Debugging
Debugging is the process of spotting and eliminating the bugs to make your app look and feel professional even before it reaches your audience.       
Cost For Developing A Video Chat App 
The most looked upon factor before acquiring the app is the investment. To help you with the same, here are the factors that determine the cost of your video chat app development. 
-> Market research, design, complexity (MVP or advanced), UI, and feature list.
-> Time dedicated by the tech team to discuss your business requirements.
-> Type of application (native, cross-platform, web-app, or hybrid app)
-> Integration of advanced supporting technologies (like AI, ML, Cloud, etc.)
-> Software development company you decide to outsource your tasks to.
In India, the per hour cost in the process of building the video chat app ranges between $20 to $100 while the lump sum being $30,000 to $40,000 for a single platform (android, iOS, web).
Also, the cost for developing the cross-platform app is less than building a native for each platform. To discuss your requirement and get the exact estimation of the cost, reach out to the best software development company in India.
Since 2018, India has been the hotspot for onshore/offshore IT outsourcing with giants like Google, Microsoft, Ford, Dell, Oracle, etc, relying on the services of our best Software Development Companies.   
Revenue Model for Video Chat Apps
A robust revenue model is a must for your investment to be fruitful. Owning a video chat app is no doubt a boon in the current times but only when you strategize everything from investment to development, marketing, and monetization. After development and cost let's have a good look at the revenue models you can approach for your app to fetch profits.  
1. In-App Advertising – The model gives you the flexibility to make apps free for the users and rather earn from in-app advertising. Display advertisements of different brands and earn from Pay Per Click, Per Ad View or Pay Per Action, etc.  
2. Freemium –  Let the basic calling features be available for free and put the subscription charges on advanced ones like (screen sharing, blurring, premium filters, stickers, etc). This is the most common revenue model used for video chat apps. Zoom relies on the Freemium model.   
3. Paid Calls – The direct revenue model that makes users pay for uninterrupted and seamless video chatting on the app. The model lets the user increase the limit on members in a group upon extra payment or increase the number of viewers. As the competition is big, make sure to own the most powerful app with a unique selling point to retain your paid users (do not let them bounce on free apps).
How VerveLogic Can Help You?   
The new era calls for advanced and updated technology but why leave behind the traditional and mature ones? 
Vervelogic has been serving its clientele for more than 20 years now. Holding years of experience in IT development we are by now able to implement the entire tech-stack of app/software development (traditional & advanced) and give you the best-in-class final product.
If that's not enough, we are here to increase your reach by exploiting the internet and social media for you (SEO and SMO). Not only app development but digital marketing is also on us. A single roof for your entire online expedition.
You can count on our below-mentioned expertise:
Development 
1. Discussions on business models and app's skeletal draft.
2. App design, programming, and development.
3. Front End and Back End Web Development using advanced technologies like HTML, CSS3, Angular, React.JS, Python, Node.JS, etc.
4. Mobile App Development (Android, iOS, Hybrid and cross-platform).
5. Dedicated departments for every step from designing, development to marketing.
6. Integration of advanced supporting technologies like AI, ML, and Cloud services.
 Marketing
1. Search Engine Optimization
2. Social Media Optimization
3. Content Marketing
4. PPC Integrations (for the best revenue model)
5. Logo Designing  
For any queries regarding video chat app development and marketing, feel free to contact us directly via WhatsApp, call or SMS. or send us a request and we will get back to you ASAP.
(Visited 79 times, 1 visits today)