10 Best Home Design Apps to Remodel Your Home in 2021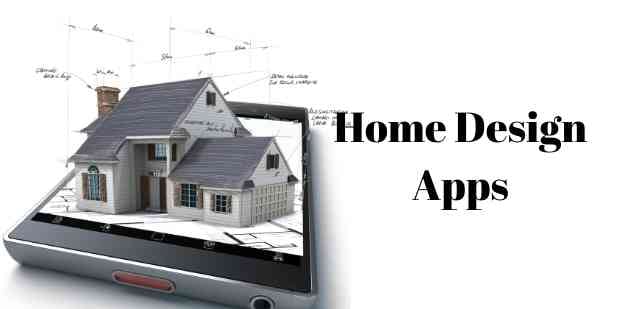 Whether you want to decorate your new house, or simply refurbish the old one to look new. There is now a home design app for your inner interior designer to play with the pallets, furniture, and layout of your home. Moreover, these apps are your ultimate saviors in times when you are really jammed with buying the most suitable furniture or just the right shades/wallpapers to adorn your home walls.
Your home depicts your personality and lifestyle, so style it personally.
Modern technique for contemporary home styling is here. We have shortlisted the 15 best home design and decor apps that are available on both android and iOS platforms to help you with the complete makeover of your house.
Note: The article is also a must-read for those who are looking for inspiration to build a feature-rich and appealing home design application for their services. It has some eye-opening plots on Augment Reality. So Stay Tuned.
10 Best Home Design Apps for Re-Designing and Re-Defining Your Home:
1. Morpholio Board – The Best Interior Home Design App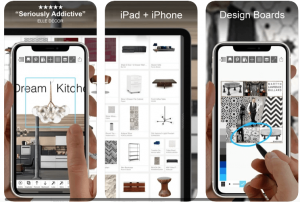 Morpholio Board is a masterpiece when it comes to designing the complete layout of the house with accessories and furnishings. The app helps designers to layout mood boards, be innovative with the design, and simultaneously select the furnishings and accessories for the house.
Embedded in the app are home decors from renowned brands like Herman Miller, Knoll, 3Form, Artek, Porcelanosa, etc. Also, some modest yet capable decor brands like Volk and Uhuru are registered on the portal.
Play with the vast array of colors and fabric options with an exclusive Eva feature that automatically generates cutsheets and the spreadsheets of selected items. Saving the designers from troubles.
Download From:  Android
2. Chairish – Re-Defining Home Furniture
Chairish is a full-fledged ecosystem involving sellers, buyers, and the company itself. The app lets the seller post photos of high-end quality furniture that he needs to sell. Then the mediators (i.e. the Chairish curators) will shortlist the ones to sell and the rest will be returned back to the seller.
Listing items is completely free of cost but the final sale fetches an 80% share for the sellers. Your payments, shipping, and returns will be taken care of by Chairish
3. Houzz – The Mother of Home Design Apps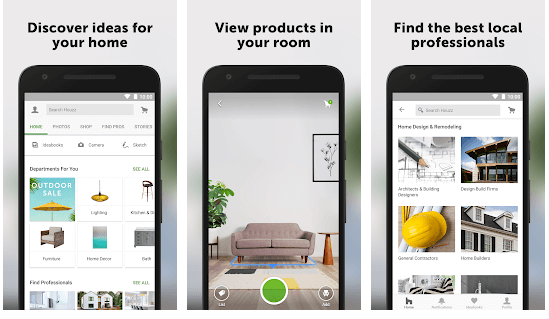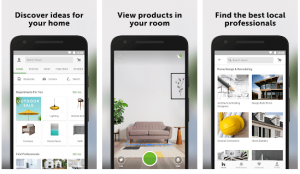 Houzz was once identified as the Wikipedia of home design by CNN. The app's enormous database owns more than 14 million HD home images which are seamlessly organized and tagged as per the style, room, and location.
Window-shop your favorites and let the real-time professional design consultants know your preferences.  Leverage the sketch function to draw the image and shop for the ideal from the app itself. Everything in one app, isn't it?
Download From: Playstore and Appstore
4. Invaluable – Shop for the Antique Furniture
Attend the Live furniture auctions from the comfort of your homes and put your best bet by clicking on the antique furniture that will increase the value of your house. Get it delivered at your doorsteps within a few business days.
Give your guests the benefit of doubt by letting them assume the price of your antique furniture.
5. Magic Plan – The Best Floor-Plan App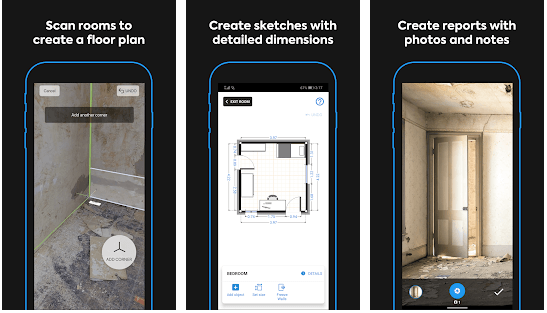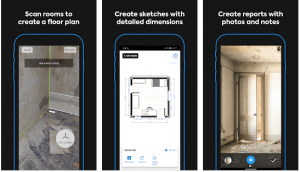 As the name justifies, the purpose of this app is to relieve you from the pains of taking measurements and drawing floor plans. Ask designers how tedious the task is? But with Magic Plan, floor-planning is an effortless deal.
Design pioneers can now calculate distances within the space by simply analyzing a snapshot.
Take photos of your space with its height and width and you will never complain of any furniture being bigger or smaller than what you actually want.
Download From: Playstore
6. Vivid – Play With Color Pallets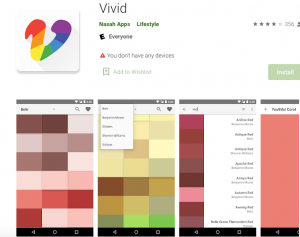 Wall painting is not only the simplest DIY task but is also a fun and family bonding activity. Let your home walls speak your personality.
While you run your thoughts from Sherwin William's intense grey to Benjamin Moore's Intense White – do not overlook some other vibrant yet classy colors on Vivid, like Death by Chocolate by C2 Paint or Elephant's Breath by Farrow&Ball.
The choice will be harder than the wall painting itself.
Download from: Playstore
7. Smith Home Remodel – Your Best Home Contractor is here
Virtual designing, mood boards, and styling is a cool idea until you come to know that you need the experts to help you with the core nuts and bolts of your dream project.
Smith home remodel is your personal home contractor app that establishes a direct connection with contractors who are always at your service. No matter you need them for a major installation or a minor fixing.
Download from: Appstore
8. Housecraft – Home Furniture Picker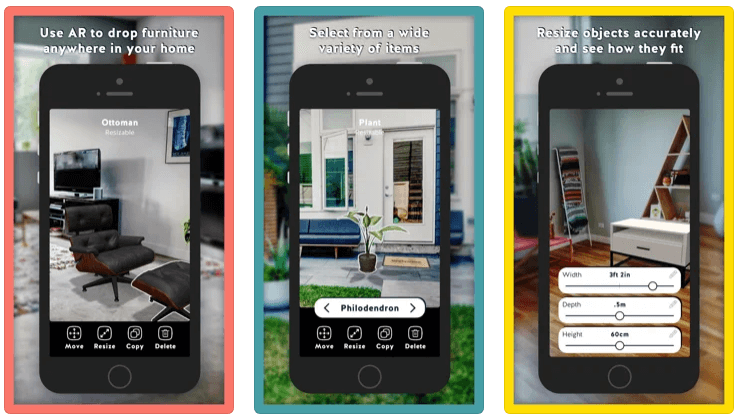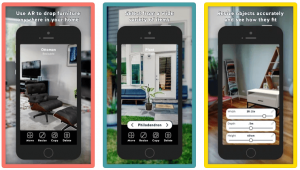 The implementation of Augmented Reality has completely changed the face of home design apps. Wanna know how? Let's learn from The Housecraft… The app drops the actual-sized 3D prototype of the furnishings into space (where it is intended to be placed) to help you have a look at how the actual piece will fit in. You can scale and position the prototype as you want.
If this wasn't enough, the app gives you the flexibility to walk around the 3D prototype to scrutinize the furnishings from any angle you want. Save the runner-ups and finally decide the one for your house.
Download from: AppStore
9. Havenly – Residential Interior Design App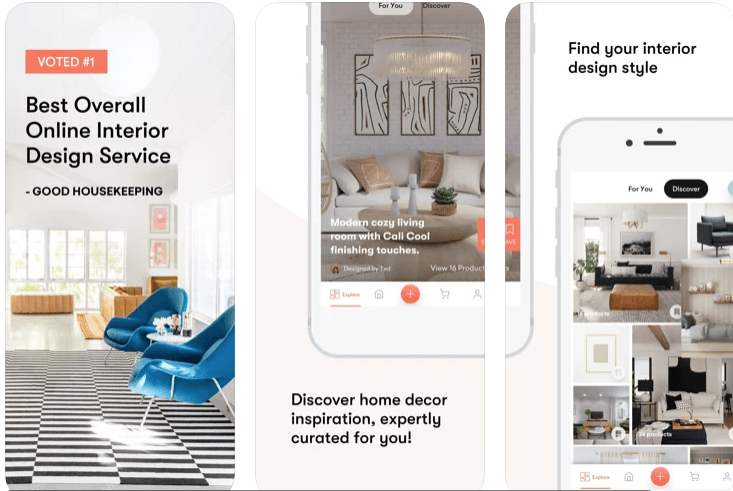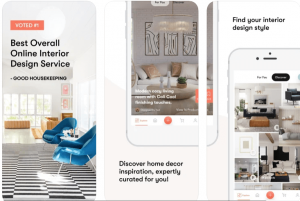 Havenly is one of your best bets when it comes to downloading full-fledged home design apps. The app works as an ecosystem for clients and real-time interior designers.
Whether you are stuck with core designing deals or just the final touch-ups, the app makes it possible for you to fetch some innovative yet practical ideas from the experts in just a matter of seconds or minutes.
Paying heed to the current scenario (lockdown and COVID-19 outbreak), these remote design consultations are meant to remain.
Download from: AppStore
10. Adobe Color Capture – Selecting Perfect Pallets for your Home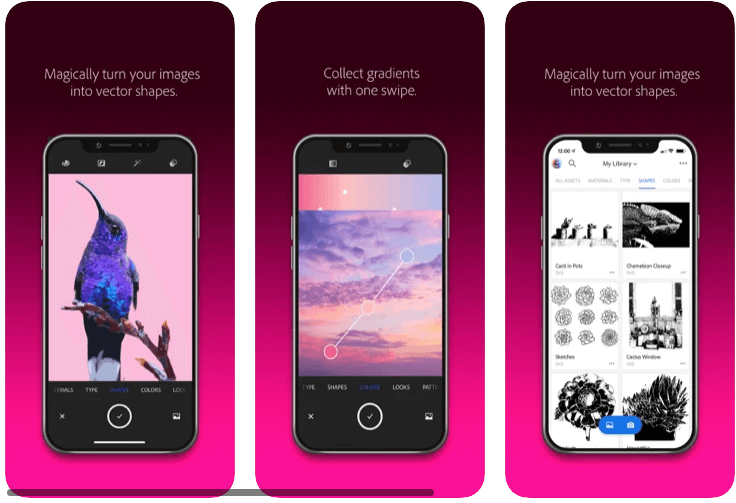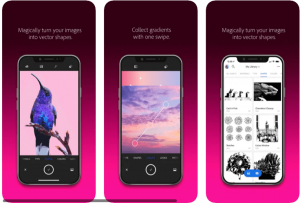 How would it be if you were able to collect a single patch of color from any art piece or painting and apply the same on the walls of your home? Yes, this is the unique feature Adobe Color Capture gives us. This tech-stack helps you capture the inspiring colors or combination of colors with just a snap, you now have a customized color theme for your interiors.
Also, the app lets you access the 3D patterns and vector graphics that are compatible with several design software programs to help you come up with an amazing interior masterpiece.
Download From:  Android and iOS
The List of Features That will make the best USP for your Home Design App.  
If you are an aspiring interior designer or a professional who wants to come on board with home design services this there is no better time than today. Create an app for your services and make your journey an online hit as well.
Mentioned below is the list of must-have features in a home design app:
1. Floor-Plan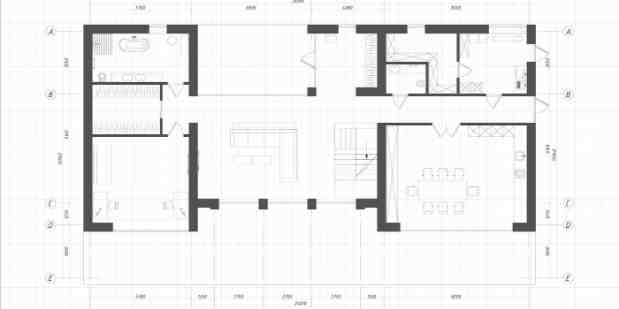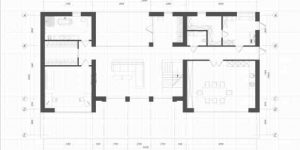 Interiors start from the floor plans, so if that's missing means the essence of your app is missing. Get precise and detailed floor plans with 3D looks. Help your viewers to add furniture to their selected floor plan and design interiors of their house. The feature is of utmost importance when it comes to decorating the new houses. 
2. Virtual Home Tour
Give your clients the flexibility to have a house visit without them stepping out of their homes. Enable your viewers to buy or rent the home tours to get a clear insight into the property and make just the right decision. 
You can make those tours as good as physical visits by implementing advanced technology in your app.
3. Furniture Assistance
Not only the interior designers but this feature works in the favor of the furniture owners or third-party vendors as well.  A single app can facilitate the user to buy the most suitable furniture for his home.
The app saves them from the terror of going to the furniture shop, dragging the monsters into their house, and finding that they do not fit in the space or do not go well with the ambiance.
Creating a 3D prototype of a room, selecting the colors, and adorning them with the furniture is all possible with AR integrated into the app.
4. Chatbot Assistant
Chatbots come into the role when human customer service fails to serve. The chatbot is an absolute example of how AI is changing the face of the internet. These digital assistants are programmed to handle general queries while human resources can handle other-minded and skillful tasks.
The implementation of chatbots will help you save money, time, and skill to use them in a better place.
5. Color Guide
There is no interior design app without color pallets. In fact, most people look for the color pallet feature to describe the walls of their homes. Let your customers pick the right palette to choose the correct rhythm
6. Professional Listings
The feature is a must-have for third-party vendors who themselves are not involved in the process of interior designing but facilitate similar services at customers' fingertips. Give your clients the benefit of direct consultations with real interior designers and other respective professionals with just a few clicks through your app. Owning a third-party interior designing app is a sure-shot deal to success.  
Takeaway
 People like to go with home designs that complement their lifestyle and personality. This is the reason why the demand for home design apps is on a constant hike. Everything from designing to installation to face-time consultations with the professionals, these apps have done their best to serve their clientele.
If you are anyway associated with the interior designing industry and planning to go digital with your services, then we are here to cater to you with the best. Tell us to know your requirements and we will come up with just an ideal app for your services. 
(Visited 172 times, 1 visits today)