How do Free Apps Make Money? Get Complete Guide-2023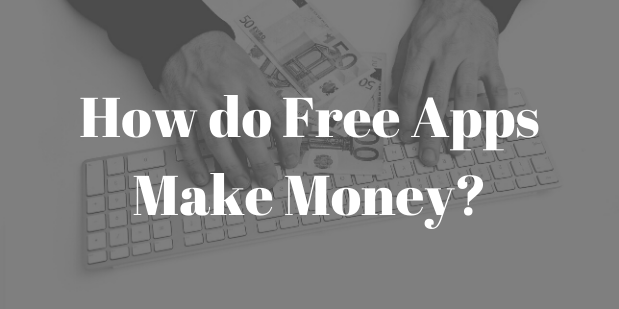 What are some of the top free Apps? Do free apps use third-party advertisements on their platform? Can I use any of the platforms to develop a free app? What is the best way to design free apps and make money from free apps? If you are looking for the right answers for your company. In order to make an app and monetize it. We have discussed all app development. That will help you with the best way to develop an application and earn money from it. Do not worry about hiring the best mobile app development for your company in the USA. We will help you with the best app development for your company. So, to have mobile app development for you- whether you should hire an app development company or not. We have discussed it all here, and this guide will help you with the best tips for your company. Continue reading the article for the best information for your company's application development.
While installing applications on your smartphones you may have seen many free apps in the play store and the app store. And while using them you must be wondering why these apps are completely free? and how are they earning from these free apps? So, in this blog, we will answer all such questions along with how do free apps make money? There are many ways to monetize the websites and similarly, we can make the free apps pay to the business. If you look inside the play store then more than 90% of apps are free on Google Play and 85% of apps are free on AppStore but still driving $70 billion in revenue. So, let us dive deeper and try to understand in a more transparent manner.
How Much Money Do Free Apps Make?
Today, the average owner of a smartphone uses around 8-10 apps daily. And only 5-10% out of those mobile app users are ready to buy a paid app, and around 98% of profit and downloads come from free mobile app development. Most people prefer to use free apps rather than paid mobile apps. In the first half of 2019, the number of free app downloads increased by 16.4%  which raised around $41.9 billion in revenue. So, we can say that free apps generate more revenue than paid apps.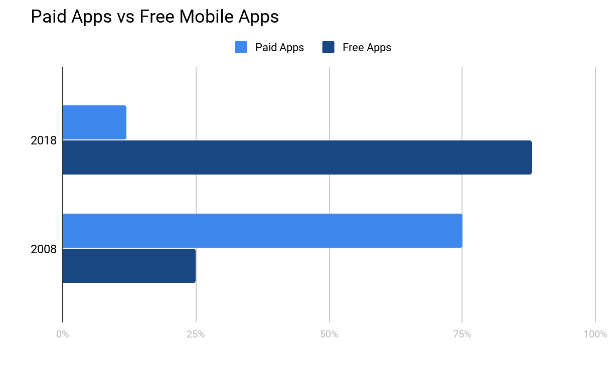 How to Choose the best Free App Monetization Strategy
Let us have the aspects to be considered while creating a mobile app development strategy.
Business Goals
Before creating any mobile app it must have its own business goals. App business goals play an important role in monetizing the business because it impacts users' minds and how much important the app is for the user. For instance, the in-app purchase doesn't perform well in music apps, educational apps, and other content which is usually available on the internet for free. However, you can have in-app purchases in these apps too but when combined with ads.
Competitors
As we said, each app is used to solve a problem for a user no matter if it's a gaming mobile app development. So, one of the ways to make money from free apps is to take a closer look at competitors and other free apps in your niche. If you find the right mobile app for development then you can earn a good amount of revenue with it.
Target Audience
Knowing & Comprehending your users and especially target users are really important. Once you understand the clear picture then you will understand how your user thinks and what all functionality do they need. It will also give you an idea of how much they are willing to spend on the app and how many advertisements would be enough to generate revenue and a better customer experience.
Most Popular Monetizing Strategies – How your Free App can Make Money?
There are many important things that you need to look into before developing your mobile app development. Here we have a list of monetization models.
In-app Purchase
Freemium
Paid Subscriptions
Advertising & Affiliate Marketing
Transaction Revenue
Sponsorship
Crowdfunding
Let us look at them in detail
Advertising & Affiliate Marketing
Most of the free apps generate a good income from running ads and promoting other businesses. And you can also apply the most common way of free monetization with your mobile app development.
a. Cost-per-click (CPC) – You will receive payment when the app users click on the displayed ads.
b. Cost-per-view(CPV) – You charge advertisers for the number of ads and it's views or the number of interactions.
c. Cost-per-mile(CPM) – You'll receive payment after every 1000 views of the ads.
d. Cost-per-install(CPI) – You will get paid each time your app users install the app you promote.
As you can see that there are different types of ad fees as well as ways of showing ads to the users of your mobile app. Let us have a look at the five ways you can display ads to your app users.
e. Banner Ads or Display Ads – These appear yet at the top or bottom of the mobile device screen, with this the users can still use the apps and still see the ads on top and bottom of the screen. But the engagement rate of such ads is very low, around 0.1%.
f. Video Ads – Such ads appear during natural pauses that happen in-app. They can last up to 10-30 seconds and can affect the user's mind very strongly. It also includes rewarded video ads when the app user is rewarded for watching a full ad video.
g. Interstitial Ads – This type of ad looks full-screen and also works as pop-ups and displayed on the screen when the user opens or closes the app. So, users can click on the ad to get more information or close the ad to move forward if not interested.
h. Native Ads – These apps don't distract the users while using the apps. And because of which native ads are very popular as they don't irritate compared to other types of ads.
Sponsorship & Influencer Marketing
This type of monetizing the app is also similar to ads. Apart from running the ads, you can also sponsor a logo or icon on the screen, footer in the app, or integrate sponsored content with special offers to lure new customers. It is one of the most profitable ways of monetization of your app. For instance, if you have a sports app, then you can find sponsors among the sports complex or trainers logo.
Influencer marketing is a little bit different way of sponsoring since you will deal with an individual leader. A leader which is popular among your target audience. You can also ask the influencer to become a brand ambassador for your app, so it can bring in more customers once they advertise for your app.
In-App Purchase
With this app monetization model, you can also sell different types of items. For instance:
a. Consumable Items: Those items that users can use within the app to use in the game or as an important feature of your app. Such as digital currencies or health points in the game.
b. Non-Consumable Items: These items can be purchased permanently such as new games, maps, etc.
In-app purchases are known to increase user engagement in the app. This app development includes integrating payment gateway since app stores charge 3% from each in-app purchase.
Subscriptions
You can also try to make money on free apps using paid subscriptions, but the success rate is a mere 5% of apps with high user engagement. There are many such apps that use this method like music, educational, video streaming apps. With this app development, you will need third-party payment gateways such as Stripe or Paypal. These third-party payment gateways will take commission per payment. There are two types of subscription.
a. Automatically Renewing Subscriptions: In this mobile app development, the user is automatically charged every month, or once a year. The developers take the user's credit card details before the user can access the app to ensure that the user will buy a subscription after a trial period.
b. Non-Renewing Subscriptions: When the user buys an app subscription for a particular period, as in one, three, or six months. After the end of the subscription period, the user must buy another subscription manually, so there will be no unexpected bills.
Freemium
You can make money from a free app using the freemium model, it is similar to the subscription model. The user can use the app and the user can use the free app version with basic features without any time restrictions. But to receive an advanced feature-rich app version, users must pay monthly or annual fees. The reports show that only 1-2% of app users buy a premium app version. But the free version of your app will reach a broader audience and can make your app viral.
Crowdfunding
It is one of the smartest ways to raise money. As per reports crowdfunding generated over $17 billion during 2018 and will increase in 2020. There are many crowdfunding solutions to raise money for mobile app development like Kickstarter Indiegogo, CrowdFunder, Appsfunder, and many more.
Transaction Fees
You can charge transaction fees for making money with free apps if your mobile app belongs to the marketplace segment where users transact money. This niche includes not only e-commerce apps but also flight and hotel booking apps etc.
Free mobile app development has a significant market share as compared with paid apps.  The above strategies can help your free mobile app monetization and earn a lot of revenue. You can select from the above-listed ways and these monetization models on the basis of your app niche, its purpose, and your target audience. So you can make free apps more profitable and combine these different monetizations as per your need and idea. The best one would be to run ads and offer users a paid ad-free app version, which is a win-win situation for your business and your users. You can also combine in-app purchases and subscriptions, or advertising and subscription.
Conclusion
There are different ways to make money from the free app. Suppose you have developed a mobile app and you want to earn money from using the same application. One you can monetize your developed mobile application and another way is to sponsor other applications through your mobile application. Using different ways to make money from free mobile apps. If you are looking to develop a free mobile application for you. We can help you with multiple things to have it for your company. We have the expertise to understand a particular business and deliver the service you are looking to have for you. So, do not worry at all about the application development for your company.
VerveLogic can be a mobile app and web solution development solution because we have a team of experts and market experience. So you can get your app or website developed at the best price possible. Also, if you are looking for branding solutions or online marketing for your brand, you should check out VerveBranding and VerveOnlineMarketing today and make your brand stand out.
(Visited 105 times, 1 visits today)