Top 10 Best Heart Rate Monitor Apps in 2021
We all have heard that "Health is Wealth" and at the moment it seems the most important task is to take care of your health. When it comes to the human body then the heart is the most important organ. Because of this, it is really important to take proper care of your heart. There are many gears available to monitor your body, it is possible to keep track of your health with just one simple installation of a heart rate monitor app. The mobile application can work wonders as there are many benefits of mobile apps for the healthcare & wellness industry.
The best heart rate trackers app on your smartphones can help you in the long run as you just need to install these apps to monitor your heartbeats in situations like excessive workouts, diseases, etc. Once you are able to keep a track of your heartbeat to avoid unfortunate circumstances and to keep yourself fit. The listed applications are so advanced that top mobile app development companies look for such development to rule the market in the next few years. Let us have a look at the top 10 best heart rate monitor mobile applications.
Top 10 Best Heart Rate Monitor Apps
1. Cardio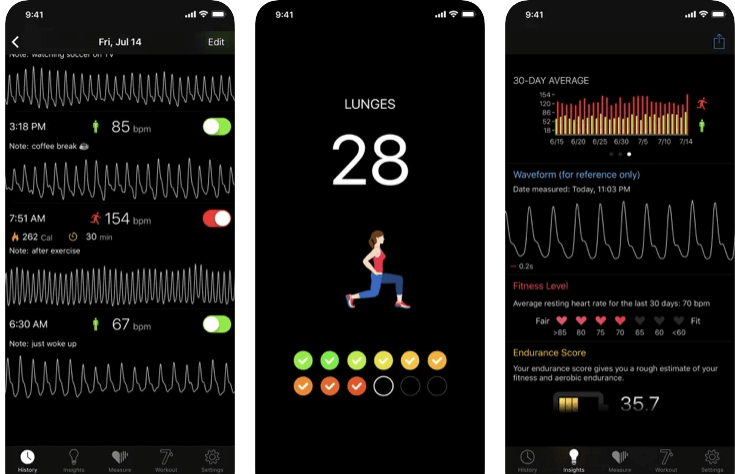 Cardiio helps you measure your pulse using your phone camera, learn how the numbers relate to your general wellness, perform effective workouts to get in shape and track your progress. In order to use this application, you need to open the Android Bluetooth heart rate monitor app and cover the device's camera with your finger. The app will use sensors to read your pulses and provide a result.
With an overall rating of 4.7 out of 5, Cardiio has been featured as one of the best heartbeat apps by various newspapers and TV channels. The application is also mentioned on ABC News, CBS, Cult of Mac, Lifehacker, and PC Magazine. Let us have a look at the top features of Cardiio. 
=> Comes with 10 additional premium features like Pulse Waveform Pack, Specific Heart rate Pack, calorie burn estimator, health kit integration, track your performance, etc.
=> You can pay $9.99 to unlock the pro features along with its free version with some basic features.
=> This heart rate monitor app requires iOS versions 8.0 or later. However, it is compatible with iPhone, iPad, and iPod touch devices. 
=> This amazing application is available in 13 languages including English, Chinese, Japanese, Korean, Russian, Portuguese, etc.  
Best heart rate monitor app iOs 

2. Cardiograph Classic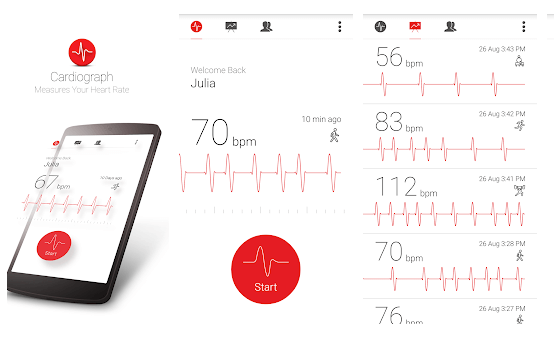 Cardiograph Classic is the most accurate heart rate measuring application which allows you to check heartbeat anytime, anywhere. It is available for Apple users as well as for Android users on their respective users. It comes with some very unique features like iCloud sync to make sure that you never lose track of record if you lose or move to a new device. Cardiograph Classic has a rating of 4.7 on the App Store which makes it one of the best heart rate monitor apps. Top features of cardiograph classic include: 
=> Offers multiple profit support
=> Application is available for just $0.99 for iPhone users, and for Android users, it is absolutely for free from Google Play Store
=> Heartbeat rate app also supports the dark mode
=> Cardiograph heart rate app supports iOS 5.0 or later
Best heart rate monitor app Android and iOs
3. My Baby's Beat
This medic application is only available for iPhones and other iOS devices. It is perfect for pregnant parents as the users can use this heart rate app to hear and record the sound of the soon-to-be-born baby by using the microphone of the device. This application helps in monitoring the well-being of the baby by regular heartbeat analysis. The top features of My Baby's Beat are:
=> Only available for $8.99 on the Apple App Store
=> Compatible with iOS 11.0 and later iOS devices
=> Seamless application is available in 6 languages including English, German, Italian, Japanese, Portuguese and Spanish
=> The application comes with graphic tutorials and sound samples to give you an idea of what to expect
=> Uses microphone to capture baby's heartbeat
Best heart rate monitor app iOs
4. Heart Rate Plus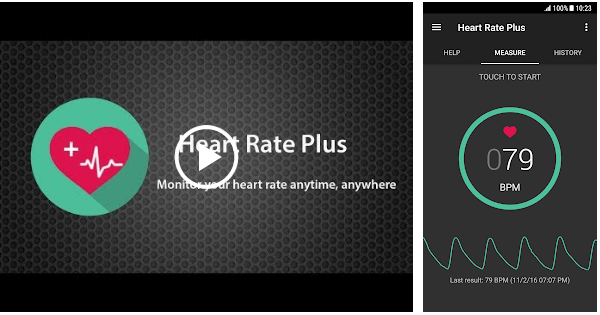 This basic heart rate detector application usually works with the microphone but this free pulse reading application rate uses a camera in order to get accurate readings. Heart Rate Plus is available for iOS and Android devices. Using Heart Rate Plus offers reports in the form of graphics, quick notes, etc. along with different tags as per your preference in the app itself. You also get a real-time graph as it is also available with a pro version which can be purchased to remove ads from the app.
Feature of Heart Rate Plus
=> Pro users are allowed to export their track records in an excel file. 
=> Rated at 4.6 out of 5 on Apple App Store
=> To remove ads you need to pay $1.99
=> Everyday reminders can help you in measuring your heartbeats as a routine
=> Heart Rate Monitor app is available in more than 20 languages
Best heart rate monitor app Android and iOs
5. Heart Rate Monitor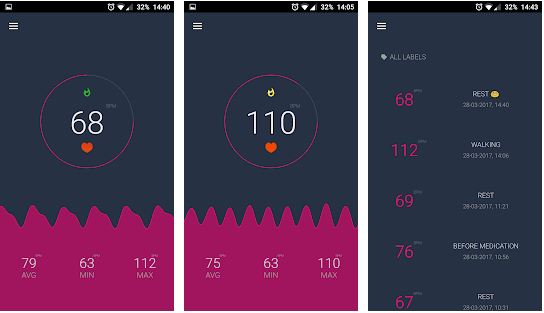 Heart Rate Monitor is another Android-compatible app, which users can easily install into their smartphones and also on tablets. Heart Rate Monitor uses a camera to observe your heart rate as it comes with some additional features like Heart Rate Training Zone.
Top Features of Heart Rate Monitor
=> Compatible for all android versions
=> 1,000,000+ installs on Google Play
=> Free to use along with the in-app purchase
Best heart rate monitor app Android

6. Instant Heart Rate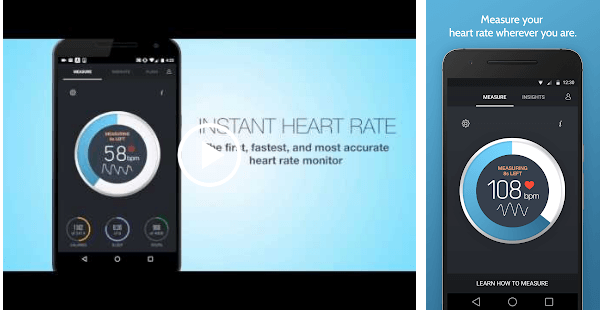 Instant Heart Rate is another top heart rate monitor application that top IT outsourcing companies adore along with the most popular 15 types of healthcare software. It is available for iOS, Android, and Windows users as it observes heart rate through the camera. It provides you with wave charts to showcase your heartbeats.
This application boasts to have more than 30 million users globally and has been featured in news portals like CNN, Chicago Tribune, Guardian, etc. Instant Heart Rate promises to deliver results in 10 seconds. It also offers subscription services according to its tenures like monthly or annual. Its prices vary from $9.99 per month to $59.99 per year. Its top features include.
=> Instant Heart Rate is available for more than 24 language
=> Has an amazing eye-catching user interface 
=> Compatible with Android, iOS, and Windows Phone
=> Requires camera flash to function properly
Best heart rate tracking app iOs and Android
7. Kardia 
Kardia is among the best android heart rate monitors which accurately measure your heartbeats. This app can be installed into your android or iOS smartphones as it works best on both devices. All you need to do is to put your fingers on it and record your heartbeat, blood pleasure, etc for the next 30 seconds. Because of which it is closely monitored by the best android mobile app development companies as Kardia was featured among the best nutrition apps to use in 2021.
This heart rate monitor app is rated 3.7 on the Google play store and 4.8 on Apple App Store. It also comes with an additional sensor device to measure heartbeats and blood pressure. Kardia also provides a KardiaBand EKG device that can detect common arrhythmias within 30 seconds. As it also helps you manage your health record and share it with your doctor if required.
Best heart rate tracking app for Android and iOs
8. Accurate Heart Rate Monitor 
This application is exclusively available for android supporting devices as it removes all the doubts from your mind as boasts of the most accurate results. Accurate heart rate monitor is free to use as just like other apps it also offers a smartphone camera and flashes to analyze your pulses.
Top Features of Accurate Heart Rate Monitor
=> Offers 5 heart rate zones to measure heartbeats accordingly
=> This heart rate app supports Android version 5.0 later
=> Eye-catching but simple User Interface

Best heart rate monitor app Android
9. HeartWatch
Heartwatch is a little bit different from other applications as it monitors your heart in four modes. These modes are sleeping, walking, workout, and regular as it also monitors any irregularities in your heartbeat rates. You have no idea how the latest technologies are helping everything around us just like how the internet of things is working in the field of healthcare. Top Features of Heartwatch include: 
=> Rated 4.7 out of 5 stars on the App Store
=> Supports 10+ languages for the interface
=> Available at just for $3.99 on the App Store which makes it the best heart rate app
=> However, it requires iOS 11.0 in smartphones and watchOS 4.0 or later
Best heart rate monitor app iOs
10. Qardio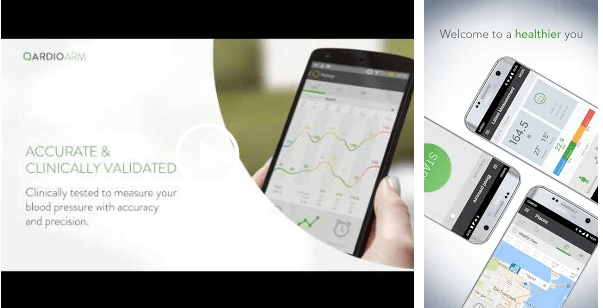 Qardio is capable of answering your doubts such as "Are heart rate monitor apps accurate?". This application is available for Android and Apple devices. Just like the other best heart rate monitor apps it also measures health using your smartphone's camera and delivers results in just 30 seconds.
Top Features of Qardio 
=> Won top 3 CES awards
=> Rated 4.5 on Google Play Store
=> Can email your health records to your consulting doctor directly through this app
=> Offers cloud syncing and lets you import your data from other sources like Google Fit, Samsung health, etc. 
=> Also offers QardioArm wireless blood pressure monitor which can be synced with iOS and Android devices for more accurate results.
Best heart rate monitor app Android and iOs
These are the top heart rate monitor apps as now you know the competition is increasing every day in every field. If you love to take care of your health and fitness you need to have such applications on your mobile phone. However, it is also recommended for you to ask your consulting doctor before you prefer heart rate monitor apps for medical purposes.

However, you want any IT consulting regarding such mobile app development the VerveLogic can help you with the development. We're VerveLogic and we've been serving our clients with our IT, designing, and Marketing services since 2012. Every day, our team of dedicated professionals works to make this world a little better through our premier solutions. Our exclusive services include Mobile App Development, Web Application Development, UX/UX Designing and Digital Marketing Services to businesses from all around the globe irrespective of your business domain.
Also read: 110 Mobile App Ideas That People Are Looking for in 2021
(Visited 2,981 times, 1 visits today)