Advance Your Traditional Jewellery Business with Custom Mobile App Development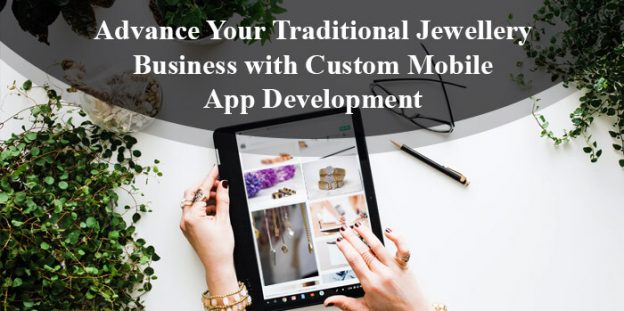 Round the clock visibility is the prime demand of today's customers which can be fairly served through Mobile app development. While other industries are leveraging the enormous advantages of the mobile-first approach, the Jewellery industry is no behind. To provide a fantastic user experience and scale up the revenue, many companies are now stepping over online platforms whereas most of them are still operating in 20 by 40 traditional stores. 
Why is it high time to create a jewellery shopping app? 
We have arrived at an era which has cutthroat competition in the major business lines such as Jewellery, Construction, Healthcare, Education, Real Estate etc. Approaching the audience in the right way keeps utmost importance, else we might fall behind this huge competition. Cashing into mobile-friendly online shopping is the best approach to give a smooth experience and convenient atmosphere for the users. People just love the idea of finding everything under one roof and most importantly, finding them quickly without making many efforts. 
With the creation of this mobile application, you can simply remain connected with the end users 24*7 and there is no need for the salesperson. You will get an opportunity to set up a separate window for the items under-sale or any other specific festive collection such as in the event of Christmas, you can set up a different category containing only red coloured jewellery products. You can target multiple locations through one online store and go paperless. This means, no pamphlets, hoarding, boards are required anymore to market your business. Market it at a place where most of your prospects stay i.e. Either on social media or through Google SERPs. 
How mobile app is helpful for a Jewellery Business?
It will be helpful for you in a lot of ways. 
1. Display your collection anytime: Maintaining a physical jewellery store is difficult at times when there is a lot of rush in the market. You have to keep an eagle eye on your precious products while showing them to the customers so that even a tiny stone does not get missed. Due to an unmanageable crowd, you might also lose some of your customers. With an online application, you can showcase your products 24*7 to any number of users safely. You will also be able to update the collection time and notify users by sending push-notifications or messaging them.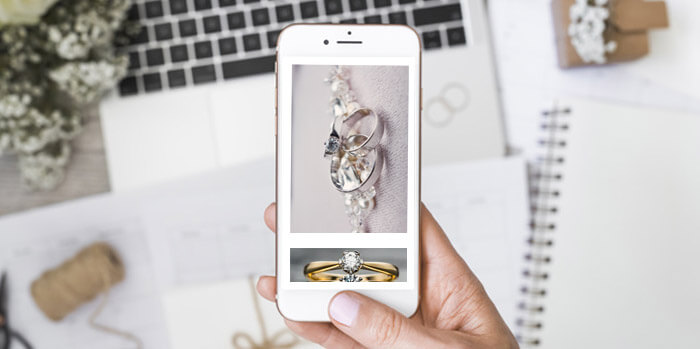 2. Target globally: Mobile apps give you an opportunity to target the audience worldwide. If you are just relying on a physical store, you cannot target even the whole city as people would not like to travel much when they have a number of options in their proximity. In the case of online presence, you can market your application through mediums such as Search engine optimisation, social media marketing and other online advertising options. They can show you up in front of the whole world and anyone from anywhere can order your products. 
3. Know your prospects: When people download your application, you get a number of details from their end such as email id, mobile number, location or maybe some other things depending upon what you wish to gather. So, in a way, you will know your customer. It will also help you in retargeting them. This means, if they have left a particular product in their cart without purchasing it, you can shoot them an email to complete the purchase. Or maybe, you can also come up with a discount for a limited time so that they can purchase it quickly. 
4. Increase revenue: This will always be your goal to take any business decision! So, out of all the comfort and benefits provided by a mobile app to your company, you will be able to increase your revenue numbers significantly. If you create an app, you will be able to present most of your collection and the latest trends to the users through which you can keep them engaged. If they are happy browsing, then chances are they will return back prefer you in need. Also, since you are serving 24*7 now, the sales will also happen in off-hours. 
Spice it up with the concept of Augmented Reality: 
Augmented Reality is an amazing concept helping customers try out products virtually and make an informed decision. Whether we talk about photo editors or e-commerce applications, we can find the associated features at most places. Unlike any other kind of product an e-commerce app can sell, jewellery is one that can utilize this concept to the greatest extent. How? Through Augmented reality, your fingers, hands, face and even ears can be recognized, and you can virtually try the products. Else, in the case of jewellery shopping what most of the customers prefer is – they see products online and try to find them at offline stores which give them an opportunity to at least try the jewellery before purchasing. You can easily eliminate such practices through the adoption of AR features. 
How much does it cost to get a jewellery app developed?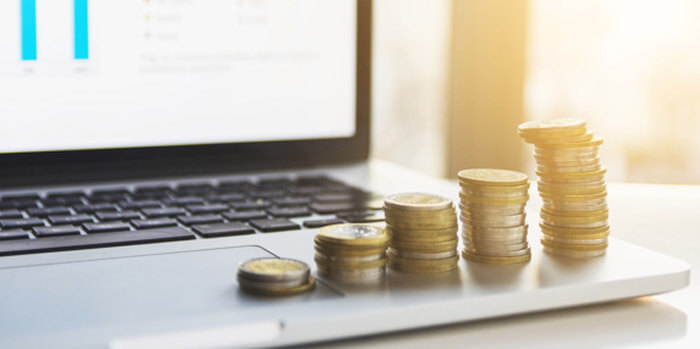 A Jewellery shopping mobile app development can cost you from a few thousand dollars to a great amount depending upon the kind of features required. The cost and timeline of development would also rely on the platform and technology specifications. A native Android and iOS Jewellery selling app with basic features can cost you somewhere around $7000. 
It is high time for you to consider mobile applications for your business growth as due to everything moving online, customers expect more. They need a smooth and easy experience while shopping which can only be provided through setting up a store in an online space. Also, your branding and marketing would become easy as you will be able to cover most of the market through various marketing methods offered by online platforms. 
If you would like to have a free consultation regarding the development methodologies and success rate of your jewellery selling mobile application, feel free to connect with us through the comment box.
(Visited 52 times, 1 visits today)