Web-Based Applications – What are the benefits of Web-Based Applications?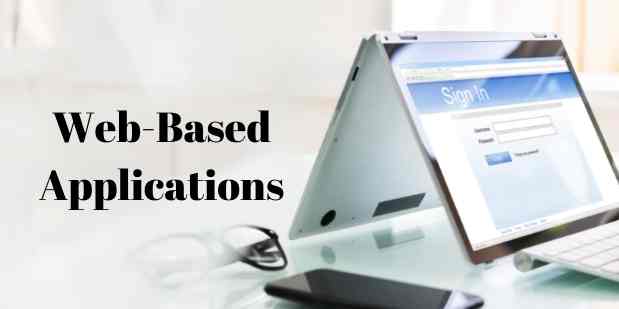 Web-based applications are a step ahead of traditional apps/software that persisted in the devices, consuming their internal storage. Web apps are gaining popularity because of all the benefits they give to the B2B beneficiary as well as the end-consumer. One of the worthwhile benefits is its flexibility with various Operating Systems, increasing the user-parameter of your business.
The best web-app development company is certain to create a robust web app to help your business reach far and remain ahead of its counterparts. Here is the comprehensive on the benefits of web-based applications and how a custom web app will change the outlook of your business and lead you to ultimate success.
What are Web-Based Applications? 
Web-based applications are basically server applications that you can access directly via a browser search. For example, Gmail, Youtube, Facebook, etc, these browser-oriented apps need no installation and can directly be accessed through browsers like Google, Yahoo, or Bing. Such apps are highly dynamic, interactive, scalable, and need no internal storage. On the other hand, web apps can be saved as a bookmark on the device (in case the users need them daily). Such apps are programmed to rule the market using web technologies like HTML, CSS, JS, etc. in its core. 
Every industry can leverage from web apps, most prominently the E-Commerce businesses as these have the largest and widespread target audience pool. Nowadays, combining their expertise with the latest tech-stack, e-commerce web development company are delivering high-end and scalable web apps to their clients leading to complete Return Of Investments.
Secondly, owning a feature-rich and highly secured web-based application is a boon for banks as users can fully interact with the banking system without having to install the dedicated software/application. Prioritizing the security and encryption process, banks are approaching only the optimistic resources that can create a customized end-product with no technical glitches and ultimate security protocols.
Apart from that the industries like trip/hotel booking, payment systems, payrolls and company management systems, CRM systems, etc, have their entire mechanism based on web apps and are doing incredible with the help of these apps.
Web apps are a far-sighted and far reached concept.
Benefits of Web-Based Applications
1. High Efficiency
Gone are the days when there was no synchrony between the data from various sources, days spent on arranging paperwork, and struggling with various forms/docs/spreadsheets. Web apps are your ultimate stoppage when it comes to managerial work. You can manage and synchronize tons of data together within very little time. Moreover, the feature-rich web apps let you control the tasks remotely which is the need of this hour.
Web applications help you streamline your business and managerial tasks with complete efficiency and in considerably less time. For instance, a highly efficient web-based payroll application is a boon for any company with a large employee base.
2. Compatible With Multiple OS
Where a native app or software has restrictions regarding the OS, web apps know no Operating System bars. You can easily access the application with a simple browser search or a bookmark icon that is visible on your desktop/tab/phone. The best Web-app service providers make sure that the app configurations are optimistic and are in harmony with any smart gadget (desktop/tablet/mobile) you use.
3. Cost-Effective
Based on the single robust source code, the web apps are capable of running on multiple devices. The web developers do not have to do separate coding for each platform which saves a lot of money for the beneficiary. With HTML, CSS, and Javascript as their core programming languages, these apps look and feel just like a native application.
4. Scalable
Let's take inspiration from Facebook, the platform is home to millions of user profiles and the number keeps on increasing day by day. The web apps need not be installed and can run on the browser, so it's an open arena for as many users as possible. Moreover, more than one person can use the app at a time which is not the case with desktop-oriented software. The robust apps made by the highly experienced web-app service providers are capable enough to perform incredibly even if there is high real-time traffic on the web app. The loading speed is commendable and is surely the solution of today.
5. 24/7 Accessibility
Unlike dedicated desktop software, you can access the web app anytime and anywhere you want (even at midnight). As said, these apps are browser-oriented, so you can simply search online and start with the tasks. Again, 24/7 accessibility is the reason why e-commerce businesses strive for web apps over any other native application.
While the software update is another task to accomplish, web apps give relaxation to the end-user as the changes can be rolled out with zero downtime as a result it is instantly available to the end-user. No need for individual OS updations.
6. Strong Security
There is a threat to the loss of confidential information in case if the computer is lost/damaged/stolen. Also, the probability is very high that anybody might hack your system and launder the sensitive data sabotaging your business. On the other hand, the data on the web apps are stored in the cloud saving you from any such unfortunate incidence. Also, you get the privilege of getting back to business quickly (even if you do not have access to your regular desktop – you can work on any smart system given that it has internet).
7. Easy Customization
Companies build applications either for managerial purposes or to grow their business, both are highly scalable. They need a highly customized app and a scalable app that can grow with them without any expense on upgrades. As web app development adheres strictly to all your business/managerial needs, it is programmed to be completely flexible and scalable with business demands/growth. 
Usually, customization includes your business branding, business-centric feature integration, business-oriented theme, UI and UX designs, integration of artificial intelligence, and a lot more. You can certainly save a lot in the long term if you own a full-fledged web app for your business.
8. Less Development Time
Though the entire app structure and functionality is based on a single source code, web developers take less time to design, develop, test, and debug the web application as compared to any other native app (a separate process is needed for every OS app). This gives you the benefit of reduced Time to Market and a firm launch. If trusted by the best web development company, the application will be seamless and errorless contributing significantly to the ultimate user experience (which will enhance your sales and goodwill).
9. Low Maintainance
As it is said there is no need for the user to install your application from any app gateway, so the app doesn't occupy any storage or has to be re-installed whenever it undergoes a change. In case there is any update from the back-end, the app will automatically be updated as soon as the user switches to the web app.
Even it is low maintenance from the back-end as only a single source code needs to be touched and the entire application – no matter which OS it is running on will be updated and will work more efficiently. The web-based application is the tailor-made choice for dynamic businesses.
Why a Web-Based Application needs a Responsive Web Design?
Responsive web design is a concept of designing web applications to provide it an optimal viewer experience – easy reading with site navigation and a robust UI/UX on devices as small as a smartphone and as big as a desktop.
A responsive web design is the demand of this era. As stated by Google, responsive web design is not only recommended but is a business best practice. Who wouldn't want to listen to Google, the giant owns 67% of the global market search.
A responsive site design is a must for any web application as it has one URL and the same HTML coding no matter which device it is running on. The configurations are set in a way to suit all OS which makes it way easier for Google to crawl its index and organize the content. Moreover, Google prefers responsive web designs as the content that resides on the browser can easily be shared among different OS users.
Like a Facebook post shared by a person from his smartphone can easily be seen by the other person on his desktop, no inconvenience no distortion. 
A professional web-app developer will always develop the app keeping in mind Google's algorithms and its easy SEO (Search Engine Optimization).
Conclusion
There are a lot of benefits of acquiring a web-based software/app, each of which is impressive and worth giving a thought. May it be the cost efficiency, its device-independent nature, less time to market, or SEO capability, the benefits of web-app are here to remain. 
On the contrary, none of the native apps/software gives us all the qualities that a web-based application single-handedly has and therefore more than 60% of the businesses acquire web apps as their online business model. Whether it's about building the top-notch web app or up-gradation to one, the best IT consultancies in India are always holding your back when it comes to web-based app development, management, and marketing.
(Visited 167 times, 1 visits today)