Mobile App Name Generators: How to Choose a Perfect Name of your App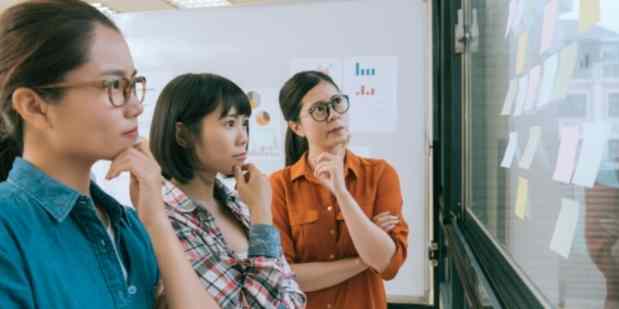 Choosing a name for your mobile application is as crucial as developing it. The right name plays with the psychology of the user's brains as it is enough to tell the readers the purpose of the application. Many developers consider naming the application as very easy and that it will not take long. But the ones responsible for naming the application understand how daunting this task can be along with mobile app development. Even if you hire the Best software outsourcing company you still have to work around the clock in order to come up with an effective name that will represent your application.
Even though it may sound intimidating, there are many free tools that can help you come up with an accurate, interesting, and unforgettable name for your product. These tools work on algorithms where they ask for the genre of your mobile app development, target users, working, etc, to come up with the most effective name for your application which saves you a lot of time.
Many times the name generators operation principle is random generation. As most of the algorithms are made in a way as to takes into account original data and then offers a list of names. So, to make it easy for you we have prepared a list of top app name generated tools that generate attractive names for apps until you find what you need.
How Does Mobile App Business Name Generator Works & Come with Ideas
You need to start with entering one or two words to get started. Consider these two words as keywords that describe your mobile application's working. After entering the two-three keywords click on the "Generate Button". Within a few seconds, you get a screen full of amazing mobile app names which are combined in a way that perfectly describes your business. Many mobile app name generators also allow you to save some of the favorite names by clicking on a dedicated button next to the word. We suggest you check for the names on domain buying sites like Godaddy, so you know no one has not taken that name.  Top mobile app name generators also allow you to simplify the task of finding the right options by integrating the filter options which makes the work easy for you.
Top Mobile App Name Generator for your Application
1. Naminum Name Generator

Naminum is one of the leading free mobile app name generators which provides unlimited amounts of unique names to choose from. With Naminun, you can choose a name for your mobile app development, product name, startup names, brand names, blog names, and also your project name.
As a user, you just need to enter one word, and their algorithms get the work done. You can generate unlimited unique names for your android mobile app development. On configuring, it services produce a few simple tweaks as it will replace vowels and consonants, unfold the word in reverse order, and also adds symbols in front or behind. 
2. NamoBot
NamoBOT creates thousands of creative and distinct names for your mobile application using only some clue words. You can use it to generate your iOS mobile app development name, store names, business names, blog names, and much more. However, it is not free to use NamoBot for many services.
You will find the output really amazing as they do not provide a blend of meaningless sets of words which justifies the amount it takes. It is easy, fast and creative, and completely free as a mobile app generator.
3. The Name App
Another useful mobile app name generator application that is on the list is known as The Name App. This generator takes marketing components into account, so it usually does not work as a name generator rather than a tool for checking a word for its occupancy by someone else. All you need to do is to enter the words you are planning to keep and it will check if domain name registration with the given app name is available in the most general areas and whether you can create related pages on social networks or not.
4. Squadhelp Name Generator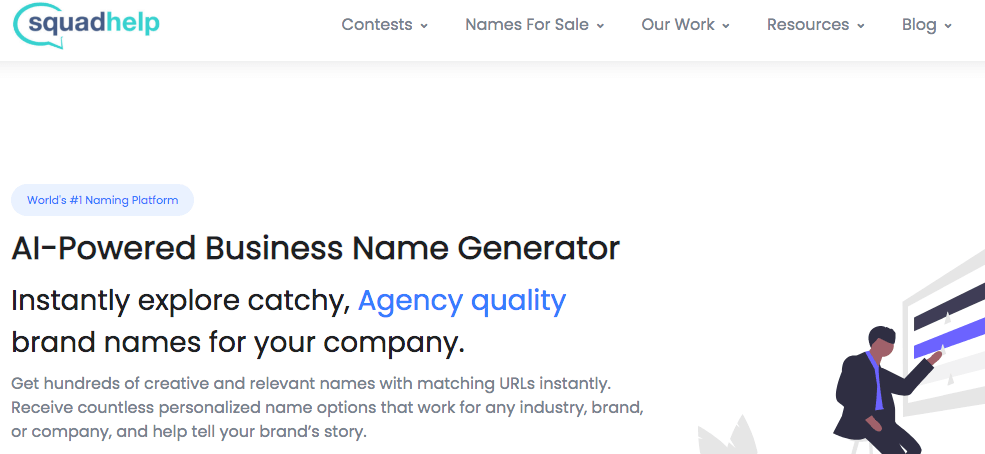 Squadhelp is probably the best mobile app name generator on the list but as it requires a subscription or payment for the name you are last on the list. It is an AI-powered business name generator that you can use to name your mobile applications, business, brand, and event company names. Squadhelp offers their ideas, and all the names can be automatically checked for the availability of the domain name and the status of the trademark. You need to choose industry, keywords, or clue words and the emotions you want people to understand from your business. As it evaluates every delivered option in real-time, focusing community attention on the options that you loved the most.
Seven Tips on How to Choose a Name for your Mobile Application
With the knowledge of the best online name generators, half of the work is done. Now for the other half, you need to pay attention to a number of things.
1. The name should be able to attract the attention of users and create interest in the minds of the users.
2. Must be short, easy to pronounce, informative, and precise to your mobile application. Many top mobile app development companies prefer using name generators.
3. While pronouncing every letter must be clearly audible.
4. Include popular search queries that are relevant to the subject of the application in your name. As it will make it easier to land organic traffic.
5. With your name, hint at the app's functionality. The main purpose of the mobile app can be easily specified through its name.
6. Before finalizing anything please make sure whether the domain availability and trademark are available for the name or not.
7. As it is one of the most important tasks, do not make any decision in a hurry. Workaround the clock just like you did for mobile app development as naming the application is as important.
When it comes to finding a name for your mobile application, business, or even a startup you need to be competitive, distinct, and easy to pronounce so it can easily establish itself in the market. There are many unique names like Instagram, Zomato, Swiggy which felt unconventional at first but now are some of the top companies in the world where the names play an important part. We understand that picking a name for your application can be complicated but it is still a captivating process.
(Visited 546 times, 1 visits today)