How Much Does It Cost To Develop A Voice Chat App Like Clubhouse?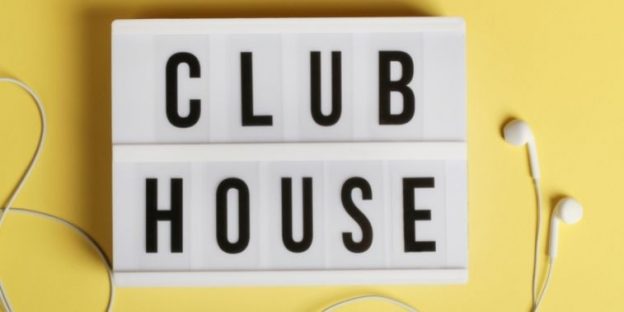 With the strength of 1.96 million apps on Appstore and 2.87 million apps on Playstore, we have come a long way in terms of technology exploration and smartphone usage.
We live in the era where mobile phones are not just used for calling, in fact, more than simply calling these are used to run applications serving the major-minor purposes of the owner. An average user holds more than 30 apps on his phone. PS. Motivated by the increasing popularity of smartphones and app usage, various businesses have prioritized app development to be a crucial part of their sales models.
Paying heed to ever-evolving internet generations and tech-stack, social media startups have also come up with their best bets constantly exploring technology to help people connect and stay connected through unhindered voice chat services.
One such example is Clubhouse app that needs no introduction. With more than 10 million downloads on Playstore, the app is one of the Unicorn startups that led to the capitalization of more than $1 billion following the other two fortunes – Uber and Airbnb. The clubhouse is the social media invention of today that has awestruck people with its commendable functionalities and features. It is based on the social media voice chat model.
Planning to develop something like Clubhouse? Wonder how much does it cost to develop a voice chat app like Clubhouse? From the introduction to feature list, app development process, and cost – the article holds everything one possibly needs to know about a voice chat app like a clubhouse.
What is a Clubhouse? 
Launched in March 2020, Clubhouse has proven to be the innovation of the current time with worth more than $1 billion currently. The app is clearly fueling the popularity of social media that intends to connect people worldwide. The clubhouse was initially launched as a native for iOS devices, looking at the response, it has now changed the model to accumulate Android OS as well. By the mid of February 2021, Clubhouse had a total of 9 million monthly downloads from Android and iOS users spread globally. Android or iOS? Know which platform to choose for your very first mobile app development?
The clubhouse is no normal chatting app but is a whole voice chat ecosystem.  It allows making groups of participants who can easily interact with one another through voice chats only. This is an invite-based voice chat environment in which you can dive in and out of any free-flowing discussion or chat – the scenario is just like a candid podcast. As the name has it, the app feels something like an online cocktail party or a clubhouse get-together. The complete audio-based interaction model makes Clubhouse the exclusive invention of the current times.
Working Model of Clubhouse Application 
Just like any other application, one needs to create a profile with an image and name so that the user gets the list of the rooms made by other members using the app. These rooms are created by an admin who invites the other members to join and discuss in the room.
The member can easily participate or simply listen to the conversation that is going on around the room. Also in an app like Clubhouse, members have the flexibility to exit the room as and when they need. During registration, every member gets muted by default and then the users can unmute themselves when they join the discussions. The member can join the room only with invites – commemorating complete end-to-end security. Know how long does it take to develop an enterprise-level application?   
Key Feature List for a Voice Chat App like Clubhouse 
To build a robust application like Clubhouse, you need to list the features a professional-level voice chat app needs to hold. Here is the list of features that you should stress if you need a commercial-level Voice Chat App like Clubhouse:
1. Onboarding 
After the basic sign-up procedure that asks you to enter your name and a profile picture, you are good to join the group you like and start interacting with the members in the room. At first, Clubhouse keeps you muted by default but you can change that anytime after you join the app. 
2. User Profile Creation 
While having discussions with the mobile app development company you need to keep in mind the very basic features your app certainly needs to hold – User profile is one of the key elements of VC apps.
User profile comprises user's name, a profile picture, and a short bio or description. A feature to set up a profile is a must for any video chat, messaging, or timeline media app. Talking about Clubhouse, setting up a profile lets you get invited to the groups by identification and now you can listen to everything that is discussed in the room. As a member, you have the flexibility to either participate or mute to just listen to the conversation.  
3. Rooms 
In Clubhouse the zone where people come and interact with each other is called a Room. Get invited to a room you are interested to join or create your own room to gather people and start clubhouse discussions.
To Start A Room… 
You need to click the 'Start A Room' button fixed to the bottom of the screen, add on the members, and start with the discussions. 
To Leave the Room…
Either publicly declare or leave the room politely by pressing the Leave button in case you want to leave the room. Also, the speaker can invite any of the members in the room to speak in the discussions.   
4. Feed 
It is a collective area where you will see various rooms that are created. You will see a dedicated name of the room slightly describing the crux of the type of discussions that are held in those rooms. Also, you will find the names of the members who are already part of that room. 
5. Activity
As every other social media or messaging app has, "Activity" is the segment that shows you your usage history. For other social media apps it is liked, commented, shared clip, etc. for Clubhouse it is the interaction history that you have, the history of your accounts, and the profiles of the members who followed you.  
6. Clubs 
Similar to the feature Facebook holds, you can join the club that interests you and find people with similar thinking and interests. Also, an app like Clubhouse will help you view and add members and recommend chat topics. 
7. Search Members/Rooms 
Search option is a must for every data-centric application and social media is one such option. Search helps the user to easily find people they wish to follow. In the case of the clubhouse, you can find the people as well as the hottest topic of discussion in the room. Voice search and contextual search are a boon for every social media application. Think about incorporating one in your next big project. 
8. Upcoming for You 
Upcoming for your feature is another fascinating utility that tells you about the upcoming events so that you do not miss even one. The segment has a short description of the event with the speaker's names, start times, and the topic of discussion. The bell icon present will remind you when the conversation will start.  
9. Organization and Discipline 
This is not really a strong suit of Clubhouse, yet social media applications need to maintain decorum and moderation for a better user experience. In the case of Clubhouse, users have been complaining about abusive and racist talks during discussions. This needs to be taken care of by the admin panel.
To avoid this overwhelming situation one needs to plan a moderation space in the chatroom so that every time the speaker uses any abusive language he should either be dropped out of the discussion or restricted to interact in the room. Make sure to discuss the factor with the app designers during app strategizing and designing.   
10. Push Notification 
Push notification is the most personalized way of bridging the gap between a business and its clients. Similarly, Clubhouse uses push notifications to communicate with its clientele regarding the updates and what is upcoming that might interest them. Push notification is indeed the best feature to enhance user engagement and analyze what appeals more to your target audience. 
Step-Wise Guidance to Develop a Voice Chat App like Clubhouse 
Want to know the entire process to develop a voice chat app like Clubhouse? Well, this segment will help you have a productive conversation with your mobile app development company so that both parties are on the same page regarding app development.
Please Note: The type of application you want for your business will decide which expertise you want to reach out to – an Android App Developer, an iOS App Developer, or a dedicated web developer.
Step-Wise Guidance To Develop Video Chat App Like Clubhouse
Step 1: Market Research 
Step 2: Target Audience Study
Step 3: Ways to Monetize Your App
Step 4: Hire Development Experts 
Step 5: App Strategizing and Designing 
Step 6: App Development 
Step 7: Marketing 
Step – 1 Market and Competition Research 
Shooting in the dark? Do not risk it… To sustain and grow make sure you give what your audience likes in the application for which you need to study your target audience – their benefits, challenges they are facing, solutions, and their interests. Also, do not leave behind your competition – study your competition to know their strengths and weaknesses, so that you can fill up the pitfalls they have in order to outreach them in terms of user experience.
Your study is complete when you are able to visualize your application solving a particular purpose and also you know the market techniques that have led your competitors to succeed. Always see the accomplished players as your competitors.  
Step – 2 Know Your Customer Well
Studying your target audience is a constant process and this is the only way to retain your clients for a lifetime. It hurts to see people bounce back from your app just to your counterparts just because they do not find it useful anymore. As an entrepreneur, you need to gather data and update it constantly like preferences, app usage habits, demographics, current challenges, etc.
If possible, segregate your target audience into various groups and interview one of the kind from each group. Here you have the valuable user feedback that will help you develop the app.
Step – 3 Know How to Monetize Your App
Business applications are made with the purpose to earn. Even before investment, you must know how you can achieve the ROI for your application. Now that you are planning for an app like Clubhouse, you must know its monetization model. Knowing your counterparts isn't following them. Have a look at these monetization models and decide which one you want to introduce through your application: 
Monetization Model 
Description 
Freemium 
The app download and accessing the basic features are free but the user is bound to pay for premium features or subscriptions. 
Paid Model 
A straightforward monetization model where the user has to pay at the time of sign-up (before using the app even for once). 
Advertisement Models 
Here you have more than one option: 

Cost Per Action – Charge the app sponsor for a particular action user takes on your app (like registering or installing their app). 
Cost Per Mille – Charge the advertisers after a certain number of ad impressions (like 1000 impressions). 
Cost Per Click – Charge the sponsors for each click or interaction on their ad. 

In-app Purchases
Users can purchase the features or digital products via in-app purchases and use them in the app. 
Step – 4 Hire an Expert Mobile App Development Company 
Outsourcing your app development tasks to a professional app development company is what will shape your ideas. Till now you are well-versed with your target audience needs and your competition – a standalone app development company will help you strategize, design, prototype, develop and test the application. Know how to choose the best app development company for your dream project? 
Step – 5 Strategize and Design A User-Friendly App
You are stepping into the competitive market where the type of application you are planning to build already resides on the Playstore or the Appstore. Add a different approach to your mobile app so that you can stand out of the league of normals. Strategize and design a platform where you can give features to interest your target audience.
For instance, if the target audience for your voice chat application involves public influencers, then add some features to create content easily and connect with the followers. Make sure the app is engaging for all types of followers. UI design and UX play a major role here.   
Step – 6 Create An MVP 
Do not grab much on your plate at once. An MVP is a basic-featured application that you can come up with initially. An MVP for your voice chat app will not only save you hundreds and thousands of dollars but also leave scope for you to work on your audience feedback and scale better. Talk to your app development company about an MVP. with MVP you grow gradually and in the right direction.
MVPs contain a list of crucial features that serve only the most important purposes of the user. For instance, a voice chat app is to connect people through audio calls, later you can come up with maybe an additional payment mechanism but for now, you can focus on serving the major purpose.
The major dilemma in creating an MVP is listing the most important, medium important and least important features. In the run to stand out of the normal league, we often forget which features are important and which can be compromised? List down the features and use analytics and matrix to know which feature holds the priority. Not new features but while creating an MVP your approach could be different. Like clubhouse revolves around the chatroom discussion model that is not seen in any other social media app.  
Step – 7 Market Your Application 
What is the purpose of mobile app development if people are not aware of your app? Marketing serves various purposes in the favor of startup businesses like brand awareness to establish authority, influencing people, making a business rank on top, enhancing the brand's visibility, connecting with people, promoting new features and functionalities, etc. Strategize marketing of your application with these two phases:
-> Pre-launch – Pre-launch marketing helps you build a hype of your application even before it is launched. Make people familiar with your application so that they install it as soon as it releases.
-> Post-launch – Marketing is a constant process. Leverage various digital marketing strategies that can influence the decisions of the people. A professional digital marketing and SEO company is a click away from you.  
Cost to Develop a Voice Chat App like Clubhouse 
No one can tell the exact cost of app development beforehand as the cost directly depends on the type of application, feature list, functionality, smart technology integration, business type, size of the app, nature of the app, etc.
If you wish to develop a voice chat app like Clubhouse, discuss your thoughts with the app development agency to get to the closest estimations of the cost. In order to have a productive discussion with your associate app-dev company prepare certain parameters like:
-> Do you want a native app, cross-platform app, or web app? (Based on the tech stack your target audience uses). 
-> Purpose your app will serve. 
-> Monetization preferences  
-> Feature list you want to incorporate.
-> Which smart technology do you want in your app or do you want none?
The factors that directly impact the cost of app development are time, prototyping, feature-list, tech integration, UI/UX development, front-end & back-end development, and app marketing and maintenance. Know the reason behind the success of some non-technical startups.    
Develop An App Like Clubhouse – Time Frame 
Knowing the time frame is a must for any entrepreneur as accordingly, you can plan your pre-marketing strategies for a big start. Time is proportional to the complexity, size, technology, and feature integration of the application, so it can fluctuate from project to project. On average, an MVP takes 15 to 20 weeks. There are other secondary factors that affect the time frame to develop the application.
The less complex applications will take around 3 months where relatively more complex applications will take 4-5 months to develop completely. An app like Clubhouse could take 5-6 months.  
Final Thoughts   
Though voice chat apps were quite popular before, the real hike in the demand for such apps was seen during the pandemic when it became mandatory to stay in touch with the outer world while being quarantined in your own homes. As per the stats, last year saw a 220% hike in the use of mobile phones, and social media apps, messaging voice chat and video calling apps were no exception. The trend is not changing anytime soon, which makes apps like Clubhouse a big-fat hit of the times.  
Developing a clone is not enough. Reach out to expert developers and come up with a different approach, a user-friendly interface, and an advanced application to pace with the current market. Hire a resource that not only creates an app like Clubhouse but gives a step-ahead solution to help you outreach your counterparts.
(Visited 99 times, 1 visits today)