Top 8 Weather Apps For Accurate Weather Forecasts in 2021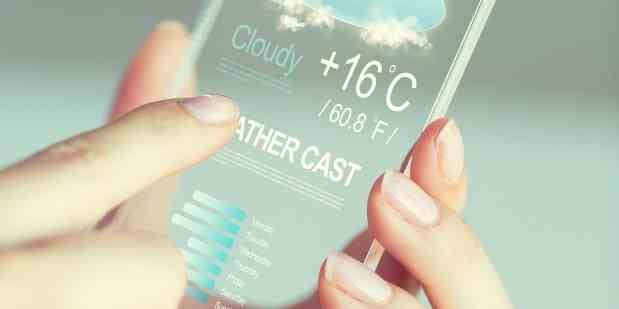 Out of everything your smartphones hold today, weather forecast apps are something that can't be ignored. These miraculous apps on your phones can take care of you like nothing else – dear today you will be needing an umbrella please carry one.., it is quite a chill outside do not forget your jacket… These apps can help you plan your entire weekend ahead.
These fully-featured weather apps are capable enough to warn you of the current weather as well as the sheer unpleasantness you are most likely to face in the coming two or three days (the forecasts).
Just like any other app genre, the smartphone gateways are bombarded with weather apps that appear to be promising at first but might fail when you need them the most. Also, there are certain risks involved in downloading these third-party apps as they have clear access to our locations (they ask to show us the weather forecasts).
But not all apps are nasty, there are certainly some trustworthy options on your Android and iOS gadgets that are packed with robust privacy policies to shell your sensitive data from being used in any unscrupulous activity.
Also Read: How to Develop Weather Forecast & Alert Mobile App
Here is the list of top 8 weather apps that will show you just the accurate weather forecasts and you can rely on them with your plans in 2021. Let's check out their functionality and features.
8 Best Weather Apps for Android and iOS
1. Accuweather – The Best Weather Forecast App with Alerts and Radar Maps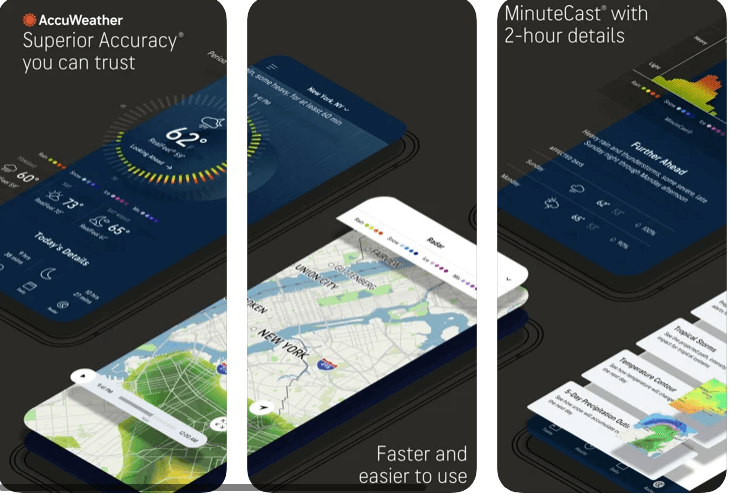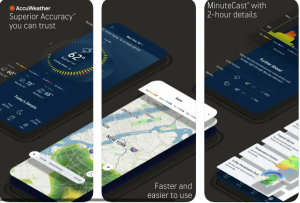 Listed no.1 for a reason, Accuweather is the best and most accurate weather app that proudly authorizes all its forecasts. The app supervised by the global weather monitoring company has more in its bag than just the accurate forecast, it also shows the precipitation and allergens in the air.
Checklist of Benefits
-> Shows exact temperature and weather information
-> Detects and shows allergens in the air
-> Displays the wind speed and UV (Ultra Violet) Index.
-> Safeguarding your privacy, the app lets you turn off the location-based settings on your phone.
-> Provides you with up-to-the-minute weather information and the next 60-minute forecast of precipitation in the air.
-> Compatible with Android and iOS
The app is free to download from any app gateway, given that it asks for a paid subscription to unlock some of its premium features and remove the ads.
Compatible with: Android and iOS
2. Radarscope – The Pro-Level App for Weather Forecast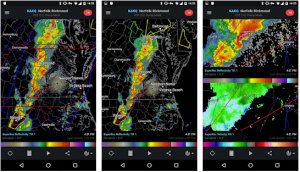 Your ultimate weather guide, Radarscope is a robust app that gives you a High-Resolution peek into the weather forecast and severe weather warnings. This app is capable enough to guide you from the immediate (hourly) to the weekly forecast.
Checklist of Benefits
-> The data is sourced from the (NEXRAD) and (TDWR) – the similar one that is used by professional meteorologists and weather forecasters.
-> Warnings against immediate and severe thunderstorms in the US.
-> Know about and prevent yourself from natural calamities such as a tornado.
-> Compatible with both Android and iOS.
-> The 'Pro-tier 1' upgrade gives you real-time access to extended radar loops and inspector tools.
Though the app is a paid service charging $10 for access, it has a wide array of features that is coveted by weather professionals. The app consists of various levels of subscription unlocking the premium functionalities of this app (with each subscription). Unlock yours as per your requirements.
Compatible with: Android and iOS
3. Weather Underground – The Best Venture from IBM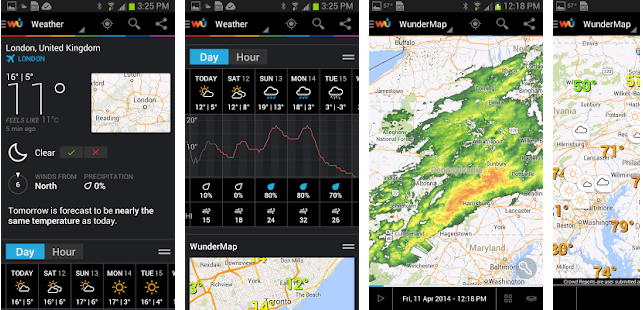 The app comes with an intriguing user interface and quick access to location-wise weather forecasts as and when you need them. What sets the app ahead of its counterparts is its high-resolution satellite maps and interactive radar. The app is a venture by IBM.
Checklist of Benefits
-> Shows you the level of precipitation in the air.
-> Forecasts the wind speed
-> Shows UV and air quality index.
-> The app acknowledges severe weather alerts, ski resort reports, sunshine and sunset times.
-> The app's smart forecast feature lets you set the forecast you would prefer for your excursion and it will tell you when the forecast is expected next.
You need to subscribe to the app for $4 per month for an uninterrupted experience.
Compatible with: Android and iOS
4. The Weather Channel – Plan Your Outings Accordingly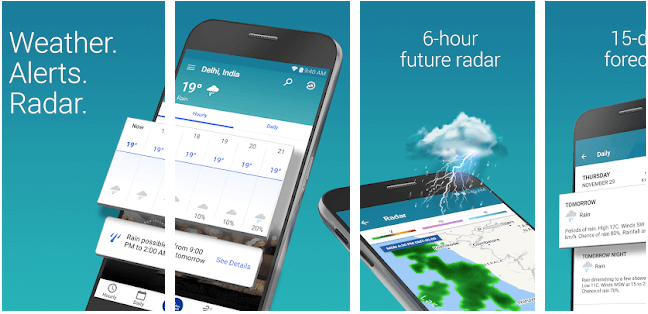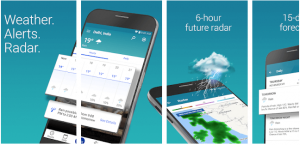 A robust weather application that helps you make immediate (hourly) to weekly plans by telling you the current status of the weather to weekly changes in the climate. You can rely on the app with your trips to any location in the country. Again, the app is owned by IBM and its "feels like" feature lets you know what you can expect when you are out on the location.
As time demands, the app detects the number of COVID-19 cases nearby you.
Checklist of Benefits
-> The app lets you have TV weather on your phone.
-> Real-time rain checks and detecting seasonal allergens
-> Tracking the number of COVID-19 cases nearby your location.
-> Quick summary of current and upcoming weather conditions with short video forecasts.
-> Access the flashcards for key information like precipitation alerts and sunrise/sunset time.
The Weather Channel app is free to download but its upgrade to premium features requires you to pay $10 (say $1 per month).
Compatible with: Android and iOS
5. Carrot Weather – The Fun Weather App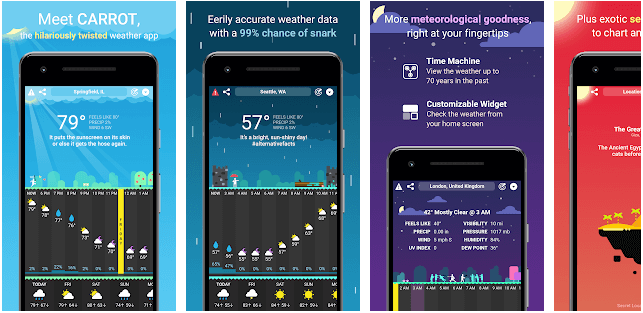 An upgrade to the mundane weather applications, Carrot Weather lets you access accurate weather information in a fun way. The app welcomes you with a personalized message and the user interface will have your eyes for sure. Talking about its feature and functionality, the app has a lot in its bag.
Checklist of Benefits
-> The app includes daily to weekly weather forecasts
-> The app is simpler than any other counterpart witnessed till now.
-> Can be relied upon for accurate temperature and wind speeds.
-> Known well for a personalized experience.
The app is free to download from any gateway and it is best if you just want to focus on the basics and enjoy with them forecast.
Compatible With: Android and iOS
6. Dark Sky – Weather Predictions with Clever Algorithms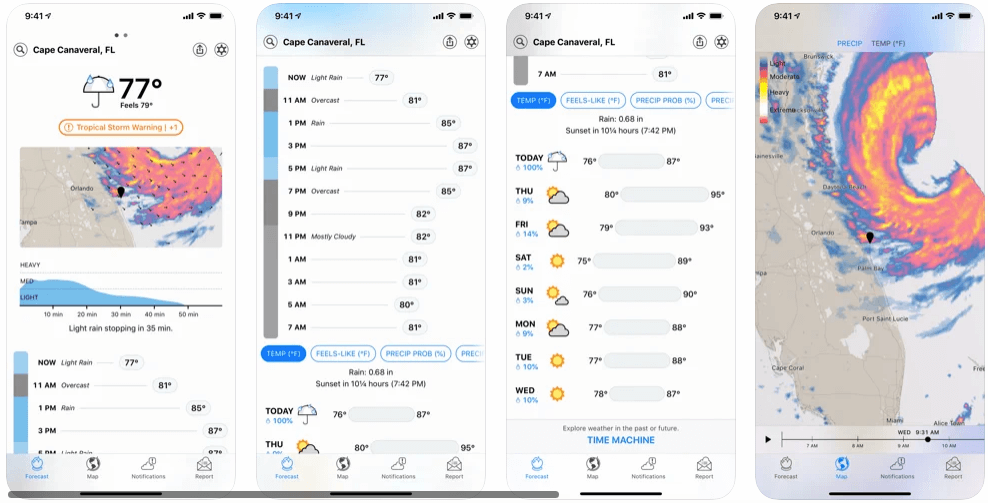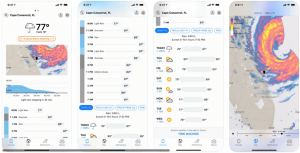 The app is outstanding in the league as it predicts the weather and gives accurate readings by using the current data and clever algorithms. Not confined till here, Dark Sky offers long-term forecasts with quite a coverage of geographical areas.
Checklist of Benefits
-> A clear view of radar maps with coverage of the larger geographical area.
-> Quick alerts of upcoming storms and unpleasant weather.
-> Can be relied upon with long-term and short-term forecasts.
-> iOS centric and highly responsive UI.
-> Predicts local weather as well.
The app is made available for a minimum of $4 per month. The utility is a classic and a pro when it comes to predicting accurate weather and unpleasant scenario on both narrow and wider scales.
Compatible with: iOS
7. Flowx – The Far-Sighted Weather App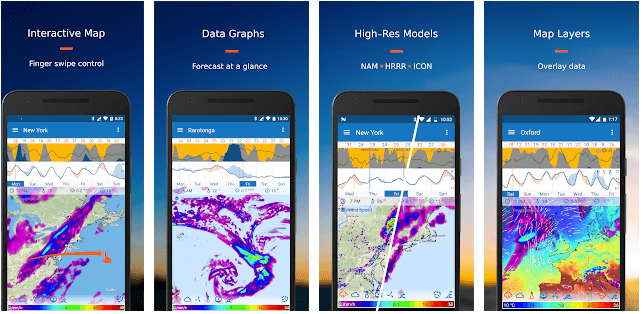 The app will leave you awestruck with the presentation of data forecasts. Another in the league of accurate and fun weather forecasting apps, Flowx owns an array of useful features one of which is a finger sliding map to make you jump forward and backward in time too.
Checklist of Benefits
-> Detailed looks at radar maps
-> The app best used for long-term forecasts
-> Tailor-made UI for Android users
-> Accurate information about temperatures and precipitation levels.
-> The app shows information in a variety of ways – you can always choose your preferred option.
Flowx is free to download from Playstore and is an excellent weather forecasting app. For now, it doesn't have an iOS version but that is surely coming in the near future.
Compatible with: Android
8. Geometric Weather – The Best Weather App for Native Use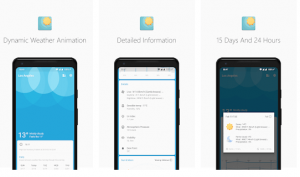 Subtle yet influential – Geometric Weather is a utility for Android people who like simplicity and are concerned with the basics of weather forecasts. The app no doubt displays accurate information, Geometric Weather works on a native level to help you with the correct hourly, daily, and weekly forecast.
Checklist of Benefits
-> Basic and less confusing app.
-> Presentshourly, daily and weekly forecasts
-> Can be used on a native level.
-> The app lets you access the information from your home/lock screens
-> Simple UI with no widget clutters or complicated icons
The app is free to download from Playstore and is a commendable weather forecasting utility for native use (unprofessional use) the features are pretty simple and the interface is clean.
Compatible with: Android
Please Note: If you are anyways concerned with the security of your location info (that is accessed by the app), there are always in-built options to delete the information you have provided in the first place.
Final Thoughts
Bad weather can be a deal-breaker in your weekend plans. Here, accurate weather forecasting apps are real gems when you are planning for an expedition or simply an outing in your nearby location. Not limited to that, these apps let you know when the unpleasant will hit their place.
Everyone has a weather app is their phone which they think best serves their interests. In fact, some have more than one in case they need to confirm for accuracy of the results. These apps are highly recommended in case you are living in tropical regions, storm-prone, or desert regions.
Popular Post: How Much Does it Cost to Develop a Tow-Truck Booking Application
Bus Ticket Booking Softwares Development Cost & Key Features
Logistics & Transportation Mobile App Development Cost & Features
(Visited 4,934 times, 1 visits today)