Top 10 Emerging Technologies That Set Trend in Building Career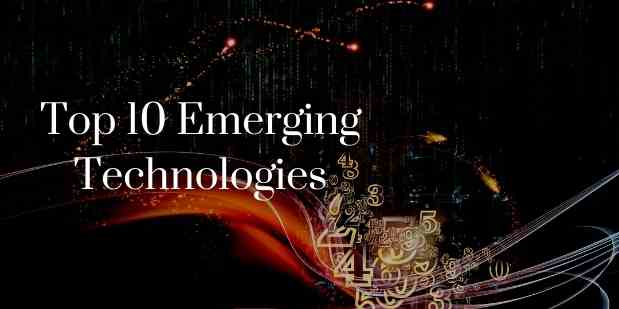 In the world of digitalisation, technology is adversely taking its hype in the day-to-day life of humans. Even the outbreak of covid-19 making the world contactless, and adding pressure on IT professionals to constantly be learning, unlearning and relearning to accelerate the top technology trends and technologies evolving rate.
In present life human work is mostly done by the machines around which made life less tiresome. So making them a career choice to have greater preference in a secured job in future.
All bows to the worldwide pandemic, and if you wish to make the most of your time at home in learning trends of technology. Here are some top emerging technologies which can make an attempt in 2021 to fetch a better career.
Top 10 emerging technologies in 2021
1. Artificial Intelligence(AI)
AI is an emerging technology with interdisciplinary science with multiple approaches. It has already received a lot of buzz in the past decade, but it continues to be one of the new technology trends because of its notable effects on how we live, work and play are only in the early stages.
The AI originated from the thinking of mathematician Alan Turing at the end of world war 2 which put theory over "Computing Machinery and Intelligence" coined in 1950, it set the first vision  of artificial intelligence.
So let's dive deep into Artificial intelligence, it's branch of computer science that aims training the machine to the level of humans mind. And on the basis of so many thesis a theoretically a definition was coined as "the study of agents that receive precepts from the environment and perform actions." based on the idea of concern and historic definition AI is combination of 
-> Thinking humanly
-> Thinking rationally
-> Acting humanly
-> Acting rationally
Artificial intelligence cognitive capabilities of current architectures with 2 models as structuralist and functionalist. And it supports as many various fields from basic needs to advanced stages for example from basics of mobile applications to advanced space technologies. These consist of particular traits  that research expects an intelligence system to display, such are
1. Reasoning and problem solving
2. Knowledge representation
3. Planning
4. Learning
5. Perception
6. Natural language processing
7. Motion and manipulation
8. Social intelligence
9. General intelligence
Over globe spending on cognitive and AI systems reaching over $57 billion in 2021.  With AI spreading its wings across sectors, making it to the top new technology trend.
2. Machine Learning
A subset of Artificial Intelligence that builds the foundation of computers to have self-learning from the information. Based on prediction and decision machine learning trains the machine with few algorithms without being explicitly programmed. This is also known as predictive analysis.
ML learn and predicts based on the passive observation with some traits such as
-> Data mining
-> Optimisation
-> Statistics
And this machine learning implemented over AI using some simple algorithm or basically called as learning algorithms
1. Supervised learning
2. Unsupervised learning
3. Semi-supervised learning
4. Reinforcement learning
5. Self learning
6. Feature learning
7. Sparse dictionary learning
8. Anomaly learning
9. Robot learning
10. Association rule learning
The machine learning algorithm creates the model through which each system is trained. That helps in orderly management of inputting the data
1. Artificial neural network
2. Decision tree
3. Support vector machine
4. Regression analysis
5. Bayesian analysis
6. Genetic algorithm
7. Federated learning
The worldwide Machine learning market which was at first esteemed at $1.58B in 2017, is required to arrive at $20.83B by 2024. ML doesn't depend on market analysis; it keeps booming until humans are satisfied with creating new things and easily can hope for a better future with ML.
3. Robotic Process Automation
It is another form of automating the machine which drives new ways of productivity and efficiency gain over the global market. It helps in making a monotonous task in repetitive manner within less time of humans performing the same task.
Some of the benefits of RPA
-> Helps in solving complex problems
-> Collaborate both AI and ML
-> Implementation and scaling in easy
-> Minimal cost gives high productivity
-> Less Time consuming
By seeing global analysis of robotic automation in future days it's going to hit the target of  $7.2 billion by 2025. If you're looking to the future and trying to understand new technology trends, RPA offers plenty of career opportunities just try to grab in your way.
4. Virtual Reality & Augmented Reality
These two terms have been thrown around lately in markets which kept a high trend. Even though they seem similar but vary in many aspects.
Virtual reality which creates the object visualisation which gives the feeling like having a physical appearance around. VR mainly used asVR headsets which bring the virtuality into reality. The prominent companies put forward their gadgets in this field as Microsoft call its Windows 10 headset as "windows mixed reality" and google "Google daydream view". These both products give the same experience but not nearly as immersive.
Augmented reality is developed for free movement while projecting images over whatever you look. This overlays with little information on images it mainly helps in games to detect the places, and also helps in searching through images.
As so many are adopting video games nearly 14 million AR and VR devices were sold in 2019. The global AR and VR market is expected to grow to $209.2 billion by 2022. This technology is going rapidly so thinking from a career point of view would be a great idea if you're thinking of inventing on your  own.
5. Internet of Things(IOT)
This term was coined in order to connect and share the data over the internet. The network of smart devices came into existence in 1982 since then to till the 21st century its increasing it's need over human life. It holds on with physical things like sensor software and embedded technology. 
The IOT has implemented over various fields some of the application are
-> Consumer application
-> Organization application
-> Industrial application
-> Infrastructure application
-> Military application
-> Product digitalisation
Forecasts suggest that by 2030 around 50 billion of these IoT devices will be in use around the world, creating a massive web of interconnected devices spanning everything from smartphones to kitchen appliances. The global spending on the Internet of Things (IoT) is forecast to reach 1.1 trillion U.S. dollars in 2022. Investing something now to profit in the future will not be a burden.
6. Block Chains
These technologies are mainly used in banks and security in currency. The block chain defines a chain of data from the previous block which doesn't allow to make any changes. This helps in avoiding third party involvement in verification and validation.
This was started in 2011 by the cryptocurrency team member Reeves who had differing thinking over future coin bases. 
On a security basis most of the industries planning to implement this technology over the business to have secure transactions and have better technical solutions. 
It's right to start if you have hands-on experience of programming languages, the fundamentals of OOPS, flat and relational databases, data structures, web app development, and networking. To make a career in future trends.
7. Cyber Security
We have always come across the word hacking most of the time and it's also a dangerous thing as it includes personal data most of the time. In order to avoid that cyber security is most important. 
Cyber security takes up a wide variety of fields and is based on vulnerabilities of computer systems. This also deals with computer protection centers and different kinds of attack that would cause damage. 
The smart devices usage has grown wide variety with wireless networks such like internet, wifi and so on. This happens through the IOT and then there is a majority of chances a bit of information would lead to leakage of numerous data.  
On notice of the above problem we can say that it's not technology that would go under hike in upcoming years also. And analytically it is proven that the need for proper cyber security is so high that by 2021, $6 trillion will be spent globally on cybersecurity. With this money would cost you a job also so spending little money to have a start of a career would be the first step to keep in booming technologies.
8. Fintech
With the theme of enhancing the business with technology the fintech was coined combining "technology"  and "finance". This technology includes AI, block hains and data science helps in building safe, faster and efficient financial sectors.
The term is a broad and rapidly growing industry serving both consumers and businesses. From mobile banking and insurance to cryptocurrency and investment apps, fintech has broad applications. 
Most of the international and national companies are getting diditalized with adaptation of this technology. This would help in setting up the greater career trend of cryptocurrency like bitcoin and few others investments growing in a better way.
9. 5G Network
The next step in growing network features that advances the 4G and volte services. A 5th generation of network that helps in connecting virtually everyone, everything like things, persons, objects and devices.
The cellular companies began their implementation in 2019 these 5G networks have three different ranges like low, medium, high. Low 5 
In real-time the 5G network has reached 13.2 trillion dollar over worldwide. And analysing the makeover in future with digital gadgets with implementation VR and AR, alongside cloud service gaming and expected to be used in factories, HD cameras that help improve safety and traffic management, smart grid control and smart retail too.
more than 50 operators offering services in about 30 countries by the end of 2021, making it a new technology trend you must watch out for, and also save a spot in.
10. Voice Assistance
We all are familiar with this by well known Google assistance and IOS Siri. which made life easier with such search engines. Nowadays there are so many google gadgets like alexa which work over voice assistance seeing this rapid growth can assume the future in voice assistance.
As it supports the AI, ML and few are working with the data transfer with IOT the adverse implementation of the technologies gone take a big leap over trending technologies.
Voice assistance has gone hit gaming, app development companies and product based companies market in hype.
conclusion
The time from one open eyes in the morning till a night dreams we are surrounded by the technical things and we see it growing above all are working. So choose your best suited area of interest and implement the creativity and ideas that bring up the technology trends to shape the world.  
These top 10 emerging technology trends offer promising career potential now and for the foreseeable future. And most of these trending technologies are welcoming skilled professionals, meaning the time is right for you to choose one that positions you for success now and in future.
(Visited 55 times, 1 visits today)