Tinder Usage Statistics and Revenue (2021)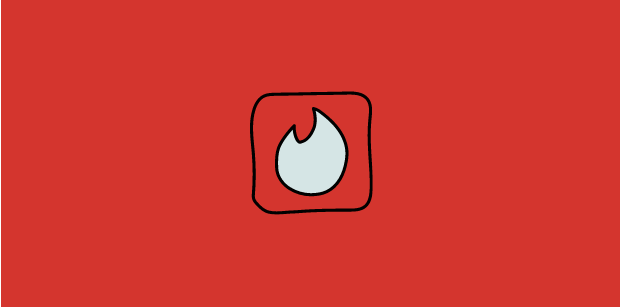 Tinder, a world-famous dating app that helps us in matching with others who are nearer to our location. You just have to swipe right to 'like' and left to 'pass' depending on your choice. If any two users like each other, then it turns into a match and now they are able to chat through the app.
The users are able to view some of the pictures of others which are selected from their Facebook profile or that have been hand-picked from their phone gallery, a short bio, and also linked Spotify and Instagram accounts.
Tinder after its launching in 2012 have only seen heights and grew into one of the most used apps worldwide. It was initially a free-to-use app but later in 2015 introduced a premium subscription called Tinder Plus and Tinder Gold in 2017.
Let us now see the all statistics and Revenue of Tinder for the year 2020:
Tinder Users Statistics
With Tinder app being available in 40 different languages, Tinder users are spread over 190 countries. It is estimated that in 2021 more than 57 million people will use Tinder throughout the world.
Tinder subscriber growth statistics
As we can clearly see the number of paid subscribers has only increased and by the end of Q4 2019, Match Group- The parent company of Tinder reported nearly 5.9 million paid subscribers being added to the list.
According to research by Pew Research Centre, 30% of adults in the US are using dating apps, up from 11% in 2013. Nearly 23% of people met on Tinder went out for dates and even around 12% found their love of life on Tinder.
If we consider Google Play Store app ranking, Tinder is presently on 179th Rank dropping from 123rd in late February. At one point it was ranked fourth among lifestyle apps but by mid-March 2020 it dropped down to seventh.
Tinder Google Play download rank, US
SimilarWeb's usage rank, which shows the daily active users and not the people who installed the app, places Tinder in 79th rank as of mid-March 2020, falling from 62 in February. It may be due to the effect of the coronavirus pandemic because now people are not able to go out and are not much interested in dating. So, most of them became more engaged with streaming apps for their entertainment.
In the lifestyle category Tinder is presently on sixth rank after dropping from fourth but it has always been among the top-10 ranked apps in the lifestyle category.
If we compare the usage rank for a few other countries, it is ranked as 42 in Canada, 41 in the UK, 59 in France, and 61 in Germany.
Tinder Apple App Store download rank, US
If we consider IOS users in the US, Tinder download rank has been a bit more inconstant on the Apple App Store over the period.
In the lifestyle category on Apple App Store, it remains in second place.
If we consider Tinder's Apple App Store rank in international markets then it ranks a bit higher- 53rd in Germany, 61st in the UK, and 55th in Canada.
Who all are the users of Tinder?
The survey conducted by GlobalWebIndex in 2017 showed that nearly 38% of people using Tinder were in the 16-24 age group while about 45% users aged 25-34. Tinder however argued that more than 50% of their users were among the 18-24 age group.
The GlobalWebIndex survey also claimed that 76% of the users were from urban areas and only 24% users from a rural setting. Also, if we look at the ratio of men and women users on Tinder it has been found out that men outnumbered women by 2:1 based on this particular survey.
Tinder demographics worldwide
In the US, twice as many men use Tinder than women according to a report. In terms of age group, the highest levels of usage are seen among the younger age groups. More than one-third of the users are aged 18-24, and nearly one-fourth are among the 25-34 age group as well as about one in five users are in the 35-44 bracket who use Tinder. Also, there has been a little raise among the 75s when compared with the immediately younger age group. GlobalWebIndex also stats that nearly 3% Tinder users are widows or widowers.
With no surprises, there are a greater number of users among the urban population as there are not any matches to be found in rural areas.
In the UK, the proportion of men and women users is nearly the same with the male percentage being a bit more as compared to the female ones. Here also, Tinder usage is seen most among the younger age group but has a greater proportion of users in the 25-34 age group as compared to the 18-24 bracket. The usage declines rapidly as we move up the age groups.
The UK also shares the same disparity between urban and rural users as in the US with a greater number of users among the urban population as compared to the rural areas.
Tinder usage in India
According to the reports of Tinder, in 2016, 7.5 million daily swipes were taking place and also India topped the list of highest average number of messages exchanged per match.
However, there is a big problem that Tinder is full of male users, while female users for various reasons have joined the app in the same ratio. Therefore, Tinder has introduced various new female-specific features in the app for India to somehow increase the female user numbers- this includes the option to only allow the female to message first in any male-female match.
Tinder Usage Statistics
Tinder claims that about 1.6 billion swipes take place per day, resulting in more than 1 million dates per week.
Cumulatively, nearly 20 billion matches have been registered on Tinder.
Based on the research by We are Flint, Tinder statistics show a smooth growth across how often users sign in the app, with similar percentages using it several times a day, once in a day, one time in a week etc. in both the US and UK. A greater proportion of people living in the US use the app according to the data collected by We are Flint.
Frequency of usage of Tinder in the US and UK
If we concentrate only on the users who do use Tinder, we can see the fine patterns and differences in the data more clearly.
Nearly half of the UK users use the app multiple times per week. In the US, the percentage is slightly higher with reports claiming that 68% of the users use Tinder multiple times in a week.
Frequency of usage of Tinder by UK and US Tinder users (%)
A different survey done by We are Flint produced different results- showing that 55% of Tinder users use the app on a daily basis. This difference in the statistics may have come from different samples.
How long are people engaged with Tinder?
After researching on how long people tend to have Tinder app installed on their devices, we found out that a large number of female tinder users (nearly one-third) only installed the app for a single day. However, many users are still found to keep the app on their devices for long.
For men, the percentage who try Tinder and dislike it instantly is surprisingly lower in number. However, the men who are regularly engaged with the app and like it are at a higher percentage of 41%.
Nearly 50% of both men and women keep the app installed on their device even after a week and the same number of users uninstall it too realizing that they don't want to stay on Tinder and find it relatively early in the process, with the rate of attrition being at the peak in those early stages.
About 95% of Tinder users meet their matches within a week, compared to just 25% of all online daters and 15% of offline daters.
85% of users using Tinder propose to each other within one year of dating, compared to just 80% of offline daters.
When do people use tinder?
Ogury did a study based on what day the users use dating apps most, and for how long they use dating apps.
If we look at the statistics of Tinder, we find that the longest sessions of the app are indulged in by Spanish women, who spend about 45 minutes using Tinder on Sundays. UK men take the second position, using Tinder for about 35 minutes on Monday nights.
Surprisingly, men in the US use the Tinder app for the shortest amount of time, at just under 25 minutes for their midweek session.
Italian men are the only group of people who use Tinder longer than they use any other dating app.
Interestingly, the greatest average amount of the time spent on different mobile dating apps happens to be on Thursdays with users using dating apps for nearly 28 minutes.
Tinder Revenue Statistics
Tinder which is a part of Match Group plays an effective role in international (or may be at least western) online dating apps. Along with Tinder, other apps like OkCupid, PlentyOfFish, and the eponymous Match.com fall under this category. Match Group is also a part of IAC (InterActiveCorp).
Tinder started its premium subscription service known as Tinder Plus and moved to monetise in 2015. This gave the users some new added features, such as Tinder Passport (which allows users to move to other locations to find their matches) and unlimited likes (non premium users have access to only 50 likes per 12 hours).
Tinder Gold which was first featured in the app in August 2017, provides the ability to see the people who have liked you after paying some additional cost for the same. The prices of Tinder Gold and Tinder Plus are dynamic and change from place to place and age.
Tinder also offers special add-ons such as 'boosts' and 'super likes'. Advertising also plays a crucial role in generating revenue for Tinder.
Tinder is the primary revenue generating app for Match Group, accounting for about 56% of Match Group's total revenue in 2019 which is $1.15 billion of total $2.05 billion.
In the above chart, it can be clearly seen how rapidly the revenue of Tinder has grown (nearly at a rate of 123%) since Match Group's IPO in 2015. Every year Tinder's revenue increases nearly 50% however, 2019 is the only year where the revenue has just increased by 42% increasing from $805 million to $1.152 billion.
If we look at Match Group's overall revenue status, it has grown at somewhat slower CAGR of just 20%. Revenue growth of Match Group's between 2018 and 2019 is just 19%.
The steady revenue growth rate of Match Group proves that Tinder's share of the total revenue has grown at a constant rate, with 2019 being the first year when Tinder has contributed more than 50% of the total Revenue of Match Group. In 2015, Tinder's contribution was just 5% which rose to about 47% in 2018.
Match Group revenue in Q4 2019 was a total of $547 million which represents a 16% growth when compared to Q4 2018 which was a total of $457 million.
The premium subscribers of Tinder play a crucial role in Tinder's share in the increase in Match Group's revenue with 60% (5.9 million) of the total 9.8 million average subscribers being premium.
Tinder gold, which allows you to see who all have liked you, has been the main priority of subscribers and revenue growth since its launching in Q3 2017. It is credited for increasing ARPU by 24% from Q3 2017 to Q3 2018.
According to AppAnnie, Tinder was the highest-grossing non-gaming app all over the world in 2019. Netflix, being a streaming app, took second place as it doesn't have the support of in-app-subscription like Tinder.
Match Group share price and cap
Match Group in November 2015, with shares at $12 each and market cap of about $3 billion.
In late March 2019, prices were nearly over $65 providing us a market cap of $18.6 billion.
The stock price represents a growth from January 2020's taking the share price to $92.45 and providing a market cap of about $26 billion. It is clearly visible that Match group's IPO has followed a consistent upward trend with a few peaks and troughs.
Also, InterActiveCorp has an 81% economic stake in the Match Group.
Final Conclusion
Tinder is one of the best dating apps of the world but it is not the biggest dating app of the world. Badoo being the biggest dating app claims that it has 468 million registered users, more than 60 million active users per month. Moreover, PlentyOfFish also claimed to have 100 million users back in 2015.
It was not also the first dating app, Match.com, which was launched far earlier than Tinder during Bill Clinton's first term as US president is the first app. Tinder is even not the most innovative one with Bumble, created by one of the former members of the Tinder team allowing only females to message first while the Happn app aims to match users with others with whom they have recently crossed paths in the real world.
However, there is still something about Tinder that makes it feel like the best dating app among all the online dating apps. It is certainly the most profitable. In the western countries at least – the Tinder app seems to be always active in the background, wherever we go. Its unique style, accurateness for mobile phones, and it being truly simple perhaps makes its way to be the most used dating app in the recent time.
Match Group is clearly dependent on Tinder- particularly when the users are ready to invest their money for the benefits offered by Tinder Plus and Tinder Gold. Perhaps the offers provided by Tinder for its premium subscribers makes it universally popular and have also resulted in the growth of premium subscribers in the recent years.
Even without considering subscriptions, Tinder has been one of the most popular apps and has occupied an important place in dating habits around the world, particularly among the younger generation. Nowadays, many young people are frequently visiting bars, nightclubs, and other places where there are more chances of interacting with a new partner.
Tinder has probably taken the place of the old-fashioned and old-school rituals and also gives the users a chance to meet a large number of people at a far greater amount than they could have ever imagined to meet themselves without the use of the app.
However, Tinder has many issues too. As the number of male users are mostly higher when compared to the female users so the female users have to deal with a lot of males at one time in the app making it a bit difficult for her to make a choice in so much competition going on within the male equivalents.
While other apps are being launched continuously in the market, offering new and improved features and giving a competition to Tinder, still Tinder stays as the first choice of most of the people who are looking for dating and no other app is able to get such a huge response from users as compared to Tinder. Tinder is also addressing its issues and trying to improve the user's experience through Artificial Intelligence as well as additional offers to users after matching.
(Visited 1,414 times, 1 visits today)