How to Develop a Local Questions Answer App Like Neighbourly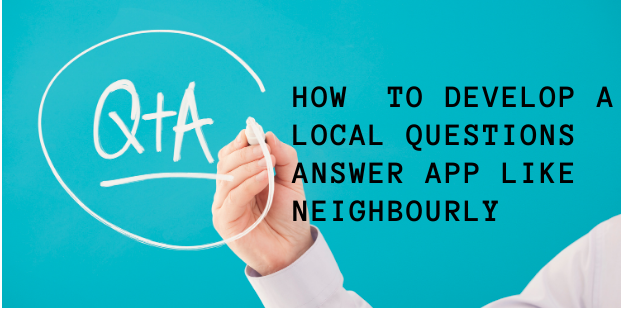 Neighbourly is the unique kind of questions answer app made by google so we will get there it will solve our questions easily & also able to give answers to people queries.  The app is solving the queries of neighbouring targeting users. At some certain radio, your answer &  questions are visible. Artificial intelligence over human intelligence google is assisting our questions answered. It proves that for assistance the human's machines have to learn a lot. It is working on the fundamentals concepts that for neighbours also have the utmost relevance, recent & accurate sections of data regarding their local surroundings, so the app gives honest answers.
Top features of Neighbourly
Recently Asked Questions:– When you open the app it will ask you to answer the recent questions.
Questions Answers:-  You can get rewards after giving the answers & you can ask questions too.
Voice Assistance:-  With the help of voice assistance you can give the answer & ask the questions.
Select Locality:- As per your area's locations you can select your area. (for a limited time )
Notification:- When you get your questions answered you will get a notification you can change your area.)
Social Share:- Through social media, you can share your questions mention your  friends:-  You can also mention your friends
Remove Questions:- You can remove your questions
Thumbs – Up:- You can give appreciation to the answers
Abuse Or Report Spam:- You will report answers for spam & offensive content
Profile:-  As per the number of answers you gave & the number of questions you are asking user will be followed
GPS Tracking:- App will decide your location after tracing your GPS location that will interchange from the setting, you can also change your location but for a limited number of times.
Complete  Features list  of Neighbourly
Customer panel 
–>> With email, ID sign up  for one time
–>> GPS is tracking the current location
–>> Add live location neighbors
–>> See all questions of neighbors
–>> See the answers of neighbors
–>> Give a remark on other neighbors answers
–>> Dislike & like a neighbor? Answers
–>> You can also follow questions
–>> Report & block neighbours (user those who are asking questions & giving the answer)
–>> Questions & answers share with your friends
–>> Give the answer to questions (voice or text)
–>> With predefined tags ask a questions
–>> See all asked questions & total number of answers, comments & calculate like & dislike
–>> View your  the counts of  dislike, like & comment
–>> (On the basis of comments, answers, likes ) vies the medals
–>> Leads profile
–>> View activeness
–>> Setting (manage notification, change neighbourhood)
–>> Share the app with your friends & family
–>> You will receive a notification
–>> Sign out
Admin Panel
–>> Sign in
–>> Home page (answers, comments, total user, total questions, dislikes, likes, block users, most active users )
–>> Control user(delete/ view)
–>> Control on questions tag (delete, edit, add, & view)
–>> Controls medals(add, edit, delete, view)
–>> See questions answers over(export or view)
–>> Sign out
Development Cost
This is just a small application which provides the questions & answers with the monetizes well, for making such types of iOS & android platforms so their cost comes around $5000-$10,000.
Popular Post: Real Estate Web Portal Development- Features & Functionalities
7 Most Powerful Real Estate Marketing Strategies and Ideas
Logo Designing: How To Create An Effective Real Estate Logo For Your Business?
(Visited 47 times, 1 visits today)