Mobile App Design Trends to Keep in Mind in 2022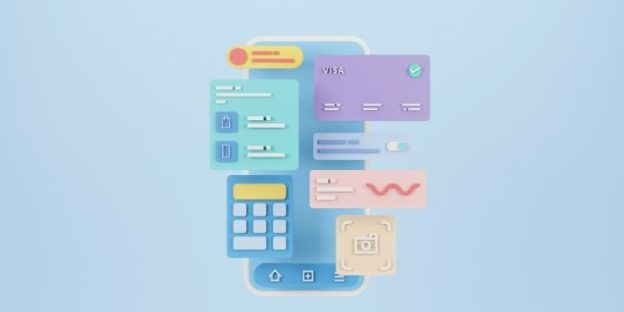 Humankind has come a long way since its inception. As the most intelligent beings on the planet, I believe that we all are born to offer something unique and wonderful to this world. Evolution is everything that is the key to living more peacefully. For instance, most companies lack effective and efficient internet options, and now we have so many to choose from that the list is almost endless. Thanks to the accessible internet services across all the platforms today, we are witnessing new companies in every industry snowballing. Similarly, the mobile app market has enormous potential.
Even though we talked about two years back, the global mobile application market was valued at USD 154.05 billion in 2019, which currently sits at USD 220 billion in 2022 with a compound annual growth rate (CAGR) of 11.5%. Custom mobile app developments like mobile gaming applications, mobile music, entertainment apps, mobile health, fitness applications etc., are surging at an incredible pace. With the accessible internet and growing use of technologies like machine learning and artificial intelligence, mobile app development companies will be in demand. But, it's not that easy to create a mobile app. Because there are many aspects which you need to consider and constantly monitor for better chances. For instance, choosing the proper framework, development team, platform etc., are some significant discussions among businesses. But one of the critical things that should be on your list is your app design.
Your mobile app design is of tremendous significance because it's the catalyst that establishes a connection between your services and your users. With the right and practical design, you can easily communicate and convey your desired messages. The statistics, as mentioned earlier, show that mobile market potential is snowballing and is expected to reach new heights over time. Since mobile apps will be pre-eminent for every scaling business, we have created this article that sheds light on mobile app design, its importance in development, and primarily top mobile app design trends to follow in 2022.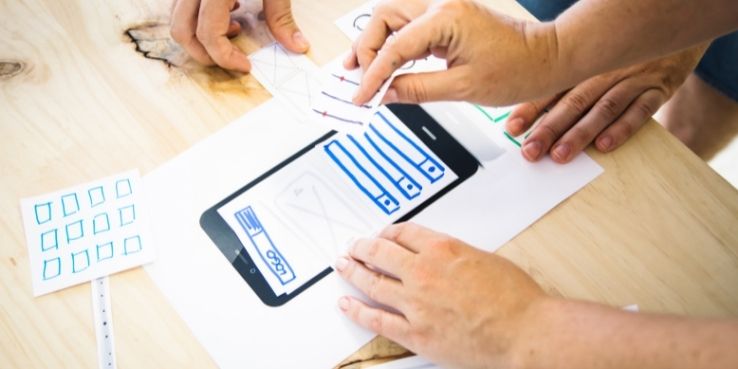 What is Mobile App Design?
As the name suggests, mobile app design results from the code your users see when installing your mobile app on their phones. But it's not that simple and much more than that. Mobile app design typically revolves around two aspects of a mobile app.
User Interface(UI): The user interface focuses on the appearance and the style you choose for your mobile applications. Hiring experts from the android mobile app development is suggested because they help you create an interface that pleases your target audience and feels convenient as per your services.
User Experience(UX): User experience, which is famously known as UX, focuses on how your mobile app would interact with your users. When designing your mobile app, your priority should always account for clarity to the app users. Taking assistance from experts for your iOS app development is an excellent idea for an efficient user experience.
Why Do You Need Excellent Mobile App Design?
Starting from then, your chosen mobile app design could either make or break your app. And if you are on a tight, getting your app design right becomes more vital in one go. Significant benefits of having a good design in the app development process are:
Enhanced Customer Satisfaction because of hassle-free navigation and engaging content to meet the customer's expectations.
It helps you create a positive brand image as you have a killer first impression of your brand.
An excellent mobile app design from the app development company brings in an audience and engages them by delivering the message the business wants. That's why we emphasize that the layout and navigation of the app should be easy to understand and use.
With effective UI and UX, you have synergy for your app's success. If your app stands to the users' expectations, it is easier to attract reliable users to your products/services.
A most important benefit of a good web design is that it saves time and money. A perfect app designed and developed by a front-end development service never requires frequent updates and modifications. With fewer updates, you can save money and time and eventually lower the risk of losing customers.
With so many benefits, mobile app design is undoubtedly an aspect you should focus on. Moreover, with so many apps being introduced to an existing huge bulk, your mobile app can get easily lost without serving its purpose. Your app needs to stand out from the rest for the same reason. And users only keep an app when they love its services and appearance; otherwise, they delete it. With so much competition in every industry, you need to be better.
An intuitive mobile app design is crucial to app development, and that is why many android app development companies dedicate upto 50% of their time to projecting and finalizing the design. So before moving ahead with the latest trends in custom mobile app development, you need to keep in mind that your app should be user-friendly, visually attractive, and offer substantial functionality so the user can trust it.
Mobile App Design to Keep in Mind in 2022
1. Abstract Geometry
The minimalism design approach is considered one of the finest solutions in app design. Do you know why? Because it helps in providing the next level of simplicity. Because of the same reason, considering it with your app design would help you get the best out of your app. We have become very advanced in designing, and in 2022, using flat design and simple geometric shapes to develop apps is out of the question. Key visuals have become a vital component of mobile app design by creating the app's brand identity. Well-designed key visuals could instantly grab the attention of the user. You can get hundreds of downloads with just a little marketing because your unique and brand-worthy app design helps you sell your app.
2. Animation
Animation in design brings the users' attention, so it has become a great addition to mobile app designs. Animations to illustrations or icons, different kinds of methods can easily turn in your favor. Still, it is essential to be cautious about overdoing any animated graphics. So, strategically taking the services of an iOS app development company could help you enhance user experience in different ways. For instance, you trigger a specific emotion, get the user's attention to a particular area of the screen, create the desired mood and tell the user that a specific action has been executed.
3. 3D Graphics
According to the experts in mobile app designing, 3D graphics have been acting tremendously, favoring the businesses implementing it. It's a matter of time before which we will see 3D animations superseding the traditional design trends completely. For the same reason, 3D graphics is gaining popularity among app designers as it helps them create amazing animations and effects that bring results. Also, it's easier to render 3D graphics on modern devices, but still, you must keep your app design compatible to offer a good user experience to every user.
4. Dark Mode
Dark mode has become part of every significant app because users want it. The dark mode is a design trend used in mobile apps so users can perceive content at lower levels of brightness and reduce the energy consumption of the user's mobile device. Major apps like Google, Facebook, LinkedIn, and Instagram offer dark mode. It also helps in showcasing your content in a better way. Because icons and texts stand out nicely by utilizing complementary contrasting colors. But most users love it because it brings that extra sophistication that gets to the appearance of mobile apps.
5. Asymmetry
Asymmetry in mobile app design may seem awkward to hear, but it creates balance in its layout to make it richer and visually appealing. When everyone is doing the same with the design, asymmetrical designs help you break away from the rigid lines of traditional apps. When developing a mobile app, you should use different shapes, sizes, colors, and fonts to create a unique look; it ensures your app stands out from the rest. With this uniqueness and superb service, your app has a chance to grow in popularity. Something that every business wants.
Summing up
Mobile app designs have changed since their inception. Although it's all about combining great functionality with outstanding visual appeal, still following the latest trends can help you create a uniquely designed app. Along with all the latest trends, setting up realistic expectations is also important because not everything you imagine is possible with mobile app design. And keep an open mind because user feedback will help you learn from your mistakes, evolve and perfect the user.
(Visited 214 times, 1 visits today)