How To Make A Rideshare App And How Much Does It Cost?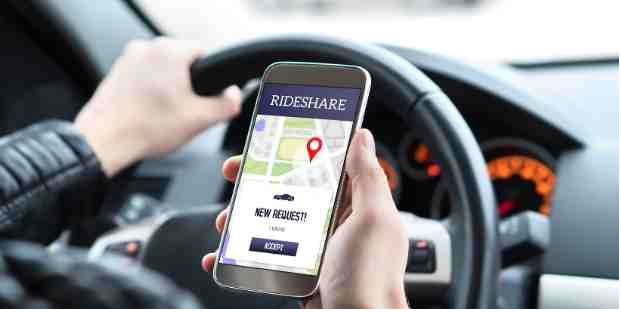 Summer is an excellent time to indulge in pursuits such as hiking, surfing, and outdoor trips to unwind in a quiet and serene environment. In any case, for any place you intend to go, you have to take transport to reach the destination. On the off chance that you have a vehicle, this issue can be resolved rapidly, yet what if you don't have one? Also, sometimes it is not possible to drive whether you are heading for an adventurous trip or simply a casual outing.
What if you find a car heading in the same direction or route, thereby saving you both money as well as time? It can't get better than this, isn't it? Very popular amongst young people, ride-sharing has emerged as a popular concept. And, if you are looking forward to leveraging the popularity of ridesharing and are willing to start a rideshare company from scratch and earn profits, we are here to tell you how! So, let's dive in:
What is carpool and how does the Ridesharing app work?
Rideshare or carpool is a ride type where the driver of a vehicle is supposed to pick up the passengers that are heading towards the same destination or route as he is headed towards. The passengers share the fuel costs and the trip can only be regarded as a rideshare service only if it fulfills the below-mentioned conditions-
Conditions
->> The driver of the car is not supposed to provide the riders with the on-demand benefits. It implies that the individual in question will have to take the designated route regardless, of whether or not he has a companion who can accompany him or not;
->> The driver of the car just saves money on fuel costs however the individual doesn't seem to draw any benefit out of it apart from sharing fuel costs with the fellow traveler.
->> Since this service arrangement suggests that travelers share a ride, they should take part in the sharing of an all-out ride cost. By and large, the expense of fuel is shared between all the companions who have become a part of the said arrangement of a  carpool. Yet additionally, sometimes even a driver can also search for companions not for monetary sharing, yet for individuals who have a driving permit.
When there are at least 2 drivers in the vehicle, it is conceivable to have a bit of rest during the duration of the journey toward the destination. Also, a great partner can keep the conversation going and help the other driver to remain awake during a long road.
So, what is the basic idea behind a carpool? Well, the basic idea behind the arrangement of the carpool is to share the fuel cost and organize a group of individuals that are willing to go with it. Finding companions is not a big deal in today's time with the help of an internet connection, GPS, and cutting-edge technological solutions.
However, there are both pros and cons to this service arrangement, which one should carefully consider. Knowing properly what advantages or disadvantages are associated with the pooling of rides, you will be able to get the basics of this business right.
Goal of Rideshare
->> The rideshare app displays a form that is filled out by the driver of the car. The data regarding his/her destination is then placed by the app so that the user can connect with the driver with ease;
->> Passengers who are willing and looking for a carpool find this route on the web, contact the driver of the car and then discuss any further details regarding the journey and the destination;
->> Passengers are also headed towards the same route;
->> The driver of the car is benefitted by saving on the overall fuel cost and the passenger also finds carpooling way more comfortable than a bus or train. Plus, there is also fuel sharing between the passengers.
->> It is also good from the perspective of safety because two or three people can handle and question the absurd behavior of a driver if something goes wrong.
Step-by-step process of starting the rideshare business
If you wish to know the step-by-step process of building a rideshare app, go ahead and follow the steps given below:
->> Step 1: Figure out the advantages and disadvantages of ridesharing app development
->> Step 2: Define the niche in order to build the appropriate rideshare app
->> Step 3: Undertake the market analysis to build the rideshare app
->> Step 4: Choose the right business model for your rideshare app
->> Step 5: Find your appropriate monetization strategy
->> Step 6: Consider the requirement of the settlement of legal issues
->> Step 7: Add MVP to your rideshare app
Pros and Cons of Carpooling
Nothing in this world just comes with positives. Just like a coin that has two sides, carpooling comes with its own pros and cons. So, before you contemplate starting your own ride-sharing business and kickstarting the development process of the app, have a look at the advantages and disadvantages that it offers in order to make future decision-making smooth:
Pros of carpooling
->> The primary advantage that is offered by the rideshare arrangements is cost-saving, obviously. Contingent upon the agreement of ride-sharing, a carpool ride can be quite cheap in comparison to traveling by conventional modes of travel.
->> Remember that it is your vehicle and there is not just the fuel cost involved. There are some items that require expenditure like repair and maintenance, fix parts substitution, etc, in your vehicle. In the event that you decrease the usage of the vehicle, you diminish these expenses too;
->> A less number of vehicles on the road can decrease the overall emission of CO2 and will, therefore,  keep the air we inhale cleaner;
->> Few cars mean fewer traffic jams and less hassle. This arrangement makes it possible to reach the destination on time and find the parking space without any delay.
->> Meeting new individuals. Heading out together permits you to discover new buddies and enjoy the duration of the journey which is one of the most positive aspects of ridesharing.
Cons of carpooling
->> Indecency on the part of passengers. Some people can ask or try to discount the price, stop the vehicle midway, or will ask the driver to visit locations that were not scheduled while booking the ride, so screening out such travelers or individuals becomes crucial at the very beginning itself.
->> Indecency on the part of drivers. Unfortunately, many drivers indulge in unfair practices like riding with 5-6 people and then charging a high price.
->> Where the driver has to pick each companion of the carpooling arrangement separately, the time of travel increases.
->> Where many times, the passengers are not satisfied with the driver's attitude or driving style, drivers also feel annoyed due to reasons such as ill manners of companions, their attitude, etc.
A full-proof Strategy for an Awesome Rideshare App Development
So, while you are contemplating building an awesome rideshare app, the major issue is – how to kickstart the development. Pretty obvious, isn't it? First things first, in order to make your app, fully functional, competitive, and successful, you need to follow a few key issues. Only wise implementation of your idea can help you make profits through your app, so it is important that you develop a fully-functional, robust app. For that, you need to hire an app development company that renders top-notch app development services.
Define your niche
Rideshare has been in existence for a few years and now has become quite popular amongst travelers and drivers. Popular services like Uber Pool, GoCarma, etc, have developed a niche for themselves and are quite popular. But there had been so many apps that were developed and launched, and eventually, the business failed.
They failed in their attempt to gain a leading position in the ridesharing industry for they failed to occupy a niche. So, it is quite important that you choose your niche before you kickstart the development process. Repeating the experience that Uber or any other widely popular ridesharing service won't serve the purpose as it won't draw the users' attention.
Classic Trips
For instance, your ride-sharing application can be focused on classic long excursions. The ride-sharing can be both for the trip outside the city or even outside the country. Along these lines, it will be increasingly agreeable for your new users to deploy the service of your app since it will be focused on one single service.
Taxi Type
Taxi services offer transport services to people for moving around the city. Thus, as a business owner, you can develop a taxi app with one major difference the driver will not render any on-demand service. Besides, working as a driver isn't the primary occupation of people occupied in this carpooling business. Such services are pretty useful for people who need to travel from one city to another, so they join such rides if they wish to travel to the same place. So, carpooling provides a dual benefit – saves fuel cost for the driver, and time for the passenger!
Regular Trips
This kind of service is often beneficial for people who commute every day to and from the office or travel regularly from one place to another. They often use a fixed-run taxi service or bus to commute, so there is a scope for your business to render a new type of ridesharing service to people. The driver can pick up the passengers that are headed towards the same route which makes it possible for them to join the same driver every day. Your new application can turn this idea into reality.
Define your marketing strategy
After you are done choosing the niche of your carpooling app and ready to start with the development of the app, you should define your marketing strategy. Even if your idea is brilliant, without a great marketing strategy, your ridesharing app won't be a success.
The first step towards defining your marketing strategy is to undertake thorough market research as having an in-depth understanding of the market is crucial to the success of your app. You need to inspect the currently available ridesharing apps that can give you a brief idea about their marketing strategy and what you need to do in order to develop something unique for the users. It is fairly important to study the technology that powers the ridesharing apps that you are inspecting for that will help you start a ridesharing business with advanced technological features.
Choose a business model
Choosing a business model is the next big thing. If you find marketing quite complex for yourself to handle, then the marketing team you will hire can handle it. You need to pay attention to the business model for your ridesharing app. A business model will help you define the key points that you must follow in order to have a sound business development strategy. There are nine key points as follows:
-> Key partners
-> Key activities
-> Value proposition
-> Customer relationship
-> Customer segment
-> Key resource
-> Distribution channel
-> Cost structure
-> Revenue stream
If you find the right solution for each of the key items mentioned above, you will be able to kickstart your ridesharing business and develop a successful app.
App monetization
The main reason for developing an app is to earn a lot of money from it! So, here are a few  standard methods of app monetization which can be beneficial:
-> Free application with advertising
This app will be free for downloading but will run a lot of advertisements. If the users will find it annoying,  they will buy a premium version without ads. As an app owner, you will earn through advertisements and from the users switching to the premium version of your app.
-> Freemium
Under this, users have access to the basic app features without any advertisement. But they can have access to some additional premium features that can provide them more features or comfort by paying extra for the paid version of the application.
-> In-app purchases
Well, in the case of a ridesharing app, there can be not many things to buy in-app. But still, users can pay for features where that will appear at the top of the list if they wish to be the first ones to go with the driver.
Right from crafting an excellent marketing strategy for your ridesharing business to finding out ways to make it work and make profits, each step requires a lot of research and effort. So, do remember, ' no gain without pain'.
Settlement of legal issues
Running the business in a transparent and honest way is important! From the development of the ridesharing app to its deployment, you should abide by the law. Register your app in a manner that does not lead to the violation of any rules or regulations.
So, How to Develop a Rideshare App?
So, after a whole lot of researching and developing strategies, you have finally reached the stage where you can kickstart the development process. You can develop a carpooling app all by yourself or you can go for one of the top app development companies. For the initiation, you should decide upon the MVP features in order, to begin with, your ridesharing business.
So, How Much Does it Cost to Develop a Ridesharean App?
The approximate cost of MVP features development is given in the table below:
MVP Features
1. Status creation, tracking, and changing
This is the first and foremost feature that assists the user in the creation of a new route or changing its destination, etc. This feature also helps the user to ascertain the status of a particular ride and receive a push notification in case of any change.
2. Tracking of specific drivers or companions
For instance, you took a ride earlier and you were pretty much satisfied with the services rendered by this particular driver. Now, you wish to track all of his rides to be taken in the future so that you get to travel with him again, in case he goes to the same route that you are headed to. In addition, sometimes you also need information regarding the fellow passenger you traveled with. So, for sure, you would want this feature in your new ridesharing app that you are about to get developed.
3. Search
This feature is pretty much clear. You definitely need to have a search option in order to search for the driver as well as the route of the destination you are headed towards.
4. Payment
As a ridesharing app owner, you need to provide all the basic features in your app and one of them is the payments page. Of course, in a scenario where cashless payments have become highly popular, you need to integrate a payments page in your app. Provide the users with a choice – they can either make the payments through cash or via cashless mode.
5. Identity Verification
For the purpose of new registrations and logins, you can include features like a captcha, and also it is necessary to rule out fake individuals or bots. In order to avoid those criminals or indecent persons, there should be necessary features for individual verification.
6. Panic Button
With women's safety being a pressing issue worldwide, it is necessary to have a panic button. A panic button can assist in the state of an emergency as well as safety issues. With the help of a panic button, the person riding in the car will be able to press it in such a situation and call the cops who will be able to locate the individual with the help of the coordinates that were sent to them by the carpooling platform.
7. Chat System
A chat messenger is a great feature to have in any car-sharing application for it makes the communication between the driver as well as the passenger pretty much smooth and hassle-free. So, with the help of this feature, drivers and passengers both can add their phone numbers and communicate with ease via chat messenger.
8. Admin Panel
As a ridesharing app owner, you need to keep in mind that you need to have access as an admin, manage the accounts, and any other information in the given application or software. If you don't wish to handle this task, you can hire an admin that will take over this process and will help you in any uncertain event, trouble, and bugs.
9. Provide suggestions based on the travel history of the user
A special or distinct algorithm can offer rides to the users based on the data or information of his/her commuting history. This becomes very convenient, especially from the user's point of view the users that often go to the same place every single day, find this feature quite user-friendly. So, this definitely must be present in your ridesharing app.
10. Ranking system
A ranking system must be there in order to rank the drivers and their driving skills.  Nowadays the ranking is provided by the users on a different basis and with the wide popularity of the ranking system, many carpooling, as well as cab sharing services, have introduced a similar system of rating for the drivers where they also can rate the customers based on their overall conduct and behavior.
11. Group creation
With the help of this feature, users can create groups with people who travel to the same destination whether intercity or intracity to the same place of job, etc.
12. Social sign-in and sharing
Social sign-in and sharing features allow users to share their ride status and information. So when they register on the app with the help of social media handles like Twitter or Facebook, this allows them to share the ride information or status with a large number of people, thereby helping them to find more people who are likely to travel the same route or headed towards the same destination.
Summary
So, as far as the development of a ridesharing application is concerned, the cost may vary depending on your own unique requirements as well as the complexities involved in the development process. However, the cost of development may vary from $13,100 to $$19800, depending upon a lot of other factors. So, a great idea, careful planning, strategy formulation, and a successful launch of the app is really crucial for the success of your new ridesharing business.
VerveLogic can be your one-stop solution for mobile app development and web development because we have a team of experts and market experience. You can get your app or website developed at the best price possible.
Also, if you are looking for branding solutions or online marketing for your brand then you should check out VerveBranding and Verve Online Marketing today and make your brand stand out.
Popular Post: How Much Does it Cost to Develop a Tow-Truck Booking Application
What Is the Cost of Developing an On-Demand Taxi Solution App Like Uber?
Bus Ticket Booking Softwares Development Cost & Key Features
Logistics & Transportation Mobile App Development Cost & Features
(Visited 60 times, 1 visits today)