How Long Does It Take to Develop an App and Bring it to Market?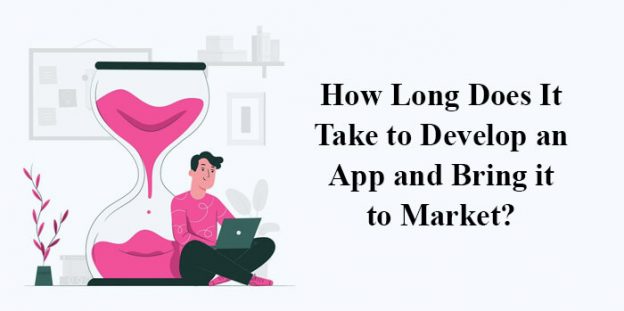 Our general answer to the entrepreneur asking how long does it take to develop an app is 4-6 months though the tenure depends a lot on the feature list. Some features are common and hence can be quickly implemented whereas the unique and complex ones can take a time of even a year or more. Mobile applications have solemnly transformed into tools on which our daily life runs. The total number of downloads annually has reached to an astonishing figure of 200 billion.
Apps are not just some tools for individuals but also a channel for customer communication for brands. A number of businesses are now taking enough advantage of mobile presence through which they can remain connected with the prospects for 24*7. Being an entrepreneur, it is not necessary for you to be a good developer too. Hence, a number of mobile app development companies are there to support the demand. There is a huge variety of businesses operating worldwide working on different value propositions. To get an app developed, you need to plan out the features. The feature list can be divided into must-have features and good-to-have ones. 
There are plenty of steps involved in the process of mobile app development and each one demands time. In this article, we will tell you about various factors which affect the development time. 
Scope of your app: 
It is a no brainer that a small app will get developed in a lesser timeframe than a big one with a lot of features. So, the first step has to be defining the scope which can be done by analysing the needs of the target audience. Also, work on the things that the audience has never though of and coming out with such a thing has potential to excite them. Find out if there is any app already providing the exact same features as yours. Try to append something or come up with an entirely new concept so that audience can have a reason to switch to you. The scope has to be defined clearly so that in future, you do not have to come back to this step to add additional functions. Make sure to refine it as many times as possible. The scope would help developers take out the timeline for the project completion. 
Features of your app: 
The app designing and development time depends upon the number of features you are coming up with and the connection between them. You need to outline the method of operation for your upcoming app. Along with the features, you need to also decide how it is going to source and manage the data. You can create a storyboard or a wireframe which could tell about what features you need on which screen and how different screens are related to each other. It would majorly help the designers who work on the UI of your application.
Next up, you have to decide the platform on which you want to launch your application. Businesses often go for Android and iOS. There are separate processes developers have to adopt as per the platform. Android applications take a little longer to get developed than iOS because the former has many version and Android phones come in a variety of screen sizes. Developers have to make sure that the app is optimized for all the devices. 
The scoping might take you up to two weeks if the application runs on basic features whereas for complex ones, this process might take 3-4 weeks. It seems an easy-going task but when you actually sit finding out the connection between various functions and deciding the flow, you will find it time taking. 
Designing process: 
It is a crucial step when the app builders have to determine the feasibility of an application in terms of front end designing. The app is to be designed in a way that it looks appealing and at the same time, it should be backed by a strong backend. Building a good looking and minimalistic front end is easier said than done. There is a lot to think about right from user experience to visual elements to animations. A good app starts with modern design. When it comes to a modern design, you need to start with simplicity. You will not go wrong if you use a classic design style comprising of white space, flat elements and a bright colour palette. Next comes, call to actions. You need to provide very clear call to actions for the users so that it can quickly grab user's attention. Once you are done with the basic things, you can add more things to the personality but make sure to keep the overall design simple. 
While choosing typography, you might think that complicated and novelty lettering can be fun but the best font would be the one which are easy to read at a variety of sizes. 
Animation is one must-have thing in the modern designing. The tiny hovers, parallax scrolling, elements moving across the screen have to be thoughtful. 
Prefer to bring as much simplicity as you can through your designing efforts since people do not have much time to deal with your complexities. Designing plays an important role in the overall success of an app. There are many elements which can make or break the results. 
Development process: 
The time taken in the development process depends upon various aspects. You need to be first sure of the platform you are going to launch your app on. If you want to go for both Android and iOS, you can proceed two ways. Either have Native apps developed or go for Hybrid apps. Native apps are better performing whereas Hybrid apps comes out at a low cost. Native apps are built with particular technology and language for a particular platform like Java for Android and Swift for iOS majorly. Hence, you have to hire two developers. With Hybrid technology, one developer can make one code work for all platforms. A Hybrid app can get ready in a lesser time than native apps.
On an average, the designing and development of an app takes 3 months. It can be lesser or more depending upon the scope of work. Both the processes go simultaneously if you have separate resources for designing and coding. Clients get involved the most at this stage since they have to approve designs as check the functionalities so as to allow the team to move forward. For this, builds are generated by developers and sent for revision to the clients. 
Testing: 
Once the development part is completed, team needs to make sure that the application does not have any bugs. The app is also being tested while it is under development but the final testing which is called Alpha testing is enough to prepare the app for the final launch. Beta testing is then done to detect if there are any error everyday users might face after they download and use the app. Beta testing does not take too long since team must have removed most of the errors while alpha testing. For Beta testing, you find to find a set of users that represent the target audience. Internal testing might take a time period of 1 or 2 weeks however beta testing can take around 2 to 4 weeks including the debugging time.  
Getting an app to the market can be a matter of weeks or even months. The timelines we have mentioned so far are average timelines. They can vary up to a great extent depending upon the type of application or its features and also the platforms you want to work on. 
Organizations these days prefer to follow Agile methodology for project according to which teams have to keep clients involved at every step, specifically after completion of each sprint. The timeframe of the project would also be dependent upon the time clients takes to release the feedback. So, make sure you are updating the team on time for them to move forward as quick as possible. 
App owners need to also make sure that if any third-party integration is required to be done over the app, they should have all the things ready with them. For example, if the chatting feature on the app is powered by a third-party chatting module then make sure to keep APIs ready with you as per your selection or suggestions by the development team. 
Above mentioned were some of the things that can make your launch delayed due to your own mistakes. 
Once the app has been brought to the market, you have to spend enough amount of time and funds into its branding and marketing so that people may know about it. 
How to bring your app in front of people? 
You have successfully made your application live on app stores, but the actual work starts from the time when you have to face a huge competition and make efforts to stand out. There is no timeline for the marketing. It has to go on. Still, we will give you an idea on when you can expect the results as per the marketing method used. 
1. Start marketing before the launch: Marketing an app before the launch creates anticipation among the audience and has proved to be a great success for businesses. As soon as you get firm on the app idea, start promoting it to pique interest in user's mind. Promotional videos and banners form a great idea. Make your posts interesting and allow users to share them. You can choose relevant social media platforms for pre-launch marketing by keeping right targeting in account. It is suggested to start the pre-launch marketing before 2 months of launch to get good results. 
2. Optimize your app for app stores: Once the app is launched, stat optimizing it for the app stores so as to make it rank for specific list of keywords. 63% of the users download an app through searching specific terms on app stores. Use structured and well researched relevant keywords so that you can capture the market as soon as possible. With over 2 million applications existing over app stores, you have to make some serious efforts in order to at least bring your app in front of users. The mechanics of ASO include setting up an appropriate title, description, keywords, getting reviews and more. About the timeframe, ASO takes time definitely. It is a process that has to be monitored constantly and tweaks should be made to improvise results. If right strategies are applied and you are working in a competitive arena then you will start getting results in 2-3 months but good results might take up to 6 months to appear. Again, we will say it depends upon the type of keywords, their search volume and the current competition on them. If the keywords are highly competitive then it might also take you over 6 months to get results.
3. Paid marketing: There are many ways to promote your application through paid marketing. For example, press releases, online ads, cross promotion networks, Facebook targeted ads, Promoted tweets etc. Paid marketing is generally done to make a quick reach to the market since the other organic ways take time. If done properly, paid marketing would generate instant results for you. 
There are many other ways to promote an app like approaching a niche specific influencer, dropping emails, starting a blog etc. There is no specific timeline for any kind of marketing as it is a never-ending process which has to go on but yes, you have to set goals for different milestones. 
Looking at the market share captured by the increasingly evolving mobile apps, it is most likely for you to give it a try. The timeframe for the development would depend upon the scope of work whereas marketing has to be ongoing to keep achieving milestones. Feel free to connect with us in order to get more consultation or assistance.
(Visited 35 times, 1 visits today)