Everything We Know About Android Q's Amazing Features So Far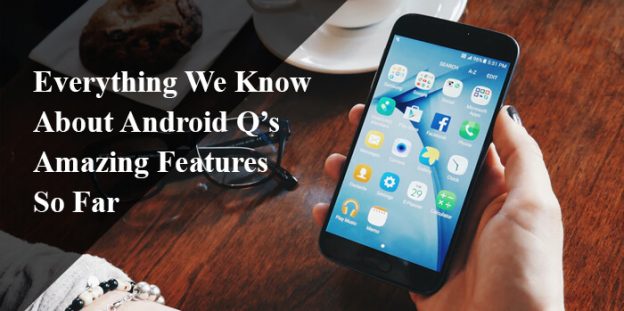 Android Q is the seventeenth version of the Android mobile operating system which is going to release in the third quarter of the running year 2019. There are tons of details that have been revealed by Google in its opening keynote at Google I/O 2019. The company detailed some of the impressive features related to privacy, parental controls, security levels and accessibility. There is no fixed official release date but the company has released 5 out of 6 expected beta versions. The recently released beta version is Beta 5 which we are going to detail in the further sections of this blog. If you have a supported phone device then you can also participate in the program. The device list can be found here. 
There are 21 types of devices from 12 different OEMs after Google expanded the list of supported devices from Pixel. The first beta was released in mid march and it is probably going to end in the third quarter of 2019. Beta 5 has been released in the past days of running month i.e. July. We expect that there would be more improvements included in Beta 6 and then the final product would be seen in final release later this year. 
Android Q Features:
It is important for the leading Android app developers and users to know about the revealed features so that the further development can be planned accordingly. Google never talks about the complete features before any of its releases. It just focuses upon the major features which are surely going to change the environment. As we keep on using Android Q with its latest Beta release, we will keep on updating the post. You just need to remain connected with us. 
1. Privacy: Privacy has always been a big concern to the smartphone users from the time the apps started gaining access to our location, contacts, pictures and many other things that we wish to keep private. Though applications do take permission but there are plenty of apps which secretly steal your data and you never know how it is being used. Keeping the privacy concerns on top of the priority list, there are some changes done while any app asks for permissions. For example, the operating system is going to offer three options while apps ask to access location. You can allow "all the time", "deny" or "allow only when app is in use". Earlier and even now, in App Permissions, either you can only give an app access to your location, or you don't. There are also some kind of controls for the purpose of file management. It would basically restrict access to some IDs and various device identifiers like the IMEI, serial number, and things which can be helpful in tracking a user.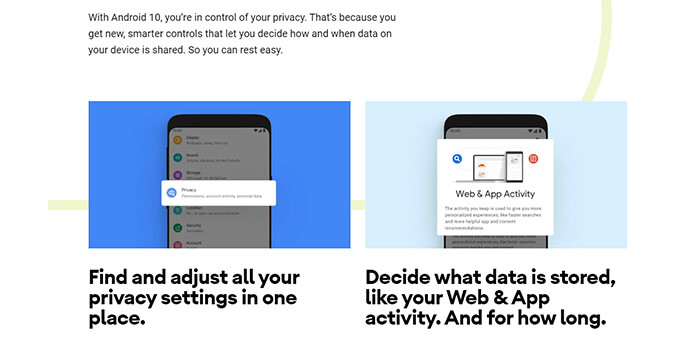 2. Bubble notifications: Do you like it when Facebook Messenger sends you notifications in the form of a bubble over your screen so that even if you open it, your previous screen runs in the background? If yes, then this is the feature, you will be excited about. With Android Q, notifications can appear in the form of small floating bubbles which you can approve for each app for which you want to use Bubbles as a notification method. In this way, your screen would not overrun with too much alerts from every single app you have installed. Bubbles are basically built to use inside the Notification system. If you allow, they would float on top even on other apps content. They will follow the user, does not matter which app they visit. These small bubbles can be expanded to open information or can also be collapsed if there is no use. 
3. Sharing screen: Pick up your smartphone, open up any file and tap on share, then you will come to know what improvements were needed there. It loads slow which is not because you do not have the best model or space is limited. Well, it happens with all of us, which is why the company has made improvements for it to load faster than ever. So now, the icons would populate and rearrange them quickly. 
4. Live caption: One of the fantastic and thoughtful features that the operating system is coming up with is Live Captions or Subtitles. Your phone would show you subtitles for any video that is being watched and the good thing is, you do not even need a data connection for the same. It is a very helpful feature for the deaf users. Live Captions are basically overlaid at the top of whichever app you use. It can be YouTube, Instagram or any other applications. Also, it is going to support video chat apps such as Skype, Duo etc. Your own videos will also appear with subtitles. Google wrote, "For 466 million deaf and hard of hearing people around the world, captions are more than a convenience — they make content more accessible. We worked closely with the Deaf community to develop a feature that would improve access to digital media," Google wrote in a blog post."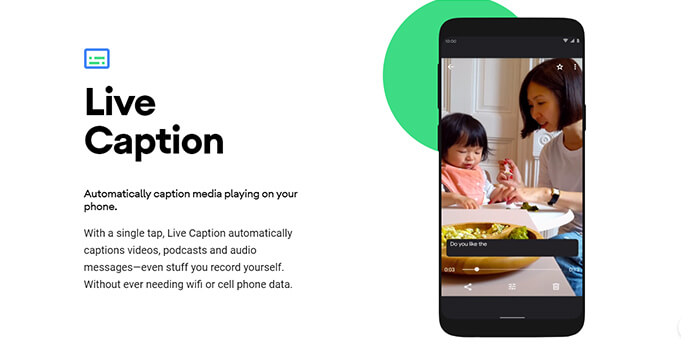 5. Dark Theme: It had been confirmed by Google at I/O that an official dark theme is going to come with Android Q. It will help you reduce the strain caused in eyes due to high brightness and also you can save your battery when not in access of any charing source.
6. Gesture Navigation: Gestural navigation has been added by the giant through which users can swipe across the screen to go back and also to return to the home screen. Gestures can also be used to open the app drawer and even trigger Google Assistant. 
More exciting features have been added by the giant for the users and even for developers. If you are one of those developers dealing with ANGLE, Native MIDI API etc then this Android blog would be helpful for you to learn new things that operating system is coming with, in its new version.
(Visited 67 times, 1 visits today)