Don't Like the Redesigned New Gmail? Here's How You Can Switch Back to the Old Version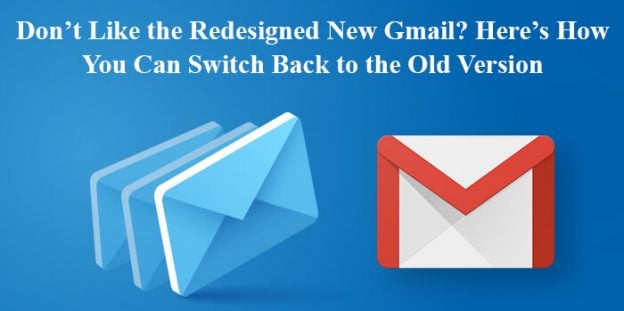 There are times when we realize that the world is changing too fast and simply want it to slow down for a while so that we can take our time to adapt to these changes. In fact, some people wish if everything around them can stop moving forward and remain the way it is without any revolutions or reforms. Well, technology is no exception to these evolutions or we can say it is the pioneer to all the advancements and modifications. There are new updates and redesigns every day and we are required to keep the pace with these advancements. When we all were almost getting familiar with Reddit redesign and getting over prominent changes, Gmail followed the suit and introduced a new version.
Of course, there are better and powerful features with sleek and cleaner adaptation of its predecessor. However, we are certain that not everyone  will like this new Gmail and prefer to stick with the old one. If you are also sailing the same boat and have decided to take a stand and go back to the way things were once, then let us inform you that you can easily go back without putting much effort. Google has kept the classic version of Gmail on the web for the time being so you can conveniently revert to the old look. There are a few simple steps that you need to follow:
Click the 'cogwheel' i.e., Settings icon that you can see on the top right-hand side of your window screen.
A drop down menu will appear and you can see an option "Go back to classic Gmail" there.
Click it and you are back to your old Gmail.
Before your screen goes back to the old design, you will be asked to provide your reason for switching back. This is a voluntary step and you can skip it but we suggest you that the best you can do is being polite. Therefore, give a specific opinion about the revamped version as this is a perfect chance for your honest feedback.
Moreover, for the ones who have accepted the redesigned Gmail but are struggling with layout, the good news is that you can change the look according to your needs. For example,
Hit the three-lined button on the top left-hand side corner of the Gmail window if you want to hide or show the text labels listed on the left side.
There are three different styles that  you can choose from- Default, Comfortable and Compact. This will help you adjust how your messages will appear in the Inbox list. You merely need to click the Settings icon and select Display Density.
You can also change behavior, look, theme, background of your Gmail by clicking on the Menu bar. Depending on your preference, you can opt for the number of messages that you want to list per screen in the Inbox, amount of time to 'undo' a message that you recently sent, etc.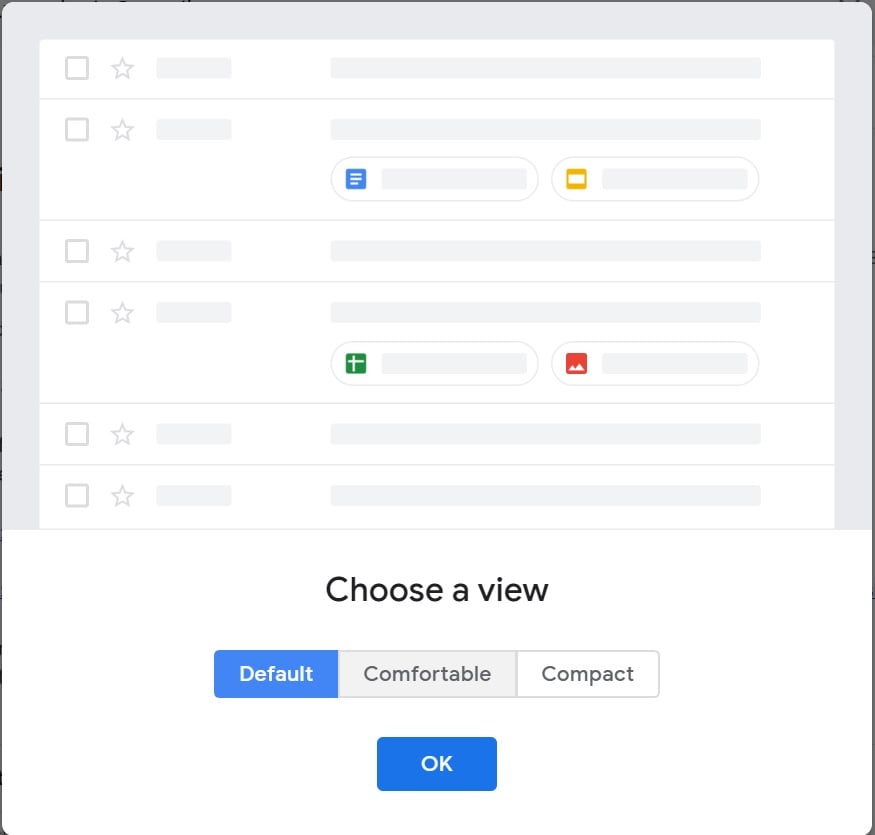 Lastly, we just want to say that the days of Classic Gmail are numbered in light of the fact that Google has laid down a schedule after which you might not able to opt out once your Gmail is updated. We soon may not have the ability to keep the things the way we want to, so our advice to you all is to get used to the revamped version as soon as possible as the old one will not be around forever.
We would also like to introduce you with the latest features included by Gmail on its 15th birthday i.e. 1st of April, 2019. Google has launched some minor but useful updates including the improvement of smart compose function. It has also given the users a facility to schedule the emails. Back in May of the last year, Gmail had also started giving suggestions to the user and in way, completing their sentences. You must have noticed that it comes up with the suggestions as per your writing style as well. Earlier also, it was possible to schedule the emails but only by using third party extensions.
Google is working towards making the day-to-day emailing very easy for you. It is also working upon coming up with an apt subject line once you complete writing your email. Just like to accept the suggestions in the body of the mail by pressing "Tab", you can also accept these suggested subject lines. Gmail's smart compose is becoming the next You day by day as it is able to capture your Greetings style and tone of writing.
We are really excited about what is the next on the list of updates by Gmail.
(Visited 58 times, 1 visits today)