Cardano Price Prediction- Will This Crypto Asset Be As Big As Ethereum?
Almost everyone is stepping their foot in trading these days. We are not only talking about stocks but also cryptocurrency. Students, employees, businessmen all are into cryptocurrency trading these days. First, it is much simpler than managing stocks, and second, the technology has made it super simple for everyone to invest in crypto. All you need to do is install a dedicated mobile app, register yourself, find out which cryptocurrency you like to invest in, and wait to get rich.
Since investors from all around the globe saw what ethereum and bitcoin could do, they have been actively looking for similar assets and the forecast of some other cryptocurrencies that can make them prosperous at a tender age. According to the latest addition in the list of cryptocurrencies, Cardano is where people are putting their money. All the top currencies currently have strong positive momentum taking them to a new level, and etherium is the most significant example. Like that, Cardano has emerged as one of the leading cryptos that have outperformed others in the larger market.
You will be astonished to know that Cardano was only launched in 2017 by Charles Hoskinson. Within four years of its inception, it sits among the world's tenth-largest cryptocurrency by market capitalization. Currently, it holds a $3.3 billion market size. By the time we are writing this article, a Cardano stands for 1.56 USD. Yeah, it has dropped a little, but you already know how the market works. You might be thinking where it stands in front of the most prominent players in the market like bitcoin and etherium, but that's the point of writing this article as Cardano's price represents a staggering growth rate and even the forecasts are in its favor. It has already challenged and overtaken its competitors like Ripple and Litecoin. It is known as the emerging platform in the world of crypto, but questions like, what's the Cardano price prediction in 2021 and beyond? Is Cardano a good investment? Let us dive deeper into ADA Cardano prediction by understanding more about it.
What is Cardano?
Cardano was first released in 2017 after Ethereum co-founder Charles Hoskinson led its development in 2015. Cardano can be defined as a decentralized blockchain platform that is a very scalable blockchain network. Now you might be thinking about how it can be a cryptocurrency if it is a platform? So, Cardano is to ADA what Ethereum is to Ether, which means Cardano is the platform that operates the cryptocurrency ADA.
As mentioned, Cardano is an open-source blockchain platform that is insulated into two parts. The first is the Cardano Settlement Layer(CSL), and the second is the Cardano Computational Layer(CCL).
=> The CSL period allows the users to send ADA coins to the other blockchain participants. On the other hand, CCL is a different layer on the platform that supports smart contracts, tokenization, and decentralized apps through numerous components. If you are still waiting for Cardona predictions, then read on.
=> The Cardano network also developed a blockchain software development platform that allows developers to create smart contracts and decentralized applications.
What is ADA?
ADA is a cryptocurrency like Ether, but it runs on the Cardano blockchain. Everyone in blockchain technology believes that ADA has quite a lot of potential. This year, it has started getting mainstream attention as more and more people are getting interested in it. The best part is the non-profit foundation that runs Cardano has also partnered with many academic institutions for future research and review all aspects of its blockchain. It somehow points towards the promising forecasting that we have been talking about above.
What Future Holds for Cardano?
=> There are many bitcoin analysis tools, and according to one of the trusted tools, Previsioni Bitcoin, the future seems brighter for Cardano. As per their Cardano ADA price prediction is expected to reach $11.87 by December 2023.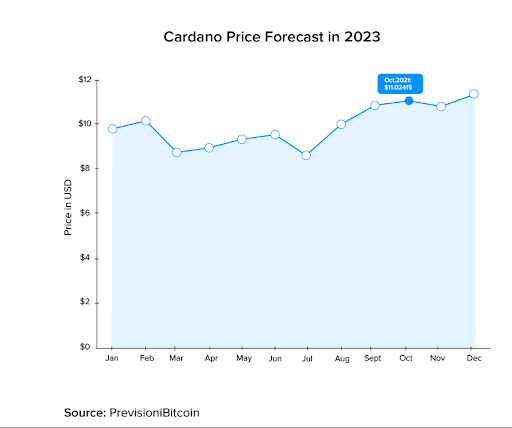 => While writing this, Cardano's market capitalization is $60 billion, which means it is the 5th largest cryptocurrency in the world. We have also seen it at third after Bitcoin and Ethereum a few days back.
=> According to various reports on ADA price prediction, the price for Cardano is estimated to raise between $3.12-$3.50 at the end of the year 2021.
=> As per the reports on Cardano crypto prediction for 2024 from Trading Education, it could reach over $6.8 by the end of the year.
=> As reported by Economy Watch, the Cardano predictions for 2025 is that it will reach the $10 barrier before the end of the year and $30 by the end of $30.
Why is the Cardano Crypto Price Ricing?
Aforesaid, more and more people are getting into cryptocurrencies; seeing the potential in Cardano is undoubtedly one the top reasons for its popularity among the miners and small investors.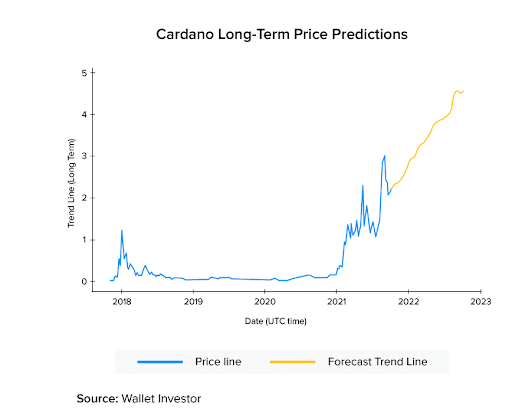 -> ADA has a market value of almost $60 billion and a 24-hour trading volume of over $1.78 billion as of November 2021, which is relatively low compared to October 2021($2.4 billion).
-> The cryptocurrency network is about to get a software update that will allow it to compete with larger rivals like Ethereum. It will enable Cardano to reach out to more potential investors.
-> Another thing that needs to be considered is that Cardano's price did not vary much during the latest crypto crisis where we saw big guns fail, so it certainly means it's highly resilient.
7 Things to Understand Before you Buy Cardano(ADA)
1. Cardano is energy efficient, making it eco-friendly crypto because it uses a very different system to verify transactions known as proof of stake.
2. As already mentioned, Cardano was co-founded by the creator of Ethereum, which means it has a lot of potential as both Cardano and Etherium have many similarities.
3. Cardano ADA can easily handle several transactions efficiently, which makes it highly scalable.
4. Cardano has a wide range of real-life uses.
5. One of the remarkable things about Cardano is that its development process is peer-reviewed. It's because it can easily catch security issues, so it doesn't become a bigger problem later.
6. There's a limited number of Cardano available as it has a max supply of 45 billion ADA.
7. You'll need a crypto exchange that offers Cardano.
Cardano vs Ethereum
Cardano vs Ethereum has stretched very far now. Since the inception of Cardano we have been looking at this debate and many even consider Cardano as the Ethereum killer because of the similarities. But let us hold our horses the difference between Cardano vs Ethereum to figure out which one is better.
| | |
| --- | --- |
| Cardano  | Ethereum |
| Cardano already utilizes dual-layer design which means the processes like computations and settlements are carried out independently. It makes ADA more efficient because of quick transactions at a cheaper cost. Proof of stake is already in use in Cardano ADA. | Ethereum is a single-layer eco-system that means the processes like calculations, settlements, smart contracts and token transfers take place simultaneously which makes it less efficient and slower than Cardano ada. And Ethereum is still in the process of switching from PoW to PoS. |
| Cardano functions very similarly to bitcoin which makes it closest to money after bitcoin. It also offers a number of applications which means its price is going to rise in the future. Cardano Ada also has voting rights, which means holders of Cardano coins on the other hand can have a say in the ADA price predictions. | As mentioned Ethereum works independently and does not employ such characteristics. It establishes that Cardano has a bright future as compared to Ethereum. |
| Once again just like bitcoin, Cardano is of limited quality. Currently, we have a supply of 33 billion ADA which is vulnerable to change. It can play an important role in ADA's monetary policies in the future as the forecast seems positive. | However, Ethereum has an infinite supply with a growth rate of 4.5 percent every year. Which means it's only a matter of a few years that ADA surpasses Ethereum. |
| As mentioned Cardano uses Proof of stake to process steps which means it uses considerably less energy than proof of work chains. Cardano implements the Ouroboros algorithm as it has a closed-loop system. | Ethereum uses proof of work protocols which means it uses more energy to process. Moreover, Ethereum is under the process of update itself from PoW to PoS but it can take time to happen. |
Endnotes
Cardano is hitting new heights with each passing day, and as per all the ADA price prediction reports, things seem positive for Cardano. Not everything is inevitable, but it is paving the way for intelligent capabilities and decentralizing finance features. It seems vital that it will be wise to invest in Cardano ADA.
Also Read: 100 Bitcoin and Cryptocurrency Statistics, Facts- We Must Know About
(Visited 330 times, 1 visits today)