A Notable Transformation in Travel Industry by Efficient Mobile Apps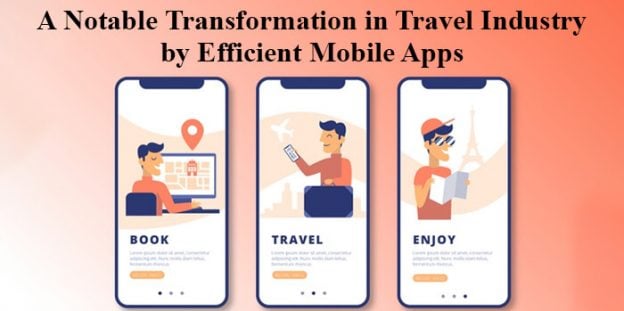 Travel industry has gone through a complete overhaul in the last few years. We have hundreds of virtual travel agents available 24*7 on our fingertips now which not only assist us with a number of travel options and packages but also supervise the whole booking so that you do not get even a single line of stress on your head. Mentioning the statistics, we would like to tell you the figures shared by famous travel engine booking.com which states that 80% of the travel seekers today love to self-serve. Gone are the times when traveling across the world was a step into something unknown. Mobile app development companies are undergoing a timely enrichment in their scope of services bringing further innovation in the tour and travel industry.
Technological advancement has let travellers know everything about their journey even before actually experiencing it. The revolution is totally a bliss for the industry due to the easiness it has bestowed a common man with.
Success-bringing features of Tours and Travel apps
1. Intelligent booking system: When we say that these new booking engines are intelligent we mean that these are not just the straightforward robots assisting you for booking. These would let you get hundreds of options, compare prices, get notifications on newly introduced discounts and more such exciting features so that you do not regret on any of your uninformed decisions in future. You can apply multiple filters like type of destination, hotel, flight, cab and narrow down results to only the required ones.

2. In-app accommodation & conveyance booking feature: Most of the travel booking apps now give users options to book flights, hotels, trains, buses and cabs within so that the user does not have to move out of the app. It also helps you organize your journey better as you have everything at one place. The popular sites like Makemytrip and Goibibo have even come up with  homestays which are good for the travelers seeking cheaper options. These options are powered with advanced search features so that you can do quick booking even after having thousands of options in front of you. For example, Hotel search in Makemytrip lets you select country, city, reason of journey and dates based on which you get a big list of hotels with filters of price range, pay/no-pay at checkout time, MMT assured, free breakfast, free wifi, star rating, user rating, parking facility and more.
3. Geolocation feature: Working with the leading Mobile app developers, the giants in the industry are capable of offering some of the very exciting features to the users out of which, one is Geo-location identification and routing. It is a very important and handy feature for those who are travelling to a place they have never before been to. After arriving at the destination, most of the travellers want to understand the routes to restaurants, cafes, hotels, clubs and this is where the geolocation feature comes in handy. It helps people in getting around comfortably without having to worry about whether they will be able to reach their destination or not.  

4. Trip reviews: If you had a very good experience with some hotel, cab driver or may be the bus, you can write it down over the same app from where you booked your itinerary. It would help other users to decide whether to go for a particular service or not. Reversely, if you experienced something bad then do not miss onto writing a bad review as it would not only help other users in making an informed decision but also encourage those bad services for improvement. Travel booking sites sends out notification to the users just after their trip ends to provide reviews so that their users can make informed decisions and get connected with what's the best.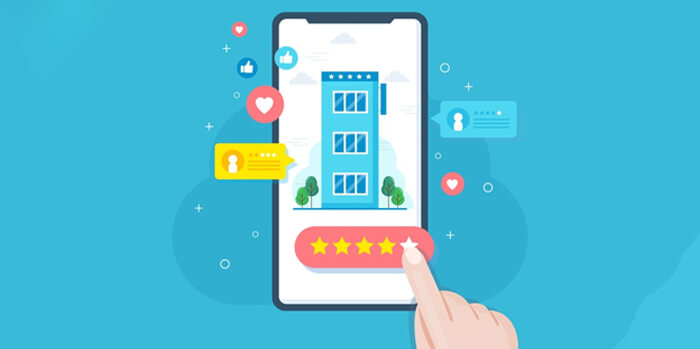 5. Weather forecasting: Some of the apps use Weather forecasting APIs to let customers know what would be the right time to visit a particular place. It also helps users pack the right clothes for the journey. Some of the apps even go as far as facilitating users to know sea temperature, humidity rate, chances of rain etc.

6. Effortless transactions: Online booking has brought an ease in carrying out transactions for travelers. They offer one stop platform to book, manage and pay all your transactions without indulging in paperwork and taking care of tickets. Travel firms use mobile app to streamline transaction in various forms. Whether it is about sending confirmation, digital receipts or going completely paperless, they do it all. Additionally, travelers now do feel more comfortable understanding that their itineraries, information about accommodation and boarding passes will be passed on electronically for effortless access.

7. Interesting information: Some of the advanced travel apps are indulged in letting the travellers know as much as possible about the place they are travelling to. They let them know about its history, expenses, travel options, food, culture and more, in a way, helping users to be well acquainted before going to a totally unknown place.
8. Clear with the cost: Most of the travel apps are now moving towards being transparent about payment details. Despite of the upselling or cross selling tactics, giants like Makemytrip and Goibibo are very much clear with their pricing keeping no hidden charges. It helps users gather a clear understanding of all the transactions that are falling in or out of his/her budget.
Travel apps are undoubtedly changing the way we plan our itinerary. It is never uninteresting to have a glimpse of where we are travelling to or what travel options we are having in our bucket according to the budget. From suggesting you the best places to booking the best hotel, these apps do everything for you. These apps also come up with timely exciting offers and discounts for travellers, tempting them even more. Additionally, the more you travel, the more you get bonus points which can be converted into wallet money. Thanks to the emerging mobile apps, travel industry is now a big deal with being a multi billion dollar industry.
(Visited 40 times, 1 visits today)