5 Ways Ecommerce Becomes More Advanced With The Power of AI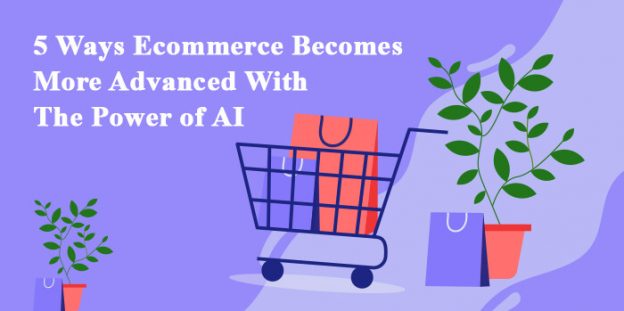 Over a billion people around the globe now choose online medium over physical store for their shopping requirements. With the Ecommerce development services stretching their wings in almost all the industry lines, people find it easy to get everything on their fingertips. On the other hand, businesses are trying hard to appear at the topmost position, always aspiring to have more visibility than their competitors. A lot of strategies are being adopted by the business owners to target audience in effective and creative ways. Being one of the most appreciated technologies, AI is seen doing wonders in the Ecommerce industry. See how.
1. Significant decrease in cart abandonment: There can be n number of reasons why your potential customers are leaving the cart without purchase. 2 top reasons are there. One- high extra cost (55%). Second- mandatory to create an account (34%). Though, if you send them a follow up email regarding their pending purchase then there is an average open rate of 45% which is a great percentage. AI is used heavily by Ecommerce website marketing companies to take advantage of users' initial interest and eventually bring them back.
With the help of technological advancement, it has also become easy to know why your customer has left the cart in the first place.
Marketers can use a number of AI tools to target audience on the basis of their online behavior.
2. Voice search backed by AI is gaining popularity: It has been found through a study by comScore that 50% of the searches would be performed by voice by 2020. Means, half of the overall searches would be performed by voice through prospects. It clearly indicates the importance of optimizing your online presence for voice. It all started with the immense popularity of device such as Echo, Alexa, Apple which uses Siri. They  are now capable to do everything from playing a track for you to booking a cab. Voice search has made the shopping experience even more advanced as it allows customers to search for products even without having phones or laptops.
It is high time for the companies to allow customers to optimize their website for audible search so that users can get more ease in searching for what they have been looking for. Remember that it is a busy world and if you provide your customers a little more ease then the existing companies then you might rise high in their hearts and priority list.
Some companies are even allowing the users to capture the image of a particular product they like and search it on their marketplace which is possible only with the help of AI.
3. AI allows hyper personalization & targeting specific customers: Marketing automation has taken most of the work off the shoulders of the marketers as it allows them to collect customer data automatically and target them according to the user behaviour. AI tools have made it easy for businesses to create dynamic ads and show them inside their dashboards. Along with this, these ads are also shown on the relevant websites that those customers like to visit. With the help of AI, retargeting has been made possible which works upon the customer's search history. Relevant ads are shown to the people who have searched for a particular product or service elsewhere.
Apart from ads, certain surveys and polls are also shown the customers who have a particular buying history. Through this means, business collect information and later use this information for  the improvisation of their marketing strategies.

4. AI's role in carrying out a better SEO: Your web copy should be creative and engaging undoubtedly but it would be useful only if it is reaching to right users. It is very important to make your content reach the right audience else all your efforts might go in vain. SEO has been playing a great role in bringing many of the customers at the doorstep of e-commerce websites. You will be amazed to know that 40% of the ecommerce traffic comes from organic search over Google. SEO based AI tools are providing a great assistance to the Ecommerce SEO companies in letting them know a number of important things for the onpage and offpage work. For example, they tell you about Keyword research, site audit, content analysis and creation, relevant tags, best times and websites to publish content and many more.
AI tools encourage marketers in driving more and more traffic to their website by organizing content the right way and providing a seamless experience to the users.
Nowadays, with the rise in the number of platforms and ways with which you can promote your business, you get very less time focussing on one method. Though, many AI powered tools are there for the rescue which fastens your work such as a help in choosing the right keywords, content, publishing at right place on right time.
5. Role of AI in targeting repeated customers: You will be astonished to know that 61% of  the SMBs say that more than half of their total revenue comes from the repeated customers. It is very natural that if you buy a product from a particular company and never heard back from them, you will feel that your business keeps no value for them and you will be less likely to approach them for your future needs.
Client retention has always been an important aspect for any online or offline business. If you are able to impress your customers with their first purchase then there is a chance they come back to you. But with the rising competition in the industry, they might switch to some other platform. Though, it is easier for you than the other company to win them as they have already used your service. Therefore, it has become important to send timely reminders to your good customers. By the grace of AI tools and various email marketing software, various automated mails can now be sent to the users according to their online behaviour, purchase history, buying frequency, demographics and more factors.  
AI has clearly changed the online world for us. Write to us, your thoughts on the contribution of AI tools towards Ecommerce industry. Did you get a chance to measure its power? If yes, then how did it go?
(Visited 51 times, 1 visits today)