15 Best Online Shopping Apps in India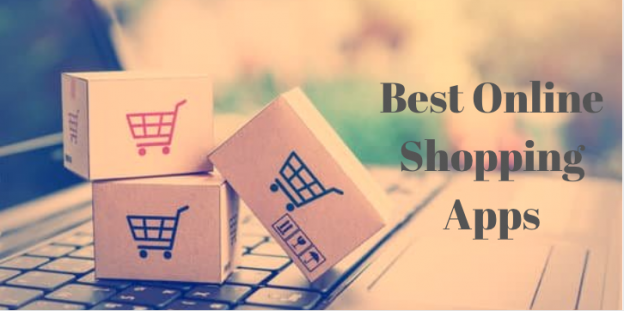 Many companies that want to expand their services around the globe chooses India as their prime target. It's because if you can make something work in India than you can conquer the whole world easily. And the same is followed in the e-commerce field. If we look at the world's top E-commerce companies then they are well established and widely used in India and in other countries. If a company thinks in a discrete way that their app will run perfect in India due to its population then you are completely wrong. It's the service that takes you on top as well as below. The rapid progress in the field of mobile app development has contributed significantly. Flipkart's became the first ever online shopping apps in India to cross 100 million downloads in 2017. Before we move further with the list. Let us have a look at what it takes to develop a top class mobile shopping app in India or anywhere else in the world.
Future of E-commerce
The below infographic speaks more than anything else for mobile eCommerce in India. Many big business giants are investing in mobile apps for over a decade, and now is the time to have the fruit of success. It's been observed that around 60% of traffic comes from around mobile users around the world.  The budget phones have now had the essential features of a smartphone without compromising on utility. Mobile phones can boost your business in infinite ways.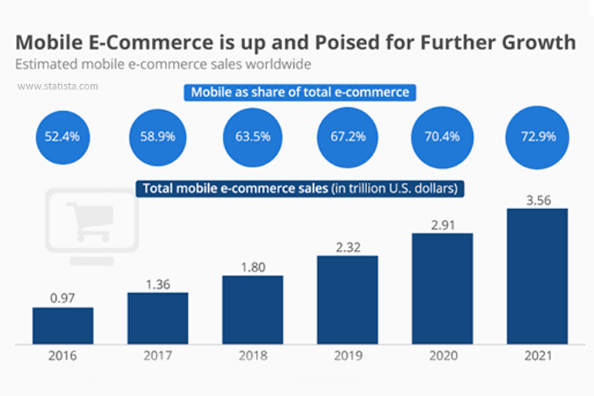 Scope of Mobile Shopping in India
It is now a common adage that what happens in the US follows in India over a decade. The way policymakers, business magnates and people have been evolving, this is a pattern that is hard to miss. If we look at the shopping preferences of Indians then we see that nearly 42% prefer mobile to buy things. It is safe to say that mobile and technology use is only going to multiply in the coming 50 years because mobile is the future and mobile is now.
Essential Features of An Online Shopping App
From the other discussion it is safe to say that mobile apps will be ruling the world. Because the world is moving and mobile is the world. Let us look at the golden features of an online shopping app that will make the e-commerce app development best.
– Smart Search
The crux of an online shopping app is the way your app can take you through one section to another, formal men's wear to electronics goods to board games. A friendly interface can help in selling more products. The more complex it is, the more your users will miss, what they are looking for. So look for the mobile app developers that can make your UX innovative and straightforward.
– Proactive Push-Notifications
If you have promotional offers, discounts to boost your sales then push notifications is the best way to tell your users. This is what your customer expects from your shopping app as well.
– Real Time Stats
Whenever we order anything, how many times do we check on the app for the delivery? Every customer wants to know where his money is going. So a top-class shopping app will integrate and relate the whole journey of the product accurately. Even if a delay happens, the customer is always happy to know that his product is in transit.
– Multi-faceted shopping cart
People often look up something and then forget about it in the hustle and bustle of life. A shopping cart is one of the trends in e-commerce among the many. Sometimes while arranging parties, people miss out on goods, your cart can use the self-learning principle to suggest and send reminders and suggestions on categories like "party materials", "Christmas Eve" or such types.
15 Best eCommerce Online Shopping Apps in India
As we have seen what it takes to make the best e-commerce app development let us move to the list of top 15 e-commerce applications in India.
1. Amazon
In India, there is a battle between Flipkart and Amazon and to be true it is almost even. But when it comes to the best online shopping application then it is Amazon. Amazon interface is classic and it delivers a wide range of goods from electronic goods, mobile accessories etc. However, even after becoming a worldwide phenomenon, it has a decent service record in India. Features like fast delivery, worldwide reach and fair play in pricing makes Amazon the best E-commerce mobile app in India.
2. Flipkart
Flipkart is the first name that comes to an Indian mind whenever they think about online shopping. When it was first started, Flipkart was only meant to sell books but slowly it became a customer base and services over the years and became the number 1 online shopping site in India. Flipkart had about 2-4 years of freedom in the Indian market but it failed to leverage. However, it's services are still great. It's amazing features like deep reach in India, periodic big sales, Flipkart plus for offers and Big Billion day makes Flipkart a top e-commerce app in India.
3. Myntra
Myntra is a well known clothes selling e-commerce app in India. With availability for both Android and iOS users, it is very famous among the millennials. Myntra is particularly famous for the clothing variety it offers to men and women. They offer some classy wears for great prices. If you are also enthusiasts in India then Myntra is the first place where people go.
Myntra Features
a. Best Selection for Clothing
b. Easy Return Policy
c. Better Quality in Clothing
4. Ajio
A Reliance Enterprises company Ajio has a similar name JIO. They bring in an extensive collection of clothes, and overall ratings are more learning towards clothing than other categories. AJIO android apps are behind their iOS apps. It brings the best selection of international brands and with a giant like Reliance, holding it, buying and selling products through AJIO is a long-standing investment. They provide free shipping and discount offers, Ajio wallet with 10% earnings in every order.
5. Shein
SHEIN was started in 2008 by a group of New Jersey citizens that has today captured the imagination of the whole world. Just like Myntra, and Ajio it is famous for its clothing options. They use models of all physiques to impress buyers and provide many deals online. People like SHEIN because it has intuitive app design, colour panel with instant view and incredible customer service and delivery.
6. Nykaa
It is the best place for mother and baby products. Women and girls can find the most famous and new brands products on this app. Nykaa is a pure Indian app and was founded in Mumbai. They specializes in delivering area specific skin tone based products. It has a soothing interface and is easy to use for everyone. The beauty products on the app are really amazing and in-depth research in its area of work and quality to strive for perfection is undoubtedly pushing this online shopping app in India to fame.
7. AliExpress
Since, last time we checked AliExpress has gained a lot more downloads, however, it has a mixed response from it's users. It's famous because it's positively distracting, has responsive customer support and a lot of variety. It has many loyal customers but most of them are from China due to the Alibaba factor, but they need to up their game if they want to conquer Indian market. AliExpress is well known for the low price that they offer.
8. Club Factory
Club factory has hit immense success in the store mode of business. And is slowly growing in the app department as well. The primary factor driving it is the multiple brands it allows you to combine in your single order, and the dip point is the time it takes to deliver. The quality of the products is also uncompromised. It has a good future ahead and is a star on the rise.
9. Bewakoof
Bewakoof is a clothes and accessories selling website in India and has a few unique concepts which makes it best among the young people of the society. Offering Design of the day, low prices and superb deals make Bewakoof a great platform to buy clothes. If you are a college or school student then this website is for you. They offer T-shirts, with latest taglines which attracts many people all over from the city.
10. Craftsvilla
If you are looking for a site with ethnic colours and clothes then Craftsvilla is the place to stop. It's the right place for all those who value their ethnic culture and traditions. Their list is ever expanding, because you will find almost every ethnic clothing on this app.  The primary complaint has been app interface and design, but we expect this standalone ethnic online shop to do it soon and join the race for the best in India.
11. Tatacliq
When big names like Tata join the e-commerce field then you know it's a great deal. The unfortunate episode with Snapdeal had derailed their progress, but they are moving swiftly with their new site Tatacliq. With them you have the additional advantage of lower prices and surprising warranties. With full potential they'll take a long leap.
12. Koovs
Some competitors turn up the heat by bringing some brave and unbelievable qualities. Koovs is top of the list in the new heart-throb of the shopping world. The approach of Koovs is to increase customer service and handling. Koovs brings together both trend and class. Its app is intuitive. It has zero delivery cost on most orders. Though it is centered around the customer, it takes a man and woman to utility approach. Hence, they have a compact yet meaningful list of items, with quality and accommodating service personnel.
13. Voonik
Voonik is another clothing app trying to fight for its place in the market. It has clothes for kids, men and women that exudes traditional Indian aesthetics. If you are looking for traditional silk saree then Voonik is the right place for you. It is one of the best classical providers among the best discount shopping apps.  Be it Kancheepuram silk sarees or Uppada handloom; you have it all here in this one comprehensive app.
14. Ebay
A worldwide phenomenon is a failure in India.  The website is pretty engaging, but the mobile app needs a total to revamp. The one place which still comes to the top in Google search results, but many are skeptical about its ranking too. eBay has almost everything, but is now fading away in India. With less marketing and less engaging apps, eBay fell off from the top in the Indian market.
15. Snapdeal
Snapdeal was once the master in this field but with fake products and horrible customer support service, has made Snapdeal the worst place to shop for. The humble beginnings and then the rise to fame on the shoulders of big investors like the Tatas and the terrible fall all seems to be going too fast for Snapdeal. It almost provides everything but they need to up  their game to win in this market.
Here are the top 15 e-Commerce Indian apps from best to worst. There is a lot of scope for e-commerce apps in the future. If you are also looking to step in this race then it is the right time to contact a mobile app development company. Hey can understand your needs, deliver a solution that can solve all your problems. A customer centric app is the King idea to get your work done in this field.
(Visited 559 times, 2 visits today)