15 Best Apps for Couples in 2021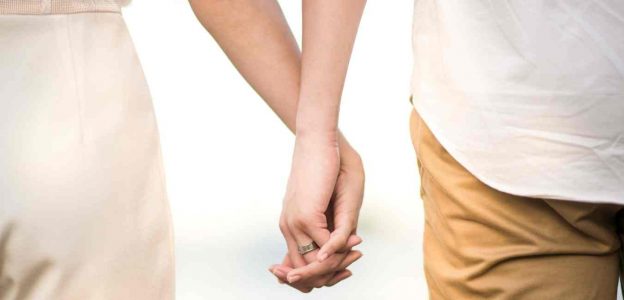 Are you living far from your bae? Or you find yourself emotionally distant from your Significant other?  No worries, technology has got you covered. There is nothing better than the app on your smartphone that will help you enhance your relationship with your loved ones. Some have proven to be the marriage saviors as well.
Whether it's longitudinal or emotional, there are certain 'couple apps' that will help bridge that gap between you and your partner… Know them well to use them well….
Here is the catalog of the 15 best apps for couples in 2021, with their purpose and benefits. So, stay with me to find your best way to connect with your special one.
Also Read: How to Build a Dating Website
The Best Apps For Couples
1. You&Me – The Best App for Finding Partner
Packed with the standard features like audio/video calls, content sharing, photograph sharing, and voice notes there are sharing tunes as well (that will leave you with no choice but to think about your significant other).
Wanna play with the camera features? You&Me lets you shoot four-window Esque styled pics together, also allows halfsies with your picture in one grid and you SO be in another. Exchange your most private pics and let their eyeballs stick to their phone for hours. The app is hyper-safe and adheres to all the protocols promoting the safety of content/images. 
You&Me is one of the best apps for couples who are striving to embellish their relationship in 2021.
Your App Gateway: AppStore 
2. Raft – Your Personal Dating Calender
Work and love are two different tangents in a person's life. Every person chooses to keep them poles apart so that none could interfere in the other deal. Well, if you willing the same but are unable to do so with a hectic schedule then put your bets on Raft.
Raft is the best calendar app that synchronizes your plans with your bae.
Just in case you are making plans with your companions and that is overlapping or falling consecutive with the date plans, then you can simply see your schedule and make shaded
Your App Gateway: AppStore
3. Foodie – Share your Food Interests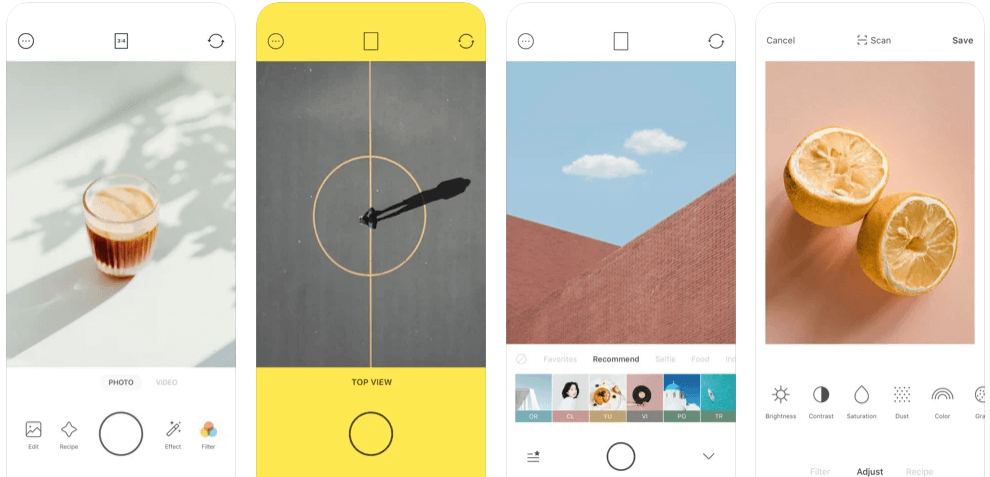 Woo them with your food spell… Foodie is an application that will help you encapsulate your bae in affection with mutual favorite foods.
From cheat day junks to multicuisine healthy bites, Foodie has got your back. The app notifies you of the best eat-outs and cafes in town complimenting your mood for the day. This is one of the best food apps for couples who have almost similar taste-bud preferences.
Your App Gateway: PlayStore and AppStore
4. The couple – The Best Couple App
A tailor-made choice for you when it comes to connecting with your bae. Residing in the app are the features for online calling or facetime also you can exchange writings or if you want to speak your heart out there is video, audio, doodles, and a range of attractive stickers. Above all, you can trade schedules and plan your day accordingly…
For your privacy, the app lets you send confidential pictures that will get auto-deleted after a specific time. The couple is one of the best dating apps for couples who are striving to establish a connection with their privacy being safeguarded.
Your App Gateway: PlayStore 
5. Line – The Best Chatting App for Couple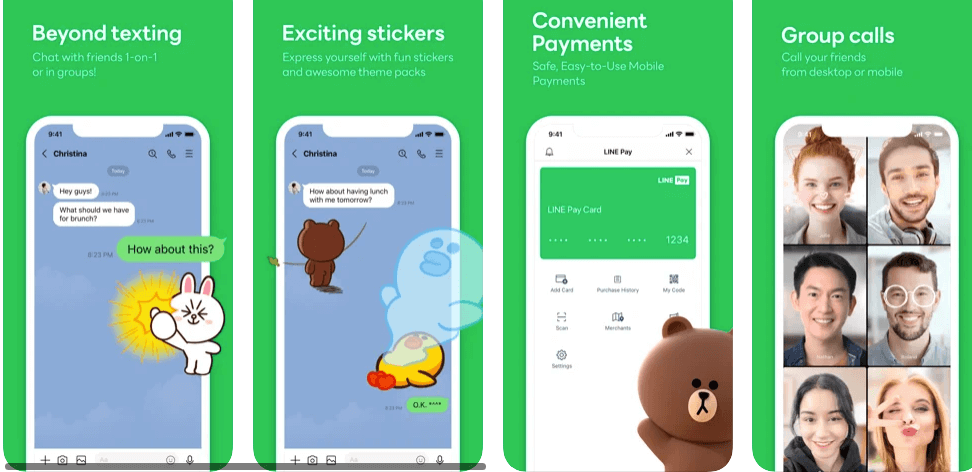 The line is the best free-of-cost app for couples who understand no geographical boundaries. The app brings you closer to your bae by allowing chats, audio/video calls, content sharing, sticker sharing, lead-free VoIP calls, and video meetings. 
In this second wave of COVID-19, how about staying connected with your boo through a firm "Line"?
The app has some best features in stock like Linepay (mobile wallet), Line Today (for news), Line TV (for on-demand videos), and animated comic conveyances named Line Manga and Line Webtoon.
Your App Gateway: PlayStore and AppStore
6. HeyTell – The New Walkie Talkie for Couple
The walkie-talkie days are back couples. The app owns a push-button pressing which a person can record your message and have it delivered to your contact. Holding an additional voice-mail-like feature, this app walkie-talkie allows you to listen and reply to your messages anytime you are convenient.
HeyTell is a must-have app for couples who are living far and are exceptionally busy in their work lives but still wish to listen to that one voice on a daily basis.
Your App Gateway: PlayStore and AppStore
7. Postagram – Send a Postcard to Your Bae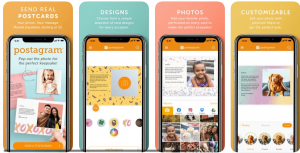 Just like our parents and grandparents expressed love through postcards… relive their pleasure but with the touch of technology in it. Postgrad will convert one of your photographs from the gallery to a beautiful and attractive postcard and will help you get it delivered to any location in the US, Canada, and Europe.
Make sure to tag your feelings along with a beautiful photograph. The postcard will arrive at the location in 5-10 business days in 99c (within US premises) and 1.99$ (if aiming for abroad).
Your App Gateway: PlayStore and AppStore
8. Happy Couple – Enhance your bond with Gaming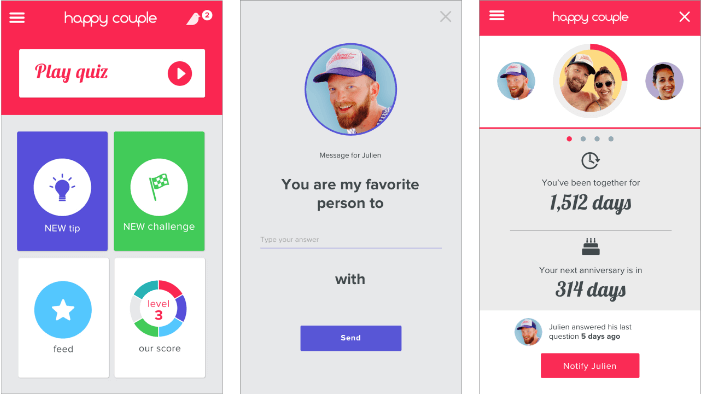 Have fun and know more about your significant other..  Happy couple is a free-of-cost online gaming app that is none like those game streaming app. With the zest of romance and couple understanding, the app lets you play the game with your boo and simultaneously helps you discover a little more about them.
The app is loaded with quizzes that will let you take interest in your partner's life. Attempt the quiz and earn points every time you answer correctly. The app is packed with challenges that you can unlock once you are done with filling in the right answers. Try out one of the best apps for couples in 2021.
Your App Gateway: AppStore
Online Marriage/relationship counselors
9. Lasting – The Online Marriage Counselors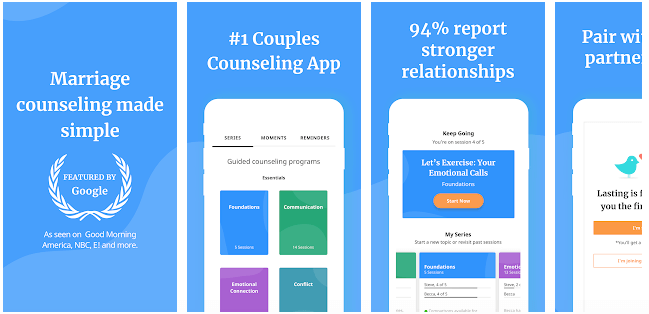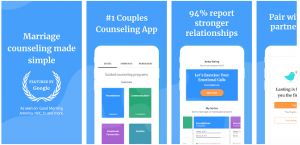 Who doesn't want their marriage to survive? Splitting up is often the last resort in a relationship. Here comes to the rescue of all the married couples, the lasting. Lasting is a marriage counseling app that is dedicated to fulfilling your relationship needs.
Whether you are shocked by a sudden act of prejudice or are struggling with repetitive issues, lasting knows how to deal with every situation. Lasting is proven to be the best app for couples bound in the lifetime commitment.
By spending some time daily on lasting, you and your better half can sort your life for the living happily ever after once again.
Your App Gateway: PlayStore
10. Couple Widget – Best App for Couples' Anniversary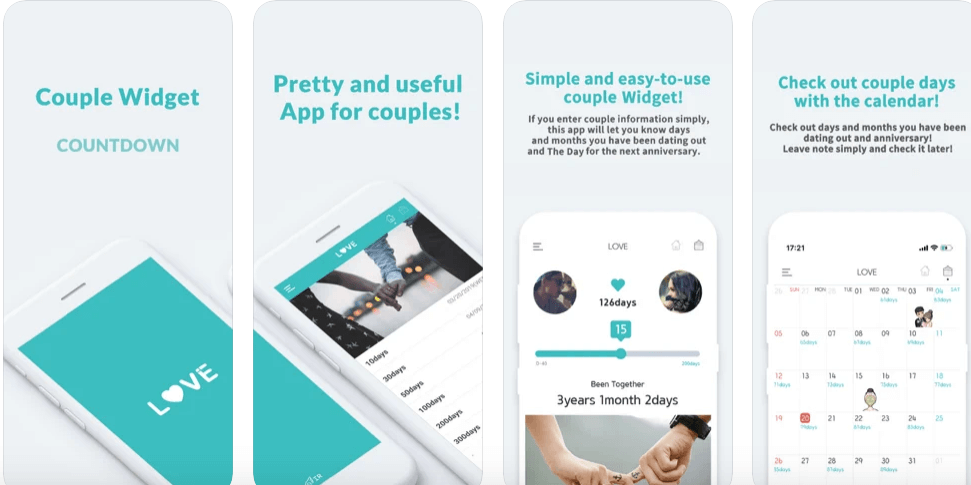 Have you ever landed in an uncomfortable situation because you forgot your anniversary? Not anymore. A couple of widgets will bookmark all the important dates on your behalf and remind you so that you never have an awkward encounter with your wife/husband on your own anniversaries. 
Not limited to anniversaries, you can use Couple Widget as an app to share the to-do list with your partner and also create a wishlist of things that you both have planned together.
Your App Gateway: AppStore
11. Fix A Fight – The App to Solve Couple Problems
Surprisingly, you now have an application that will act as a guru (teacher) in your love life. Fix a fight helps you sneak out of that rough phase by demonstrating strategies to make up.  Also, through the app, you can start with the dialogs that trouble you without picking a fight at the primary spot.
Moreover, the app allows self-healing and agony-release for both parties in a relationship. Counseling is done by Mark McGonigle – the topmost psychotherapist and couple counselor from Kansas
Your App Gateway: AppStore
12. SimplyUs – Best App to Bond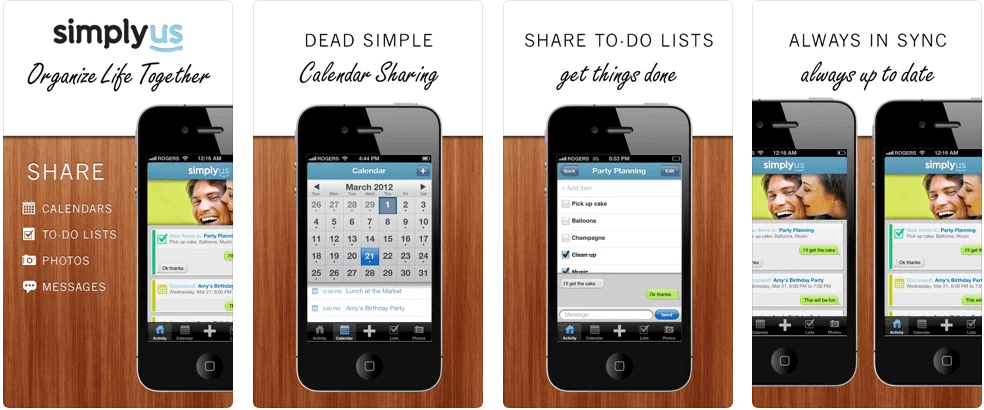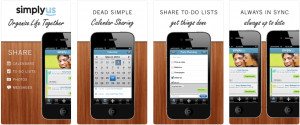 If you cant do it? SimplyUs lets you bond with your significant other. SimplyUs is your life-saver when it comes to avoiding tedious situations like misunderstanding related to a meet-up location or reserving evening shows or simply purchasing two packs of milk.
The app helps you create your daily private agendas, exchange audio, video, or image content. And if that's not enough, the app lets you have a scheduled match-up to find out who is up to what for that day.
Your App Gateway: AppStore
13. Love Nudge – The App for Considerate You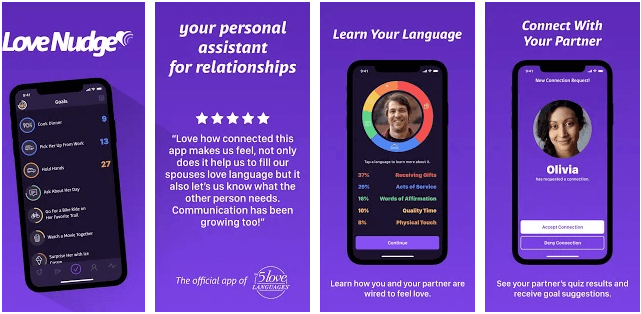 The authentic application based on the 5 love languages, Love Nudge stresses the main avenues of affection that will help a couple lead a stable and happy life. Dealing with the hiccups of love life, career, and organization – love nudge is your guiding light that will figure out how to take each other's needs into account and make the best out of your relationship. The app is designed with an authentic theme complimenting the purpose and real connections.
Your App Gateway: PlayStore and AppStore
Other Worthwhile Choices
14. Between – Everything in One App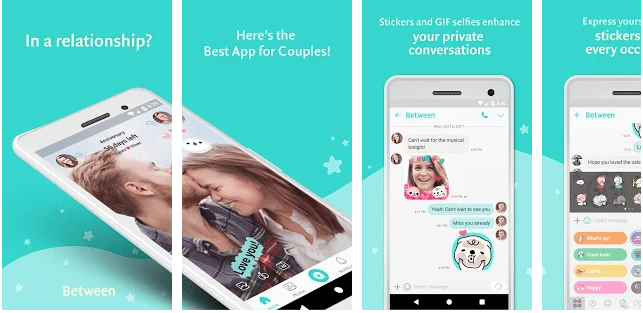 All under one roof, between is one of the most accomplished apps when it comes to building a strong bond with your bae or better half. The app has more than a million downloads and is the one with fewer bounce rates. The app is seamless when it comes to functioning, above that you get the benefit of exchanging audio/video content, send pictures, charming stickers, and love-powered emojis – the tools to increase your bond.
Between proudly owns a commendable design accompanied by an incredible feature list. The app is known as the subject to addiction. On average, customers are found using the app for 300 minutes per month treasuring more closeness with their bae.
Your App Gateway: PlayStore and AppStore
15. WhereAreYou – The Location Finder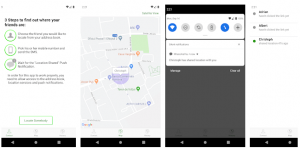 Imagine you are in your bae's town and have decided to surprise them by setting up a date in the restaurant? But unfortunately, they are lost with the navigation? If the situation sounds familiar to you then the app is tailor-made for your ease. Where are you Is the GPS tracking app that helps you find your bae's location via SMS or .txt message?
Most importantly, there is no need to have the app installed on the other party's phone (which in your case is your bae).
Your App Gateway: PlayStore and AppStore
Conclusion
The aforesaid apps are no doubt accomplished. These full-fledged, romantic, and charming couple apps have left no stones unturned in spicing up the lives of the couples. There is an app for the busiest and there is also an app for the saddest.
If you have any such idea that can ease the lives of couples or any other app development idea, then do not wait to come into the market with your innovative deal. Vervelogic – the best app development company in India and overseas will be pleased to help you with any sort of requirement you have regarding app development right from the scratch.
Read Next: Tinder Alternatives: Best Dating Apps Like Tinder
Best Gay Dating Apps in the Year 2021
(Visited 280 times, 1 visits today)