Why hire a freelancer when hiring a company at the same cost is a choice?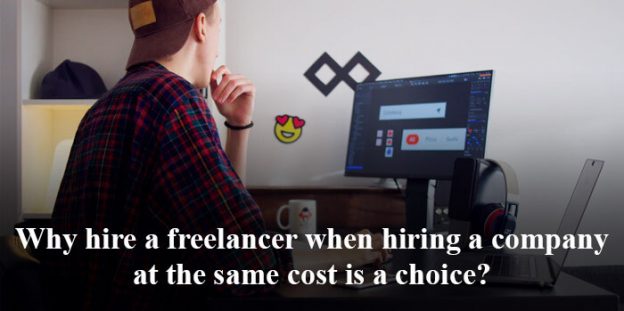 Nowadays we find most of the people using supplemental gig work in order to receive some extra funds when a 9 to 5 job is inefficient to meet their expectations. You will also find literally many relying over such jobs without getting tied up to any professional firm. One of the main reasons behind why we see a growing figure in this arena is that freelancers are low cost and a convenient option for businesses. Rather than picking a company and going into contractual terms, people find freelancers a go to option. Moreover, if you are running on a tight budget, freelancers can become an appealing option for you. Though, it should never be a decisive consideration for your business. 
If you are confused between going for a freelancer or a professional mobile app development company for your next project, then this article my friend can be a one-stop solution for you. 
Reasons, you might prefer freelancers
i. The first and foremost reason to go for a freelancer is budget. If you run on a low budget, it is most likely to prefer freelancers since you can get them at a low cost. 
ii. You need a quick delivery and you cannot spend time in completing formalities associated with a company. 
iii. You get them in a great number, so you have options to choose from. 
iv. You can reach them anytime. Working time is not a term generally. 
Everything seems appealing but to get such perks, would you compromise on the quality of the end product? At the same time, if you go for a professional company by paying a little more upfront, you can at least remain satisfied with a better ROI. Moreover, if it is a business for which you require the app, you need to look for a long-term association which a freelancer can hardly commit. 
Here are some of the crucial reasons why you should go for a professional mobile app development company rather than a group of freelancers. 
1. One stop solution: Your mobile app would not be associated with just the coding part. There would be planning, documentation, designing, branding, marketing and many such things which would help you create a buzz in the market. If you tie up with a freelancer developer, he/she would not be proficient at the designing part and as a result, he/she might involve some other designer whose capabilities and skills are not something falling into your knowledge set. What you convey to the developer might not be conveyed that well to the designer due to which the overall project might suffer.
At this point of time, if you go for a company, it would have all the solutions ready for. They have their own tried and tested developers, designers, project managers and business analysts. You will get everything at one place along with services such as branding, marketing and promotions which can support your further plans. There is also a good tuning sets up when you associate with a company for a long due to which you will always have a technical support behind yourself. In the case of freelancers, you might not be able to find them once the work is completed. The advantage of having designers and developers working in union under the same roof go far in ensuring great collaboration due to which there comes an increment in the overall holistic quality of the project. Also, you will be able to reach to the market with a good pace. You will not have to chase different people for different deliverables which saves much of your time.
If you go on the freelancer route, you have to find a developer then a designer then a person who dedicatedly manages the project. The three people might be or might not be comfortable with each other's pace and efficiency. In the case of companies, the teams are already defined for a project. There would be proper meetings carried out, proper terms written in agreement to ensure a timely and correct delivery. You will get assistance from designing, development, registering on app stores, launching the app, pre and post-launch marketing, optimization, marketing and promotion etc.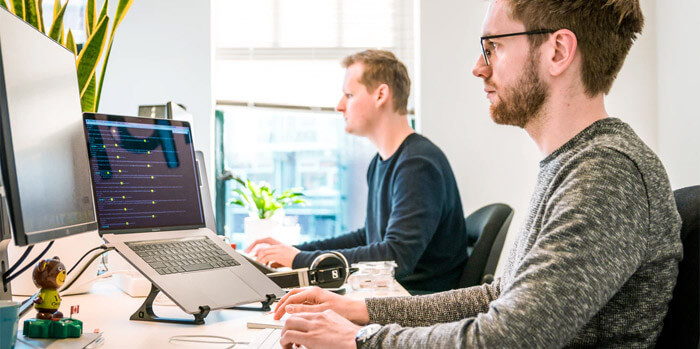 2. Legal and ethical: Associating with a company lets you get your work by hook or by crook. The companies are state registered and bound by law to complete each and everything written in the agreement. If not done so, the companies can be sued legally in court. Though, you do not have to fall into legal terms dealing with a company as a professional company believes in taking care of client's requirements so that he can keep on getting business. Also, online reviews play a major in decision making of modern people. Since companies have to survive in the market for long, they make efforts towards getting positive reviews. If they want positive reviews, they will have to serve you well obviously.
Talking about freelancers, they are not bound with any legal contract. Even if they are, it does not make much difference to their future business. Private individuals generally work under civil laws and have no state liabilities or additional taxes. While this allows them to offer you lower costs, it does risk the possibility of low accountability as well.
If you have randomly picked a freelancer with no background checking, then he/she might run away anytime to avoid any unexpected circumstances. It will not make your money, time and efforts go in vain but also increases much of your future work. Now that you have been betrayed, you will have to extra cautious finding a new worker. You have to spend time in searching one and then carry out a knowledge transfer session in which the new team gets to know the current condition of the project. To avoid such a situation, you have to do much of the background checking in either options. 
3. Deadlines: A company might involve you in much of the paper work at initial but once the project gets started, they make sure that it is delivered on time. As we have already mentioned that companies are bound with contracts so they will put their best in meeting all the things mentioned in the document along with timeline. Once you plan a project, you decide a launch date by which you have to bring in public in order to meet your goals. Finding a freelancer who is committed towards timelines is really a tough job. You will get one but you have to put a good amount of efforts and do much of the background check. In the case of companies, since there is a team of business analysts, designers and developers who need to complete each stage of the work and pass on the deliverables, the project very much adheres to deadline. If you are sure that your project would be ready in this timeframe, it would be easy for you to carry out the pre-launch marketing as well as plan the post launch marketing and promotions. Deadlines do play a crucial role in project development which are better taken care of by the companies. 
4. Pricing: Pricing is generally the major reason behind going for a freelancer rather than a company. We would not deny on the fact that freelancers would charge you lesser than companies but the cost which might seem low to you upfront might go on multiplying on long run. A freelancer developer might not be a good designer due to which you will have to hire two resources which might cost you much. If you associate with a company, you will get all the resources at one place. Moreover, the companies have different package according to the type of services needed. Going for a package brings down the overall cost of the project which might go on multiplying itself if you go on searching and hiring separate resources. A good app development company will provide you a complete break-up of the costs involved and create milestones through which you can track the progress. It also lets you know exactly how much they are spending on what. Moreover, a professionally made app would bring you comparatively more traction and hence more returns than an app which is poorly made and fails to offer a good user experience.
5. Backup: The companies operate with multiple resources If one of the developers working on your project gets busy or fall sick, they can arrange other developer quickly. They do have a backup plan for the emergent situations. If you deal with a freelancer at the same, you have to cooperate with the time lag coming due to his own issues. Like, if he is unwell, you won't have any option rather than waiting or searching for a new freelancer.
Also, if the project runs into a roadblock, means if there is a specific feature in your app which requires some kind of specialization or a special permission, you could be stranded for days or weeks finding someone to step in and help you out.
Dealing with a company in such a scenario is the best. The mobile app development companies are generally equipped with multiple designers, developers and other experienced folks associated with advance technologies. So, any emergency can be handled quickly.
If you want to go for multiple services, it is possible with a company only. Suppose, your app development is going on in a company and at the same time, some problem arises onto your website, you can ask your team to help you with that. 
6. Organized and professional: Getting associated with a company lets you keep track of the activities that are going on your project. How organized your team is directly proportional to the quality of the end product. With a company, you get a project manager who coordinate things such as getting the modifications done, handling new requirements, getting issues resolved, giving updates and many more things which, a standalone freelancer might not bother to provide. The IT companies generally employ business analysts who offers to you an organized roadmap of the project lifecycle. The project is divided into multiple milestones which are ones done comes for the client review. The companies follow agile methodology according to which the work is divided into sprint and client feedback is taken on completion of each sprint. This way, you can remain aware of the progress and if you want to modify the features in between, you can ask the company to update the scope, contract and stuff. Dealing with freelancer in such a scenario might not be easy as what you presented to him at once, he might be capable to do so but he might not be efficient in carrying out the additional things. 
Freelancers can make a great option as well but only when you have done a good amount of background checking before hiring. You have to see their work, performance, experience and most importantly, honesty. If you can find the one with all the green ticks, then you can go for the same. Otherwise, associating with a company is always a good option. It is not true that all the companies would be apt to go with. You have to see their portfolios and level of proficiency as well. 
Dealing with a company would always have an added advantage of getting timely and right delivery of projects. You can keep track on the activities going on. You will get in touch with a professional team which takes your work as their responsibility rather than a burden. Quality matters the most in this era where every industry is just piled up with a myriad of products and services. You have to face a huge competition and always be better than your predecessors. If you for a right development firm, you app will soon going to pay for itself. Get a good job done to enjoy a good return. 
(Visited 32 times, 1 visits today)