Wearable Apps: What, Why and Advantages in 2021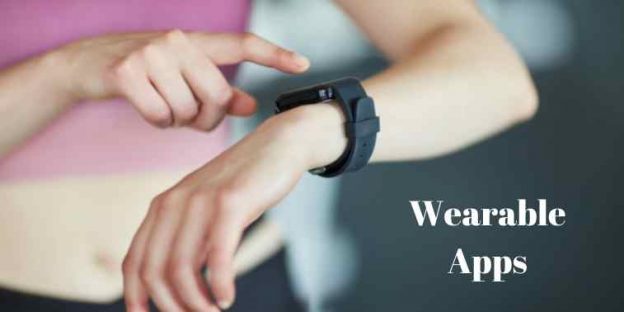 Wearable apps influence the future of mobile applications. Opening up a completely non-existent section of the market, wearable apps have gone too far to be more advanced than handheld technology. Mobiles and laptops lack the feature of scanning and sensory, making wearable technology, by integrating functional electronic devices, to solve day-to-day human problems in real-time that is portable.
The demand for custom mobile applications is increasing at a fast pace for these smart gadgets. Taking a unique and creative approach, wearable apps are expected to carry out unique and creative functions. Wearable technology, just like your clothes, can be directly worn by you making them accessible to several sensory data related to you. Internet connection with these wearable gadgets can come either with help of a smartphone or they can connect to it directly. Mobile apps have seen many improvements after the inception of wearable technology.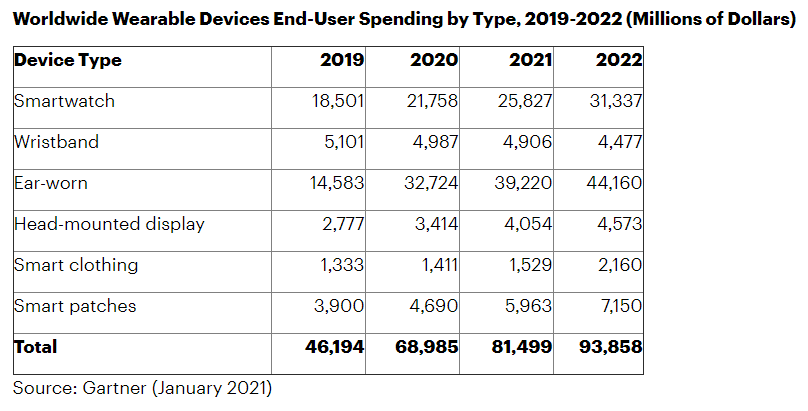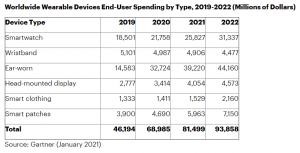 How Are Wearable Apps Differ From Smartphone Apps?
Android wearable apps have several differences as compared to their smartphone counterparts. Some of the differences include:
1. Functionality
Although, wearable tech hardware has its limitations as they are smaller and less powerful. But since smartphones have grown a lot, these limitations can be curbed.
2. User Interaction
Usually, wearable apps have little to almost no interactions. Wearable apps automatically collect data and display output. Mobile apps are developed keeping user interactions in mind, but only some wearable applications require user input.
3. Device Specificity
APIs that are specific to the device are used with wearable apps. Same wearable apps, until now, cannot be used for another device or even the same device of another maker.
The development of wearable apps, however, is somewhat similar to the development of smartphone apps. So that is great news.  Experts at a mobile app development company can help you own smooth-running wearable apps for your business idea. The market for wearable apps is growing at an exponential rate and you would not want to miss an opportunity to grab it and become an industry leader.
Will Mobile Applications Change Due to Wearables?
Mobile applications are taking a new turn to find ease with wearable applications. Here are some of the changes you will see:
=> Changing screen sizes
Built for the wearable tech ecosystem, mobile applications will be able to provide relevant information through dynamic changes in screen sizes. More pervasive and user-friendly information will be made available to the populace.
=> Ergonomic user interface
Highly relevant and precise features call attention to the user interface while considering the development of wearable apps. Mobile app developers need to provide concise instruction within the wearable apps where the tabs are ergonomically assembled for easy access of the users.
=> Lightweight and fast
Quick loading and response are required from wearable apps and hence they are made lightweight. Mobile app developers make sure that wearable apps run smoothly so that people build an inclination towards those apps.
=> Computational capability
Due to the real-time inputs, fast computational skills would be an attribute of the future mobile applications for wearable gadgets. A lot of processing required for large data files can be achieved through sophisticated algorithms.
=> Customizable notifications
Focusing on customization notifications is probable in the applications for wearable devices. Single-word messages, voice memos, or different colored signals are some of the examples. This will not only attract a loyal user base but also make them happy with their wearable application development.
=> Low energy consumption
Next-gen mobile applications for wearable devices permit real-time usage and we require to enable low-energy consumption profiles. This ensures wearable devices have longer battery life. Having the device for a longer time without having the need to run for the charger would enable your app for the wearables to be loved by all.
=> Seamless data transmission
Fast and seamless transmission of data is required in the applications for wearable devices between smart devices like Bluetooth smart technology-enabled applications. Wearable strategy on Bluetooth and WiFi is becoming the center of attraction for many giant companies.
=> Advanced interaction features
Enhanced human interaction features would be available in the future mobile applications for wearable devices such as tapping and swiping or responding to voice commands. These wearable app features will have the power to mesmerize all.
=> Biometrics and semantics
Integration of biometrics and semantics-based software is also possible be integrated into are Spotify and mobile applications for wearables. This will empower the app to interpret emotions, track progress and detect biopotential. All this is possible by using a multi-axis accelerometer and many similar sensors. There is a scope for great innovation for the app developers to create fascinating gesture detection-enabled applications.
Source: Giphy
=> Real-time communication
Monitoring and providing instructions to the staff with the help of wearable devices areSpotifyanthe le as well with the development of wearable apps. The potential of wearable apps grows multifold with the help of this feature.
Some of The Popular Wearable Apps
1. Calm
Calm is one of the best apps to relax and find your calm. The Calm wear app can be synced and viewed for free. But you can also get a subscription for more. It is also possible to meditate with this wearable app.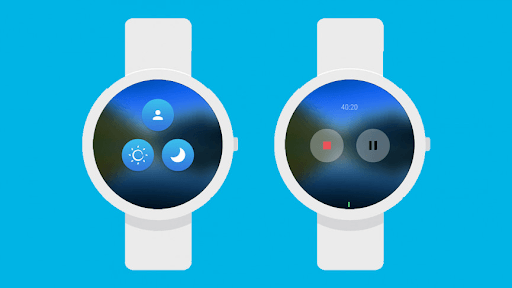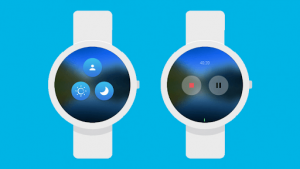 Download Cost: Free, Calm
2. Recordr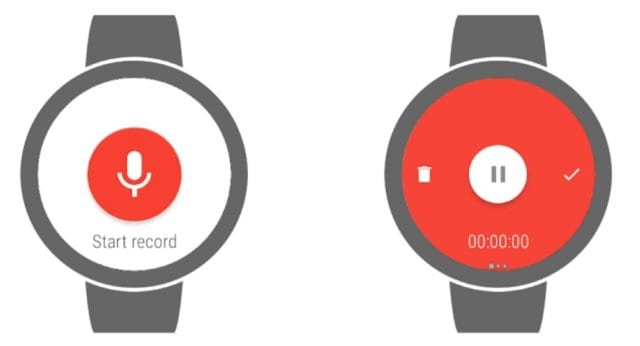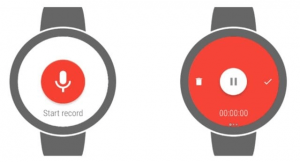 Source: socialnomics
One of the very popular Android wearable apps, Recordr allows users to record the surrounding sounds with the help of their smartwatch. This wearable app is installed by millions of people around the globe to record in just a single tap. A sample rate of 44kHz, 48kHz, 16kHz, and 8kHz is supported for the audio in this app for wear.
3. Telegram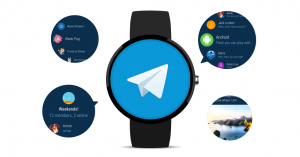 Source: Telegram.org
It is a popular messaging app that is used by millions. Viewing chat, creating groups, and instantly replying to your apps becomes easy with the help of this wearable app for messaging. There are customized themes available in the messaging app to create customizations as per the wish of users. This is a simple, fast and secure message app for wear.
4. Spotify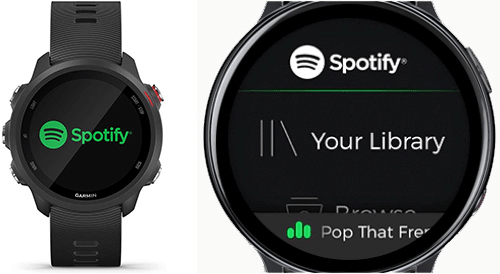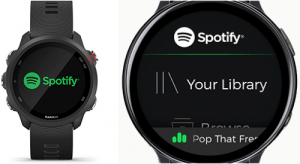 Source: Find Your Smartwatch
Another popular app, Spotify is a music app that is loved by many. You can receive a similar experience without having your phone in hand. Scrolling through your favorite songs and controlling all other app activities of the app is made easy with the development of a wearable app for Spotify. You can also control the volume of your song and scroll through libraries on the app.
5. Bring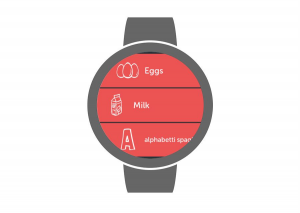 Source: Lifewire
Do you have a grocery list to prepare? And do you know a smartwatch could help you with the process? You can install the Bring mobile app in your smartwatch and your smartphone to create a shopping list. There is a library option that can help you prepare the list of items with ease.
6. Google Pay
Source: Socialnomics
This is one of the most useful apps that your wrist can afford. This wearable app allows you to pay for your drink, ticket, and whatnot. You do not have to reach out for your phone or wallet; you just need an NFC-enabled smartwatch and GooglePay app downloaded. You can not just send but also request money with the help of this wearable app.
7. Runkeeper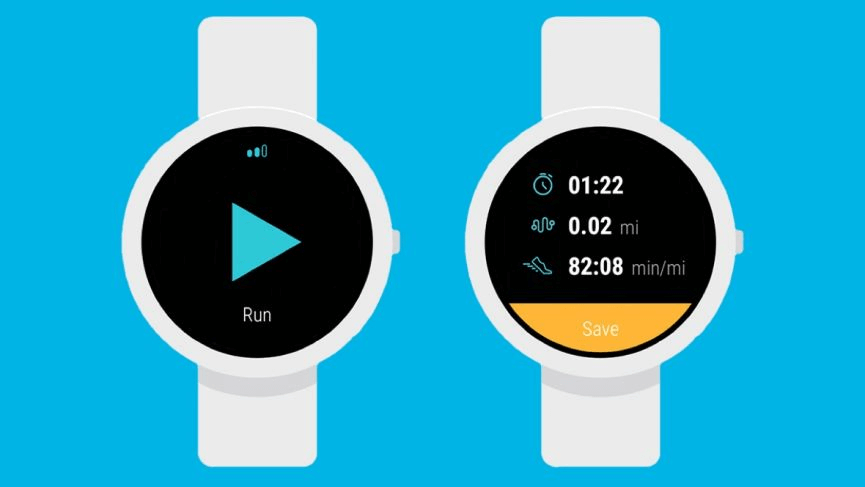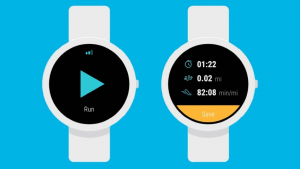 Source: Wearable
If you are a fitness freak; this wearable app is for you. Keeping a track of your running and exercise routine becomes easy with the assistance of this wearable app. You can set the goals you have and achieve them with constant monitoring and help. Goals like weight loss, running pace, and other fitness stuff are available to be availed by the users on this app.
8. Citymapper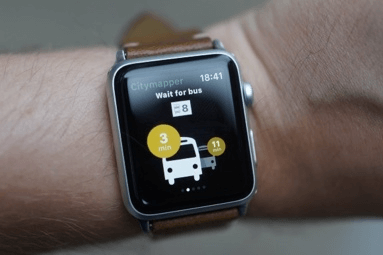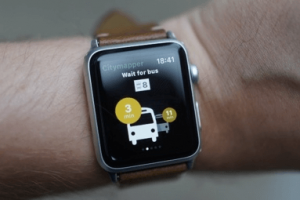 Source: citymapper
It is one of the best apps that you must have in your smartwatch and especially if you use public transits. Even if you are planning to visit a foreign city, this wearable app will come in handy to you. Information about bus, train, subway, ferry, and taxi can be availed with the help of this application for wear. Although it only has a limited number of cities to avail, for them it is a great option.
9. Infinity Loop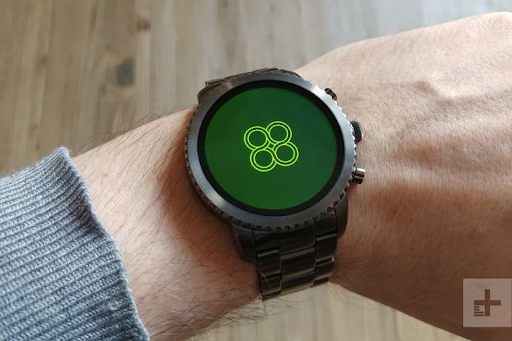 Source: Pinterest
Do you think playing games on a smartwatch is a bad option? Yeah, of course, how can you even see the game properly in such a small size? Infinity loop will change your mind completely. It is a very interesting app related to the gaming category having puzzle games to relax your core. It is one of the best ways to improve your logical skills with this wearable app, home to an infinite number of game levels. Creating intricate loop patterns will allow you to move forward in the game. It is a must-try app for all.
10. AccuWeather
Source: Android Police
Traveling to another city or planning a day out. You must check the weather forecast first before planning. Accuweather is a popular weather forecasting app downloaded by many users. Current temperature, radar, weather forecast, and other meteorological notifications can be availed with the help of this wearable application. Statistics such as humidity, wind speed, and more are available on this app too. There is a free version of this app available, but it has some ads. To get rid of the ads you can always upgrade your app to the pro version.
The Reasons for Developing Wearable Apps
There are many reasons for you to own a wearable app. Some of the reasons include:
1. Portability
One of the best features of wearable devices is that it is portable. The app can be carried anywhere with the use of wearable devices. The success of your wearable app completely depends on the user experience you are able to provide. Being trending, flexible, and convenient to use, wearable apps have found a way to entice users. Network monitoring, fitness tracking, and security profiling are provided by wearable apps because of their portability.
2. Size is of Primary
There are certain templates in the Smartphone app that make the development of mobile apps easy. On the other hand, a creative and unique idea is required and cliched features will not work for the development of wearable apps. If you wish to load a humongous-sized app in wearable technology, it may result in poor performance because of the complications involved. The power that wearable apps can acquire is limited and hence app development has certain limits. Smartwatches are portable but require many creative features; therefore, during app development, mobile app developers must take care while integrating features for the Play store installation.
Source: Giphy
3. Enhance User Experience
An unparalleled user experience is delivered by wearable apps making them unique and consumed with desire. One of the advantages that make people enthralled by the experience is that they need not carry the mobile phone with them.  Although there is still scope for the wearable apps to perform better and have the ability to load powerful apps just like smartphones.
Challenges Faced in Wearable App Development
With new technologies, there also come challenges initially. There are many challenges that you can face while thinking about the development of wearable apps, some of them are written below:
1. Architecture Building
If you add an additional software to the mobile app, you can create a wearable app. Being open and having no restrictions to the end-user and in the end-to-end solution is required when considering building or architecture for wearable app development. Identifying RFID, tags, intelligent devices, and hardware solutions can be enabled by creating a flexible structure.
Architecture is the most complicated challenge in mobile app development. Providing communication, and collection and analysis of real-time data can take up a lot. Also, with the use of existing technology, designing a heterogeneous architecture is a little difficult.
2. Meeting user expectations
A mobile app developer is required to think about all the age groups while designing the app for wearables. And most importantly teens and millennials. They are the people who use most wearable technology. Keeping user experience and functionality of the app as the top priority is expected out of mobile app development companies while creating a wearable app. People expect more and more from wearables and meeting those expectations needs a lot of time and innovation.
Source: Giphy
Benefits of Wearable Apps
There is a reason behind people accepting smartwatches very soon. One of the reasons people love it is the availability of amazing wearable apps. Advantages of wearable apps include:
1. Offering Faster Assess
Features of a wearable device offer fast access for all its users. The app developer might face a little difficulty in designing the best user interface but in the end, it does reap great results. It is not just about having fast access, these mobile apps are also easy to handle.
2. Simple Designs
Taking a simplistic approach towards wearable apps will empower the users to jump into the app right away. GPS navigation with the help of wearable apps is fast and has a 100 percent success rate. The development of wearable apps has also made them immediately accessible to people.
3. Fitness band
In the healthcare business, fitness bands came to them as a boon. Healthcare apps, diet control apps, and fitness treatment are some of the very famous apps available on wearable devices. Having the power to keep an eye on the activities of the people during their exercise makes them a popular choice for fitness lovers. From displaying calories burnt to know your cholesterol everything is easy with the help of android wear.
4. Increase satisfaction
The engagement of users with the new technology will increase their satisfaction levels. Integration of the latest technology in your mobile apps never fails to pay you off. It increases your worth and imbibes a sense of trust in your users.
Also Read: How Mobile Apps Make Life Easier?
FAQs on Wearable App Development
=> How to develop a SmartWatch application?
Just like a smartphone app, you can get your smartwatch application development done as well. You can reach out to a mobile app development company in India and get yourself a quote. From research to testing the steps to build a smartwatch application remains the same. And, with all the steps the best mobile app development company can help you.
=> How to estimate the cost of the development of the wearable app?
The cost of your wearable app will depend on many factors like characteristics, the number of platforms, design complexity, development approach, and more. Always choose an app development firm that has no hidden charges. You can read the company policy for more clarity.
=> How to make money with a mobile app?
There are several ways of making money with the mobile app and the best one is the link it with your Android mobile app. Implementation of advertising, subscription models, and in-app purchases can help you earn money from there.
Conclusion
The popularity of wearable apps is increasing with every passing day. If you wish to be on top of your industry you must consider getting a wearable app for your business. It is a great way to learn about your user and provide them with custom solutions. Reach out to some of the best mobile app development companies and they will be happy to help you in the process.
Read Next: Fitness App Development:11 Must Have Features of Fitness Mobile Apps
(Visited 161 times, 1 visits today)