Top 6 App Revenue Models for Your Business App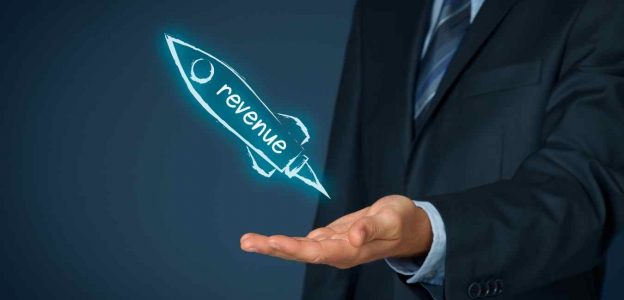 Who doesn't want to earn from his app? Mobile applications are basically the long-term investment for businesses who are looking to broaden their traditional consumer circle and serve a wider crowd with an unbeatable online mechanism. As the era is for smartphones to rule, business apps are most likely to fetch considerable profit by scaling and serving a wider crowd. But how these apps earn? What are their revenue models? And how the businesses benefit in the long run with these apps?
According to Statista, the global mobile app revenue amounted to $ 365 billion in 2018 and is expected to touch $ 693 by the end of 2021. Later $935.2 by 2023.
A business and a mobile app development company always come together with a long-term vision from the app, like serving the best, creating brand recognition, building user loyalty, gaining new mobile users, and retaining their loyal customers with the best user experience through the apps. Hence both should be on the same page since the beginning of the app development.
There are several app revenue models, but the wisest decision still remains on the purpose your app serves, the content quality, and your target audience. While the monetization strategy remains the same for every user, the correct implementation will lead your online business app to the next level.
The article deals with the top 6 app revenue models that are frequently looked at by any industry, but before that, let's pause for a while to answer the below-mentioned questions? 
-> What solution you are giving to your audience via the app?
-> Is there a Unique Selling Point of Your App?
-> How is your app different from your counterparts?
-> What are your competitors' revenue models and how is that fruitful for them?
-> Is the quality of your app providing value to your services?
-> What users will be willing to pay for the app's premium updates?
Based on your analysis of the above-mentioned points, you can choose the ideal app monetization strategy for your mobile application.
To be noted: The beneficiary needs to stress its priorities. For instance, some business apps believe in earning revenue from the very beginning without any focus on customer engagement/retention while others focus on user engagement, brand authority, and retention and then monetize the app for lifetime gain.
Here are the top 6 App Revenue Models for your app to earn in shedloads.
1. Paid Applications
Here the app revenue model is simple and straightforward. The user needs to pay a certain amount to be able to download or use the app. These offers are with no prior trials yet these use the best digital marketing strategies to show the wroth of the app and convince the user to purchase. Such applications spend a lot on ad campaigns, Social Media Marketing (SMM), and Social Media Optimization (SMO).
2. In-App Purchases
The most popular app revenue model is in-app purchases. Tried and trusted by several app beneficiaries and especially gaming apps, the In-app purchase model allows the users to access the app for free instead provides the premium features, virtual commodity, content, or services for a minimal charge. For instance, purchasing virtual coins to unlock various levels of a game or unlocking the premium features in a mutual fund app through a minimum charge. 
In-app purchases are further segregated into Consumable, non-consumable, freemium, and subscription models.
| | |
| --- | --- |
| Consumable  | Anything once purchased and used gets diminished. You can re-purchase it anytime for future use. Eg. Virtual Money, accessories, etc.   |
| Non-Consumable  | The opposite of consumables once purchased you can use the features as much as you want. There is no expiry of those functions.   |
| Freemium  | While the basic functions are free to use, the advanced ones are locked for a minimum charge. Though such apps give a free trial period to their customers.     |
| Subscriptions | Though the app is free to download, it asks for a monthly or yearly subscription to continue serving. Such a model also has 30 days free trial. Eg, video streaming platforms, news apps, cloud storage platforms, audiobooks, etc.   |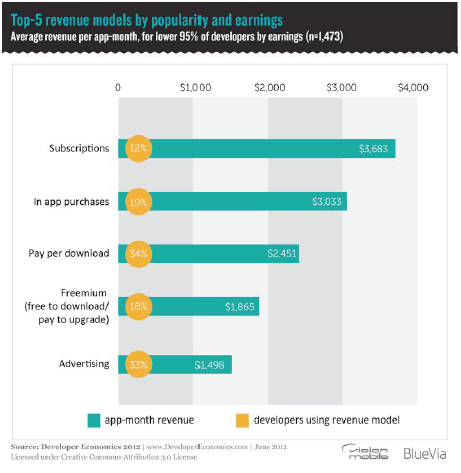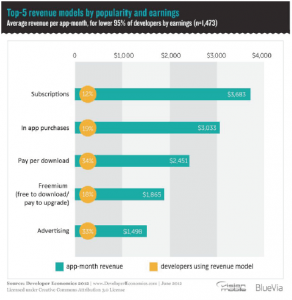 3. In-App Advertising
Though these apps are free to download and use, they earn by selling the space for data-driven advertisement (most probably complementary services). Apart from serving its clientele, the second major agenda of the app will be accumulating a large user base. The beneficiary of the app will get paid for advertising on the app's surface provided that he is associated with an ad monetization platform like Google Ads, Facebook Ads, etc. 
Studies say that 53% of the global app users click on the relevant ad and are redirected to the concerned websites.
4. Sponsorship
This app revenue model is not that popular but is one of the kind when it comes to earning great from your app. By adopting the sponsorship model you are allowing the big brands to invest in getting the exclusive spot on your app. Under the sponsorship, the brand that has invested will give the rewards to the users performing some in-app activities and in turn, give you the share of redeemed rewards.
5. Affiliate Marketing
It is when you have managed to accumulate a large number of active users on your app platform, you can leverage affiliate marketing. Promote another brand on your app, generate leads for them, and in turn secure commission per click.
The way to earn quality leads, advertisers pay for every conversion that is done through your app platform. To fetch substantial profits, you need to ensure that your target audience is interested in the ads that are shown to them.
6. SMS and Email Marketing
Though it is not the direct revenue model but Email Marketing proves to be a million-dollar deal when it comes to promoting your app's seasonal sales. SMS and Email marketing helps you create hype for your app and generate more sales.
While the emails including a description of your business offer, you can include prototype images, SMS are short and crisp.
Conclusion
Aforesaid are the tried and tested app revenue models, no matter what is the app genre you can always land on a revenue model that is best suited for your business. As said, developing an app is a long-term gain provided that you invest some time in determining which revenue source fits the best. Make sure your app owns the best quality and has premium content, functionality, and features.   
Vervelogic – app development and marketing firm being your one-stop solution for app designing, development, and marketing, will guide you with the correct monetization strategy for your app that will ultimately give high Returns Of Investment.
Also Read: What are the Most Profitable App Revenue Models that You can Use for Your Mobile App?
(Visited 149 times, 1 visits today)