Top 10 Business Apps You Should Have in Your Phone Being an Entrepreneur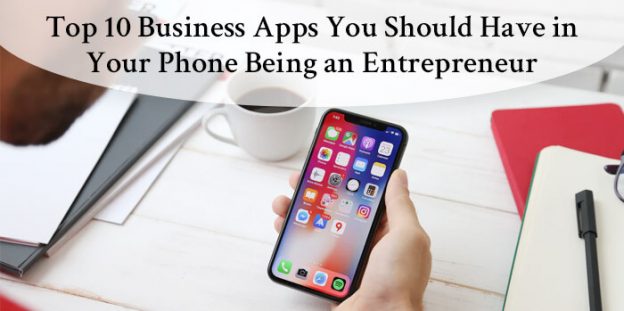 Being a mobile app development company, we come in contact with numerous small business owners aiming to develop or optimize their digital presence. There is a notable change we have detected in the abilities of these merchants with the rolling-in technologies. Most of the non-tech people used to be novice whereas they are now blessed with a number of business appsand tools assisting them to an extent that they do not even have to approach any company for the complete development, promotion and marketing of their web or mobile presence.
By means of this blog, we are going to introduce top 15 business apps that you should have in your phone being a business owner to lubricate your tasks and bring high-rise productivity at work.
Top 10 Business Apps
1. Google Analytics: 
If you are even 0.1% worried about your business sales then analytics is something you can never ignore. Google Analytics is a handy mobile applicationthat lets you see the data associated with the visitors of your website by few taps. It gives you an ability to know the flaws in your system due to which customers have to give up on you. It allows you to check the key metrics with built-in reports and also lets you monitor the real time data. With any combination of dimensions, metrics and segments, you can build your own reports in Google Analytics app. Moreover, it is an official tool provided by Google so there is no way we can question its quality. It allows you to evaluate the results of different campaigns in real-time and then you can compare the data to previous periods. Besides, Google analytics is an important digital marketing tool which helps you frame and modify your strategies so as to increase business and sales.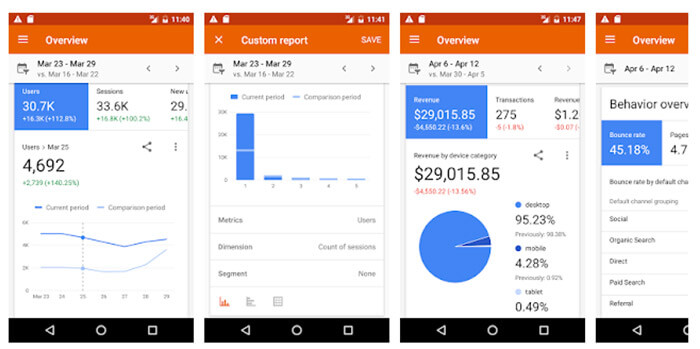 2. Dropbox:
Business owners understand the importance of keeping multiple copies of files at different places to make sure they have enough backup to rely on in the case of any disaster. Drop mobile app lets you access files, images and other media from anywhere you are. If you have Dropbox, consider that you have the whole cloud storage in your pocket. It is a convenient app that offers great user experience. Drop box is not just about storage but your entire team can access it to add comments, suggest edits and collaborate. Moreover, it notifies you whenever any file is added or deleted from the shared folder. When you are a start-up, business meetings does not come to end and you need to have access to all the data you have framed so far so Drop box is one stop for you.
3. Xero:
Xero is an accounting application for invoicing, purchase orders, payroll management, reporting and other accounts related things. It is one of the widely acclaimed financial collaboration application used by masses. It is known to transform even the complex most financial concepts into easily manageable tasks hence it is not necessary to have accounting knowledge in order to operate it. Xero has been designed to lubricate the cumbersome financial activities ranging from data entry to deep accounting. It offers simplified transactions. All purchase files can be quickly edited in matter of seconds, in particular the ready templates offered by the system for those who prefer to skip drafting individual ones. Xero has a lot of features that can boost your productivity such as expense claim, financial reporting, inventory management, contacts management etc. With its intuitive mobile app, it lets you track business accounting and expenses in a simplified manner.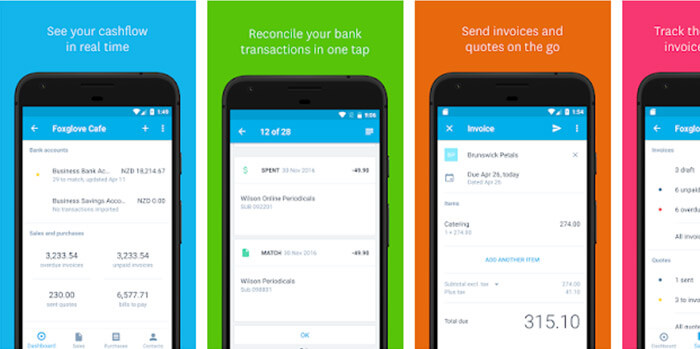 4. Square:
Square is one of the leading wallet apps that provides business owners and individuals everything they need to take payment. It accepts tap and go cards, chip cards, and all the major credit and debit cards. You can keep track of inventory and sales in real time using Square. It is a general problem with third party business appsthat your money is held in between but with Square, funds are deposited fast and the money is reflected in account within a couple of days most of the times. Additionally, there are no hidden charges and long-term contracts for the app users.
5. Slack:
Slack is a team communication tool which is majorly used by companies to carry out a smooth and transparent communication while order creation. Miscommunication is a general scenario faced by companies with huge teams, especially when you have a big project in cart on which many of your resources are simultaneously working. You can create different channels on Slack depending upon various topics or projects. It can also be integrated with the mostly used applications such as Trello, GitHub etc. Slack gives you this amazing facility to search every single thing from its search box. It is dead simple to search things that you discussed with your team many weeks ago. There are advanced search options given on the app through which you can find out anything that you do not even remember clearly because it narrows down results really quickly.  You can share and test code snippets across your whole team instantly which serves as a great feature of Slack that should not go unmentioned. There are public conversations, then there are private groups as well as one-to-one chat options over Slack. Moreover, it is accessible from anywhere so that you can look at the important project updates even when you are on a trip, far-away from your workplace.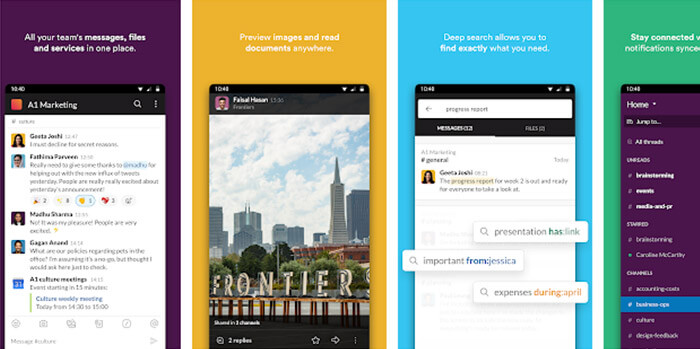 6. Trello:
Trello is one such application that solves your project management and collaboration requirements at one place. The projects are organized on trello on the basis of boards though which you can visualize who is working on what task and what things are still in progress. It ensures that your employees get a private communication channel to discuss everything about the running projects. Trello is said to lie above all the other collaboration systems due to its commendable features. This application helps you organize all the things whether its about a side project, a big project or even a family vacation. You can easily add comments, due dates, attachments to collaborate in projects from starting to end. You can also integrate the tools that you already use during the project life cycle such as Slack, Dropbox etc. There are millions of users who manage their workflow through Trello and find it a commendable solution for their day to day business activities. If you find it hard to collaborate then Trello is one tool for you.
7. Doodle:
Doodle is a tool dedicatedly used for setting up meetings. It gives you all the associated functionalities to make business meetings happen. You can suggest time by setting up or even customizing the meeting requests. Participants can be invited and are allowed to share their availability. Final option is then picked after receiving the convenient availabilities from the all the concerned mates. For more ease, you can also connect your calendar with the app through which you can poll directly. All the Doodle polls can be managed from one place. One of the most amazing things about Doodle is it provides a clean, ads-free experience for you and your participants.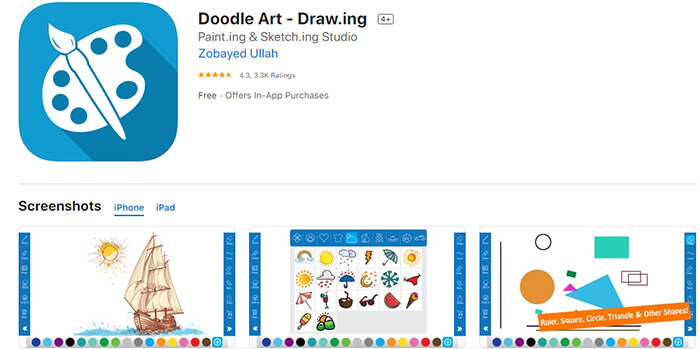 8. Hootsuite:
Being a business owner, you have to stay in line with the coming technologies and platforms so that you can cover most of the market. Social media is one of such mediums that can get you chunks of the target audience through its ultimate potential. You obviously want to give your 100% for the social media activities supporting your marketing but with so many channels such as Facebook, Instagram, Pinterest, Twitter, its hard to concentrate on one. Hootsuite is an amazing tool to get over this problem. You can manage the marketing of most of channels from one place i.e. Hootsuite. For example, it allows you to create and schedule social content and at the same time follow up on followers who engage with you. You can also measure the success of your social marketing efforts through Hootsuite application.
9. Smart Recorder:
This application is highly useful for the people whose work is not generally done sitting at one place. This app allows users to record memo, creative ideas for their personal use, record meetings and perform other important hand-free tasks. You can also share the recorded files with other concerned people through the app.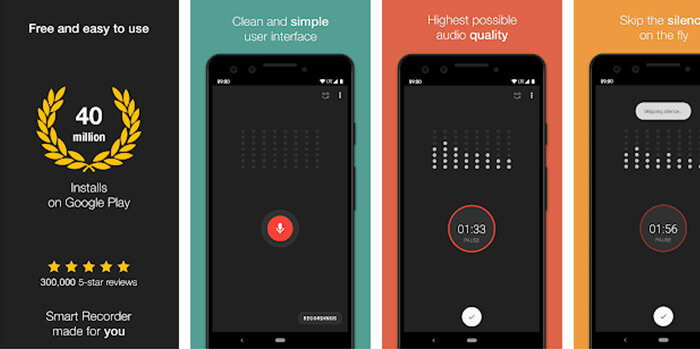 10. PayPal:
PayPal is one of the widely used payment apps trusted by millions. If you have international transactions working on your website, then it is likely for you to have a PayPal account. Having an associated app in your phone would help you view your account activity and get real time updates. Through this app, you can easily pay and receive money with secure encryption technology and fraud protection features. It lets you manage your transactions better than most of the other gateways out there.
Share with us the apps you found amazing and useful while managing the workflow and associated activities.
(Visited 84 times, 1 visits today)