On-Demand Beauty Applications | Emergence and Benefits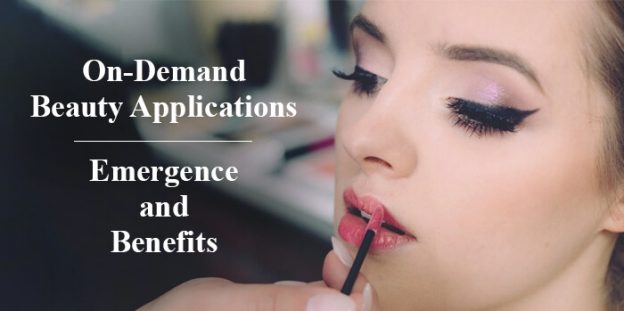 With the evolution in technology, we are stepping into a highly paced digital world which is full of ease. By the grace of some of the best mobile app development companies, we are getting amazing applications in our cart.
Do you want to travel? You have cabs facilities on your finger-tips. Are you anxious? You have your dear and near ones on call. Do you want to show how are you looking today to a faraway friend? You have WhatsApp, Facebook and other amazing things to share your pictures. Are you looking for a partner? You have a plethora of dating applications with numerous filters so that you can find the best one. You can have groceries, clothes, gadgets, food and a lot of things delivered at your doors by means of delivery and on demand mobile apps. If we talk about Beauty industry, it is not deprived of the technological advancements either. 
Beauty & wellness industry has never gone out of clients since people would never want to miss any opportunity to look charming. Though, in this world full of technology and easiness, no one wants to move a flex to travel to a salon, wait for their turn and finally avail the services. With the amazing concept of On-demand services, you do not have to even go out of your homes. You just have to book services for the desired time slot and a beauty professional would visit your home with all the necessary things as per the service required.
Reasons behind emergence of On-demand beauty apps: 
You will be surprised to know that 28% of the beauty professionals in the US are working as independent contractors and figures are not different in other parts of the world as well. There are biggies in the industry which are hardly free, then there are mid-sized salons and independent beauticians which are accessed by masses. Though, they fail to get the required amount of recognition due to which they miss on a major chunk of prospects. On the other hand, if we talk about the seekers, they are trying to make all the routine activities time efficient and quick with the help of various on demand services. Here are the major problems that on demand beauty apps can solve. 
A. Losing customers: In today's era, people do not prefer to wait. The advancement in technology has paced up all our routine activities so much that it becomes difficult for the us to bear Waiting time. Professional on the other hand are losing customers due to this reason. Now, if you give users an option to book your services for home, they would definitely not say No. In this way, customers can be retained. While they book the services, you need to show only those slots on which your beauticians are free. 
B. Unrecognized services: There are a number of independent beauticians which provide home services but despite of providing good services, they fail to get enough amount of recognitions. By signing up over a beauty demand app, they can get exposure and a lot of customers who were deprived of services can get it easily on desired time. 
C. Problems in peak hours: Peak hours can be converted into Peak days at the time of arriving festivals. Its not just about your favourite salon, you will get rush wherever you go. Home service at this time can be really helpful as you will get services without even waiting in queue and enter into a suffocated space. You can enjoy services sitting at your home. Most importantly, there is no difference whether you go to salon or you are getting things done at home as they carry all the stuff with them. You just need to specify the services correctly at the time of booking. 
Also, being a beauty professional, if you want to provide services, you do not have to even own a salon. You can just sign up on such on-demand applications. Most importantly, you will work under a big branding so getting recognition is not an issue here. 
Talking of on demand beauty apps, Urban Clap must be hitting your mind. Gurugram-based UrbanClap has already crossed ₹100 crore annual revenue mark in fiscal year (FY) 2019. The UrbanClap CEO Abhiraj Bhal said, "Almost 80% of the 3.3 million service requests in FY19 are recurring orders, and we have seen lot of traction from Tier-2 cities. On an average, what these cities (Tier-2 cities) achieved in 4 to 5 months in terms demand is equal to 2 years' worth of demand in Tier-1 cities. We are looking at a full stack on service delivery…Across all the service experts and partners we on-board, we take care of everything for them, right from registration, accounting, financing, access to banking services, insurances for workers, and a tech platform to manage service requests."
Already impressed? Thinking to get an On-Demand Beauty App Developed?
All About On-Demand Beauty Mobile App Development and Important Features: 
A lot of start-ups are springing up everyday in the On demand sphere though you can cut out much of the competition by prioritizing beauty services. Still, you have to fight a fair amount of competition with the big leaders already acquiring the market. You have to be well prepared and stuffed with latest technologies which make you reach the place where most of your target audience stays. It's on Mobile! Website is not enough in today's smartphone-oriented world. You need to have an amazing mobile app produced from the best Mobile app development company and it should be easy to use, highly functional and advanced. This app will also support your promotional and marketing efforts. Basically, you will be able to target your customers easily in quickest manner. Here is the list of some important features which would help you get a good traction. 
1. Manage availability: Allow users to book an appointment through the application and reserve their favourite beauticians so that they do not have to compromise even in peak hours. Managing appointments can be done very easily through mobile apps. Users should also b able to check the availability of the nearby salon beauticians so that if they need quick services, the beauticians can arrive on time.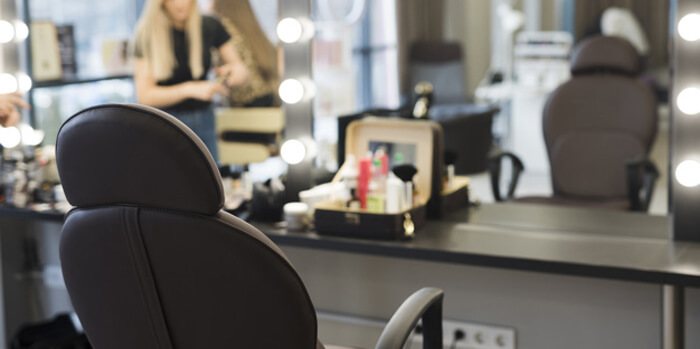 2. Be Mobile-first to attract users: In this mobile-first era, it is important for your business to step into a place where most of the target audience stays. A user friendly, greatly designed, bug free and rightly promoted mobile application can help you the most. It is a great way to attract users, specially who are tech savvy. An application would not only ease the experience of your users but would also add up to your branding. 
3. Give multiple payment options: Allow customers to make online payment as this world runs on cashless mode. Promoting online payment would also help professionals not lose their customers as if the customer chooses Cash on Delivery, he/she would be less bothered about taking the service on time which will bring a loss to the professionals. Also, allow users to choose from multiple payment modes so that they can be comfortable booking the services. If you just keep Credit Card in options, you might lose half of the potential audience. You can accept payment from digital wallets or even bitcoin to ease the experience of the user.
4. Easy booking and cancellation: In traditional ways if you book an appointment, it becomes cumbersome for you to cancel it, take the money back and then reschedule it. So, by means of this mobile app, you need to smoothen that experience. Allow customers to book an appointment by following easy steps and short forms. Also, if they want to cancel and reschedule, it should be easy but yes, put a restriction on time. For example, they can cancel a booking only an hour before the reserved time slot so that professionals do not face any issue. 
5. Offer promo codes: Offer promo codes for the first-time users and also run referral program through which if you get new app installs due to an existing customer, that person gets points or vouchers. Do not think that you are bearing a loss here. You are doing this instead of putting your money to highly priced advertisements. 
The future of on demand beauty application is definitely bright as this business line is never out of customers. You just need to ease their experience which can be done fairly through mobile app development. A lot of beauty service providers can co-exist on your platform and provide hassle-free experience to the users. Also, you will find a lot of investors who would want to pump in money to your model as there is a massive potential that beauty industry keeps. 
Also Read: A Detailed Guide To Publish Your Android App on Google Play Store
Why Internet of Things (IoT) is the Real Game Changer for Web Development?
What is Agile Methodology & Why is it used for Mobile App Development?
How to Develop a Food-Ordering App like Uber Eats:Features & Cost
What is Voice Search? Is it the Future of Search Marketing?
(Visited 33 times, 1 visits today)