How to Generate an Interesting App Idea That Works? | Unique App Ideas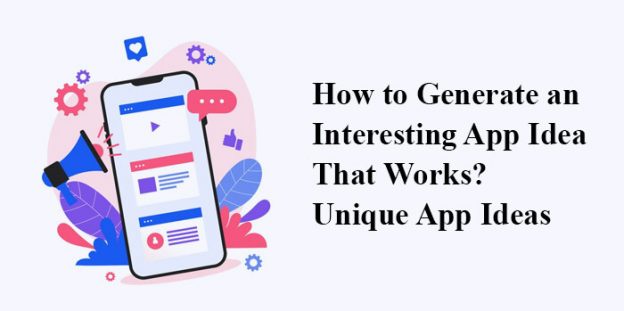 Generating an app idea can be daunting at first. You have to look at your own interest and see what's missing in the market. What you enjoy working on should also satisfy the needs of the target audience only then you can pave your path to success. There would be a great amount of possibilities and uncertainties hitting your way. You will get to listen to what people have experienced in the past following the same kind of idea. Few would be inspiring while the stories of failure would not come to an end. The reason behind failure of most of the start-ups lies in not understanding the market needs. Before jumping into analysing your competition, you should explore your own resources to find a solution for the problem existing in the market. 
Let's have closer glance on how to generate an app idea that works. By the end of this blog, you will get acquainted with much information about the idea generation process so that you can white label it later and approach a mobile app development company to get it developed. 
Look at your company's current appearance: 
You have seen your company growing through months or years. You must be aware of the things through which it hurts or cheers up. Strategies have changed. People have left. New folks have joined. Past failures must be restricting you from misdealing with the new opportunities. If a group of 5 people has now become a sound team of over 100 individuals, then your company must be no where similar to what you had started with. Understanding what your company has grown to be would help you the most in generating new ideas associated with your business. Find out the little details like the uniqueness, strength, pain points related to what you work on. 
If you have a traditional brick and mortar company, you get perks out of meeting your customers face to face. There is a personal relationship which grows in between, and such stores are often tilted towards taking out strategies focusing on client retention and long-term acceptance because their target is local people. On the other hand, virtual companies get to be a part of a network which is globally accessed. As these companies connect worldwide, they should ponder over building a system that is capable of collecting customer information. 
Virtual companies often rely on huge email lists updating their subscribers about running offers and deals. These companies have gotten opportunity to move to places having great customer potential. Hence, a major focus is often on building systems that complement mobility. A strong online presence and rich market knowledge as per changing demographics help this kind of businesses. 
Now, move on to understanding your employees because each one of them can turn into potential resources in your mobile app creation process. Every employee would look at the process from a different perspective and hence add up major differences in various aspects. Take their feedbacks seriously and bring up changes accordingly because they are the people who not individually but collectively know what makes your customers happy. 
Look at your mission statement and analyse whether your content, deliveries and goals are in line with that. 
Understand your pain points and try to work on them through your application. For example, in this digitalized world, it is very important to have a web presence. But, if your budget is low to have and maintain a web presence, may be your can work on a simple app just communicating about your products to prospects and guiding them to your store. You should also know the features with which your customers like to interact the most. 
Understand your customers: 
Your customers are the people keeping you on drive. Next to understanding your presence, you should think about your customers, their trigger points, pain points and place they visit the most. Get aligned to all their needs and feedbacks. Your website or app should always be able to collect customer responses. You can learn a lot of things about them by looking at their behaviour and analysing their interaction with your products/services. Find out the path thorough which they travel to reach your product. 
Star talking to them and know what they feel about your products. You can send them a general questionnaire or feedback form to collect valuable information. Try to offer them enough convenience so that they do not have to put much efforts in finding the choice and making a purchasing decision. 
Your customer responses and purchasing behaviour would tell you much about their pain points on which you can work through your app. For example, if you are running a restaurant which changes its menu on a daily basis then there should be a way through which you can inform your regular customers regarding the same. You can do so by means of sending a push notification. Users should also be given with an option for whether or not they want to receive this kind of notification. 
Look at your Business Plan: 
Your business plan is the collection of key things associated with your trade work. It is more of a roadmap for you treading which you can finally make up your business. Before you think of airing an app, re-visit your short term and long-term goals mentioned in the plan. See if some of the unaccomplished goals could be met by means of an app. A lot of things that are listed in your 'Problems' section now have solutions with the advent of advanced technology. 
Use the latest figures and your current knowledge of the market to find fresh solutions for the achievement of short term and long-term goals. You can find ways to incorporate such solutions by having a mobile app.
Plan out the feature and kind of design you app needs o have in order to accomplish those goals. 
With the collection of customer feedback as per the second step, you will be able to know that how the lacking things affect them right now. Prioritize the things that that affect them at a great extent and slowly becoming a hinderance in your success. 
Analyse your marketing: 
Marketing is a myriad of activities that makes you reach a wide base of customers. Your marketing decision affect your sales team, profit models and partnership the most. Look at the things that can be transformed in an app and the features that can be marketed well if they are brought to reach of mobile users. You need to find out where you a huge a chunk of your marketing budget goes and see if it can be reduced by shifting some of the features to your app. For example, instead of printed catalogue, you can consider promoting a digital catalogue. Also, if you shift your programs to your mobile app, you will be able to promote your products among wider audience. If you shift your efforts towards mobile, your ROI would be either same or become better.  Find out aspects that can be shifted on your app and the ways with which your app can help you generate new revenue sources. 
Find out trends of your industry: 
A business runs on strategies that have to evolve as per the evolving needs of the market and running trends in the industry. What's working now might not work in the coming months. The key is to keep on generating ideas while keeping your business strings attached to the latest innovation and trends. Your ideas should satisfy the current needs of your customers.
For example, the giants like Uber and Ola first came up with dedicated cab bookings whereas later added Sharing/Pooling facilities which made it possible for customers to share the high fares. At this time, if you are coming up with a taxi booking application and not have the Share option, it will cut out most of the market from your scope since your target customers already have other cheaper and reliable options. Its an old story though. We have come many years ahead. Uber has many more new features in the cart now like Uber Black passengers can now request before their pickup that their driver not talk to them. Other features include luggage assistance and extended wait times. 
 You can find out the latest trends by following industry specific blogs, watching new releases, approach a dozen of analytics tool and more. Moreover, setting up a Google alert about a specific trend would let you know how frequently it is being used and what are the following success stories. It will help you refining your app idea and its features. Some of the blogs you can follow to get the latest updates are Entrepreneur, Springwise, Google Trends, Youtube trends etc. The history is the evidence of companies failing due to not adapting themselves according to the latest trends. The industry is changing over time. So, the business will need to change themselves over time. 
If you follow trends, you will be able to forecast the coming success or failure. Forecasting should an everyday for an entrepreneur. If you understand trends, the prediction will be better and easier for you.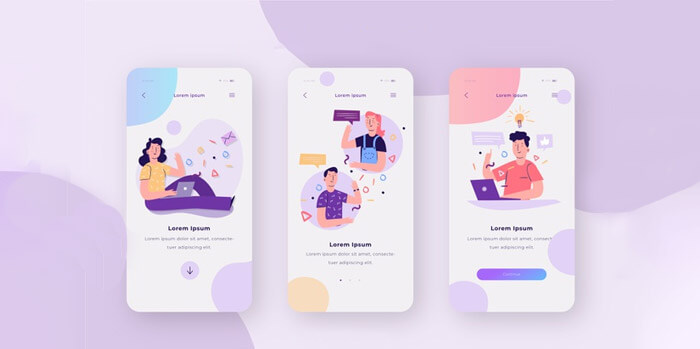 Analysing competition and applying reactive approach: 
It is never harming to follow or analyse the strategies of your competitors. If you are just starting up, you are a free bird. You can try and test many things on your system. Prepare a list of your competitors and have a close look at the features they offer. Why to do it? Because, your competitors are the existing players in the market, and it is likely for them to have an experienced team of professionals who are working in the same field from a long time. After they implement any strategy and it becomes available for the public use, you will be able to refine it and then add your own framed twist to it. We call it reactive approach which is important for your growth. You just need to wait for your competitors to act for a particular trend and then simply follow their idea with your twist if it works. 
Competitor analysis is one of the building blocks to forecast the success of your future ventures. You will be able to know if your idea is going to work or not. You will see if people are accepting the similar kinds of application or not. On the basis of a competitor analysis one can identify the reasons for success, which allow a company to position themselves in a more advantageous market position. 
How to find out competitors? Your competitors would be the businesses that have either the largest market share or they are showing some kind of significant and strongest growth in market shares. 
Analyse their mobile apps and see if there is something which is missing in their offerings. Do their customers expect more? Which feature appeals the users the most? Can you present it in a better way? What is the twist you can bring? What would be your USPs? 
Answers to these questions would help you much in shaping up a good idea. But it is not right to blindly follow their idea. You have to generate one by keeping all the above points in mind. 
Explore things out of your industry: 
It is not necessary to keep rotating around the already existing concepts in your industry. You can always spread your wings taking other potential fields under. Working in the same industry for long would end up leaving a similar kind of product in your hands that already exist in the market. Generating an app idea does not mean to explore the best idea in the market and add up a fresh layer to it. You can include concepts and things from other industries as well. For example, you can include Gaming to engage the users and attach some perks to it. Like, if user qualifies a stage, he/she gets 500 points that can be converted into credits if users shops from your app. Mobile app development technologies have widened our scope to reach new levels. 
There is no set procedure for generating an app idea. It is a myriad of processes that you have to focus on. All these steps come together to produce an idea or a feature list for you that would work if followed by a correct launch and marketing. 
Now, we are going to talk about some of the successful app ideas approached in the market. Can you bring a twist to them? Have a look! 
1. Virtual Interior Design: I remember my childhood housed in a four-room set extended to a beautiful ground yard. There were shelves decorated with hand crafted items. Traditional vases used to add up to the beauty but almost all the houses used to look similar from inside. There was no variety. Now, we have a whole different subject called 'Interior Designing". We see people spending a huge amount in getting their indoor spaces designed. Everyone wants to know what kind of colours, lighting, materials, furniture would suit their homes. Not all can afford a dedicated designer. Though, AR technology is here to back us. If you are serving such an industry, you can create an AR based interior designing app. Users can add pictures of their spaces and try furnishing them with various interior designing elements such as different wall colours, light, curtains, furniture etc. If succeed in implementing and marketing such features correctly then you are nowhere lagging behind. 
2. Rating and Reviews platform: By the grace of technologies, we are definitely provided with an ease to how we used to shop. We had to go and visit a store in order to buy something. Now, we have many stores on our finger tips. Those are not just the local ones, you can also reach the one operating overseas. It is true that people love it but the same has also increased the frauds happening. Fraudsters hide behind the screens and you would not even know who made you fall in a trap. To overcome such a scenario, most of the online shoppers like to consider rating and reviews before making any purchase.
Nearly 95% of shoppers read online reviews before making a purchase (Spiegel Research Center). 72% of customers don't take action until they have read reviews (Testimonial Engine)
In such a scenario, if you come up with a rating and review app, you can simply attract the users towards your platform before they go on buying the actual services. Isn't that exciting?
For example, if you are a book lover, think about an app that lets you take picture of a book's cover page and instantly comes up with online reviews. Even if you do not have potential and budget to directly attract users to your platform, you can simply fetch reviews from other major sites like Google reviews, Facebook etc. 
3. An aid to elderly people: For airing such an app, you do not even have to belong to a particular industry. Smartphone users are growing in number with not just youngsters have their hands on it. Elderly people are gradually capturing a large part in the total number of users. You can assist them for a variety of routine things which they might forget. For example, reminding them about taking medicines, paying bills, bring groceries, handling their accounts etc. Additionally, you can bind your app with the platforms that are dedicated to sell elderly stuff.  
4. IoT Powered app: IoT is the new wave hitting the market and slowly entering into almost all the sectors. The extensive use of remote connectivity and sensors has made it possible for us to further simplify all the tasks. It has become possible now to connect all the techs of your home like cars, lights, gadgets and operate the from single point. Some of the interesting apps hitting the market include smart packing, water quality monitoring, Smart office systems etc. According to Statista, "The total installed base of Internet of Things (IoT)connected devices is projected to amount to 75.44 billion worldwide by 2025, a fivefold increase in ten years. The IoT, enabled by the already ubiquitous Internet technology, is the next major step in delivering Internet's promise of making the world a connected place." You can clearly see the growth. 
5. Accounting app: Accounting application is useful for individuals as well as businesses. It is in place to record the flow of money for internal and external review and auditing. Your and your company's financial growth and losses can be easily managed at one place through an accounting app. Being an entrepreneur, you have no option rather than putting all your brain to work. Though, having all accounts information at one place keeps sheer importance too because that's what keeps your business growing. Such apps are capable of presenting a summary and also detailed presentation of profits and losses related to your business. Some systems also help you keep meeting the legal requirements where the business is operating. Also, Accounting apps brings accuracy to your calculations by elimination if human errors. 
It is not necessary to have an app idea related to your business. It might happen that you do not even have a business when you are thinking to have an app. For example, the one app we have mentioned above for elderly people. It can be a new venture for you altogether. You just have to ponder over the market needs and see how you can serve it following the latest trends, beating your competitors. You will be amazed to know that there are 2.71 billion smartphone users in the world today. Almost every third person in the world owns a smartphone. Apps come together to become support system for these devices. Being a business owner, if you have not tried your hands on mobile apps then you are clearly missing on a huge market.
(Visited 82 times, 1 visits today)