What Is The Best Process And Cost To Develop An E-card Maker Mobile App?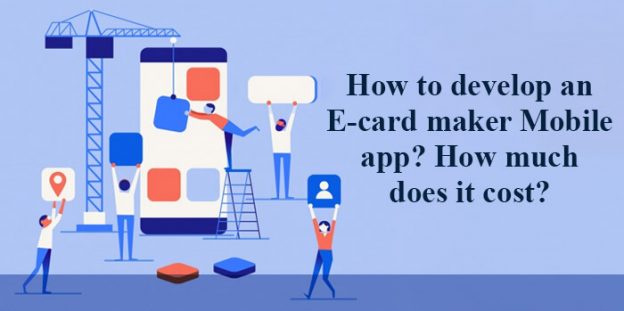 Personalization has always been a key to surprising people. They just love it for all the obvious reasons out there! Imagine a WhatsApp group bombarded with wishes on Christmas. There is everyone wishing everyone but if we take a personal connection into an account. You can think of a broadcasting feature at the same time which allows you to shoot one message to all without having to access any group window.
Still, there is no personalization offered. You have simply sent the same message to all. Moreover, you must have their contacts added to your phones. Now, if emails are taken into account, your donors would not be able to personalize the purpose in a branded, professional, and yet, stylish manner. So here took birth, the importance of an E-card mobile app development.
It is always great to send seasonal greetings, birthday cards, and anniversary wishes but you do not generally have time for all this all year long. Further to it, it is difficult to remember the dates as well. You have a calendar! You have marked events! Still, when the date comes, you just forward an already-built old message which might not touch the receiver that much.
Imagine a bouquet with a generally printed card and one with personalized hand-written content. Which one would you love to receive from your loved ones? With a personalized note, right? You just know that everything written on the card belongs to you only which consequently, increases your affection and attachment to the donor.
When it comes to your professional connections, things become different. You want to offer a unique experience to all the customers and vendors. But even if your company is running for just the past five years, you must have lakhs of contacts. If you go on personalizing the messages in such a scenario, it will take you a whole week. Thankfully, e-card makers and applications are there to the rescue.
Whether you want to send a rush still tailor-made greeting card to a connection or some kind of wishes to a relative miles away from you. E-card apps can do it for you in a matter of seconds. There is a range of mobile apps which can perform this operation. Using such amazing apps, you can send a neat-looking card as well as a picture message. They are even useful for sending a customized and personalized e-card or physical postcard all of which are if possible.
Available for both iOS and Android, these apps are there to serve all kinds of platforms and devices. If you want to send a card, all you have to do is take out your phone, type in the purpose, get many themes, perform customization, and add content and it's done. It is that simple! With the eminence it is gaining in the market, we framed a piece of information associated with mobile app development to serve the purpose. Here it is!
What is an E-card application? 
E-Card is a mobile or web application to create customized greeting cards and use the same for wishing your near and dear ones on any occasion of life. Such apps come with a huge number of images and graphics which you can use with your card to make it look stylish. Whether you want to keep your card simplistic or fancy, these applications have everything to offer from a wide range of graphics and typography to fully framed themes.
Greeting card apps take much of your manual labor out of posting a card. These services are available on the web as well as in-app stores from where you pick the cards that you want to send at the same time you can also address envelopes, append postage, and even drop them in the mail to anyone.
You can create a wide range of cards out of such applications as there are a plethora of pre-made cards and also these applications allow you for designing one from scratch using your photos, logos, or other images. A custom message can also be written on or inside the card. In all, these applications can do everything for you in a matter of seconds or some minutes if you get involved in the customization process.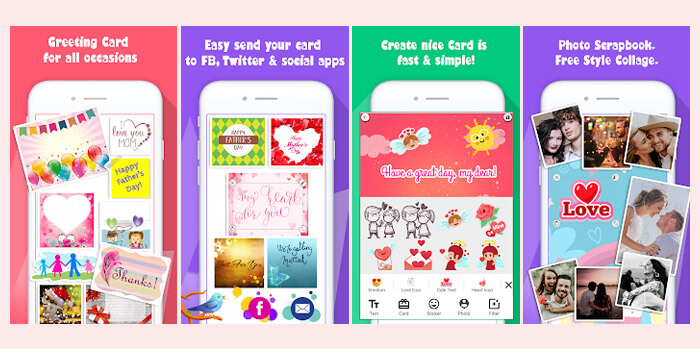 E-cards Vs. Email to send greetings
As the name suggests, E-cards are all about the creation of cards using digital services. It is a dedicated service for the creation of cards and hence it is better. Now, you must be wondering that if we had emails in place then what made innovators come up with a new concept?
With emails, we couldn't shoot personalized emails. If you use a bulk mailer for the purpose then all you can do in the name personalization is change name, designation, company name, ID, etc.
E-card applications offer an extended functionality wherein you can simply carry out designing as per your choice and choose or customize the content that is to be sent along. Using the e-Card applications, the users can personalize the purpose in a branded and stylish manner. It might not be useful for you on a personal level but yes, when it comes to a company, this formula is always useful. We live in a world full of festivals and important occasions which give us a reason to celebrate life. Now, if you are a business owner, it becomes cheeky to not send greetings to your clients or even the vendors.
I remember our experience last Christmas when the whole sales team got stuck with a huge list of contacts. To create a personalized impression, we spent the whole day leaving behind other important work. Still, all we got in return was a boring text in our sent items.
If you go for E-card applications at the same time, they perform the best. Plus, you do not have to spend too much time.
Evolution of E-card applications in the market
There used to be a time when people used to send paper cards to their dear ones. With the increase in the number of people you have to treat well, the market experienced a rising demand for having such a solution that serves the purpose, and also a lot of paper wastage does not happen. Messaging applications came to the rescue but then, those were not that sound to create a personalized experience.
Emails were there too but when you wanted to go into designing and stuff, it was not possible with email services. E-card applications were a need and the demand has increased now with the emergence of modern business concepts. You have to take special care of your clients and their expectations. Yes, it is right as well. The people who are making your business run should be given special attention. But that does not mean, you take out a whole day for each of them because you have to take care of your core roles as well. Business assisting applications like E cards come to the rescue in such scenarios.
A study recently carried out by researchandmarkets.com  "Greeting Cards – Global Strategic Business Report" which performs a deep analysis of the usage of e-cards in Canada, the US, Asia-Pacific, Japan, Latin America, and the Middle East & Africa. In the report, the global body has done annual forecasting associated with the greeting cards business for the period of 2016-2024. Additionally, a five-year historic analysis has also been provided for such markets.
The companies that have been featured in the list include-
American Greetings Corporation (USA), Archies Limited (India), Avanti Press Inc. (USA), Budget Greeting Cards Ltd. (UK), Card Factory plc (UK), Carlton Cards Ltd. (Canada), Child Rights and You (India), Crane & Co. (USA), Current Media Group LLC (USA), Galison Publishing LLC (USA), Hallmark Cards, Inc. (USA), IG Design Group Plc (UK), John Sands (Australia) Ltd. (Australia), Nihon Hallmark K.K. (Japan), Party City Holdco Inc. (USA), Schurman Retail Group (SRG) (USA), Simon Elvin Ltd. (UK), UK Greetings Ltd. (UK) &UNICEF (USA)
Many of the businesses operating in this industry are based on the viral look concept.
What are Viral Loops? 
Viral Loop is a term used for growing your product or services through referrals. It is like,
You use product> Like it>Share it with friends>Your friends start using it
There are various definitions created by eminent people in the industry like,
"Named after our friends the viruses, a viral loop is meant to infect a person and cause them to share it with other people."
"The steps a user goes through between entering the site to inviting the next set of new users."
"A self-fuelling action loop that drives users to create more users, which increases engagement and existing users."
It is an easy form of marketing as the people with whom you connect to promote the product already know that you are using it. It can be a go-to model for most companies in the arena.
How to create an E-card?
 
There are some simple steps you need to follow to quickly create an e-card 
1. Choose an app: There are various applications present in the market to serve the purpose. As with any other industry at present, this one is also not lagging in any terms. Be it performance or competition! You need to choose a good app out of the hundreds. Some apps are paid whereas some work on the Freemium model. Some can also be free of cost. Choose an app and open it.
2. Choose the occasion: You need to now choose the occasion for which you are preparing the card.
3. Pick a theme: Picking a theme means you have to pick a basic card that can be the foundation of the type of design you require.
4. Pick graphics: Choose graphics that you want to use on your card. You can easily change the placement of the elements by just drag and dropping. Such tools generally feature hundreds of graphics under each section so that you can have a wide range of options.
5. Upload photos: You can also upload pictures from your desktop or mobile to personalize the experience. These photos can be chosen from your gallery or some apps might also allow you to click and use a picture in real-time.
6. Fix image and graphics: After having all the elements, you have to confirm the placement and fix their positions.
7. Save and share: Once the card is prepared, you can save it or can also share it directly with the recipients.
How to customize E-cards? 
Using Ecards does not only mean you have to pick readymade elements from the library. You can also customize your cards to a great extent. Here is what all you can do.
1. Change graphics and images
If you do not want to use the readymade graphics or images provided by the tool, you can upload your own created items as well.
2. Change the Font
The font of the content can be changed as per the type of card you are going to create.
3. Change Background
You are also allowed to change the background. You can put a picture or can also keep it simple and one-toned.
4. Add text
Online greeting cards generally come up with readymade text whereas you are always allowed to change it completely.
Not just changing things, you can also add your twist to the existing elements such as adding a stroke to the font used or maybe editing the images, using filters on them, or maybe, if you want setting contrast, saturation level, brightness, etc, you can do that as well. This is how such applications make you bestow a personalized and great experience to card recipients.
Features of an online card maker app | Functionalities of an ecard app
1. Image/graphics gallery: Graphics and images serve as prime elements for the beautification of any digital creation. You need to integrate a library on your app so that users can pick items from a wide range.
2. Typography: Provide users with free and highly used fonts in a wide range.
3. Themes: Users do not generally have much time to initiate things from scratch. So provide them with the basic themes on which they can perform the required customization.
4. Custom music: Make the user experience even more impressive by the introduction of sound with graphics. Provide them with some tones and also allow them to use the music of their choice.
5. Multi-occasion: Allow users to choose from multiple occasions for which the card is required. For example, if it is for a birthday then only the related graphics would be shown.
6. Multi-language: You can target users worldwide with the introduction of multiple languages over the platform.
7. Video cards: Video cards are much more impressive than static ones and also look cool to share.
8. Social media sharing: This is one of the important features which has to be there in place. It allows users to share the cards through social media once they are ready.
Monetization model for E-Card apps 
A. Advertisements
Most online businesses earn a big chunk of their revenue from advertisements. Allow users to advertise their products and services on your platform or simply go for AdWords.
B. Make it paid after a 7-day free trial
You can keep the app free for a few days so that the users get acquainted with the features. After that, you can charge a subscription cost.
C. Paid themes or graphics
Allow users to use some basic graphics for free whereas if they want to gain access to more, you can charge them.
Required team for the development of E-card apps 
There has to be a technically sound team to get a best-performing application free of bugs. Here are the roles.
b. UX/UI developer
c. Backend developer
d. Project manager
e. Business analyst
g. Quality analyst
How much does it cost to develop an E-card making app? 
The cost of the application depends upon various factors such as platforms, technologies, feature lists, the scope of work, complexity, design, infrastructure, region, etc. Still, to just drop you an idea, we are mentioning the average cost here keeping all the factors in mind. An E-card mobile app developer might cost you somewhere around $17000-$24000 which can vary slightly as per the above-mentioned factors.
Using E-card mobile apps, users can create customized cards for greeting their dear ones and even customers on any occasion. They are free to use any image from the gallery or can also select the default provided cards. Modern ecard apps have also included some impressive features like adding voice notes or sending the card in the form of a video. Due to such amazing features, these tools get an enormous amount of traffic nowadays. If you are thinking to develop such a platform, feel free to get in touch with us for more consultation required.
Conclusion
If you also want to get an e-card app developed then VerveLogic can be your one-stop solution for mobile app development and web development. This is because we have a team of experts and market experience. You can get your app or website developed at the best price possible.
Also, if you are looking for branding solutions or online marketing for your brand then you should check out VerveBranding and Verve Online Marketing today and make your brand stand out.
(Visited 214 times, 1 visits today)