How To Develop Best On-Demand House Maids Mobile App?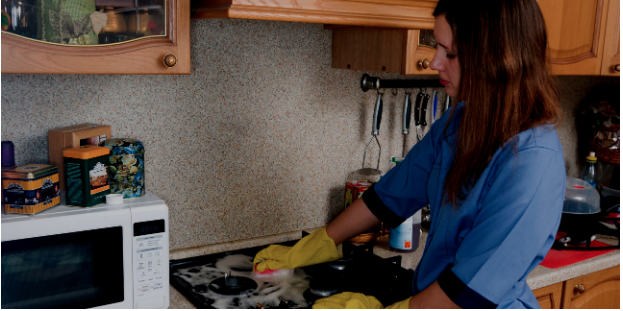 On-demand and supply in the market there are so many applications that put the better market, from shopping apps, taxi-booking apps, and e-commerce mobile apps, and today the on-demand apps made an adverse effect on daily lifestyle. To have a glance at technologies that are making life easier for household work, there is no necessity to go on a search with maids.
On-demand maid booking apps are gaining high popularity. This app helps in finding a housemaid who can work from cleaning to all kitchen courses. Launching such will be useful and beneficial, let's see some points
-> In the urban area getting a maid is not an easy task and after all with high prices.
-> Being affordable servants is rare.
-> For working couples, it's hectic to maintain a house.
-> Time consuming to find a maid
Benefits of such apps-
->> Easy maid hiring
->>Payment accessibility
->>Time saving
Somehow it is a beneficiary for growing people with technology and we have seen some rare apps that provide these services, so why not build one app to set a trend with some extra beneficiary? But need the sources and details to build something so let's start some research and take notes. To be first and foremost necessities of apps.
The necessity of apps deals with three types of users-
1. User panel
2. Agency panel
3. Admin panel
Types of Users
User Panel
–>> User sign-in/signup/registration
–>> Profile creation and management
–>> Search and apply filters on finding the maid
–>> scheduling/rescheduling
–>> Comparing The payment
–>> Contact maintenance
–>> Feedback, rating,  complaints
Agency Panel 
–>> Sign in/signup/register
–>> create or set up their account
–>> Able to add their experience and work details
–>> Can update their availability time
–>> Can add the fees.
–>> Can notify whenever someone has hired them.
–>> Payment management
–>> Can able to check and manage their feedback or reviews.
Admin Panel
–>> Admins can look into the accounts of maids and the users and possess all permissions to edit, modify or suspend the accounts according to the behavior of the users and maids.
–>> Append, Modify, or erase the information.
–>> Confirm all the documents submitted by the maids.
–>> Accept or Reject the maid's sign-up.
–>> Manage all the payments and appointments.
–>> Admin can also look at the revenue obtained from the app.
Basic features and technology that help in enhancing the House Maids apps
Online consultation
This helps in direct contact with the service provider and the customer. It personalizes the service in a manner that focuses on providing ultimate customer satisfaction.
Subscriptions
Provides different services and subscriptions based on the customer's requirements. The subscription also helps with some advantages on payments and searching for maids.
Multiple languages
Keeping in mind the user-friendly option in the mind, developing with multiple languages makes it efficient to use. And also helps in better communication with a known language.
Navigation
To provide a user-friendly interface, the app must have buttons that should resonate directly with the app's functions, and any feature that requires long requests or any payment information filling forms must be avoided.
Offer, discount, and promotion
Attracting users is the main aim of the application to improve the ratings, reviews, and user experience. The prime perspective of providing offers, discounts, and promotions is to increase user retention with your business through the app.
Online billing and invoice
With specified prices and tax services according to compliance provide proper billing. An invoice for each service availed is generated for the users, and also a hard copy of the bills can be delivered on the user's request, building transparency.
GPS tracking
Implementing the GPS helps in tracking the live location of the customer as well as maid locations. Avoid the problem of location issues.
Job history
Keeps all updates on the events that are done by either customer or the maid.
From a technology point of view, there are some more features for such apps-
Platform
Choosing the platform is the main thing when you're implementing on your own, the platform should be compatible enough to work with better UI/UX.
Cloud Environment
Keeping the data safe and secure is very important as it deals with payment options and secured details.
Programming
The programming must be compatible with framework use, simple and concise so that it doesn't exceed RAM size.
Data Management
Data should be maintained in a proper way without any clumsy or mess.
Database
A software that can help in better manner storage with proper details.
Text message and Voice Verification
It is important to have clarified details as everyone seeks trustworthy service.
Email (subscription/marketing)
Email a  secured data conversion application, that seems like being professional.
Push notifications
Informing is important when they miss this act as a reminder.
Analytics
Keep the track of the user experience, service analytics, maid availability, and user experience.
Payment
Helps in consumed and secured transactions.
Conclusion 
After all these information gathering sets with better analysis, and have a little market view over trending apps like today, home routine, clean my house, and so on. Development costs depend on many factors like the complexity and size of the application, so keeping everything in mind developing such an app may be tiresome but not worse. As technology is growing people won't let fall on the ground with apps with high features and advantages. Keep up the better work for a better future.
VerveLogic can be your one-stop solution for mobile app development and web development because we have a team of experts and market experience. You can get your app or website developed at the best price possible.
Also, if you are looking for branding solutions or online marketing for your brand then you should check out VerveBranding and Verve Online Marketing today and make your brand stand out.
(Visited 92 times, 1 visits today)