How Much Does It Cost To Develop Hotel Booking Mobile App With Best Features?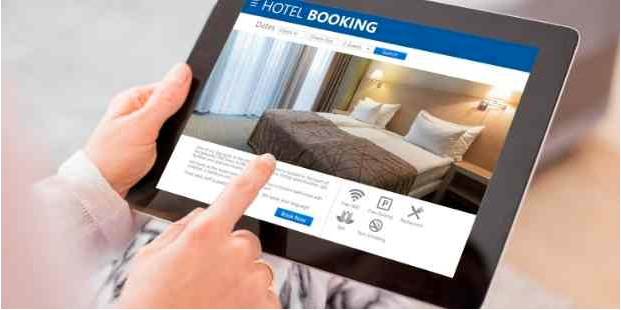 The world is so broad and elongated to explore and find the routes to unknown destiny and get wide knowledge. Everyone is so excited when it comes to exploring and traveling. This is for enjoying various destinations, experiencing new traditions, and new nature. In order to add excitement to our trips and tours, having a healthy stay with comfort is essential. Wherever you go technology has provided a variety of choices to find out comfortless in advance to get a more enjoyable experience through the journey.
We know and are familiar that technology never lets us down with its new invention. Similarly, to add spice to comfortable tension-free travel, the technology has come up with applications like Trivago, Goibibo, Airbnb, and a few others. These apps maintain the holiday destination rental services from the best residential to the consumers with numerous meta-search options.
All the facilities through these apps and also the world's best hotel search reviews help in finding sophisticated vacation spots. Everything is fine how these apps work and what features they provide in order to increase the business and expand the residential service and tourism business to the next level using these online platforms. So I guess it's time to show how these apps' working flow goes to be advantageous to the consumer.
What are these apps?
These are nothing but online rental marketplaces to put in simple words these applications help customers to book a hotel online with better comparison options keeping in mind the customer satisfaction on their holiday vacations, business trips, and new city staying options.
It makes the customer's holiday destination seeking fun, and enjoyment and also makes it secure about staying in their favorite holiday spot. With customer personalization, the apps give customized services to feel the holiday destinations as their home with sophisticated choices from a single room to an apartment, a suite, a yacht, a castle, or even a houseboat.
How do these apps work?
There are more than 0.19 million hotels and 17.5 million other types of accommodation in over 190 countries. It is not easy to go through each and find out the rating, and reviews and check on them. So these applications help in the definition of those options and find out your idle stay in with place and desired dates. An extended overview of the average rating and better comparison allows booking desired options to feel homely even on vacations.
What are the major steps to build such marketing applications for travel-freak persons? And these mainly divided into the host, guest, and admin
1. Initial step
Taking the initiation of the application with a market strategy to build the specified feature in the application so that customers can easily access and use the applications.
2. Registration
Creating a profile the process of registration through the signup/register feature is mandatory to have a personalized setting and to set up a profile account. The process of registration is complete once the user agrees to the laid terms and conditions, this helps in creating user assurance and security policies.
3. Personal profile
Once the registration via mail/phone number is done it's time to set up a profile with the required details. This profile creation is handled based on host and guest/customers, make sure to add a written feature in the writing platform.
4. Detail refined by
Is a Kind of filtration through the various features that are applied based on customer personalization. This adds extra credit to the application as filters provide more detailed information regarding the results.
5. Description of the search
This is much important as clearness in search details gives a better idea for the customers to view the information and make sure to choose the sophisticated one.
The entire process associated with this feature is segmented into various categories like gridding the variants, info about the room, the profile of the host, booking feature, available dates, and much more regarding the complete service system.
6. Language customization
Everything has been personalized with a person's regional language and making language customization is mandatory so that everyone can access it with the comfort of the language translation. This adds uniqueness to the application as it is user convenient.
7. Navigation maps
Gives an idea of the location and finds a particular place to stay beside the option of the filter. Provide the major locations of the hotels and help to route the locations to make them easy to find them.
8. Inbox feature
Notifying your customers on their reservation of any business trips, and simplified expensing things.  This is a better way of contacting with instant messages on any indispensable features.
9. Trip details
Complete detail about the trips that are scheduled and one which is already done are shown as a reference. Exploring options helps in finding the same places related to your past search and acts as a personalization.
10. Collection
Just like an e-commerce application it has a wishlist/ saved option that gives the option to save the places for your future use which reduces the search struggle every time and can say it's one of the customers attracting features.
11. Explore
This is the main feature that finds a place based on your location and also can search for the place and meet the hosts. And find out the complete information regarding the places.
12. Payouts
This maintains the mode of payments and preferences based on currency. And based on the transactions and history of customers there provide coupons and credits as advantages.
The above details provide general usage as a customer or host to get handy with the application and making the search personalization for the guest to make them feel easy on the search and giving them shot notification on every update would be a great idea that makes them realize them as your special to them.
13. List your places
Set a list of your amenities with various options to describe the place. To add interesting facts to your information if the suggestions are auto-generated would be great. Finally based on your information that adds to the search history of the user based on different categories from location to pricing and reviews.
14. Hosting tutorial
Helps along the way to learn for the new host to get control over the scheduling and prices. Support the host's privacy with 24/7 global service and an option to get to know about the guests which make earning simple and freedom of controlling the reservations.
15. Host experience
Hosting the experience videos for the customer's inspiration to bring them to your place to explore and show them what they are missing in their travel. This can be done online or with pre-recorded items to help for easy understanding of the customers.
The above three points give a slight hint on hosting hotels or staying vacation places to get an online platform in an easy way to host their business and grow with the technology.
16. Setting management
Approving and uploading are mainly done by the host and guest but there should be someone to maintain them in order to avoid the low-rated hotels and duplicate information to handle and filter. This helps the user experience in a better way this can be done by the admin to crucially maintain the standards of the app.
17. Safety center
Security matters more when the user shares their personal information and payment details so providing 24/7 service is mandatory that builds trust in the application.
18. Center of support
Build a team support option to solve the query regarding the activity and navigation problems. Feels free for the user to contact and get solutions, with all the options like call, message, and an emergency would be great for the user's convenience.
19. Quick app tour
Admin should be aware of the application navigation updates and make a short video of it every time and update it for user help to get to know the application.
20. Back-end
It's all about handling all backend work from the content to complete data management of the host and guest is important to make the application trustworthy in market strategy.
The above should be mandatorily maintained in a proper way so that we can keep the customers and hosts satisfied with our application that in turn increase the market value of the application.
More Considerations
Including these factors will include the application standard along with these some initial works also must be perfect to perfection in the application. What are those perfection makers
–> Size and position of a project.
–> Number of platforms (iOS, Android, cross-platform) to create an app.
–> Functionality collection and technical features difficulty.
–> Stacking technology.
–>  Degree of the versatility of design.
–>  Solutions in architecture and more.
–>  UI/UX configurations.
–>  Testing the application avoids glitches.
Over To You
There is much more than this once you start with the process. Everything comes in track one by one and just faces it to see the good phase in the market. Traveling is unstoppable action of humans and investing in this won't be a waste making it online gives a good opportunity to grow.
When thinking about features, it is important to note that the rough timing shown below encompasses all stages from drawing logic to developing a function from complex to make it easier for the user hence that makes it stand out from the crowd of competitors. So roll up your sleeves and get down to some hard work to make noise in the online rental market strategy.
VerveLogic can be your one-stop solution for mobile app development and web development because we have a team of experts and market experience. You can get your app or website developed at the best price possible.
Also, if you are looking for branding solutions or online marketing for your brand then you should check out VerveBranding and Verve Online Marketing today and make your brand stand out.
Also Read: Best Hotel Website & App Development Company
Hotel Management Software Development Company
(Visited 100 times, 1 visits today)