A Comprehensive Guide to Hire the Best IT Outsourcing Company from Indian Market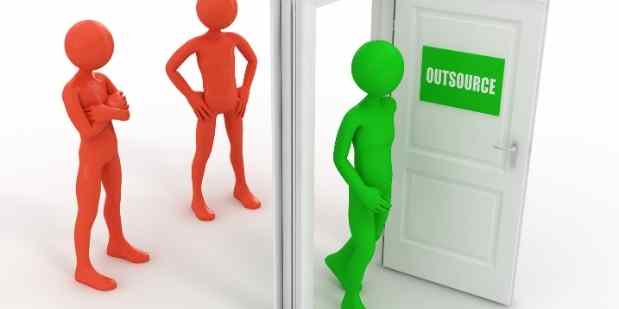 IT Outsourcing is the process of hiring an external service provider who holds expertise in the field and ensures the best outcomes for your business's IT requirement. Though such companies are not affiliated with your brand, they give you the best solutions in order to keep up their goodwill among the top IT outsourcing companies in India or overseas.
It was currently noticed that almost half of the 'Fortune 500' companies have shown trust in third-party IT vendors with their tasks and got more than satisfying results for their investments. It is quite evident from the above stats that the era is for outsourcing to rule, and why not? they give you the best out of your cost. Apart from getting the best resource, the company also saves a lot of room in its schedule which it can dedicate to other segments of progress like marketing and management of sales.
While outsourcing proved to be a win-win deal for many businesses, still some have faith in hiring In-house IT resources. Avoid wandering… Let's compare both in the same article itself.
Outsourcing vs Insourcing – Which is better for a business in 2021?
Outsourcing – Handing the IT tasks like software/web/app development/promotion and logo designing to a third-party service provider.
Insourcing – Hiring a separate department to accomplish all the IT-related tasks.
Let's differentiate between the two keeping in mind the perspective of the beneficiary company…
| | | |
| --- | --- | --- |
| Basis  | Outsourcing  | In-house Sourcing (Insourcing) |
| Time Consumption | A company outsources its tasks to get time for other segments of progress. Proves to work in the interest of the company.  | Hunting for a potential resource, training them, and providing them with the entire technical setup to accomplish their tasks could be quite challenging as well as time-consuming.   |
| Capital Investment  | Companies are required to pay the amount charged by the vendors for their services. No capital investment here.  | The company has to invest in the salaries of the professionals and provide them the capital for accomplishing the tasks.    |
| Potential and Expertise | They are the old-players of the tech market. These third-party providers already own expertise in their work which is a big relaxation for the companies.   | Hiring might not be enough. The company needs to train its resources. These training periods might range from 1 month to 3 months or 6 months depending on the severity of the tasks.  |
| Security  | Being a professional in their field, they are well-versed with the sensitivity of information/data security. Such companies sign an NDA before commencing any project.   | There are no NDAs in the scenario and thus the guarantee of information security becomes less to zero. There are higher chances of a data leak.     |
| Transparency | Every service given by the third-party vendor is clearly stated in the quote given by them along with an approx cost estimation. The company can easily see the results and accordingly monitor the progress. Anytime assistance is also given by such agencies.     | No quotes, no commitments. The company needs to keep the track of the employee's progress and manage their performance graph accordingly.  |
| Business Relationships  | Short Term / Long-term  | Long – Term |
| Time to Market | Outsourcing takes less time to market your project.  | Insourcing involves more complex procedures and thus takes more time to market your project.   |
| Communication  | Communication could be challenging but it's not impossible. The major factors could be time and connectivity. But both can be sorted with proper planning and correct online communication modes.    | Direct interaction with your resource.  |
Fact: 50% of 500 Fortune companies outsource their tasks to Indian service providers and 80% of those are from the UK, USA, and China. (source: provab)
Market Scope of IT Outsourcing Companies in India 
1. IT outsourcing companies in India were an INR 5,649.47 billion affair in 2019 and are expected to touch INR 8,830 billion by 2025.
2. Kearney's 2019 Global Services, India was ranked at the top as a center of attraction for IT outsourcing.
3. Indian IT outsourcing agencies charge way less than other agencies worldwide. Their price ranges from 20$ to 100$ per hour.
4. Followed by China, India continues to be the hot resource for IT outsourcing as the companies are getting a good response and all the parameters of advantages are checked.
5. The current survey says that more than 80% of companies based in Europe and the USA choose India to be their IT outsourcing agent for long or short-term projects.
6. India has made 18% of the global IT spending. 
Benefits of Outsourcing your Software Development tasks to an Indian firm.
1. Largest Talent Pool – India has an edge over any other country in terms of resource availability. The best IT outsourcing agencies being in India give any company the advantage of the best IT solution with the best UI and UX in terms of software development. India is a competitive market that lets every service provider think about its goodwill by giving their clients the best outcomes. 
2. Low Cost – As said above, an Asian IT outsourcing agency and moreover an Indian IT outsourcing agency charges way less than any other IT outsourcing agency in the world. As the matter of fact, India still tops the list of preferences as it has a wide pool of skillful and customer-friendly IT professionals.   
3. Nowhere Behind in terms of technology – Needless to say, India is the hub of the most sought-after IT outsourcing companies in the world giving the best solutions to their clients. This wouldn't have been possible without the availability of the technology. The country has the best technology for software/web/app development with facilitating the placement of AI, ML, AR and VR, cloud computing, and storage.  
4. Excellent Infrastructure – India owns the best infrastructure to facilitate the best culture to its employees leading them to be more productive and creative with their services. With the availability of technology, best infrastructure, and potent resources, Indian is considered the hub of the top IT outsourcing companies in the world. 
5. Excellent Customer Support – Not only designing and development but India is known to extend the best customer support to its valuable clients. It is believed that the only way to retain the clients is to keep them confident of your services by constantly communicating with them and extending the support under any discrepancy.  
6. Best Outsourcing Policies – Apart from quality and commitment, businesses are mainly attracted to India due to the outsourcing business policies farmed by the Indian government. The government of India constantly updates its laws to give more perks to the companies who want to hire the resource from India. So, loosen up and outsource.
Let's make the right choice. Why VerveLogic?
Now that we know, India is the hub of top IT outsourcing companies, let's narrow our path to why Verve Logic?
Vervelogic is one of the best resources you could hire to establish a firm digital footprint of your brand. The company is a single-window solution to all your requirements from software/web/app design to development, testing, publishing, marketing, and maintenance.
Not limited to software development, we offer logo designing for you to distinguish your business and spread a unique identity of your brand.
We have a dedicated team for each process consisting of certified and experienced skills. Well-versed with all the government policies related to outsourcing biz, we facilitate the clients with the best proposals as per their IT requirements.
Verve Logic Catalog
-> Mobile App development (Hybrid apps, native and cross-platform apps for )
-> Website development (responsive websites for dynamic business).
-> Software Development (top-notch software using the latest technology).
-> Online brand promotion
-> Search Engine Optimization
-> Email marketing
-> Social Media Marketing
-> Logo designing
-> Game designing
-> Developing full-fledged E-Commerce websites
-> Pay Per Click facilities
Checklist to get with Verve Logics
1. On-time delivery of your project.
2. Less time to the market facility.
3. Best customer support.
4. Providing NDA for security.
5. Timely updates and customer support.
6. Multiple connectivity channels for overseas clients.
7. Top-Notch and realistic IT advice.
8. The best usage of your monetary investment
For more info and testimonials from clients visit https://www.vervelogic.com/. Feel free to keep genuine queries and we will come to serve you with the best. 
Summing Up
India has the vast market for the best IT outsourcing companies in India as it holds a niche in this sector. Not to forget some of the major giants like TCS and Infosys, inspired by which other outsourcing businesses in India have prepared their teams to be the best. So the benchmarks are high.
But dealing in India does not guarantee you the best. There are certain skeletal companies that appear to be promising at first but fail to achieve the set benchmarks ending up disappointing the clients. This calls for further research to do. Visit websites, take a recommendation, go to social media review, talk to the companies and go with the one you are most confident about.
The best is no doubt guaranteed only if you land on the right resource with your requirements. A wrong step could lead you to lose your investments and get nothing out of your endeavors. For a concrete roadmap to success from your IT project, get associated with the best and the confident.
(Visited 118 times, 1 visits today)