How to Make an Emoji Keyboard Application?
In this technological era, all you need is an idea that stands out from the rest, work hard towards it & pray for positive results. We know ingenious work always pays off, but you also need to start with the idea. If you go through the play store or Apple store you will find millions of mobile applications which makes our lives efficient and easy by using it. You can find any type of application from car cleaning, car booking to food delivery & sometimes I wonder whether there is a single service left behind for which there is no mobile application. But still you have an application that can be unique is this sea of applications, & can make the people's lives easier then you can earn a huge amount of profit even right now.
You can also take another route, in which you need to upgrade an already owned idea, & today we are going to talk about one such plan which is the development of emoji keyboard application. If it is done accurately & cleverly you have the chance of ranking your emoji keyboard app too & stay ahead of your competitors.
It is estimated that 5 billion emojis are used on Facebook & Facebook messenger alone. Over 90% of the online population uses emojis & over 10 million emojis are sent each day. There are 3019 official unicode emoji. Today we can see emojis on all social media platforms, movies, emails, marketing campaigns. So, this much usage can surely bring up your revenue by a lot. So, to make it easier for you on how to make an emoji keyboard application & its mobile app development works.
What is Emoji?
We are living in a fast world, now people do not have to wait for days to get the message. One text through a dedicated messenger is enough to give your views. Emoji help us express our feelings in as few words as possible. Emoji has already become a key element of social media & messengers.  Emoji is a digital image or we can say an icon that users can add to express their thoughts and feelings on a particular topic.
It first appeared in Japan in 1998-99. It was developed by Shigetaka Kurita, who was working for Japan's largest mobile operator. It took advancement in technologies & time for emojis to get popular. Once the emojis got noticed by giants like Apple & Google, emojis started to get recognition in the world as these companies already had a big customer base. 
It leads to many new emojis, different colorful patterns & their integration in SMS, messengers & social networks, they're almost everywhere. After that it becomes a trend for the users to use the emojis & you might have also used it.  Every year on July 17, Emojipedia hosts the World Emoji Awards & the 2020 revealed the below results: (Information takes from Emojipedia.org)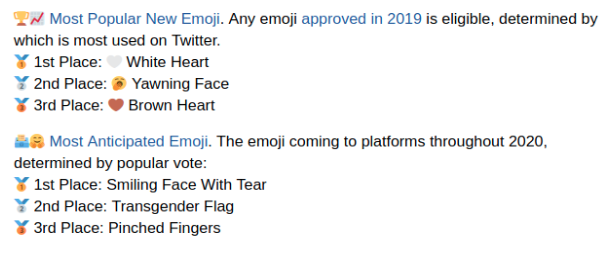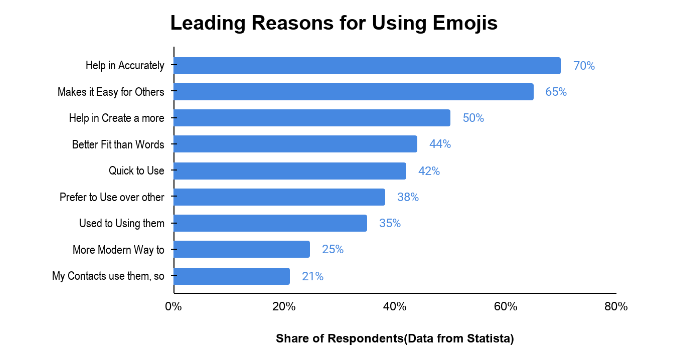 You must be thinking why emojis are in such high demand? And how to start earring on creating an emoji keyboard app? Well, as a human being we always look for results which can help us easily express our feelings in minimum time. If your mood changes you can just use an emoji to share with others how you are feeling about a particular thing. That is the reason why emojis are so popular in everyday communication.
Why Emojis Can Lead to a Profitable Business?
Emojis are turning into entertainment business, people use them for viral marketing, expression emotions to make their message seen faster & better. If you listen to other successful brands & personalities then you will get to understand why it is not a small picture as it has the power to leverage power on the clients. If you have noticed that use of emojis has considerably increased in their campaigns. As 85% of users are spending most of their time on mobile apps instead of browsers, this shows the importance of business done through mobile application. It is not 2011 anymore where people do not have access to smartphones.
The internet users are from a young age group as they do not mind the use of informal language in the marketing campaigns. Businessmen continuously look for the ideas in which they find it easy to interact with the consumers. If the consumers feel to use the emojis then the businesses will also love to use it. As per the latest statistics, mobile application marketers are able to increase the percentage of opening letters by 5% using emoji. It is a crucial step towards monetization. So you can absolutely go for hybrid mobile app development for an emoji keyboard as it can easily turn into success.
How to Benefit through the Development of Emoji Keyboard Application?
1. Sale of Products or Services
There are many companies all around the world who run campaigns to attract the attention of the users through their logo. We have Dove, Pepsi, Coca Cola, Burger King, MacDonald, Hyundai, Toyota & many others. Many brands like Ikea, Loreal or celebrities like Kim Kardashian created their own emojis so people can install them & use them in messengers & social networks.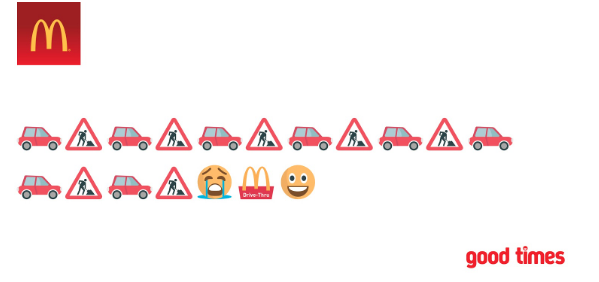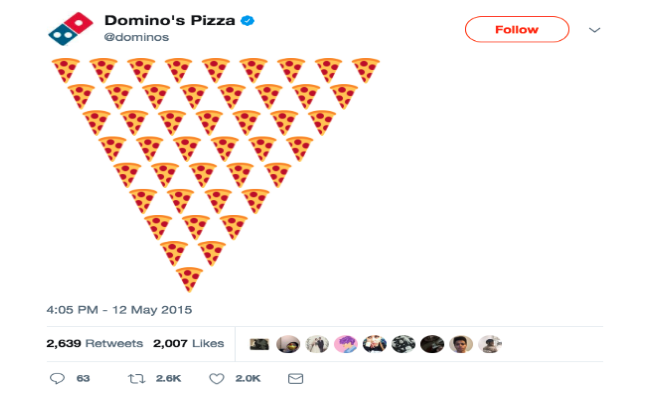 You might have also seen Domino's idea, where to order a pizza via SMS you need to click on their icon which represents a piece of the tasty product. With your emoji keyboard mobile app development, you can help businesses in such positives which eventually increases their revenue. You can easily promote their product & services by creating the emoji app of your own. 
2. Messenger Owners
The owners of messengers such Whatsapp, Facebook messenger, Snapchat, can use your emoji keyboard mobile application for android & ios to use your special feature & create the emoji keyboards.
3. Emoji App Development
No matter if you do not have a product or service to promote, you still can go for an emoji app for iphone or android. You need the top mobile app developers with the right approach to get a reliable source of earnings. You can create a merge application of free & paid emoticons to attract new users as paid ones will allow you to make a profit. For such mobile app development you need to first find your target audience. If you are planning to build such mobile application then your users are: 
-> People who want to express their emotions through the emoticons.
-> People who do want to communicate by writing find sharing emojis easier to express.
-> Celebrities: Today many personalities are open to opportunities where they can promote your emoji mobile app development keyboard to their fans.
-> People who love to send emojis on various occasions like christmas, new year to illustrate a particular things
-> Companies, startups & enterprises can also demand for customized emojis which illustrates their products or services.
These are among the few things which will give your application a good amount of earning. However, we do not know how the tables will turn as there can be many ways by which your application can be promoted.
How to Make your Own Emoji App?
1. Selecting the Target Audience
We have already discovered your target audience, so let us now move to the next stage.
2. Market Research
Before you start with your emoji mobile app development, you need to understand what your target audience is and what they are expecting or looking for. What all emojis are in demand? What stickers are people single these days?  In which emoticons people will invest?
3. ios or Android
You need to choose between iOS mobile app development or android app development if you are not ready to invest too much with emoji keyboard apps. However you can also opt for a cross platform application where you can have an application for both OS from single source code.
4. Features Needed in Emoji Application
We understand that the main features of these applications are emoticons but you also need to make it convenient for your users to access the application. So, some additional features won't harm your application. 
-> Animated Emoticons
-> 3D Emojis as they are very impressive 
-> Engaging & extraordinary themes
-> Easy connectivity to cloud
-> Easy input of emoticons
5. Security Issues 
It is really important to have an idea on how to create an emoji keyboard application & that is why we suggest hiring mobile app development companies which create highly secure applications & consider such issues very closely. If your emoji keyboard is not secure then you can easily get a plethora of negative reviews which can hurt your application on Play store & App Store. We strongly advise you to be concerned about the personal data & offer them a choice of several options to interact with your program.
6. Emoji App Development Process
Expanding the Keyboard Sets – Usually, the application updates on the user's keyboard so they can choose emojis from the new ones. Well, it is quite a difficult task to achieve as you will need ingenious & skilled emoji app developers for it.
Integration with Messengers – If you are developing the app by yourself & previous options seems too difficult for you then you can create an emoji app that integrates itself with chat applications. There are many messengers which offer open source platforms as it becomes easier for developers to work in such conditions, & your emoji app development will be much cheaper than anticipated.
7. Search for emoji app developers
Now that you know how to make your own emoji app, now you need to decide whom to offer the employment for your mobile app development. First let us see what kind of specialist do you need: 
-> A project manager which will look into every needed aspect in the project.
-> Designers are who will design your emoji keyboard app. It is one of the most important aspects as you need to hire UI/UX designers that are talented in their work.
-> You are only able to turn the emoji set into a real service when you will have experienced mobile & backend developers by your side.
-> QA engineers & testers help in bug testing
The Cost of Developing Emoji Keyboard Application
If we have to plan an emoji application then it depends on a few factors like development time, rate of experts, & complexity in the application. Design and coding takes up the lot of time when it comes to emoji app development. If we have to decide total time then you need to spend between 650-700 dedicated hours for its development. Testing is another thing that an application needs to pass to make sure there are no errors.
If you are looking to outsource the development then the hourly rates depend from country to country. 
-> US Based Developers – $50-$250/hour
-> Europe Based Developers – $30-$150/hour
-> India Based Developers – $10-$80/hour
If we talk about the developers rate then it all depends on the size & location of the company which you are employing for your mobile app development. You will find expensive experts in the US, Canada & the UK. However, if you move towards asian countries like India then you can get high-quality results in reasonable money. An average cost of emoji app development will land between $3000 – $7000. You also need to take care of the application from your end by supporting it every month.
Conclusion
After this read, we are sure you have learnt the promising results that emoji market can deliver. And as per the current trend, the popularity of emojis is going to grow in the future. If you are planning for the same then the skilled mobile app developers from VerveLogic can help you create an amazing emoji app that reaches the highest level of complexity. Our developers draw a certain limit of emotions, as our mobile app developers deliver full fledged results.
(Visited 108 times, 1 visits today)