Create Your Own Dog Walking App Like Rover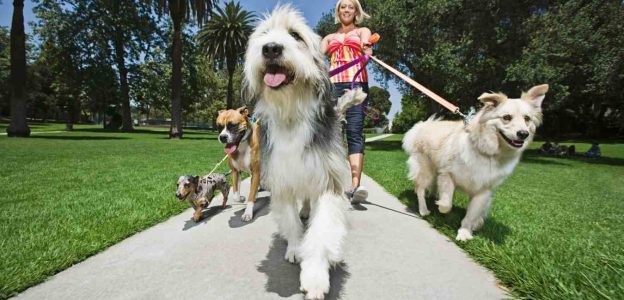 A full-fledged dog walking app shines when pet parents are hyper-busy to walk their dogs twice a day. After all, it's a living being we are petting. Just like humans, dogs also have needs and twice a day walk can't be ignored under any circumstance.
As per the survey by Research and Marketers, 68% of households in America own a dog, most of them own in plurals. Furthermore, the number of pet owners continues to rise every year which is creating a clear-cut opportunity for dog walking services to earn in shedloads by serving on a wider scale.
Nowadays it is rather convenient for pet parents to hire a dog walker than taking out time from their super busy schedule to walk their dogs. Being a professional app development company we take pride in sharing with you everything about developing an on-demand dog walking app, its mandatory features, cost, and revenue model.  It's time to leverage the ever-increasing demand for dog walkers.
Table of Content
1. How Does a Dog Walking App Work?
2. How to develop an On-Demand Dog Walking App?
3. List of Features for a Dog Walking App (Basic and Advanced)
4. Cost to develop a Full-Fledged Dog Walking App
5. The Best Dog Walking Apps – an inspiration for your venture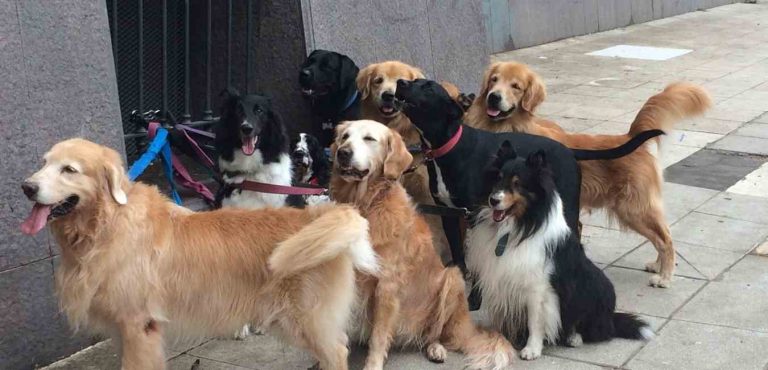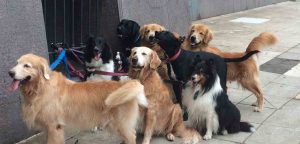 How Does a Dog Walking App Work?
As nowadays every other on-demand service is residing in our smartphones, the dog walking app is no exception. Apparently, these are the third-party apps that connect the owners with the dog walkers to schedule a safe dog walk. Several pet owners rely upon these apps to ensure the safety of their dogs. 
Here is the basic functioning model of an MVP dog walking app
Step-1: The pet parent will put a request for walking his/her dog.
Step-2:  On the other end the dog walker will receive the request in real-time and will confirm the bookings.
Step-3: As requested the dog walker will reach your doorsteps on time and will take your dog out for a walk. 
In the meantime, you will be able to track the route by GPS, receive photos and other mandatory reports of your dog.
Step-4: As the walk ends, the dog walker leaves the pet at home and receives payment via the app itself.
Bonus: Pet parents can rate the walker and even drop a review on the app. Re-scheduling with the same walker can be done.
You can also integrate some advanced features to justify a Unique Selling Point for your application.   
How to develop an On-Demand Dog Walking App? 
Now that you are certain with your decision to develop a dog walking app for your business make sure you hold a full-fledged ecosystem and an edge in your segment.
Here is your roadmap…
1. Decide Your Niche and Benefits from the app
Make your app as specific as possible, this helps you to establish credibility while keeping your app interface simple and clean. Your target audience will know precisely when to approach you and that is good.
Here are some niches you could follow to create a specific dog service app:
| | |
| --- | --- |
| Dog Walking | Facilitate a safe dog walk as and when the pet owner wants with real-time GPS tracking and other updates.  |
| Dog Sitting | There are people who work all day out, they are afraid to leave their canines at home. Professional pet sitters will take care of such pets, play with them, feed them and give medications (if necessary) |
| Dog Grooming  | Dog grooming is another sought-after facility that you could provide through your app. As per the surveys by the US Bureau of Labor, the demand for animal roomers increases by 12% every year.    |
| Dog Training | The demand for dog training services is also on its verge in the US. Facilitate the pet parents to book sessions for their dogs with expert dog trainers.  |
If you are aiming for an aggregating website you can surely opt for more than one complimentary niche to increase the premise of your service. But make sure you take as much as you can handle.
2. Market Research
It's like shooting aimless if you do not know your market. With market means your target audience, what challenges they are facing and how your app can be designed to solve those challenges. Also, know the current trends going on in the pet care sector which will add value to your services.  
You can conduct online surveys to know your target audience well.
3. Know Your Competitors
To hold an upper hand in the market make sure you are well-versed with your competition. Try to fetch the answers for the following: 
 -> Know which dog walking app is currently popular?
-> What services they are providing?
-> What do they do for marketing?
-> How they are performing in the market?
-> What USP you can add to make an application that serves better?
4. Determine Business and Revenue Model
If you have already researched your competitors you will come to know that most of them are working as an aggregator platform. These are third-party apps that only facilitate pet services through their platforms.
If you are aiming for a similar third-party platform, then here are the revenue models you can associate:
| | |
| --- | --- |
| Marketplace Model | Self-employed dog walkers or pet services can register on your app and get independent bookings. You can let them make a paid profile or charge a fee for each booking/session.    |
| The Agency Model | Aggregate the bunch of pet experts to work under your brand. They are no more self-employed rather they are working under your platform.  |
| Annual User Charges | You can charge pet owners by giving them monthly or annual subscriptions to your services.  |
| Paid Promotions | You can charge related businesses for promoting their services on your platform. Also, you can charge dog walkers a premium subscription to increase their visibility on your platform.  |
| Selling Pet Care Products | You yourself can list pet care products on your application. This is an incredible way to earn as the owner will nowhere have to wander to get goods for their pet.     |
Make sure to hold a robust ecosystem that serves the dog walkers as well as the dog owners pretty well – as it is the ultimate user experience that counts.
5. Find Your Partners
Success depends on the right start. Apart from analyzing your competitors, you can also see which businesses are closely related to yours? Like vet hospitals or pet stores or grooming/training institutes. Also, if you are planning for a third-party aggregator app, you have to approach the professional dog walkers/agencies as well and let them register on your app. 
6. Enlist features and Functionality
How your app will serve your target audience? This is the most crucial step towards a successful dog walking app. Following the market research and knowing your customer's needs from your app, you can easily pen down the features and functionality of your app.
Study the app interface of your competitors and get a brief of what basic and advanced features you want to induce in your application. Also, determine whether you are aiming for an MVP (Minimum Viable Product) or a complex version of the app. Let your mobile app development company guide you here.
7. App Wireframing and Prototyping
The app needs to be planned and designed in a way that is smooth. App designing and prototyping is the very first phase of successful mobile app development. 
Wireframing – It is the process of creating a blueprint of your app as to how it will look in the end.
Prototyping – In this process, the app's visual prototype is constructed using several mockup tools to know how it will work in the end. You can place various UI components, work with the color pallets and decide the theme of your app.
App designing gives a strong lead to development. You can anytime reach out to an experienced mobile app development company with your ideas and collaborate with them to make a robust app design/prototype.
8. Hire an Expert App Development Company
If you want the best worth of your investment, you can always outsource to a potent third-party IT development company as that reduces your development cost and time to market.
A Minimum Viable Product is capable of handling user expectation but it might lack you USP. Keeping in mind the MVP model here is the approx time estimation for designing and developing a dog walking app. 
| | | |
| --- | --- | --- |
| Feature/Page | Designing | Development (Android/iOS) |
| Signup (email or Facebook) | 8-9 hours | 15 hours |
| Profiles (owner's profile with his/her dog photos and bio & Pet Service) | 8-9 hours | 18-20 hours  |
| Add/edit info and photos of dogs in the user's profile | 7-8 hours | 18-20 hours |
| Route Filters (by location & type) | 6-8 hours | 16-20 hours |
| Navigation map | 7 hours | 24 hours |
| Booking Segment | 5-6 hours | 4 hours |
| Total  | 45-50 hours | 95-100 hours |
List of Features for a Dog Walking App (Basic and Advanced)
Basic Features
| | |
| --- | --- |
| Pet Owners | Dog Walkers |
| A Signup page and Profile (including photos and bio of their dogs) | A profile showing prior experience, their photo, and social media links.  |
| A search tool to locate dog walkers in their area or nearby | Request segment – to receive walking requests from pet owners.  |
| Map integration for route tracking, locating the dog walkers nearby, etc.    | Map integration for route tracking and GPS updates.  |
| Filters for search results to easily spot the nearest dog walker.  | A calendar – to mark when they are available for dog walking.  |
| Walk Booking and Scheduling tool.  | A feature to confirm the dog walks.  |
| Dog walk reports (tracking the routes, distance, start and end time)    | |
Advanced Features
Advanced features can help you hold an upper hand in your sector. Have a look at some of the features that can even be your Unique Selling Point. 
-> An in-built payment gateway
-> Log indirectly via Facebook, Gmail, or Linkedin.
-> Push notification utility
-> Advice from Pet Experts
-> An In-Built pet store (to get all the goods for your pet).
-> Online chat and video calling feature (prior consideration)
Cost to develop a Full-Fledged Dog Walking App 
How much does it cost to build a full-fledged dog walking app? This is a general question and often a rhetorical one as the answer to this question fluctuates based on several factors. The cost of developing a dog walking app depends upon: 
-> Its severity
-> Business model
-> Feature list
-> Type of application (Native/hybrid/cross-platform)
-> Integration of advanced technology
Channelize your investment by discussing your app requirements with an experienced IT consultancy and they will give you a budget estimation for the app you can own in your interest. 
The Best Dog Walking Apps – an inspiration for your venture
1. Rover
The venture started in 2011, the current annual turnover of Rover is above $11 million. The company has a catalog of over 65,000 dog walkers widespread all across the US and is an open platform for more registrations.
Here are certain benefits of the app that keeps the users engaged:
-> Dog walking starts from $30
-> A robust tracking system
-> Dog sitting at $20, dog boarding $ 20
-> A robust UI with ample features
-> All the walkers and sitters have to clear a background check before rover registers them as professionals on their app (this maintains the credibility of the app). 
2. Wag
A slight modest than Rover, Wag is another American dog walking agency that was founded in 2004 in Los Angeles. Lately, the app has managed to make an annual turnover of $2.5 million. As soon as a request is posted by the owner, all the nearby dag walkers get the notification and one has to accept them to confirm the booking.
Here is the list of benefits from Wag: 
-> The dog walk is charged at $20, the dog sitting at $39, boarding at $39, and daycare again at $39.
-> They have a powerful ecosystem to maintain a real-time synchronization of all the members involved.
-> Wag does complete background screening to ensure that the dog walkers and sitters are reliable.
-> It gives 24/7 customer support.
In The End 
The demand for dog walking apps is elevating day by day in America which is a clear indication that investment in this direction will never go in vain. The entire article ahead is to guide you through all the stages of app development and to help you hold prior knowledge of the process. 
Always start on the right foot by discussing with a professional IT development company that is anytime there to talk you through your needs. They will be able to solve your revenue and cost processes pretty well.  
(Visited 198 times, 1 visits today)