The 8 Best Apps for Book Lovers Available Online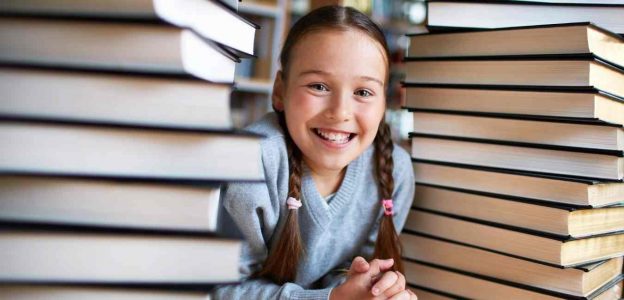 We mentioned many times that technology has changed the way we are living. We are able to use this technology in various ways to benefit ourselves and make our lives easier. Thanks to technology like the internet and mobile app development companies, everyone is planning to expand their reach. And these mobile-focused business models by the companies are changing our affecting users as every other person has a smartphone. Similarly, book lovers are also putting down their physical books and picking up iPads, Kindles, and Smartphones to download the best app for book lovers. With the benefits like easily accessible from anywhere, one device, many books, shareable content, interactive elements, augmented reality experience, easily available makes sure that eBooks are here to stay.

As a book lover, there are many different things you must be looking at in the app. So we suggest you gather the list of all the things that you need from your book reading app as we have come up with a superb list of some best free apps for books lovers which make you fall in love with reading once again. All the listed apps are top class in their category and give you ease in finding the book you were looking for with the leisure of sitting at your home. So, without further ado, let us move ahead with the 8 best apps for book lovers available online. 
1. Audible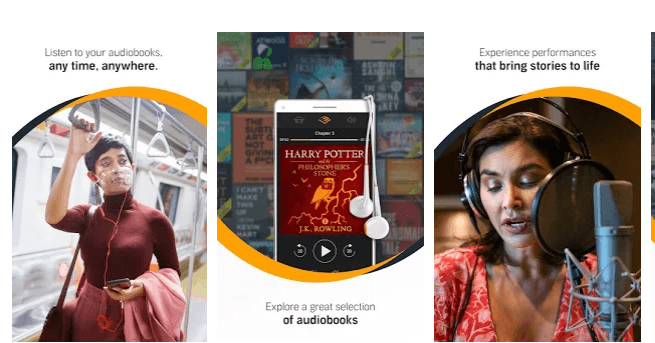 Well, to be honest, we have seen people argue over the physical and digital books on which way is better. For a book lover, it doesn't matter because it's the words inside the book which shock you or moves you. But there is no arguing over the audiobooks as they are one of the finest solutions of this technology as now you can listen to others reading you a book right from your phone rather than having thousands of cassettes or CDs. Audible is one such app for book lovers where they can buy, download and instantly listen to any audiobook they want. Audible doesn't take much space and is installed on your smartphones.
Audible has come with this smooth and cunning app which consists of a vast library of audiobooks and ebooks which makes things very easy for the reader. Since its acquisition by Amazon, readers got more original content from the best authors from all over the world. Audible allows its users to subscribe for a low monthly fee and use their monthly credit to pick up any book they want. Now you own that book and re-listen to it no matter how many times you want, even after you are done with audible's subscription. 
Just like Amazon originals or Netflix Originals, we have Audible Originals which consist of sleep programs, documentaries, short stories, and whatnot by some major and world-renowned authors. One top feature of Audible is that it supports Apple Watch, as it allows you to save books directly to your Apple Watch. Moreover, if you prefer it to listen on your iPhone, the Apple Watch will automatically display the Audible App with relevant controls. Isn't that amazing? Audible is the perfect option for people who love to read. This app is one of the best ios apps for book lovers and for android users as well. Audible has focused on bringing in more and more genres so the users get different types of content on Audible.
Download Audible for iOS | Android – One of the best apps for book lovers
Just like the top best ebook apps we have also compiled a list of 20 best news apps for our users. We understand that many people do not get the chance to pick the newspapers because of the fast world we are living in. So, to make it easy for the global users, we find out the best news apps for the readers so they can read the latest news on the go.
2. Apple Books

As the name suggests this application comes from the maker of iPhones i.e. Apple. We all know Apple for its security and distinct features, similarly, Apple Books syncs over iCloud so all your books and purchases sync seamlessly across all of your devices. With its clean and minimalistic appearance, you can have light and dark modes for better readability in different scenarios. It can also stock your purchased books, own ebooks, PDFs, and audiobooks. The top features of Apple Books are:
-> Allows users to adjust the background color, the font style, and the font size.
-> Bookmarks can be added at any point to come back to in the future
-> Text Highlight feature anywhere
-> Consist of the huge library of book
-> Secure and effortless to use
Download the best iPhone app for book lovers – Apple Books 
3. Bookly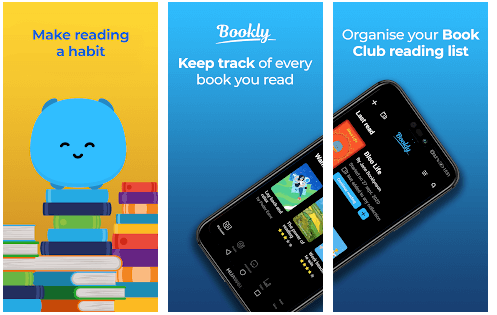 Bookly is a very smart application that perfectly fits the mind of book lovers. Bookly can be described as a fitness tracker for book lovers. Bookly shows how long you read, number of pages you have read in order to enhance your reading skills which makes it the best app for book lovers. Bookly basically helps in creating a superb reading habit which makes it a perfect application for the people who want to create a reading habit. Bookly also offers a reading session that gives you information like your average pace per page, how many pages you read per hour. Bookly takes this information to figure out how much longer you'll need to finish a particular title or book. It's always cool when you get such unique features in the industry that don't need any reform. Bookly is the perfect example of how technology can make our lives better.
Not only this Bookly also allows you to create your own reading goals so you can create an efficient reading habit. These goals can be anything like the amount of time you want to invest, the number of pages you want to read in a day, or a month or a year, number of books you want to finish. Bookly gives you that extra motivation that you look for while creating a habit of reading. With time, you will find out your reading abilities and how you can improve them like fast reading and quick comprehensive reading. Bookly also offers awards that are unlocked for achievements such as reading for consecutive days in a row.
When reading anything on Bookly, it can act as a timer, which tells you how long you have been reading. The in-built features of Bookly help you add your personal thoughts from that session including plot points you want to remember for later. Well, some people hate to read in silence so Bookly offers ambient noises to fill the silence so you feel aesthetic. Bookly surely is one of the best apps for literature lovers as every book lover would love to have this much information while reading. This app is surely fun to have on your phone and a great way to improve your reading habit.
Download best android apps for book lovers – Bookly
Download best iOS apps for book lovers –  Bookly
4. MadeFire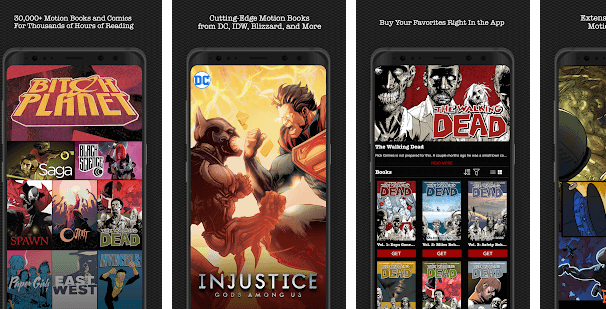 Madefire is a place where you can find all your favorite comics to read. Now you do not have to wait for the latest DC or Marvel latest comics as Madefire makes it easy with its huge library of comics from all ages. It also offers additional artwork and animation to the comics from its end to make the reading more intriguing. Every image will move across your screen in order to build the story piece by piece as you read. Although you have to read it by yourself in your own voice as every page is enhanced with effective music and sound effects so you easily become a part of the story and find it intriguing. Let us have a look at the top features of Madefire:
-> New Comics every Wednesday
-> Have a new experience with your favorite superheroes like Superman, Batman, and others from the DC Universe along with Transformers, Hell Boy, etc.
-> Music, Sound, 360 Panoramic Views, Sound Effect, Motion Transport to go deep into story worlds. 
-> Has a huge base of Free comics, kids comics 
-> Motion Comics from Marvel, Image, Blizzard, DF, Valiant, and many more
Madefire is surely the top best iPhone app for book lovers as you read, watch and listen to your favorite comics on your iPad and TV before. Surely a place where you have not read your comics before.
Download Madefire for Android | iOS – Top ebook app
Since we are talking about the best iOS apps for book lovers. We all know that iOS device are known for their security. iPhones are designed to protect your data and your privacy. But you can have lost your data or you can lose a device or in the hands of hackers which can lead to a huge financial and psychological dent. So we have listed the best iOS security apps which will help you keep your Apple devices secured.

5. Blinkist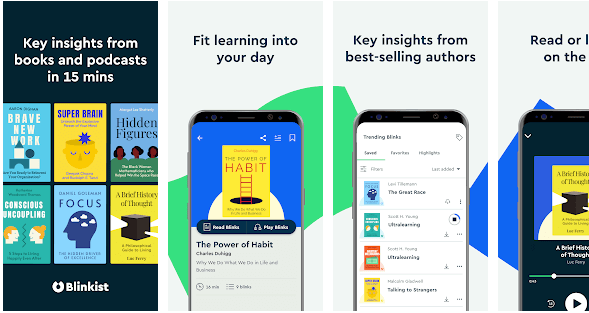 As mentioned earlier, reading has tons of benefits and as per the top entrepreneurs if you are not reading then you are lagging behind in life. But not everyone has time to sit back and read, many people only have around 15-30 minutes in a day which will surely take months to finish a particular book if want to read comprehensively. Here come the Blinkist services as it creates conclusive insights from the best sellers and creates it into short and quickly understandable content.
So, you can have sessions of 15 minutes in a day which will summarise the whole book in that time. You have the option to read the complete version of the book or its summarised version from Blinkist. It also offers many self-development podcasts which are also not fiction. It consists of a huge library where you can search by topic, author, or by the name of the book. The best feature of Blinklist is that it can playback the "Blinks" or you can read them by yourself makes it one of the best android apps for book lovers. For instance, you are relaxing so you can read the book by yourself, however, you have to jump in your car and reach somewhere on time then you can finish the rest audibly.
Download the best free app for book lovers – Blinkist
Download top ebook app for Android –  Blinklist 
6. Serial Box
Serial Box is another app for book lovers which offers a different kind of content. It offers its own original stories which are set in horror, fantasy, and sci-fi fantasy. You can either read these stories or let them read them for you. The developers of this mobile app development company have taken care of little details. Like this stories on Serial Box are only available on this platform what makes this interesting is that these stories are offered by some of the most popular authors. As mentioned it also offers audiobooks that are full of engaging and chilling audio effects just like watching a cinema.
Serial Box app supports light and dark support along with hypnotic animations. Audio can be streamed through the speakers which allow you to multitask why running your daily errands. Just like any other streaming platform, it also offers to skip intro and outro options along with added sleep timer. Every audio can be downloaded so you can listen to them later.
Serial Box also consists of multiple background colors and typefaces to make it easy on your eyes while reading. With an option to customize settings like line height, margin thickness, word spacing, and letting space makes it a top app for book lovers out there. All the genres available on the Serial Box have something amazing to offer. According to many users, please do not read a horror novel if you are a soft-hearted person. Serial Box goes out of its way to cater to the users and plays into features, authors, narrators, and publishers that will jump out at them.
Download the Serial Box for Android | iOS – A must-have app for book lovers in the market to have on your phone

7. Kindle 
Kindle was always planned to be on the list but we also wanted you to show apps with some new features so it came so late in the list. Most book readers from all around the world already adore Kindle as the best alternative for the books. Kindle Android and iOS apps have many things to offer like customization options which include colors, fonts, and sizes comparison. The best part of using Kindle is the ease it offers while surfing and purchasing from the library. Kindle books can also be purchased from Amazon with a single click.
If you have an Amazon membership, there are other Kindle perks like having access to the vast catalog of titles included at no additional cost. Easiness of reading and screen gives a mesmerizing feeling which makes it easy to use and loved by many.
Download Kindle for Android | iOS to read more and more books and earn a book lover's batch.
8. Overdrive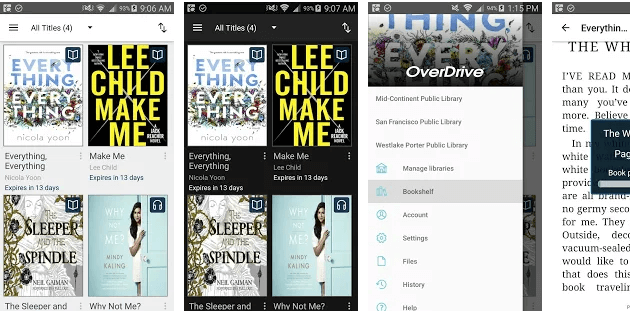 When you are an avid reader who finishes the book in no time, then the book costs may start to add up. Even when you are starting out you do not want to spend on books that you are not going to read more than once. When your monthly costs are getting high, borrowing a book from a top platform becomes the right choice for people. As you all know that every local library has gone digital, which makes the purchasing and borrowing of books very easy. Overdrive is one such platform that offers library books in a whole lot simpler and easier process.
You can borrow or purchase books on the OverDrive app with the option of customizing font size, color, and spacing so that it's easy to read even when you do not have enough light around. The best service of OverDrive is that you can create an account using your library card and "check out" books digitally and read them on your smartphone. Now you do not have to step out to visit a library and borrow a book for you to read.
A lot of people use OverDriver as they do not have to pay a single penny to read the best books as it consists of your local library. All you need is a library card and give the app a download and start finding your favorite books for free.
Download the best android app for book lovers –  Overdrive
Download the best iOS app for book lovers –  Overdrive
As we have checked the best app for book lovers. Let us also have a look at the best offline apps to have on your phone which work without any internet effectively and make our lives easier.
These are the best apps for book lovers which are available in the market for every kind of book lover. We hope you find the right app as per your needs and requirements.
Moreover, if you are planning to create one such application or finding 20 android app development trends to watch out for in 2021 then a top IT outsourcing company like VerveLogic is there for you. We also offer some amazing blogs to make our reader's lives easy. As a business owner, we have top blogs for you like "The Ultimate List of Top Mobile app stores."

We're VerveLogic and we've been serving our clients with our IT, designing, and Marketing services since 2012. Every day, our team of dedicated professionals works to make this world a little better through our premier solutions. Our exclusive services include Mobile App Development, Web Application Development, UX/UX Designing, SEO, Digital Marketing, and IT Consulting like "how to reduce android app size during the development" and Digital Marketing Services to businesses from all around the globe irrespective of your business domain.
(Visited 126 times, 1 visits today)