10 Best Android Launcher Apps to Try in 2021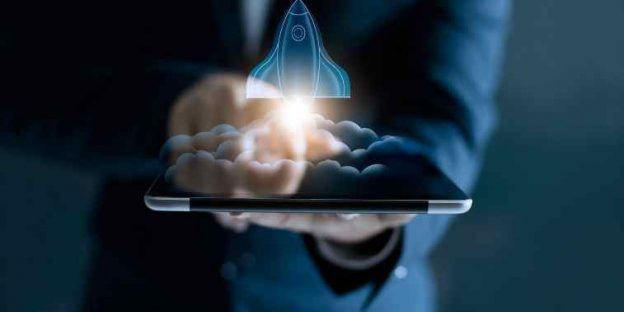 Being an android mobile app developer you must have an idea about Android launcher apps as they can help you immensely. If you are also wondering what an android launcher app is and how it can help your android mobile app development then read on. Android launcher apps have long been an integral part of the Android experience. Launcher applications come with some excellent features and functionalities that can restyle the whole interface of the device. Let us understand everything in detail:
What is an Android Launcher App?
Android launcher applications come with some amazing features and customized options like changing the home screen look to app icons and from theme colors to font size, everything is possible with android launcher applications and that is why mobile app development companies love to develop applications that perfectly sync with android launcher applications.
Everyone knows the dominance of Android devices over iOS devices. There can be thousands of reasons behind this but one of the major reasons is that it offers customization opportunities as every device comes with a pre-installed launcher application as you must have an idea about mobile technology trends to look out for in 2021.
Why Use Third-Party Android Launchers?
The third-party launchers for android applications replace the inbuilt and default in-built launchers. Well, it is perfect to use this third-party launcher is the customization it offers which allows you to create something which suits your needs. Over time, third-party launcher apps have become smarter and more feature-rich and also save a lot of time bringing many of the features to the same page.
The Best Android Launchers
1. Microsoft Launcher 
Microsoft Launcher is an application launcher for the android mobile platform developed by Microsoft in order to make a better android user experience. It is among the best home screen launcher apps for android as it offers simple ways to manage their stuff on their device. It easily mingles with Cortana which makes reading and unread text messages, calendar updates, everything easy for the user.
The digital assistant is an add-on to this app launcher for android and helps it stand out among other similar android launcher applications. If the user has a Microsoft account then they can get easy access to documents, calendars, and other activities because of this launcher. Let us have a look at the notable features of this top android app launcher. 
-> Gesture customization
-> Search for the web or devices docs in one place
-> Allows Cortana to read unread text messages, calendar updates, and more
-> Personalization of feeds like news, calendar events, docs, and more
Download this best Android launcher App Google Play Store
2. Nova Launcher 
Nova launcher is another top android launcher app that offers amazing customization. It is also the first-ever android launcher application that has made its name in the mobile industry. The top customization features that this app launcher offers are customization as per need, gesture support, android icon pack support, themes, and more. The developer team of this application is always updated and removes all the bigs and errors from it. And to make it easy for you, home screen layouts can be stored in the backup while switching to a new device.
You also get features like gesture controls like swipe, pinch, double-tap, unread count badges for messages, new tabs or folders in the app drawer, custom actions for swiping on app shortcuts, hides never used apps. Let us have a look at its notable features: 
-> Color control options
-> Customizable App Drawer
-> Allows you to import layouts from other good android launchers
-> Snap icons or widgets halfway through the desktop grid cells
Download this best free Android launcher App Google Play Store
3. Smart Launcher 5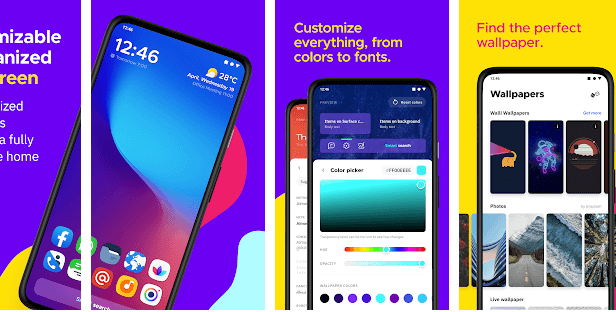 Smart Launcher 5 is another top-class home screen launcher app for android which offers some intellectual features like search for contacts, apps, and also search for content on the web. Smart Launcher 5 is fully customizable as this application comes with many options inside it. You will find thousands of themes, home screen alterations in the most distinct ways while using it.
Another best thing about Smart Launcher 5 is that it is a community-driven project, and that is why the application gets updated regularly and supports all the latest Android APIs and new devices. The most notable features of this best android launcher are:
-> Ultra-immersive mode
-> Automatic app sorting
-> Adaptive icons with enhanced customization
-> Automatically adjust theme
-> Designed so that phone can be used with one hand
Download best Android launcher from Google Play Store

4. Apex Launcher
Apex launcher is a very popular home screen launcher app for android devices. We mentioned it is popular because it has the capability to change the entire look of stock android along with extra new features which makes it the top android app launcher. It offers thousands of themes and icon packs that can further be downloaded from the Play Store. To make it easy for the users, Apex Launcher sorts apps in the app drawer as per the title, installation date, or how frequent the app is being used.
As it comes in two versions, its pro features include unread count notifications, transition effects, enhanced folder support, dynamic drawer customizations, etc. Let us have a look at the Notable features of Apex Launcher: 
-> Advanced theme engine
-> Drawer apps sorting
-> Convenient home screen gestures
-> Easy optimization of phones and tablets
Download for best Android launcher from Google Play Store
5. Evie Launcher 

Evie launcher comes with some out-of-the-box gesture controls which makes it a top home screen launcher app for android. This launcher is quick and also offers an amazing UI at the same time as you must understand Why understanding screen size and screen resolution is important. It also allows users to back up the Evie layout to Google drive. It is completely free to use Evie launcher which is why it has so many downloads.
It also allows its users to choose their search engine, lock home screen icons, show more local results in search, and Android O notifications after its latest update. The most notable features of one of the best launcher for android are:
-> search results to create custom shortcuts
-> Search inside all of the apps in one place
-> Import and customize the layout, wallpaper, and more
-> Swipe up for instant access to all  applications
Download the best free Android launcher from Google Play Store
6. Niagara Launcher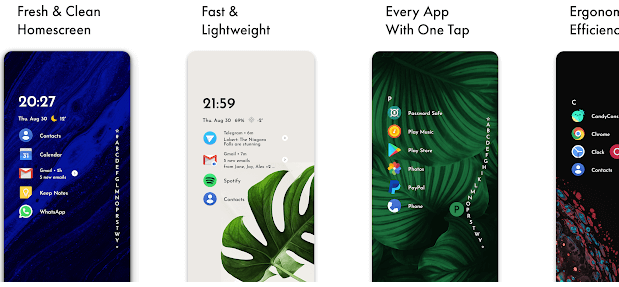 If you are a Pixel phone user then the Niagara launcher is perfect for you. However, it is both the android app and Apple launcher which offers some of the most amazing features along with many customization features which can give you a unique and new user experience. As a user it also allows you to import existing layouts from the best android launchers like HTC Sense, Google Now Launcher, Apex, Nova, Samsung/Galaxy TouchWiz, and others. The most notable features of this Android Launcher are: 
-> Features of XDA Developers
-> All apps in a simplified list
-> Nominated as one of the best free android launchers 2021 by Lifewire 2019
Download the best launcher App from Google Play Store

7. ADW Launcher 2 
ADW Launcher 2 is the second version of the ADW launcher. However, the first one was also a masterpiece but the new one comes with an updated UI that easily fits with any android version. The other top features that it includes are launcher shortcuts, extensions, and a lot of shortcuts. One of the best features of ADW launcher 2 is it allows you to make your own widget which is amazing in all manner. The most notable features of this application are:
-> Icon effects section
-> User gesture management support
-> Support for Android launcher shortcuts
-> Dynamic UI coloring using wallpaper colors
Download the best free Android launcher from Google Play Store
8. Hyperion Launcher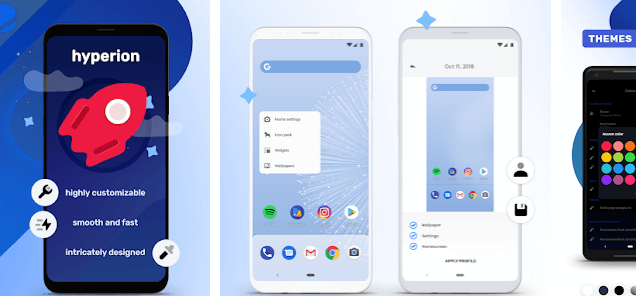 If you want to have Pixel's feature in your smartphone then we suggest you try the Hyperion launcher. This open-source top-class launcher has some amazing features. It is free to use this futuristic app launcher as it is also loved by other android app development companies. It doesn't include any kinds of ads or in-app purchases. The most notable features of the Hyperion launcher are:
-> Multi-Color
-> Custom Grid Size
-> Hyperion Dock
-> Google Smart Widget
-> Typography
-> Iconography
Download the best Android launcher App from Google Play Store
9. AIO Launcher 
AIO launcher is another top-level launcher app that has thousands of mobile themes and HD downloads with a variety of styles like games, anime, cartoons, etc. It also offers screen 3D effects and app widgets which makes the customization of the home screen, menu, lock screen, etc.
It runs on an independently developed 3D engine which makes it one of the best launchers for android that helps the mobile launcher app to run quickly and in the most secure manner. It is also one of the best launchers for tablets as well. The most notable features of this top android launcher are:
-> 3-D Effects
-> Screen and Drawer animation effects
-> Hide and Lock Apps to protect phone security
-> Daily updates for wallpaper and themes
Download the best Android launcher App from Google Play Store
10. LawnChair
This one of the best home screen launcher apps for android as it is the perfect tool to add Pixel features but wants to keep the default look and working in terms of interface. Lawn Chair helps you in adding aesthetics, flow, and even some functionalities. This free android launcher is open source which means you keep on getting new updates. The most notable features of Lawnchair are: 
-> Google now supports
-> Android 9,10 and 11 compatible
-> Configurable icons and grid size
-> Google Pixel inspired visuals and appearance
-> Support for app icon packs
Download the best free Android launcher from Google Play Store
This is the list of best android launchers consisting of some amazing applications that you can install on your android smartphone. However, if you are a business that is planning to create one such application then a top IT outsourcing company like VerveLogic can help you with IT consulting like Steps to understand the mobile app development lifecycle and development of the app launcher so you can benefit from it. 
We're VerveLogic and we've been serving our clients with our IT, designing, and Marketing services since 2012. Every day, our team of dedicated professionals works to make this world a little better through our premier solutions. Our exclusive services include Mobile App Development, Web Application Development, UX/UX Designing and Digital Marketing Services to businesses from all around the globe irrespective of your business domain.

(Visited 1,382 times, 1 visits today)