5 Best Android Cache Cleaners in 2019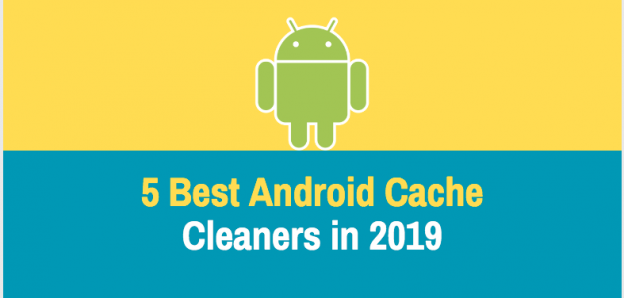 Android smartphones promise to deliver everything worldly on our fingertips. Music, movies, games, shopping, you name it, and the play store will show you the way. But this wonder-world could come to a halt if your device starts getting slow with time. Among all the reasons, the major culprit behind such sluggish behavior is Cache data, or cache files as they are commonly called. So it comes to:
A. What exactly does it mean to have cache files in an Android device? &
B. Why do we need to clear them every now and then?
 Read further to dive deeper into the details.
What are Cache Files?
A cache file is the "Memory" that apps and websites store on your device when you use or visit them for the first time. This is done in order to reduce the application or page load time for your future visits. This data is locally stored, and includes files like image, web page layout, CSS, and JavaScript. Over time, the cache stack grows and occupies a major chunk of a device's memory, which slows down your phone as a consequence. While it's OK to have the files of websites that you visit regularly cached on your device, it won't make much sense to keep the cache of every other website you visit and have no intention of visiting again. 
 What are Cache Cleaners?
Cache cleaners are applications that help you clean junk files, temporary files, cache, and trash on your device, with a single click. The advanced ones also asses your phone's performance by showing you the status of your RAM, ROM, temperature, applications running in the background, etc. Another fact related to your phone's performance is, you can access all the parameters and clean your phone on your own without downloading any cleaning application. But for that to happen, you have to visit all the locations manually, which could differ from phone to phone. The other reason why it is not advised to delete your cache and garbage files manually is you might delete a system file mistakenly, which look more or less like the cache files to a person novice to the technical know-how of smartphones. If that happens, your applications might fail to open or crash, and you might even lose your personal data saved on the phone.
Best Android Cache Cleaners of 2019
1. CCleaner

: Memory Cleaner, Phone Booster, Optimizer
Developed by- Piriform
Installs- 50,000,000+
Content Rating-3+
App Rating- 4.5
CCleaner and Piriform are a big name in PCs, mobile, cloud network software development. CCleaner is the flagship product of Piriform, that helps you clean your cache memory and junk files, getting you back precious space you need to store anything important. The app has the phone booster. which helps you kill all the application running in the background, saving your battery life. Some other features of CCleaner are:
a. Cleaning of Browser history 
b. Clearing Clipboard content 
c. Clearing SMS and call history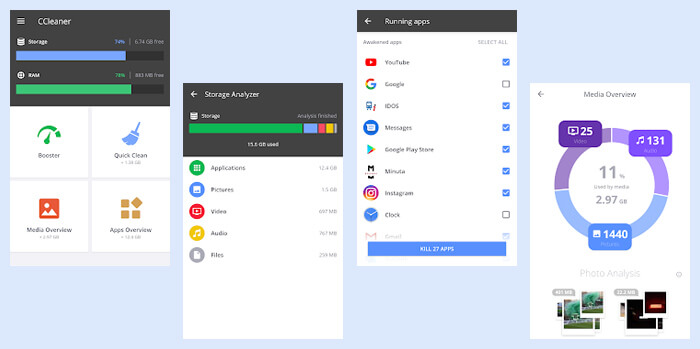 2. Clean Master – Antivirus, Applock & Cleaner
Developed by- Cheetah Mobile
Installs-1,000,000,000+
Content Rating-3+
App Rating- 4.7
If you are looking for an app that looks after your online and off-line security, keeps personal data hidden from other device users, and also keeps your device free of junk and cache, then Clean Master is your thing. Some key features of this app are:
a. Junk File Cleaner
b. Protection against Virus
c. Security on Wi-Fi networks
d. Game Manager
e. App Locker
3. Avast Cleanup & Boost, Phone Cleaner, Optimizer
Developed by- Avast Software
Installs-10,000,000+
Content Rating-3+
App Rating- 4.5
Anyone using a desktop or PC, with any of the major OS like Windows, Mac, and Linux, knows how good Avast protection is. The reputation only played in favour of this AntiVirus developer when it launched itself on PlayStore. Some of the key features of Avast Cleanup are:
a. Photo Library Cleaner
b. Junk Cleaner
c. RAM Cleaner
d. Battery Life Booster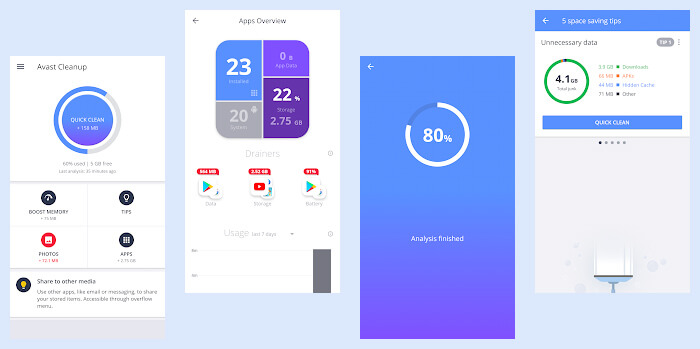 4. AVG Cleaner
– Speed, Battery, Memory & RAM Booster
Developed by- AVG Mobile
Installs-50,000,000+
Content Rating-3+
App Rating- 4.4
AVG has been a competitor to Avast in the antivirus industry, having it's separate user base in both PC and smartphone world. The app comes with all the features and benefits one would expect from a top classer antivirus provider. Some key features of AVG cleaner are:
a. File Manager
b. Battery Saving
c. Background App Suspension
d. Junk Cleaner
e. Photo Analyser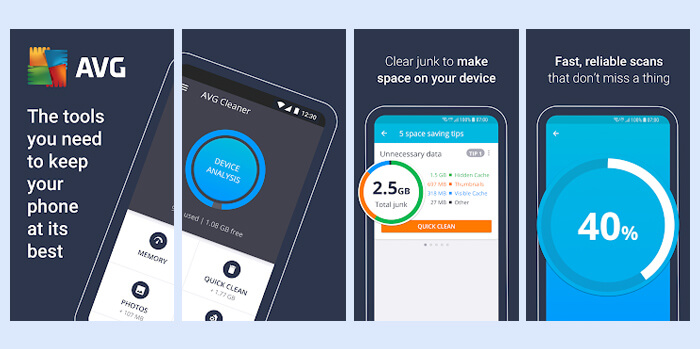 Developed by- LIONMOBI
Installs-1,000,000,000+
Content Rating-12+
App Rating- 4.6
Power Clean is everything that it's tagline says. It's light, it's fast, and it's definitely smart. It detects apps that cause are making your smartphone to overheat, help you find duplicate photos and keep the best one for you, block junk notifications, among many other things. Some of the key features of this amazing smartphone application are:
a. Junk Clean
b. CPU Cooler
c. App Manager 
(Visited 65 times, 1 visits today)