31 Free Public Domain Image Websites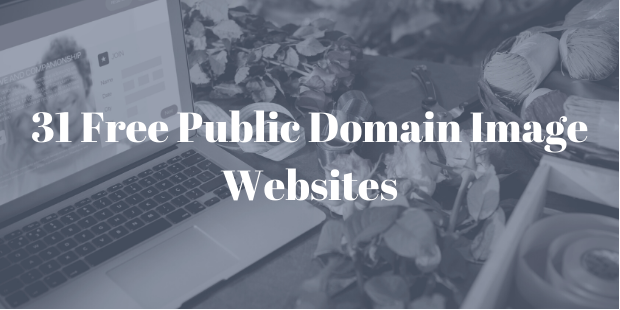 As a growing business on the internet, many times you require images that you can use for various purposes. To use these images you need to buy them as photos also have copyright just like your business. Well, surely you do not want inferior or substandard images for your business but you might have to pay a good amount for them. There is a ray of light even in the midst of darkness as the free public domain image websites are there for you. Basically, public domain images are those images whose copyright has expired or never existed in the first place. It allows everyone on the internet to access high-quality images for personal & commercial purposes. Usually there are three ways that public domain images occur.
-> The images are assigned to the public domain Creative Commons Zero(CCO) license
-> The images are not copyrightable
-> The copyright for the images has expired
There are many photographers, libraries, museums that release the stock of photos every year to public domain images online, for it becomes easy for the people to have a sight & use these stock which contains thousands of images. It seems fun to read to have so many images to use for your business, but having knowledge from where to get these images is also a hurdle that you need to overcome. You do not have to worry as we have curated the list of top free public domain image websites that contain quality stock photography that you can use for your various purposes especially for your business.
1. WikiMedia Commons
It is easy to find free images on Wikimedia Commons because it is one of the largest public domain images platforms. You are allowed to use images as they are free but some images have certain restrictions. The one thing that needs to be considered is Wikimedia Commons does not guarantee the correctness of licensing for each image, so make sure to tripe check the license tag for every image before using them anywhere.
2. Unsplash
Unsplash was started by a group of photographers who were sick of "traditional" Stock imagery, as they decided to make their own high-resolution image available for free to everyone. They have grown to become one of the biggest communities that has millions of users and more than 300,000+ images for free. These images are free to play as per your need, making it easy for you to modify the images. All the images come under a custom license same as CCO license, making it easy for you to use them without the owner's permission.
3. Flickr Commons
Aforesaid, the museums, libraries, archives partner with FlickrCommons & contribute to their own public domain images. It is another great resource to have free public domain images for your personal & business uses. You do not have to worry as images on FlickrCommons have no copyright restrictions, but still we recommend to have a thorough research before using the image.
4. Public Domain Pictures
Public Domain Pictures is also one of the best platforms that have high-quality free public domain images, but some of them are only available for premium membership to the site. So, before using the images check if they are listed under license or not as you might have to credit the author if needed.
5. Magdeleine
Magdeleine contains high quality resource images that don't look like stock. You can use the right hand column to browse categories or search by dominant color, to find the ideal image for your business or your design. Mostly all the photos are CCO licensed but some images may need membership to use.
6. Old Book Illustrations
If you are looking for something unique then old book illustrations offer a really nice collection of public domain images from old books. You can use these images as per your need, modify them & distribute for both personal & commercial projects. If you want to add some vintage appeal then you would love to use Old book illustrations for your personal & business use.
7. ISO Republic
ISO Republic works according to the tagline "Free & Premium Stock Photos". Every library on ISO Republic contains a pile of 500 images with many libraries under them. All the images are free to use for personal & commercial use without the need of any attribution.
8. Public Domain Vectors
The best thing about Public Domain Vectors is all the images are free & are available to download in SVG, AI & EPS formats. All the images under Public Domain Vectors are licensed under COO.
9. 1 Million Free Pictures
The main creator of 1 Million Free Pictures is also the main creator behind all the photos on this website. All the images are clicked by one person & available for public domain. You have the option to choose from subject, style, purpose and other. You need to take care of the images that contain people, works of art, property or trademarks so you will need to be wary of using those types of images.
10. Free Stock Photos
Free Stock Photos has the collection of stock photos & clip art that contains images for both public domain and licenses. So, you need to make sure if the image is licensed or not before using it.
11. Jay Mantri
Just like the Unsplash, the professional photographer named Jay Mantri has created his own site that is filled with amazing & stunning public domain images from around the world and licensed under the CC) & do not require attribution.
12. Realistic Shots
It is a collection of a free stock photography that looks like anything but stock. The Realistic Shots contain top images from various places. All the images are free to use anyway, either for your personal & commercial use. The unique thing about Realistic Shots is that every week, seven new photos are added and all images are under the CCO license.
13. Startup Stock Photos
If you are looking for images that are oriented towards office spaces, relaxed work environments & other technology related photos then Startup Stock Photos is the best place for you. All the images are under the CCO license and you will have plenty of technology driven images.
14. The British Library
A few years ago The British Library released 1 million images into the public domain, leaving people in awe. All the images are taken from 17th, 18th, & 19th century books, the collection is spectacular for any designer that loves vintage images. You can use the complete albums for your personal & business use. You can also curate images of everything from typography & decorative paper to instruments & animals.
15. The Public Domain Review
The Public Domain Review is one of the public domains that contain photos from different art, films, audio and texts for ease to get what you exactly want. It was founded back in 2011, it's become an ever-growing community of history enthusiasts. All the images are under public domain and can be used anywhere for your business or personal use.
16. Viintage
Viintage is home of thousands of free images on its public domain from the past. It also stocks the art posters & old advertisement images that have plenty of potential in today's market and can be used for various purposes.
17. Public Domain Archive
The Public Domain Archive is handled by a couple that reside in Athens, GA. The website consists of thousands of high-quality public domain images from across the web into one giant repository. You can have pleasing, vintage, modern and office public domain images to use for personal or commercial use.
18. JESHOOTS
All the images available at JESHOOTS are clicked by Jan Vasek who fills the site with his free stock photography. All the images are licensed under CCO & divided into different categories like cities, nature, tech devices, animals & many more to make it easy for you to find exactly what you are looking for.
19. DesignerPics.com
This website was designed & created by an Indian designer known as Jeshu John. All images are taken by him & are free for personal & commercial use & require no attribution.
20. Pixabay
Pixabay contains images from various artists as it is a community of photographers that uploads high resolution images, illustration, videos at public domain all under CCO. You can browse by photographer, type of camera & "Editor's choice". Even better, you can filter by orientation, category, size & color.
21. EveryStockPhoto
Every Stock Photo is another free stock photo search engine that lets you filter for public domain image licenses. Every search on EveryStockPhoto.com comes through other reputable domains like NASA, Flickr, Wikimedia & many more. But we suggest checking for the photo's license by clicking on the license icon below available to the left of the photos.
22. Negative Space
Negative Space is also a high-resolution photo site which releases free images into the public domain. You have the option to filter by color, category and by copy space ideal for when you need an image for your website or business.
23. Death to Stock Photo
From week to week, Death to Stock Photo rolls out themed photos to download for free through emails. All the images are free to use as per your requirement. If you like the images then you can also support the photographers on the platform by signing up for their Premium membership for $15/month.
24. SpaceX
If you are looking for authentic space images or photos from out of this world then SpaceX usually releases thousands of photos on Flickr from them every mission & the best part is they're all in the public domain so free to use.
25. Foodies Feed
Working for a restaurant design or any hotel design idea, then Foodies Feed has a collection of free food images that you can use for your business needs. The images feature everything from baristas & back of the house so you can have meals. All the images are available for commercial & business use.
26. Fancy Crave
This collection of free stock photos contain ever-growing free images that you can use. Two new images are added to every day as it helps photographers be discovered among the people in the market. It has a large creative community that contains quality photographs by quality photographers. The images are free of copyright restrictions under CCO.
27. The Pic Pac
Photos available at Pic Pac are not completely free rather you can pay what you want for the betterment of the site and the photographers. New themes photos are released every Monday, making them available for purchase. All the images are part of the public domain under CCO.
28. Creative Vix
Creative Vix also boasts its large collection of images that are licensed under CCO and are only restricted based on identifiable people, who can not be featured in a bad light or in a way they may find offensive. Other than images are free to use.
29. Barn Images
Barn Images was started by two Latvian Photographers as a way to help redefine traditional stock photography. They call their images "non-stock" & new public domain images are added every weekday & every image on the site is available for commercial use. You can also join their premium membership for free to get well curated photo packs & access to a dropbox filled with 1000+ high resolution images.
30. Snapwire Snaps
Snapwire is also a platform that connects photographers with companies that need custom photography but also offers a free stock collection of images through their Snapwire Snaps. Every week seven new photos are added to this collection under the CCO license & are labeled as such.
31. Pikwizard
Pikwizard is also an image library that offers more than 100,000 images for free without any attribution, over 20,000 of which are exclusive to the site. The new images are added to their library daily. The best part of using Pikwizard is they got a lot of pictures of people which are usually difficult to find on free stock photos.
Free Public domain images are an important part of the internet as they help businesses in many ways. We hope this list will help you find the right platform for your images. Aforesaid, please double check the license & terms of each of the images that you want to use.
(Visited 224 times, 1 visits today)